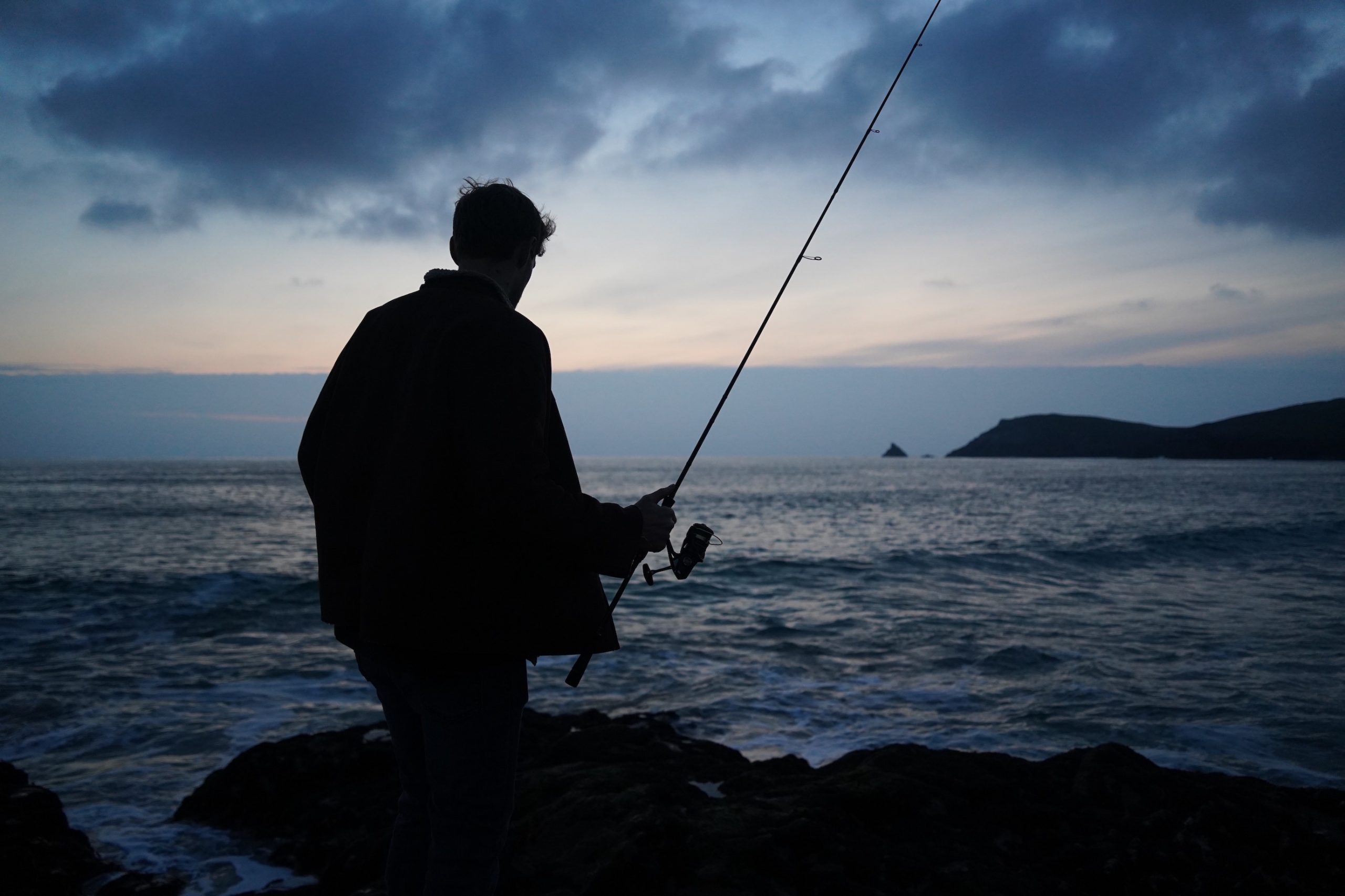 Sea Fishing in Cornwall
Cornwall has 400 miles of rugged coastline with a skinny landmass squeezed between two seas. It's like an island; almost wherever you go, you'll end up somewhere you can fish. Due to exposure from the gulf stream among other factors, Cornwall has some of the best fishing in Europe.
Mackerel in the millions shoot around in a summer-time frenzy. Seabirds kamikaze dive into bait balls the size of your house. Fat pollack lurk around the rusted ribs of shipwrecks offshore. Eels that could swallow your leg slide through old ship's innards. Like with anywhere in the world, it helps to have local knowledge when you fish here. Fishing a different spot at a different time with a different method can be the difference between blanking and hooking a dream fish.
Fishmag is a participant in the amazon associates program and makes a commission from sales.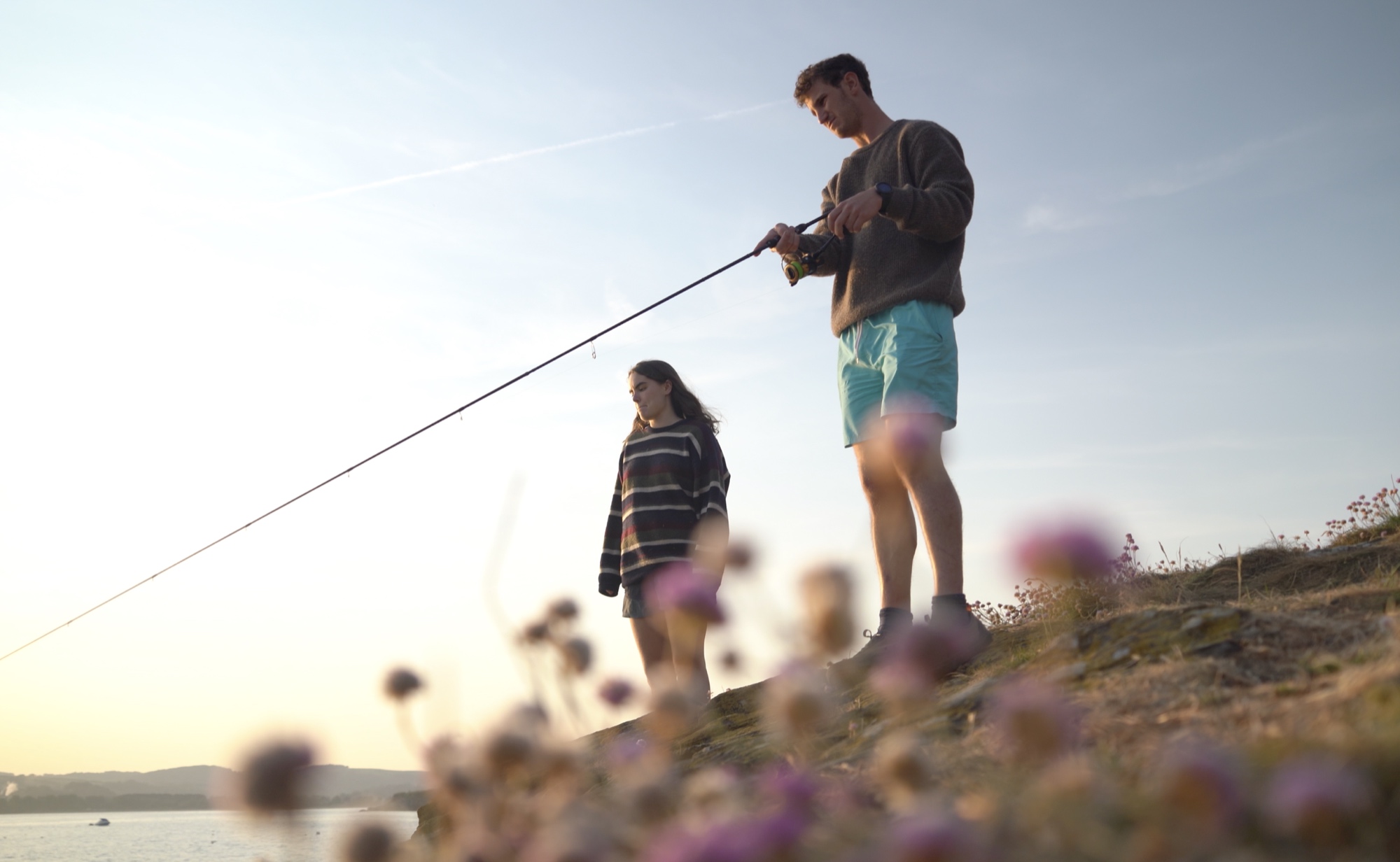 My goal with this guide is that you experience the best of Cornish fishing. First for the beginners we will look at how you can catch mackerel from a harbour wall or bass from the rocks. Then we will go through each area of Cornwall to see what you have a chance at catching there.
Please do not use this information to decide if somewhere is safe and check tide times and weather. Common problems include the tide cutting you off, slipping on rocks, or a freak wave taking you into the sea.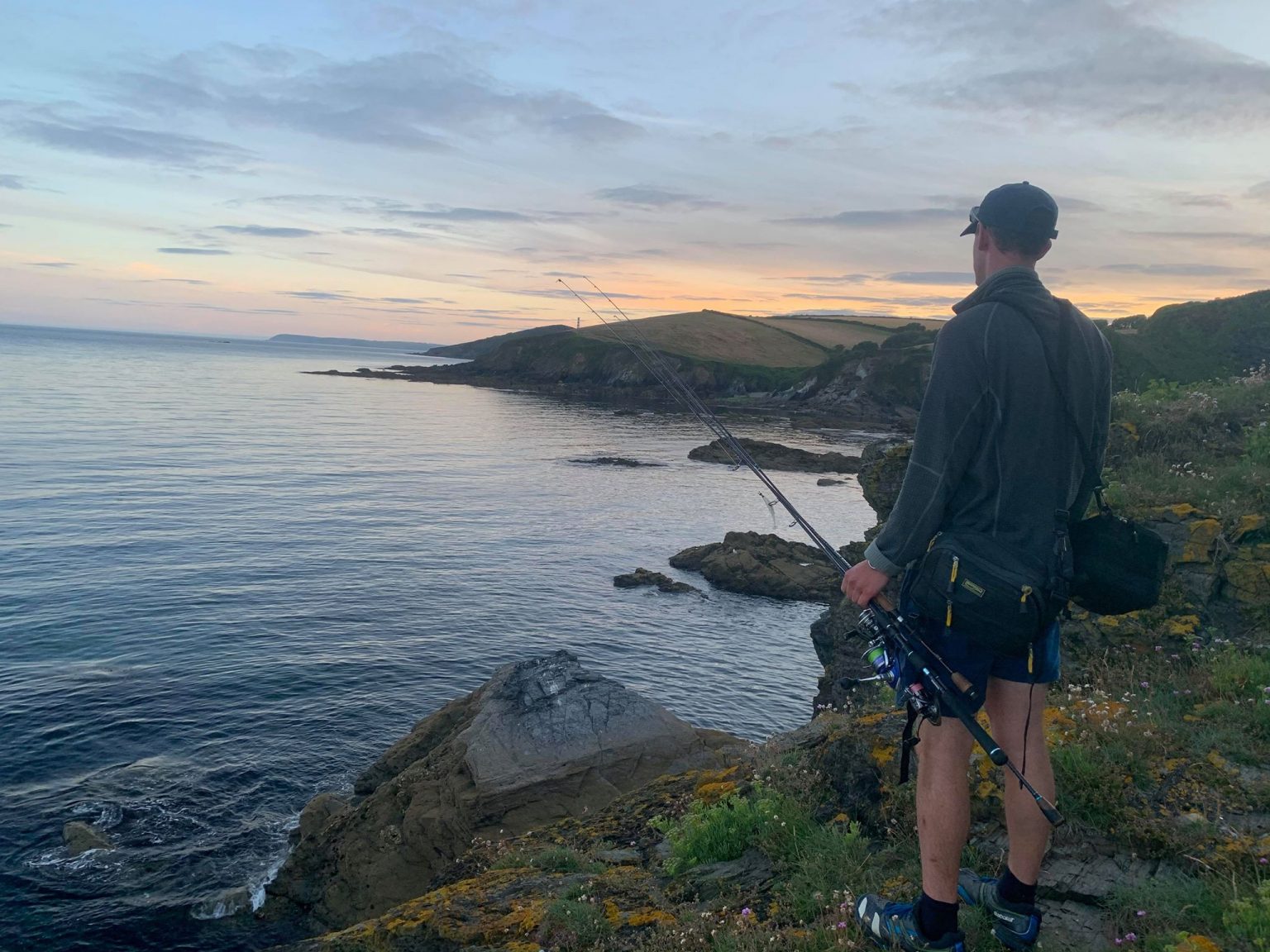 Bass Fishing Cornwall
Bass fishing in Cornwall is excellent both from the North and South Coast, although the north tends to be superior due to the constant churning of the seas. Bass are brutal beauties in shining camouflage, hidden against the glimmer of the water's surface. Cast your lure or bait just beyond the waves if you can, or else around the mouth of an estuary. Fish at dusk and dawn especially. While anyone has a chance at catching bass, I never caught any until I started targeting them with modern lure gear.
With that in mind, the Fiish Minnow must be mentioned, since it's annoyingly effective and undeniably the best paddle tail, to the degree that many bass anglers use little else. The lure is great at evading snags, casts and moves beautifully and produces fish consistently.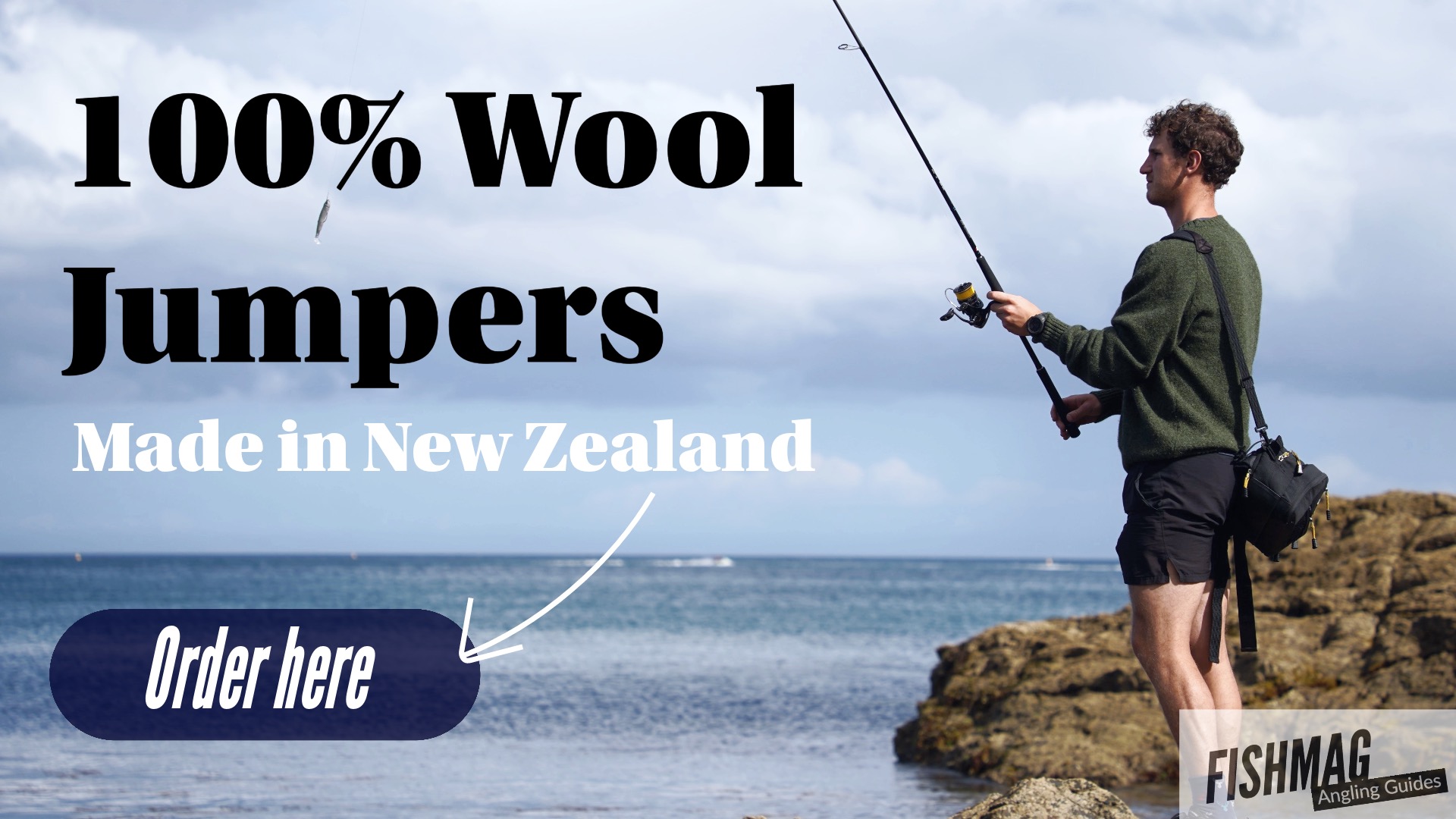 Read full bass fishing guide
Read list of recommended lure fishing set ups
View reasonably priced travel fishing rod & reel
View Cornwall's most popular bass lure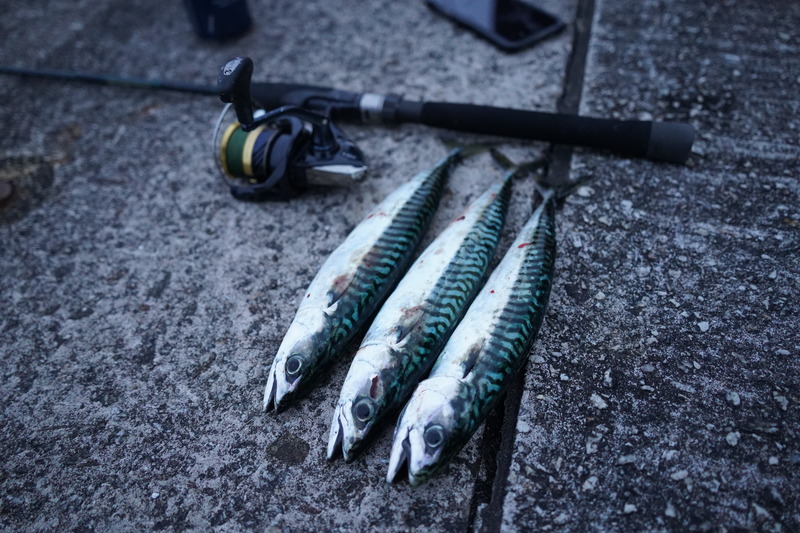 Mackerel Fishing Cornwall
Mackerel are pelagic species, which means they spend their lives swimming in the open seas. Some species have territories they stick to but mackerel are no such fish. For this reason, they tend to either be 'in' big-time or not at all. When this delicious and hard-fighting oily fish is in, there is often a party of fish activity. Expect hands covered in scales, strings of mackerel being pulled out on feathers four at a time. If you're looking for a basic fishing set up the kit recommended below is sufficient.
Cheap mackerel fishing kit, gets you fishing here
Essential mackerel feathers, for harbour fishing here
3oz torpedo weights, for long casting here
Replace the line on the above reel to avoid snap offs, here
View full mackerel fishing guide here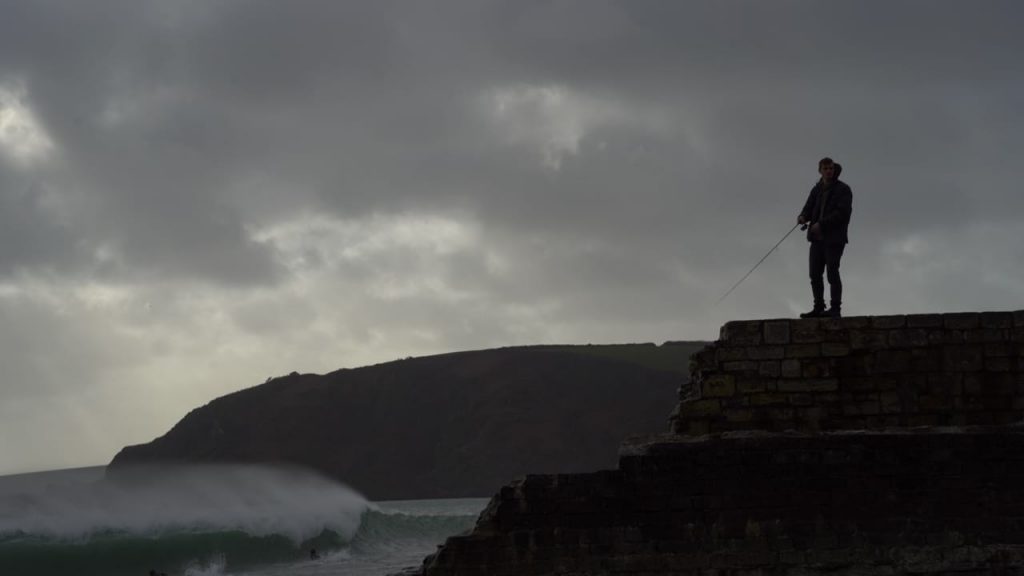 Harbour & Pier Fishing in Cornwall
If you cast a float rig or a ledgering rig from any harbour wall in Cornwall you're in at a good chance at fish. Remember to use smaller hooks than you think you need, fish slightly deeper than you normally would and try fishing within 5m of the harbour wall. Down the harbour wall you'll find numerous curious species like wrasse, rockling and bream. Be sure to take care of the fish and return them as they are unlikely to be edible. If you fish with a size 8 hook and ragworm, you will probably catch fish but they are unlikely to be edible and will be hard to unhook without disgorgers.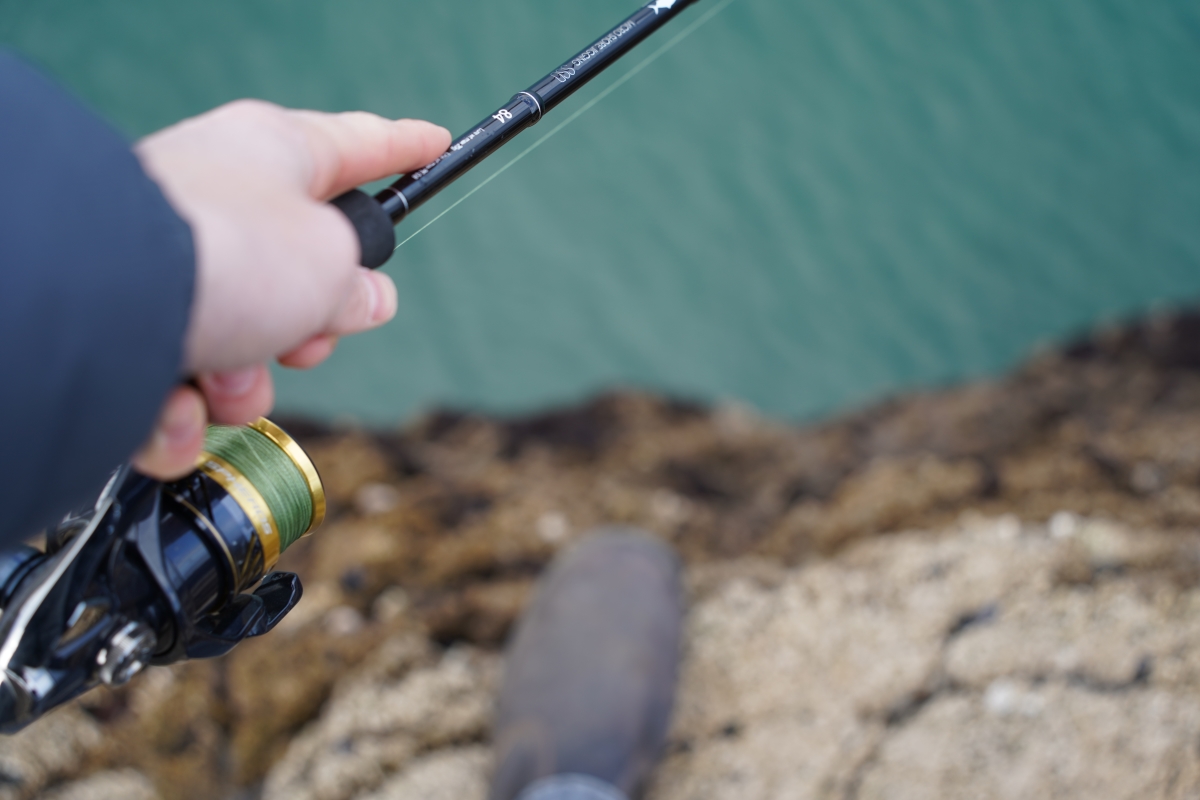 Rock Fishing in Cornwall
Rock fishing in Cornwall has got to be one of the best ways to enjoy the coastline. Fishing over rough ground tends to make for better fishing because there's so much cover for fish to hide in. However, it helps to get your lure or bait as close to the rocks and kelp as possible without snagging up. Modern weedless soft lures achieve this and are essential for rock fishing without frustration!
On a clear day if you're wearing polaroid sunglasses you'll see the fish lurking around the kelp. On this page, you will find plenty of rock marks, but take care to work out if they are accessible before you go as rock marks can be deadly. The best fishing is often at deeper water and more remote locations.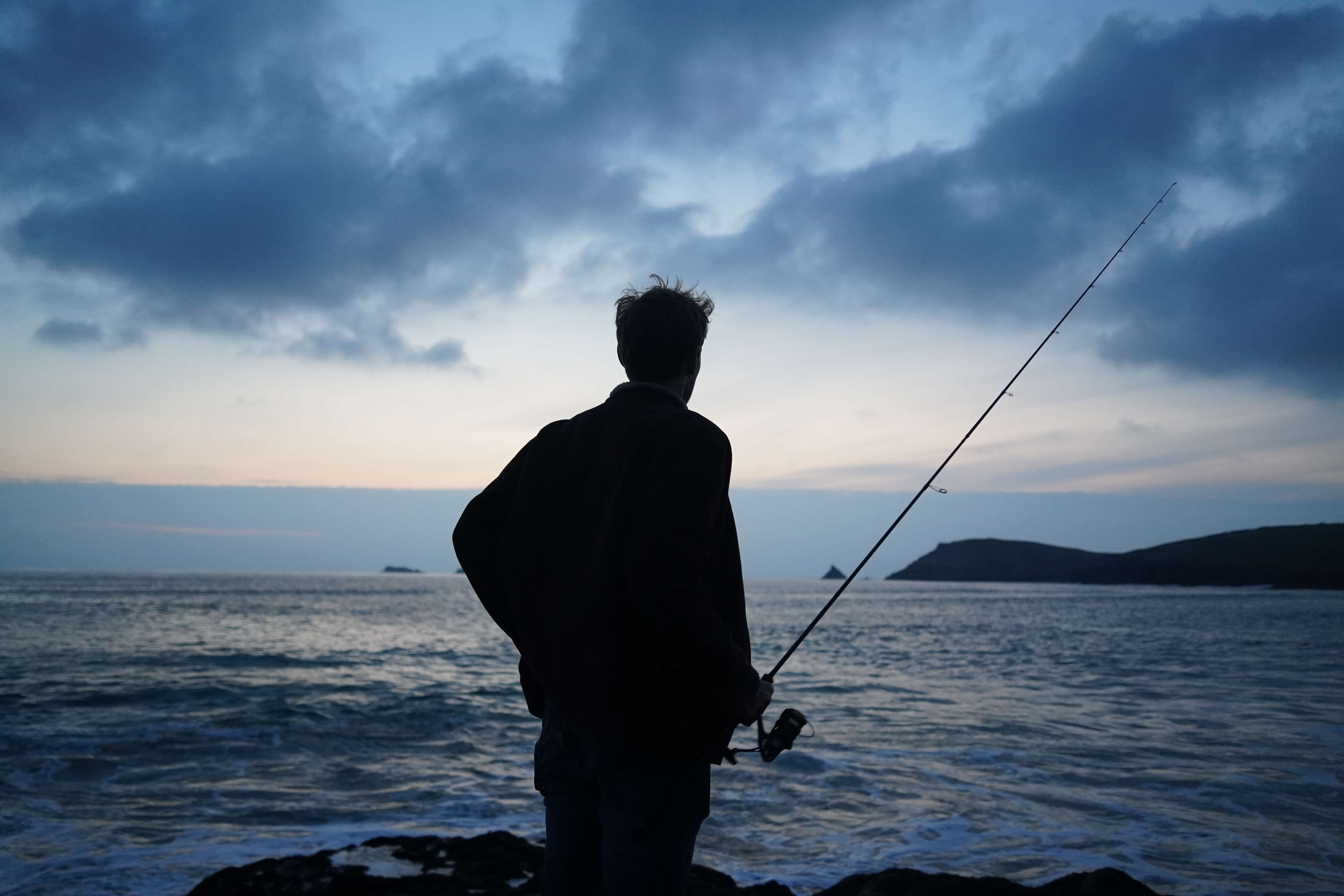 Why go sea fishing in Cornwall?
Cornwall is the most south-westerly part of all of England and receives the full heat of the North Atlantic Drift – even when it doesn't always feel like it. This continuation of the Gulf Stream brings warm winds and water to us and keeps the winters mild. It also creates an unusual quantity and variety of fish. In 2022 as I write this, we have been seeing enough Tuna caught from boats to make them worth targeting in September. This species, along with other seasonal visitors like turtles, squid, and even flying fish are all a consequence of Cornwall's exposure to the Gulf Stream.
In Cornwall's not-so-distant past, about 15% of the population worked in the fishing industry and depended on it for their livelihoods. Fish are what the Cornish worked for, what they ate, and what they traded. Fish stocks have been pillaged, but the nutrient-rich waters of the UK still remain far richer than those you'll find in the Med.
Fishing Spots in South Cornwall
I have written special guides on fishing in Mevagissey, Fowey, Looe, St Ives, and Newquay. Take care out there and do not use any of the below information to decide if a mark is safe or accessible.
Fishing spots between Rame Head & Fowey
Fishing Rame Head
Between Cawsand and Kingsand and along the Rame Head, the waters of Plymouth meet a sea filled with pollack, bass, wrasse, conger, plaice and of course, the reliable dogfish.
Fishing from Penlee point and rock fishing from Rame Head is particularly good. Penlee, Eastern Gear and Queener Point offer excellent fishing. For some reason, a lot of Cornwall's best anglers seem to live in this area. It's not familiar ground to me but there must be good fishing in the area if it attracts the likes of these characters.
Whitesand Bay has a clean bottom as you'd expect with a name like that, and while a risky place for a swim it's a good area for bass fishing. Along the east coast of Cornwall, you will encounter plenty of opportunities to get out your bass rod or beach caster. Seston, Portwrinkle, Millandreth and Downdeery as well as Looe offer good fishing. Looe has some good boat trips and you can find out more about boat fishing in Cornwall from my page on that here.
Fishing Looe Harbour
Fishing from Looe harbour is good and you can expect to catch bass, mullet, pollack, mackerel, all the usual white fish species as well as the odd surprise conger. The east quay in Looe offers particularly good fishing. The harbour entrance is often inaccessible for anglers due to restrictions.
Looe has tackle shops which you can easily find with a google search. Near Looe harbour, you can fish from the rocks to the west where you'll experience top-notch wrasse and pollack fishing. For the best fishing, Looe harbour has to offer, hop in one of the boats!
Full guide to fishing in Looe
Fishing Polperro
The coast from Looe down to Polperro and Fowey has a very remote feeling. Walking along it you will encounter almost no buildings, and you won't see too many people even on a sunny day. It's quite hard walking. This of course means that those who do venture along the coast (with their wits about them) will be rewarded! Bass, pollack, mackerel, conger, bull huss, and even skate are caught along this stretch. I won't claim to have fished this area heavily myself, but the last time I did I hooked a bass first cast and there was an action for the whole evening. I then returned to my camp on the beach of Lantic bay and spent the evening eating fire-smoked mackerel. This is a stretch of coastline you need to get on to. The water along this coast has that wild dark look about it that you don't see around harbours. This is where the kelp grows thick and broad.
Fishing in Fowey
Fishing is Fowey is excellent so I've written a guide that covers the area in more depth and won't mention it further here. You can also book kayak trips with Encounter Cornwall which is a great way to explore the river around Golant looking for spots.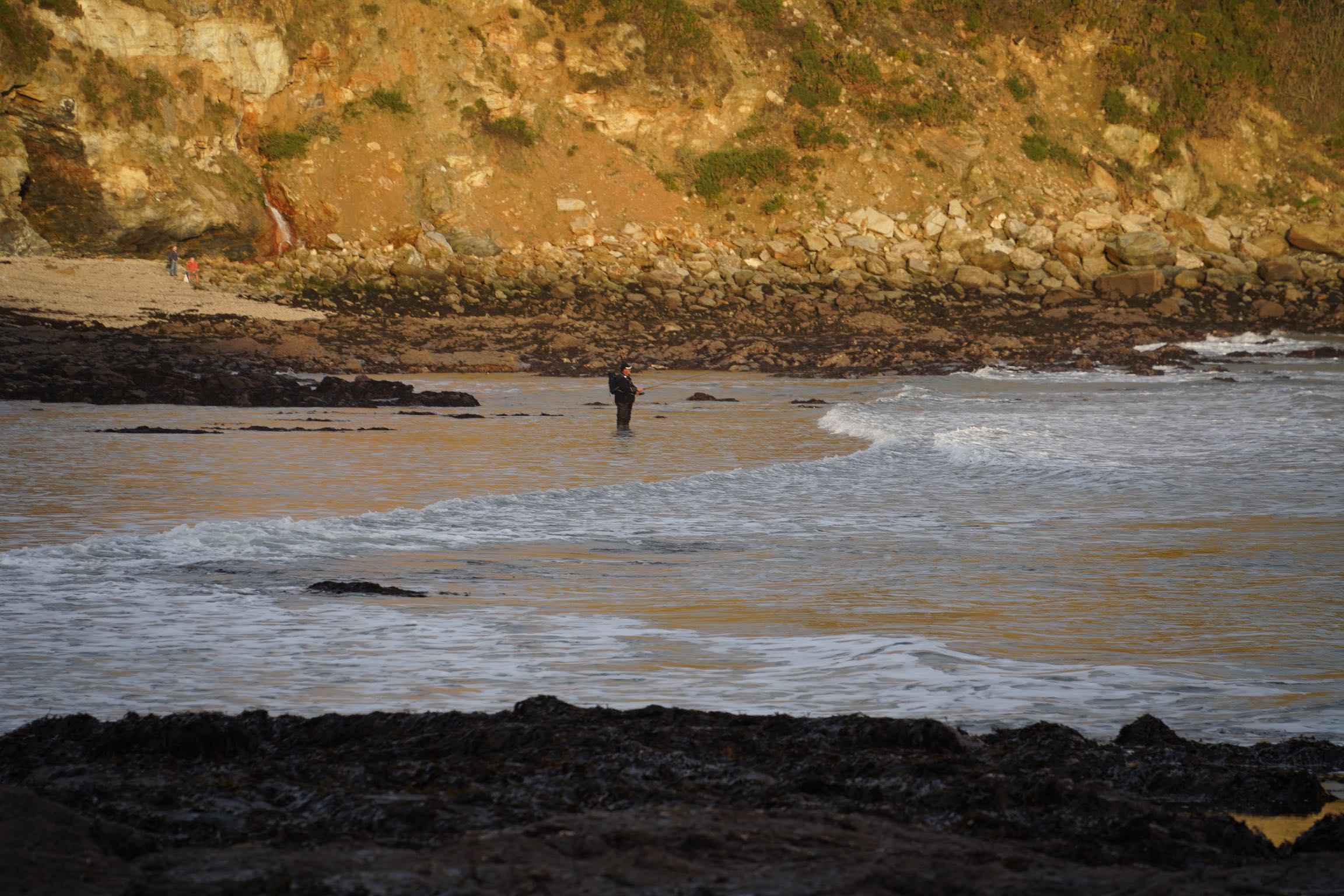 Fishing Spots Between St Austell Bay & Falmouth
Fishing Par, Polkeris & Carlyon Bay
Fishing in St Austell Bay is perfect for the fair-weather angler. The bay is sheltered and easygoing, especially from marks like Polkerris, Par harbour (if you join St Austell Angling Club to gain access). Carlyon bay has good fishing for flatfish and bass, especially where the stream meets the sea. Flatfish and bass lurk around this area waiting for the morsels which float downstream for an easy meal. Fish are a lot lazier than most imagine.
Fishing from Charlestown harbour can be good in the summer months but is inconsistent. In 2016 we caught an obscene number of gurnard there, all of them Tub Gurnard. There are also bass and wrasse around the rocks there and the harbour is rammed with shoals of weaver fish. Yes – shoals of them! Make sure to bring your disgorgers!
Fishing in Mevagissey
Past St Austell Bay you reach Mevagissey, and I have written an article on fishing in Mevagissey there since it is so exceptional and is the primary focus on this website.
Fishing in Portscatho and Portloe is very good, but these spots are less well-known for their fishing. Nevertheless, these places have good water access, it's easy to get a line in and are on a cracking section of the coast.
Fishing from Gorran Haven Harbour Wall
From Mevagissey to Falmouth the fishing is excellent with numerous open beaches and coves to explore. Fishing from Gorran Haven Harbour Wall is also good, and strange species turn up there, including Thwait Shad and Turbot, which are not usually caught on the South Coast. Gorran Haven is very crowded in summer though, so the best time to fish is in the evenings.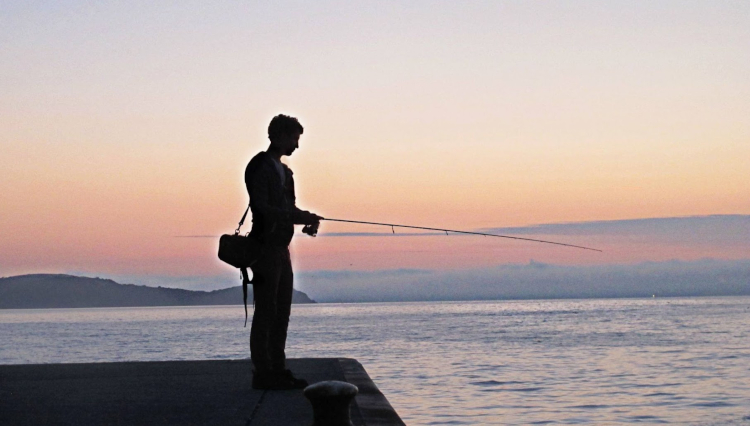 Fishing Spots Between Falmouth & St Ives
Fishing in Falmouth
Within Falmouth itself, the Prince of Wales pier and the Custom House Quay make for very good fishing for flatties and conger at night. Bass fishing out of Falmouth is exceptional and prize bass are not uncommon. Towards where the Fal meets the sea, the harbour entrance near Black rock offers access to large shoals of mackerel which move through in the summer months. Spinning from the rocks outside of Falmouth is very good, explore these spots yourself and you will reap the rewards. Porthcawl river by St Mawes offers good mullet fishing and is very pretty and Mylor Creek is another place where biblical numbers of mullet congregate – though as you'll know, that doesn't mean they're easy to catch!
Fishing in Falmouth is excellent, especially at night time, although water clarity can sometimes be low. The river is famously deep, and this means certain species that prefer much deeper water will dwell there like conger eels, rays and catsharks. At night time there are areas that are lit up, and there are many, many places you can fish up against the railings with very good access. The surrounding coastline is wonderful to explore, so do get out and about and see what you can catch. Species include mackerel, pollack, cod, dogfish, plaice, flounder, dab, conger, wrasse, blennies, gobies, rays and many more.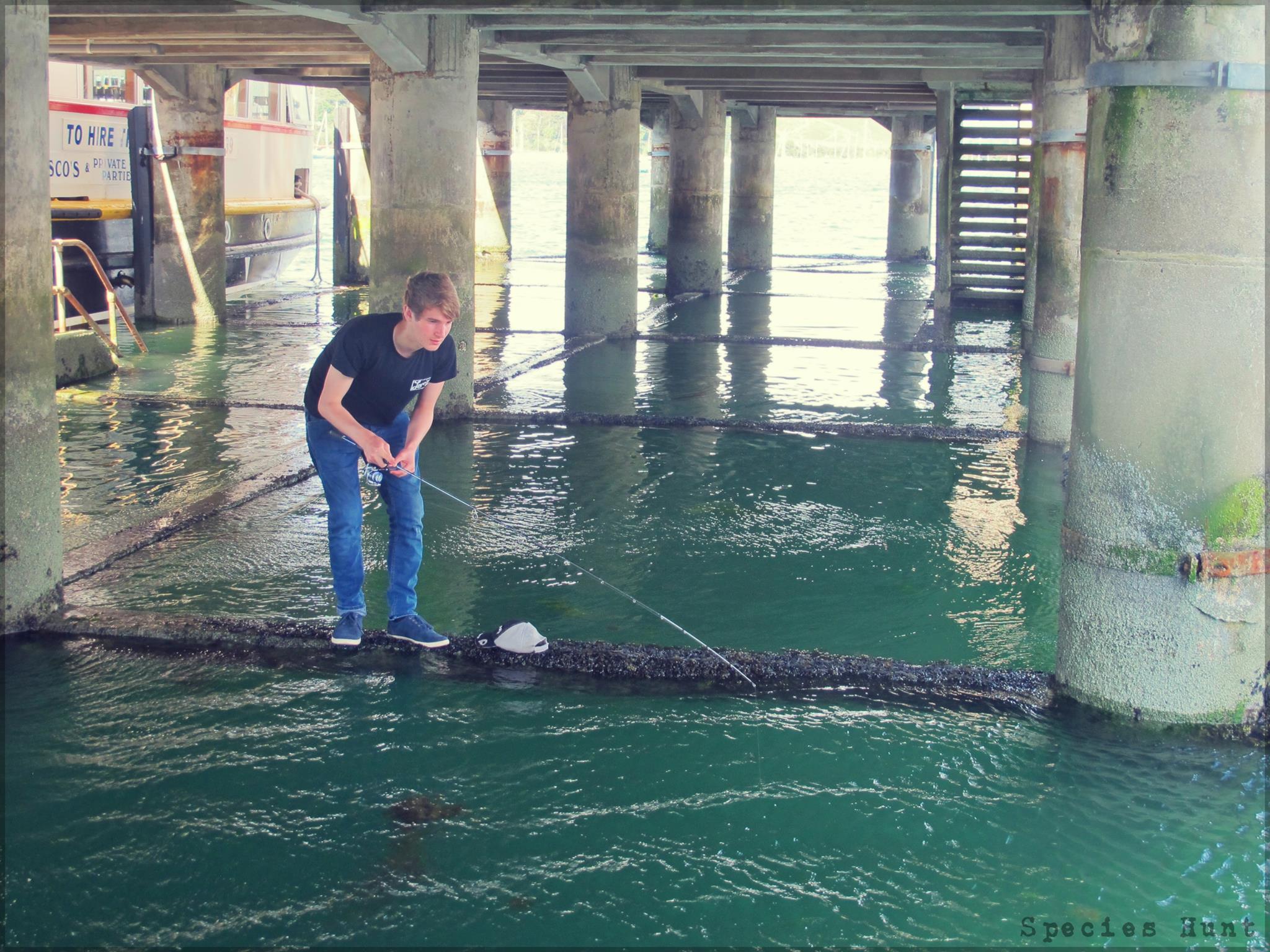 Fishing St Mawes
Fishing in St Mawes is very good, with fat pollack, bass and wrasse around. However, it's not the most accessible stretch of coastline. Pendennis headland is good for fishing, as headlands often are when they are close to an estuary (in this case the Fal).
Fishing The Lizard
Fishing on the Lizard peninsula is as productive as it is jaw-dropping. You can also fish from Kennack sands beach and this spot turns out some fat fat bass. On the Lizard, you will catch the standard pollack, wrasse, bass and mackerel as well as more exciting congers. Fishing from Mullion cove is good from the pier and the rocks but is nothing special and other marks nearby are more promising.
Fishing Porthleven
Fishing Looe bar towards Porthleven is extraordinary for bass with beach casting gear. The water gets deep much more quickly than most other spots but this spot is highly weather-dependent since a south-westerly wind makes the beach overexposed. On a calm day, float fishing in Porthleven is as good as anywhere in Cornwall. Within Porthleven, the harbour and long rocky coastline has deep water and plenty of places to fish. Again, watch out for those south-westerly winds as these spots can become dangerous quickly.
Fishing Penzance & Newlyn Harbours
Fishing from Penzance harbour and Newlyn harbour is as good as you would expect from places which are so deeply associated with wild Cornwall and fishing. Newlyn is a hub of fishing in the whole southwest for a reason. There are big conger here, mackerel and lots of scad mackerel (also called horse mackerel) which move through in summer. This spot has some lighting at night which is very helpful for night fishing, though bringing your own is recommended.
If you're looking for deep water fishing from the shore, gear rock off Penzance and Low Lee rock near Newlyn get you straight into deep water. If you can get on a boat in these areas and on the reefs near St Clements Island you will catch big, big fish.
Porthcurno, Sennen cove and Penberth offer beautiful fishing, especially in fair weather with a kayak. Kayak fishing in Cornwall is the best in Europe in my estimation. Fishing from Lands End is worth doing just because you're sure to never forget it , even if you don't catch anything! It's pretty badass fishing at the UK's southernmost point. Fishing from Hayle estuary is good for surf fishing for bass and flatties like Flounder. Whitsand Bay near Sennen Cove is an excellent fishing spot which is known for its bass.
Fishing St Ives & Carbis Bay
Fishing in St Ives is very good by boat, but fishing from St Ives Harbour is too busy for most anglers' liking. This fishing spot is so famous I have met people that know of it while on the other side of the globe! You're better off exploring the area nearby, unless you are targeting plaice and mullet specifically, for which St Ives is decent. Carbis bay and Clodgy point are more promising for fishing than St Ives itself. There are also all those pretty little boats and ropes to worry about! Fishing in Carbis Bay is very good for flat fish and bass from the beach. You will also pick up pollack and Mackerel from the rocks on the left hand side. The ground at Carbis Bay is all sandy on the bottom. Use sand eel and ragworm as bait from the beach and lures from the rocks. I haven't fished this spot myself but have heard that the rocks are easily accessible.
When lure fishing from the rocks at Carbis Bay, you should cast out as far as you can, preferably about 60 yards out as there is a drop off there and the fish seem to feed better there unless it's very rough seas. If the sea is tough, just cast out past the breakers as there are often good sized bass that lurk in that area.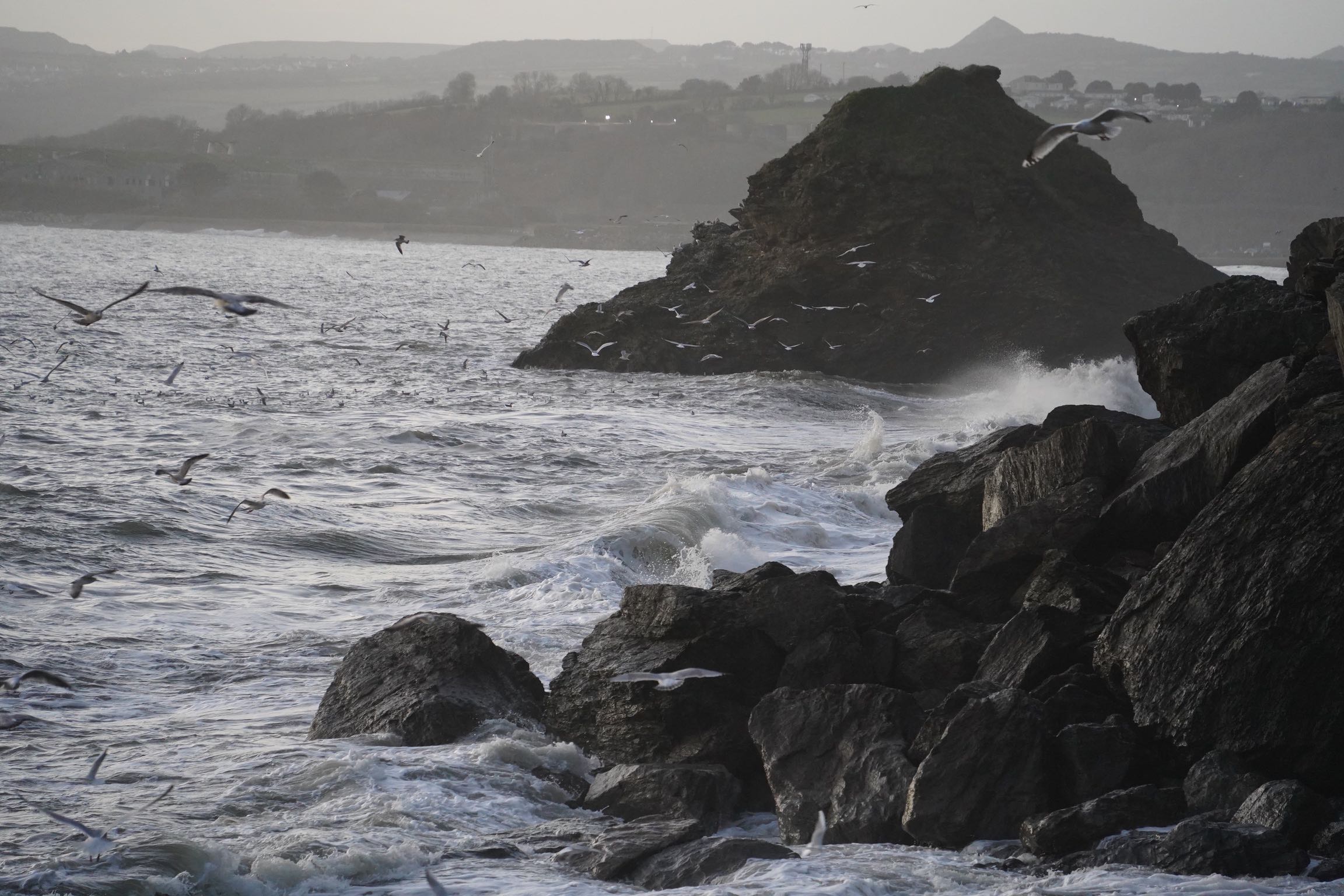 Fishing Spots in North Cornwall
The North coast of Cornwall has steep, serious cliffs that are dramatic and deadly, rugged and beautiful. They begin at Godrevy Point and along the coast where the cliffs are this large it is impossible to get down to a rock mark. Even if you could, the waves could make fishing unsafe (don't be put off, there are plenty of places to fish). St Agnes has excellent fishing, but people die there when the power and indifference of the sea for human life is underestimated.
Porthtowan, Chapel Porth and Portreath offer expansive sandy beaches which make for ideal bass and flatty fishing with beach casters that can get you out past the surf. Crantock beach is another similar spot.
Fistral beach is a good spot for surfcasting, whilst Towan Head has loads of places for rock fishing. Fishing at Fistral is less popular than surfing of course, and you don't want to hook into any surfers so be sure to stick to the ends of the beach where surfers are not. Surfers also do not taste nice as half of them are vegan!
Fishing Newquay
Fishing in Newquay by boat is very good, but from the harbour, it's trickier since the harbour wall is so tall and is popular with harbour jumpers in the summer months. Light lure gear would not be good on Newquay harbour, this is a place where you need a rod that can lift a fish up a 20ft wall. Boat fishing trips from Newquay are excellent for sharks. The seas here are of course almost always rough, so Newquay is not a place for fair-weather angling! By boat from Newquay, you will catch big conger, bull huss, tope, smoothhound and cod. Towan Head near Newquay is excellent for rock fishing for a variety of species, but the ground is rugged and not for the faint of heart.
Fishing Padstow
Fishing from Trevose head is not as good as you'd expect but still well worth it and you will catch bass there on a good day. The scenery is as good as it gets, though. In winter, the surf is often too large making fishing on Trevose head dangerous. The whole of the Camel is great for fishing, explore it yourself and you won't regret a moment of it. On the Doom Bar, there are so many bass that rumour has it the drink Doom Bar was a homage not to the bar itself but the bass that are caught from it! To fish the doom bar near Padstow, hire a local boatman as you need to navigate carefully to avoid getting stuck.
From Port Quin to Port Isaac three is great sea fishing from the rocks as you'd expect. Forget about fishing during the day though as three are so many swimmers it can feel like you're trying not to hook stuff in the water rather than trying to.
The coastline from Port Isaac up to Bude doesn't have any major villages or towns and is far away from everywhere really. This stretch of coast does not get fished very much for this reason. I must admit I've only fished this area myself once, but it was some of the best fishing of my life. The waters are teeming with species you might not encounter in other areas, such as the Rock Cook Wrasse.
Exploring North Coast Fishing Marks and Beaches
Ultimately, one of the most valuable and fundamental skills for an angler is to get into the habit of seeking out new areas to fish and exploring the ground with a desire to understand it. This is only really an option for people that are committed to fishing quite frequently, but this is the main thing that separates really amazing anglers from everyone else. Exploring new places and fishing them at different times is how you figure out where to go to catch fish. Over time, you get in tune with exactly what fish could be where. If you don't go fishing for a while, you gradually begin to lose this sense of connection to what's going on.
Which beaches can you fish from on the North Coast?
You can go fishing from Bassetts Cove, Bedruthan Steps Beach, Black Cliff Beach, Chapel Porth Beach, Constantine Bay, Crantock Beach, Fishing Cove and Fistral Beach. There are fish to be caught from Fox cove, Godrevy beach, great western beach, green bank cove, harbour cove, and Gwithian beach. The list of beaches to fish on the North Coast goes on! You have Harlyn bay, Holywell bay, lusty glaze beach, Mawgan Porth, and Perranporth.
You can go rock fishing and beach fishing from Porth beach, Porth joke beach, Porthcothan bay, Porthtowan beach, Portreath beach, Rock, St Georges cove, Tolcarne, Towan beach, Trevaunance cove, Trevellas-Porth beach, Trevone bay, Watergate bay, Whipsiderry beach and Treyarnon bay. There is no shortage of places to fish, and there's a lot to be said for getting out yourself and discovering the coastline for yourself! Let me catch my breath for a minute…
Cornwall's fish species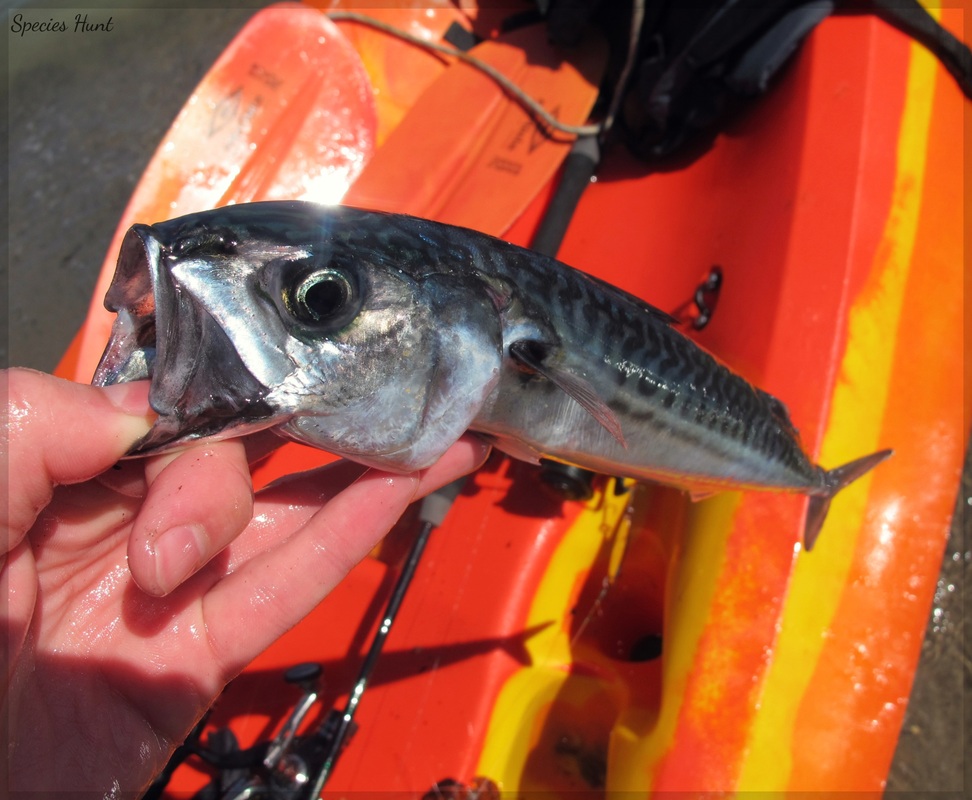 Mackerel
Mackerel are pelagic species, which means they spend their lives swimming in the open seas. Some species have territories they stick to but mackerel are no such fish. For this reason, they tend to either be 'in' or there are none about. When this delicious and hard fighting oily fish is in, there is often a party of activity. Expect hands covered in scales, strings of mackerel being pulled out on feathers four at a time. A special hack for catching more of these fish is to use Japanese Sabiki feathers rather than the standard feathers you find in tackle shops. Sabiki feathers have smaller hooks which results in more hookups. The size 1o's which come on most mackerel feathers are considered too large by most competition anglers I know.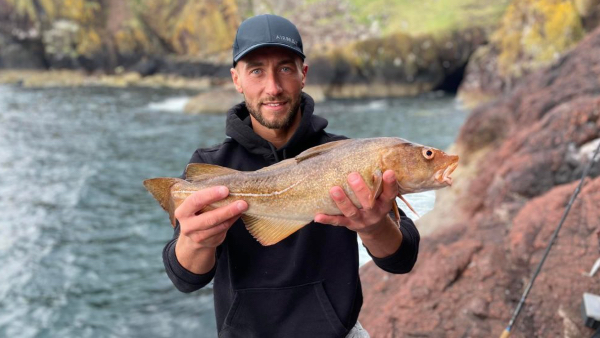 The Cod Family
Cornwall does get cod in the winter months moving through the estuaries but really this species is best targeted offshore. Pollack, Pouting, Poorcod and Whiting are around in large numbers from the shore. Again, the fatter specimens tend to lurk in deeper waters, so head to rock marks or out on a boat to hook into the larger fish.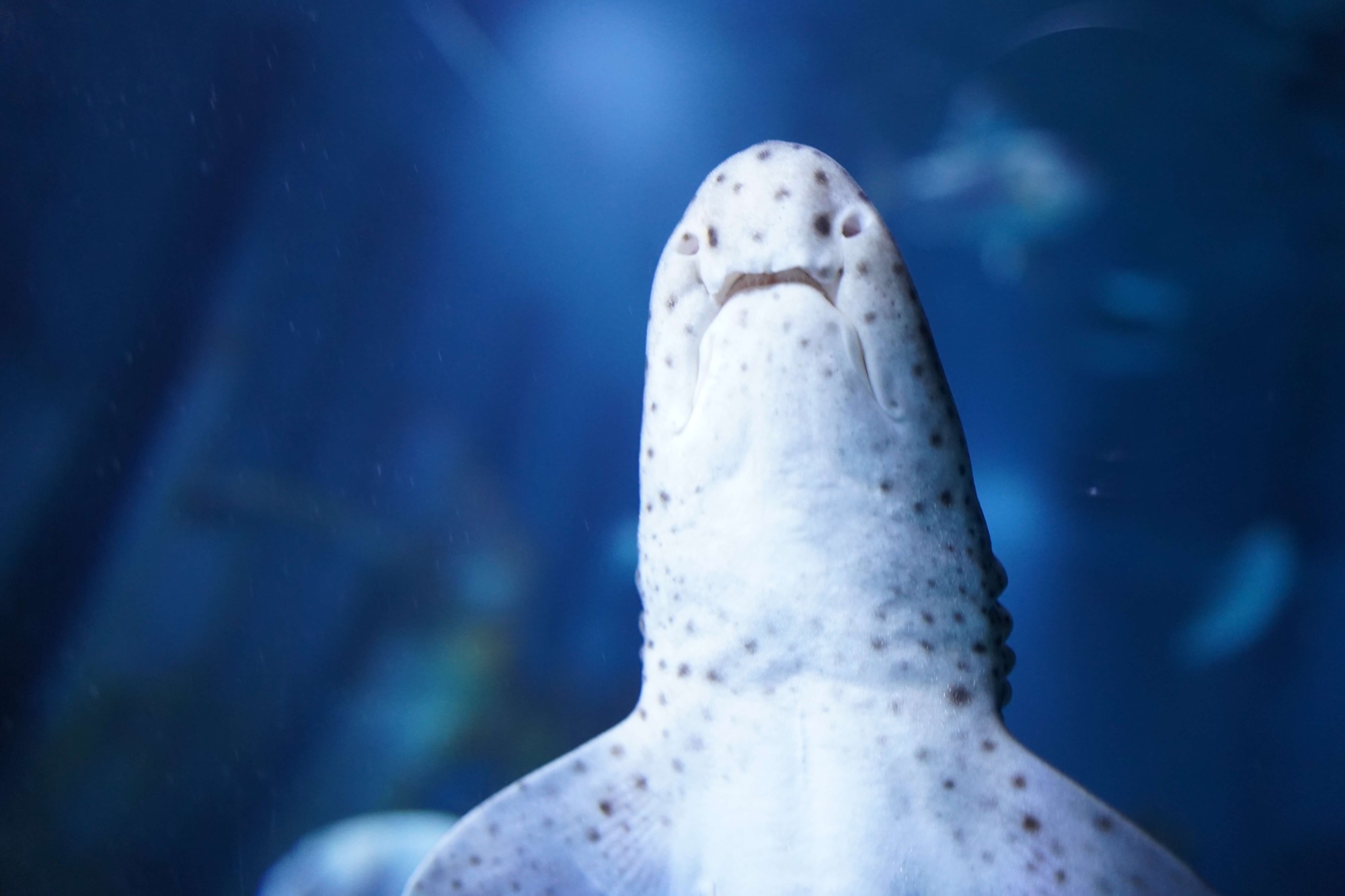 Bottom Feeders
Like the rest of the UK, Cornwall has plenty of Dogfish which will scoff down whatever you intended for a more tasty or interesting fish. These members of the catshark family often get in the way while targeting other bottom feeders like flounder, plaice, dab, cod, ray and conger. While bottom fishing in many Cornish fishing spots you will also pick up Tub Gurnard. Rays are only really caught in deeper water marks, such as in the Fal estuary or while fishing in Plymouth or from a boat.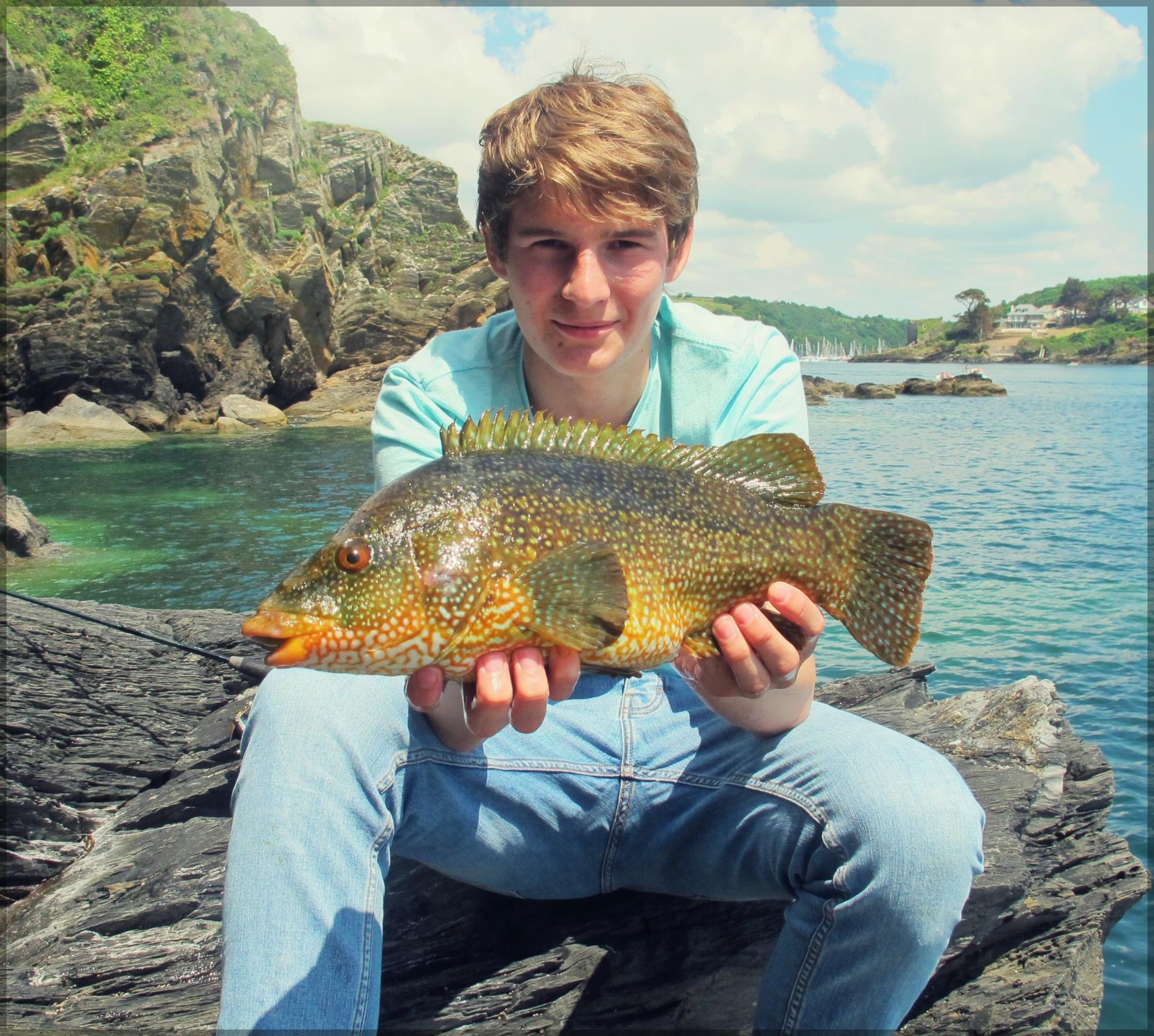 Wrasse
The Wrasse family is huge. We used to catch a lot of smaller wrasse species like Rockcooks and Goldsinneys but now they have started shipping them off to salmon farms as they eat parasites from the sides of the salmon. The Ballan Wrasse is a sport fish which is more reliable than the bass and just about as hard fighting – though disgusting to eat. These were traditionally caught with ragworm with size 8 hooks fishing over rough ground. Now they are also often targeted very effectively with lure gear and weedless soft plastics and thick fluorocarbon leaders. The fluorocarbon leader is abrasion-resistant and can withstand being rubbed up against rocks better than braids can. Monofilament also works but has stretch, which makes it harder to detect bites. It also doesn't cast as well. This leader is then attached to a weedless hook like this one from Amazon. These hooks allow you to fish over rough ground without getting snagged in the weeds. They are an essential hook for fishing Cornish rock marks.
Bass
Cornwall has some of the best fishing in the UK, after places like Ireland. The Latin name for this fish is Dicentratchus labrax. Of the other species in the family, the bass is the most common and grows to 26 and a half pounds in weight, but British specimens don't reach that size and the rod caught record is 18lb from 1943, Felixstowe. The fish have metallic blue or greenish grey backs, with stunning silvery sides and a white belly.
Very young bass can have dark grey spots. These fish scoff their faces on crustaceans, young crabs and shrimp. Older specimens mostly eat larger fish like sandeel, herring, mackerel sprats and flatfish. This fish will cruise over sandy banks looking for little crabs, lurk under drop-offs for an injured Joey mackerel to twitch above its head and linger just beyond the surf. Bass love to eat what gets lost in the churn.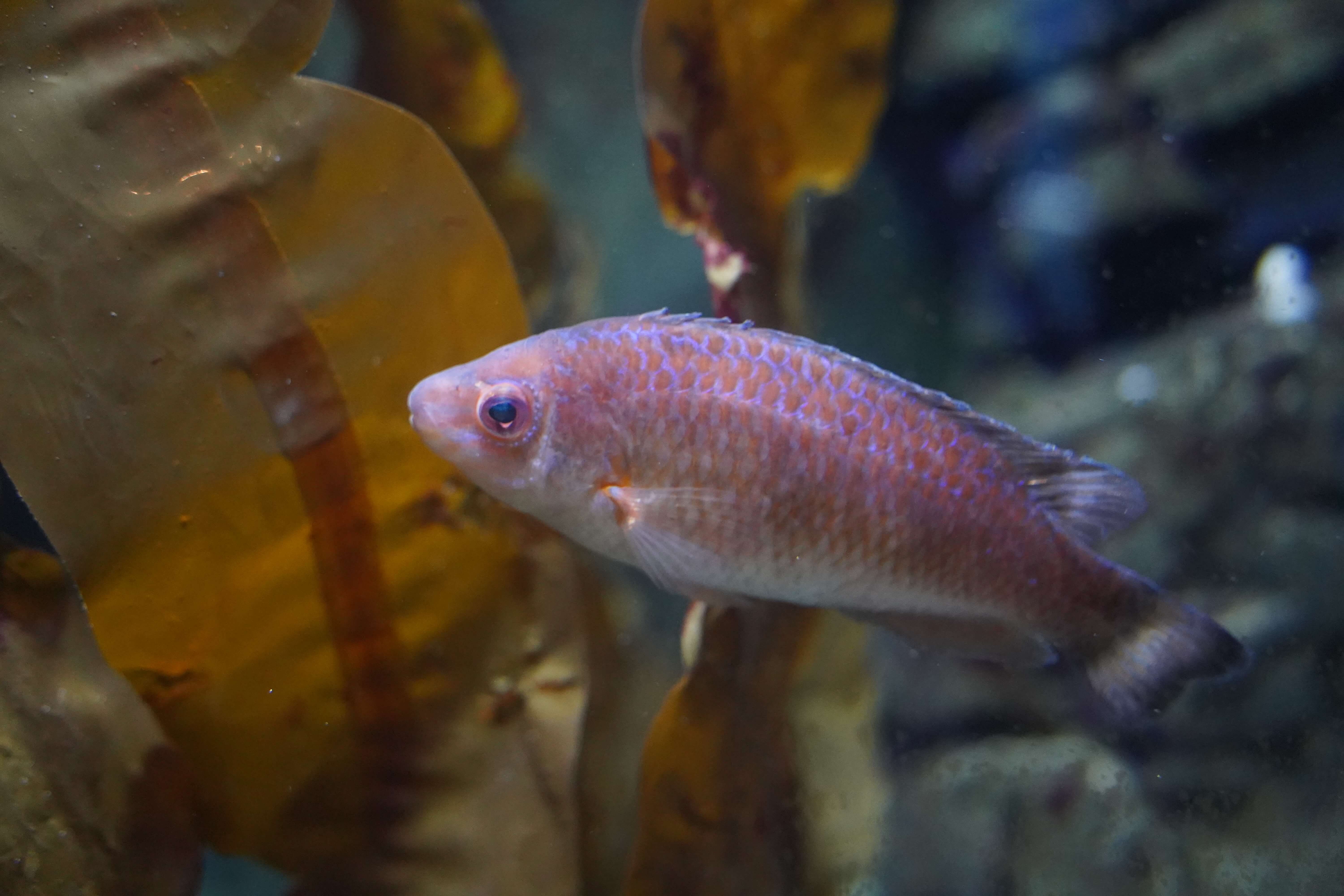 Cornwall LRF Fishing – Mini Species
There are of course a great variety more species in Cornwall which make angling so exciting and among these are all the fish which are too small to be targeted by the mainstream sport anglers but interesting to fish geeks that delight in the variety of their quarry. Among these are the Scorpion fish, Dragonnettes, Blennies and Gobies and Topknot. LRF in Cornwall is really exceptional and Light Rock Fishing has had a decent following in Cornwall, with events like the Cornish Lure Festivals 'Species Hunt' event helping to build community around the sport. The methods employed by LRF'ers are increasingly entering the mainstream, as they already have done in some parts of Europe and the whole of Japan! Catching the weird and wonderful species of Cornwall is certainly good fun. An excellent starter rod for LRF in Cornwall is the Tronix Pro rod you can pick up on Amazon here.
Other 'how to catch' guides: smoothhound, whiting, black bream, garfish, mullet, squid, and ray.