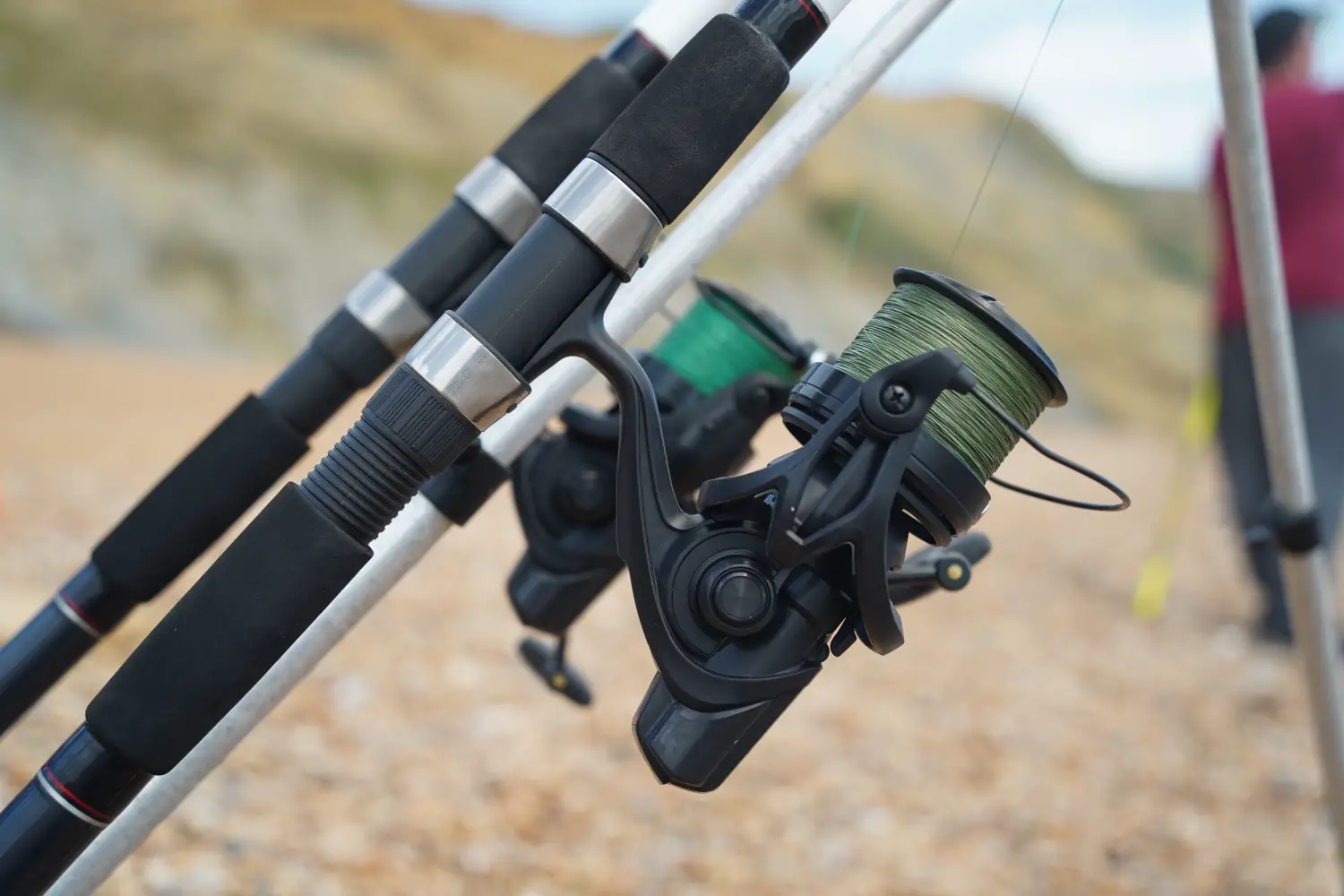 The best beach casting reels, and how to find yours
Beach casting reels have to put up with a lot. Heavy leads demand a certain calibre of reel over time, and having good line lay can improve casting distance. The best sea fishing reels are like fricken' sports cars, but this is not necessary. My aim is to find you a reel that will consistently do what you want it to do, and put up with a lot of abuse. That filters out most. Feel free to email questions to mevagisseyinfo@gmail.com for free tackle advice.
FISHMAG is reader supported as an Amazon Affiliate and we earn commission from sales at no cost to you.
The best beach casing reels have fine-tuned brass cogs, more saltwater resistance and incredible line lay. Better reels have smooth and powerful drag systems that reduce tension on your line so it doesn't snap when you hook a big fish. Cheaper reels have drags that release line unevenly, increasing line strain and fighting big fish feels like a struggle.
Key things to know about your next beach casting reel:
Reel size: getting the right size reel for your rod is important. It's also handy to have a larger reel for rough ground work and a smaller reel for estuaries or sandy beaches.
Line recovery: A higher gear ratio means the reel retrieves line faster, but isn't the most useful way to measure this. A better measurement is 'line recovery' – this is how much line comes in with one crank of the handle. A high line recovery is better for distance fishing or rough ground where fish can dive into snags.
Reputable brands: Look for reels from Penn, Daiwa, Shimano unless you know about a specific reel from an alternative brand. They aren't the only good options, but are safer bets.
The 7 best fixed spool reels
The following reels are ordered price high to low.
Shimano Ultegra 14000 XTD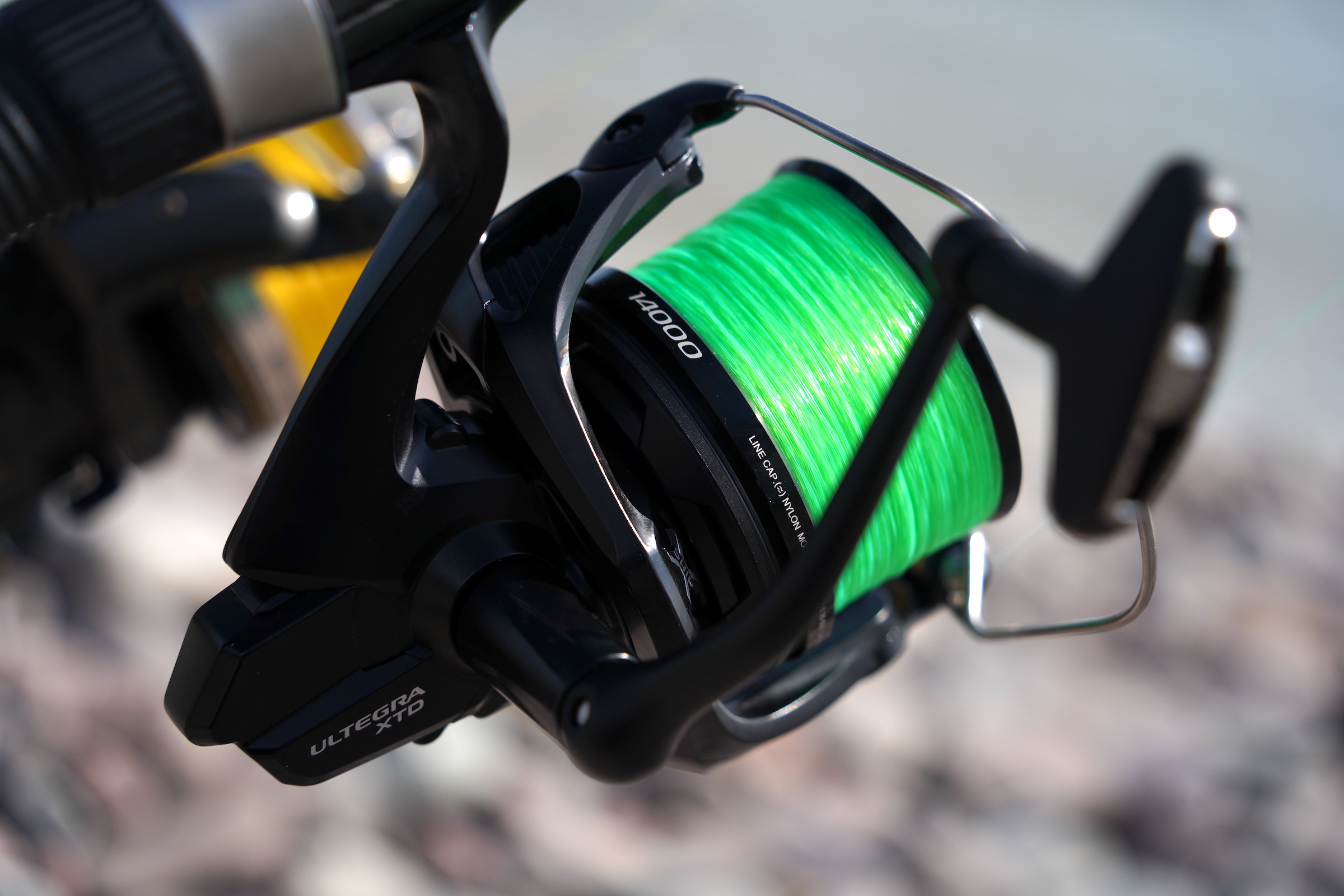 Shimano's Ultregra is a top-end premium beach casting reel that is designed for a very long life and the highest level of reliability. It's one of the only reels we could forgive for looking so much like a carp reel…
Shimano have got this thing called X-protect which helps reduce the intrusion of water and dirt into the reel. If you're as silly with reels as me you'll get all kinds of crap in there, so this is a handy feature if you fish at surfy marks or areas where the sea breeze has a lot of water to it. These kinds of marks can ruin cheap reels within a season.
The reel also has great line lay, which does increase casting distance a surprising amount. It's got a solid drag as you'd expect and comes with a spare pool and a line reducer so you don't have to use loads of backing line.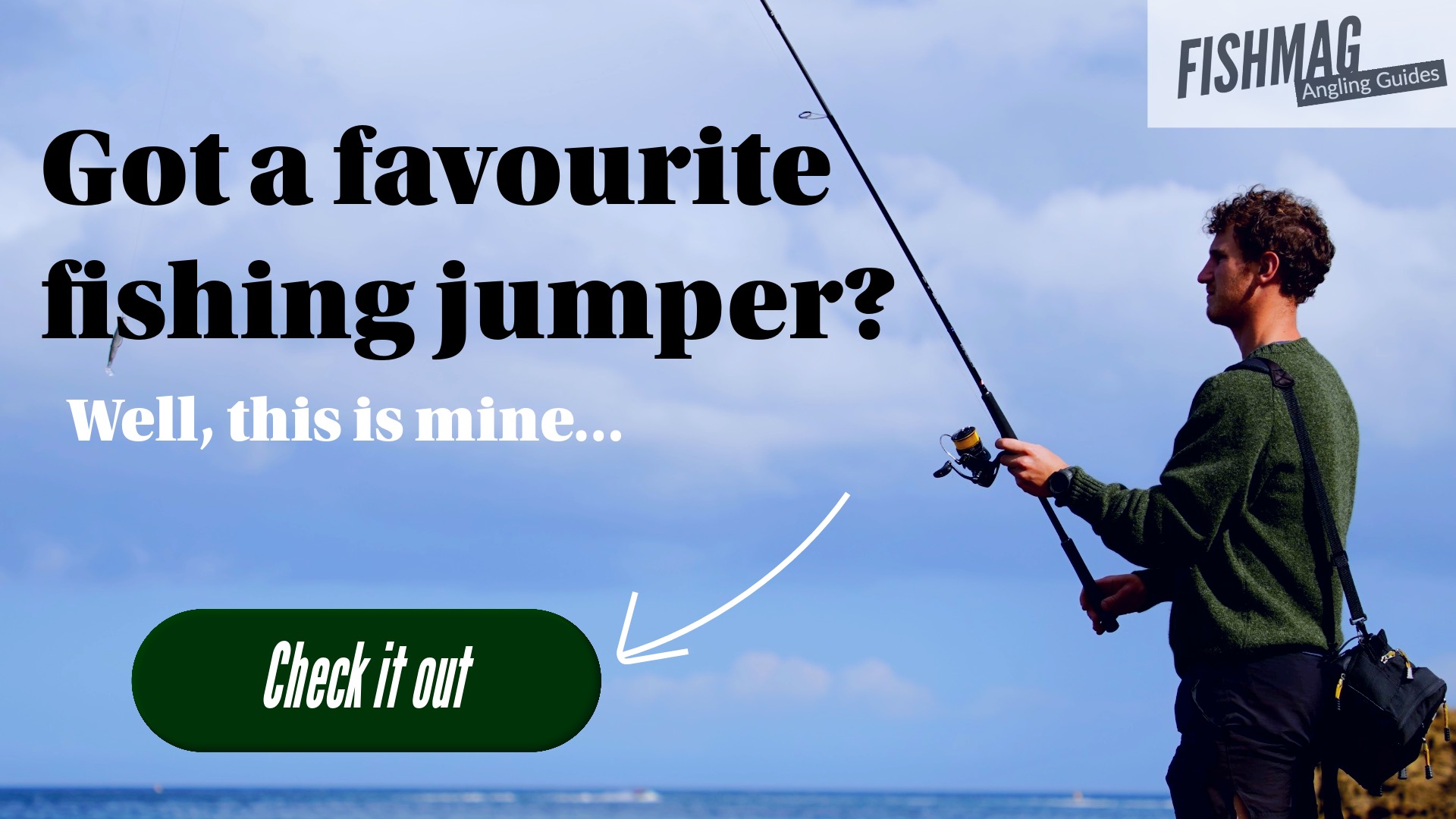 Somehow, the Ultegra weighs in at 540g. It has a maximum drag of 20kg, which is about as elite as you're going to get in a beach casting reel. Many good multipliers only have max drags of 8kg. One crank of the handle retrieves about 1m of line, which is typical of a beach casting reel. This allows for decent sport with smaller fish but is still powerful enough to handle whatever you throw at it. The Ultegra is a solid choice for anglers looking for a high-performance, reliable reel that can go the years without fail.
Penn Battle III Longcast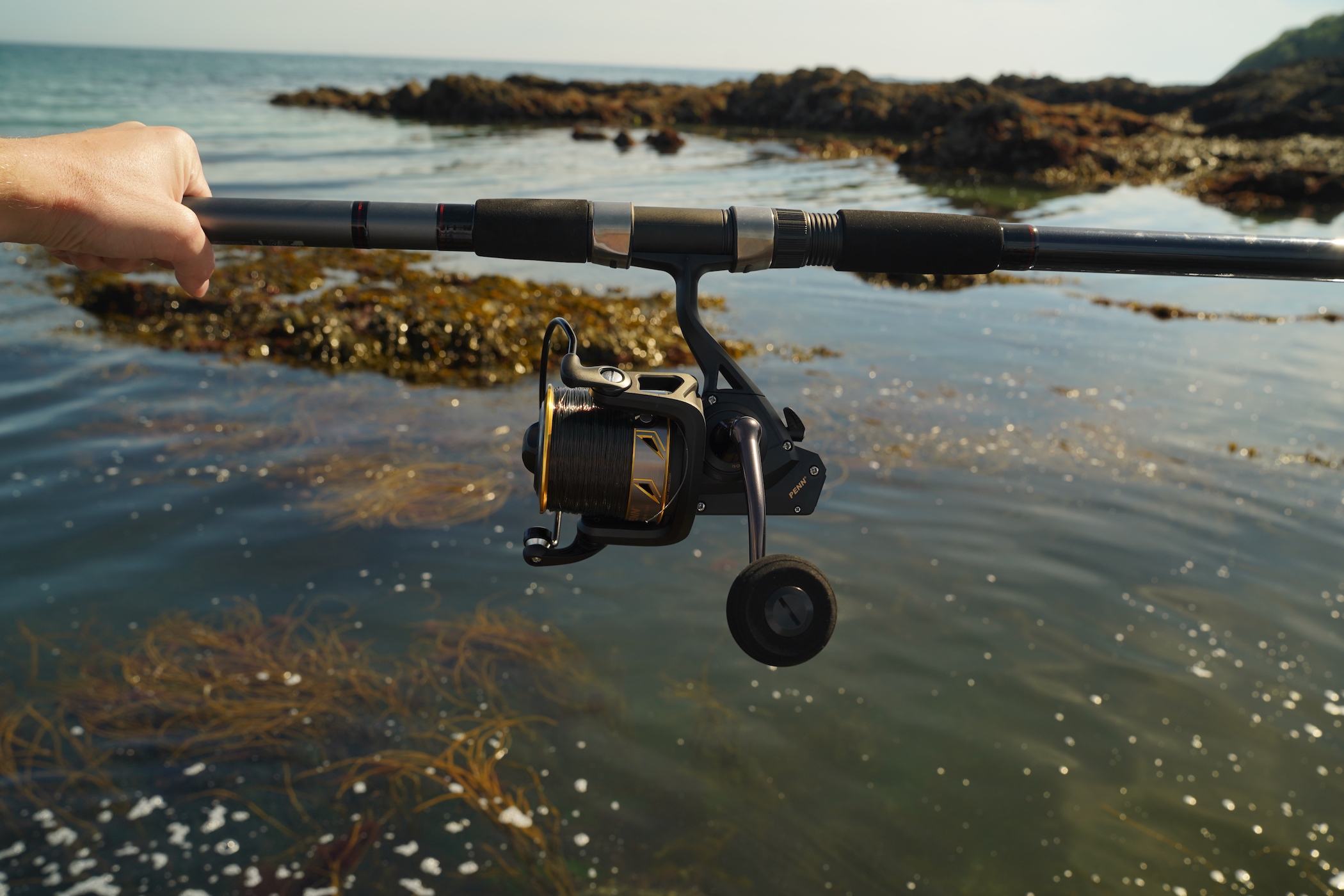 The Penn Battle is one hell of a reel. Exceptionally smooth and reliable, with a saltwater resistant spool that's been chemically treated. The main body is graphite so it's not as heavy as you might expect. A safe bet for a long lasting premium reel. We are still testing this reel to assess it's durability so the verdict is not out from us yet.
The metal handle has no flex at all – the whole reel feels solid. The round handle is super smooth in your hand and the reel overall feels robust and strong as well as luxuriously smooth. The drag is far more powerful than is needed for UK sea fishing sadly, but if you take it on holiday you might one day be glad of it (if you hook a shark or monster ray…).
Penn Surfblaster 7000/8000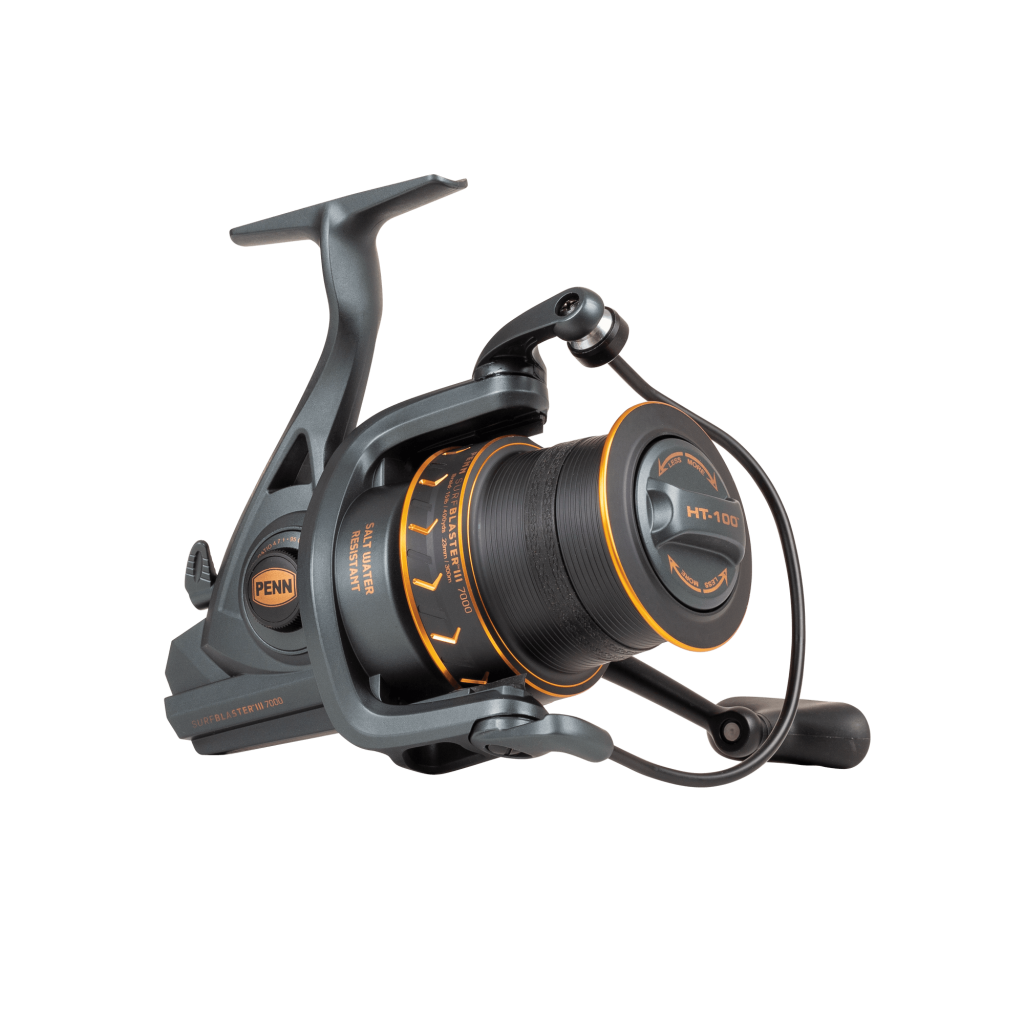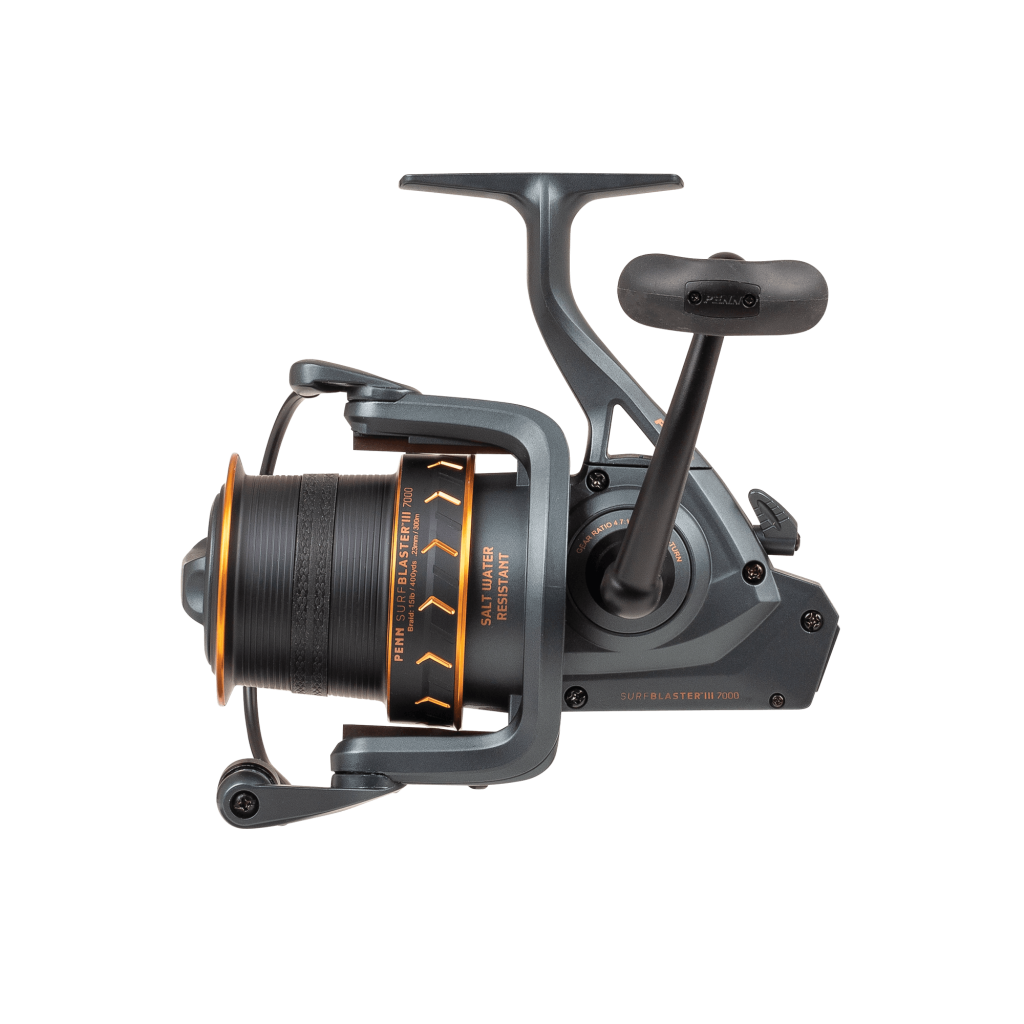 The Penn Surf Blaster III 7000 LCEU is the upgraded version of Penn's top selling surf casting reel. It's a pretty serious reel. Lightweight, powerful and saltwater resistant (although I wouldn't believe that too much, only mag-sealed reels can actually handle a good dunking). It's got a shallow aluminium spool, and an extra slow oscillation system. A reel from Penn at this price is going to feel more sturdy, solid and much more smooth than the vast majority of beach casting reels. Mostly this just makes it nicer to use, but it will also control line lay better, cast further, have a more reliable drag that goes out more evenly etc.
The Penn Surfcaster also has a spare deep spool. It's very useful to have a couple of spools, say one with lighter braid for fishing clean ground and optimal casting distance and one with a heavier monofilament for very rough ground to minimise line damage on rocks.

Penn Rival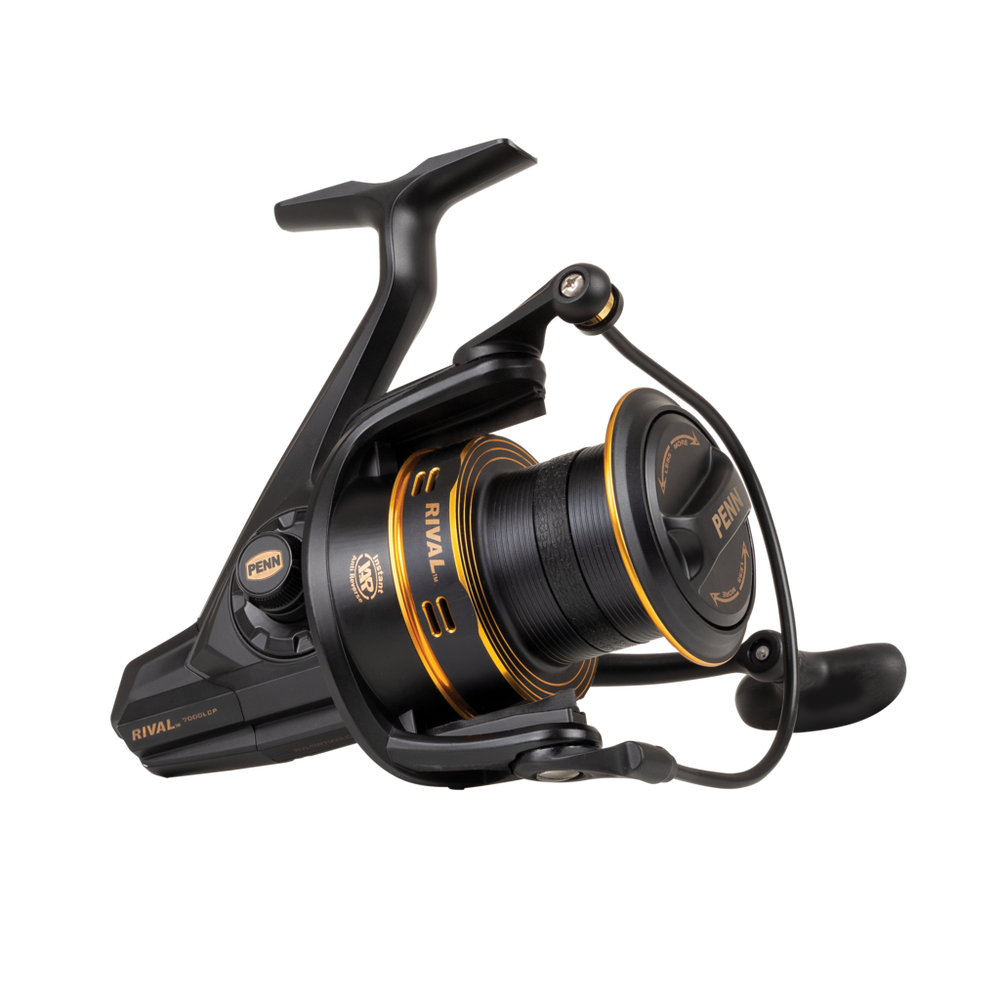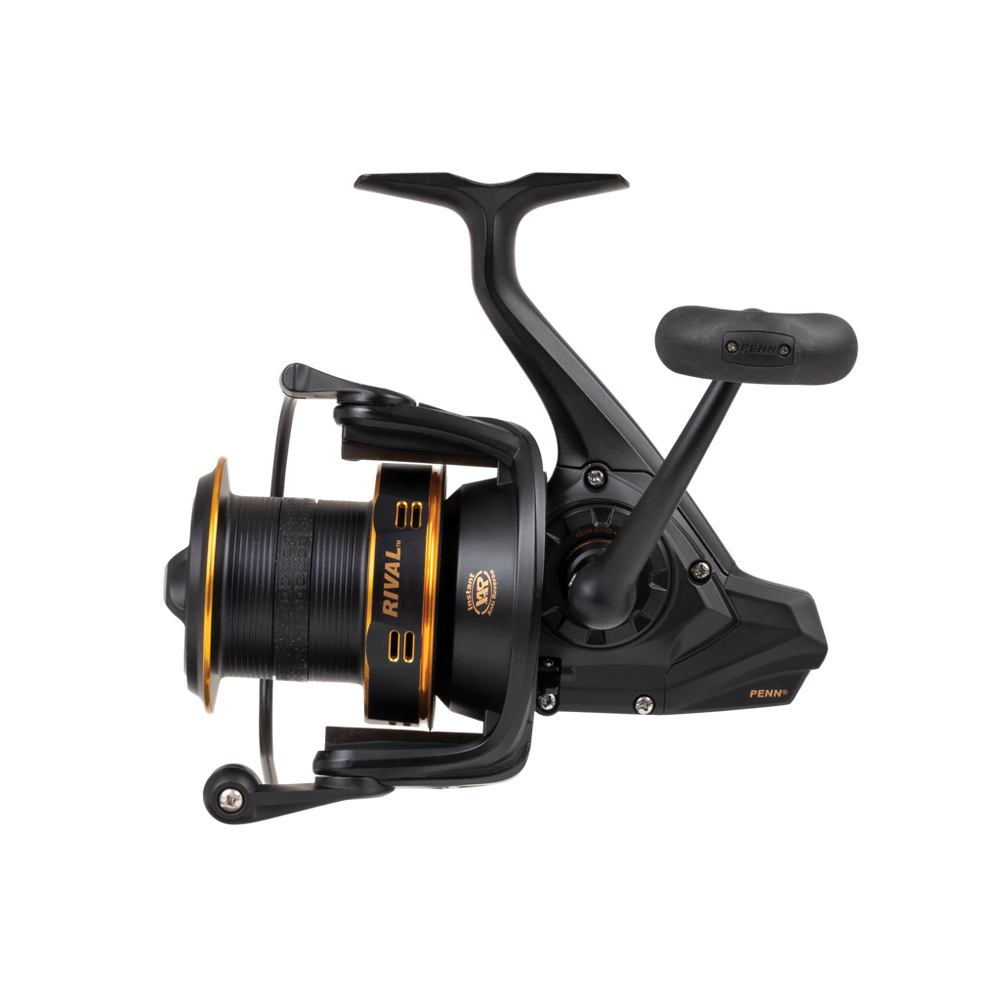 The Penn Rival Longcast is a high-end beach casting reel that can handle anything you throw at it. The spool is designed to maximise casting distance by freeing line from the spool with less friction. The graphite reel body has a smooth feel under load and the aluminium spool is braid ready and saltwater resistant. The reel has a strong and smooth front drag with a maximum drag of 8kg, making it ideal for hauling in the biggest fish you're likely to catch when UK shore fishing. The T-shaped handle knob and 4:3:1 retrieve are pretty standard, but a reel at this price from PENN has more torque than a cheaper reel, so you can crank the handle against much more resistance. Perfect for pulling congers away from snags! The reel holds half a kilometre of monofilament. Realistically this actually just means you're going to need a load of backing line.
The reel weighs 669g and is perfect for long casting sessions, although not many would buy something like this for flinging feathers. It's a very nice reel to use.
Daiwa Shorecast
The Daiwa Shorecast is a high end reel at a reasonable price point. It feels super smooth and robust, and as you can see has excellent line lay. The rugged appearance could have you mistaking it for a Penn reel, and indeed the experience of using this was very similar to that of the Penn Battle beach casting reel.
The reel in the above photo paired well on a 12-14ft rod. Excellent for the price.
Okuma Surf 8K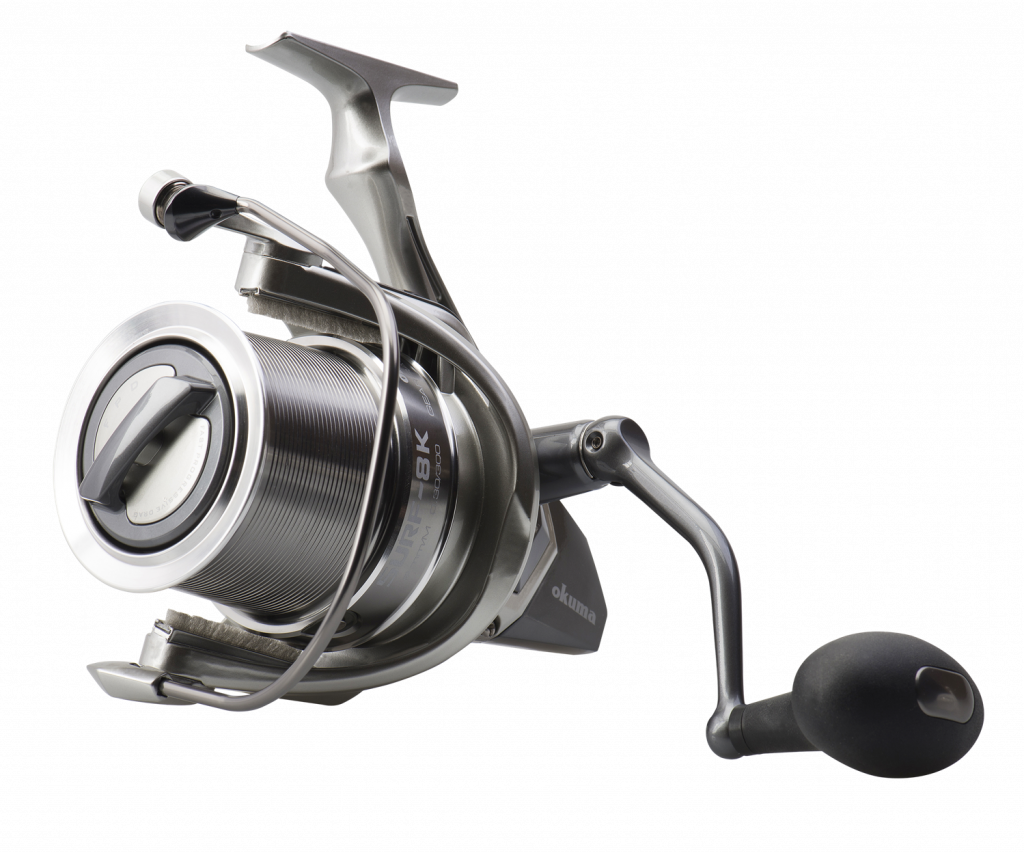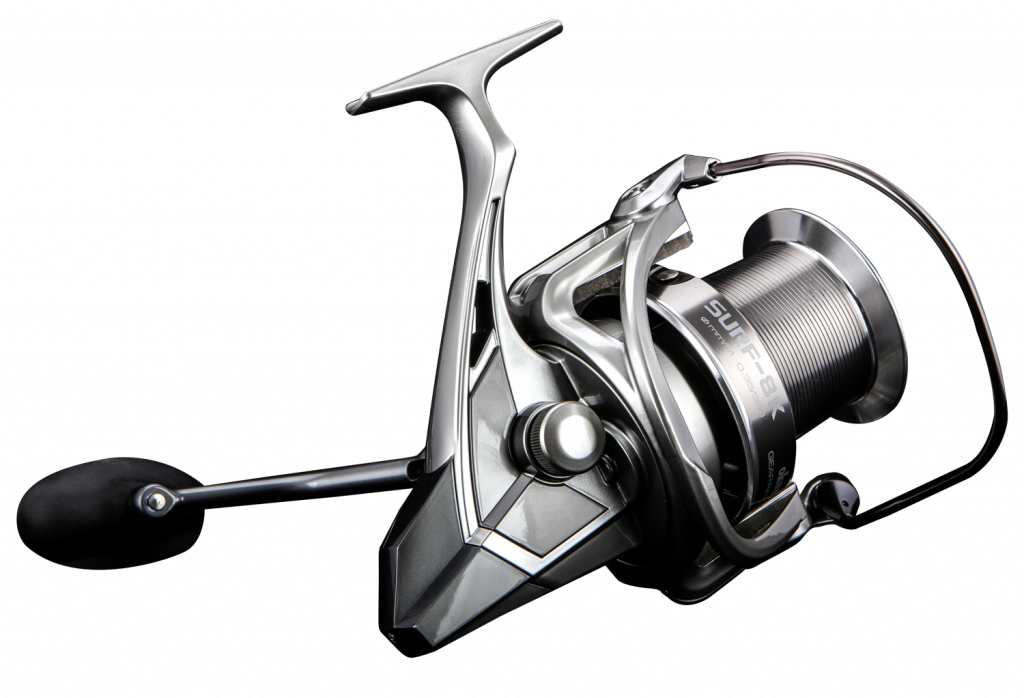 The Okuma Surf 8k positions itself as a robust product that can stand up to the toughest conditions we face in the UK – bumps on rock marks, being dropped out of the boot of your car. Leaning your rod against a shop to go in and get a pasty, pie, sausage roll, or haggis, depending on where you are based – and then finding your rod has slipped and your reels hit the curb. If you've got a plastic reel with a low build quality it might not cope well, but the Okuma surf is going to come out ok the other side.
It has an 18kg drag – which is insane. Most multipliers used for shore fishing have 8kg drags. That means this thing can be adjusted to take out minimal line when playing huge fish. More often, it will be useful when pulling free of snags!
The reel has exceptional line lay and runs smooth. Apparently, Okuma have created a system for allowing the reel to dry itself more quickly if it gets wet. For some anglers that might not be much use but my reels tend to get dunked a fair bit, so it's a handy feature to minimise inevitable salt damage over time. It does have a system for blocking water getting in too, but it's prudent to never trust these too much on reels.
The reel has a gear ratio of 4:7:1, which is actually not that high, so it's better for playing fish like bass that you don't need to crank like you would, say, a huss. One turn of the handle retrieves just over 1m of line. It has a gear ratio of 4.7:1, meaning one turn of the handle spins the rotor around your spool 4.7 times.
The reel weighs 763g and is covered by Okuma's 5-year warranty (check this with the shop you buy from). Overall, a great buy for a very solid beach casting reel.
SONIK SKS 8000 SURF REEL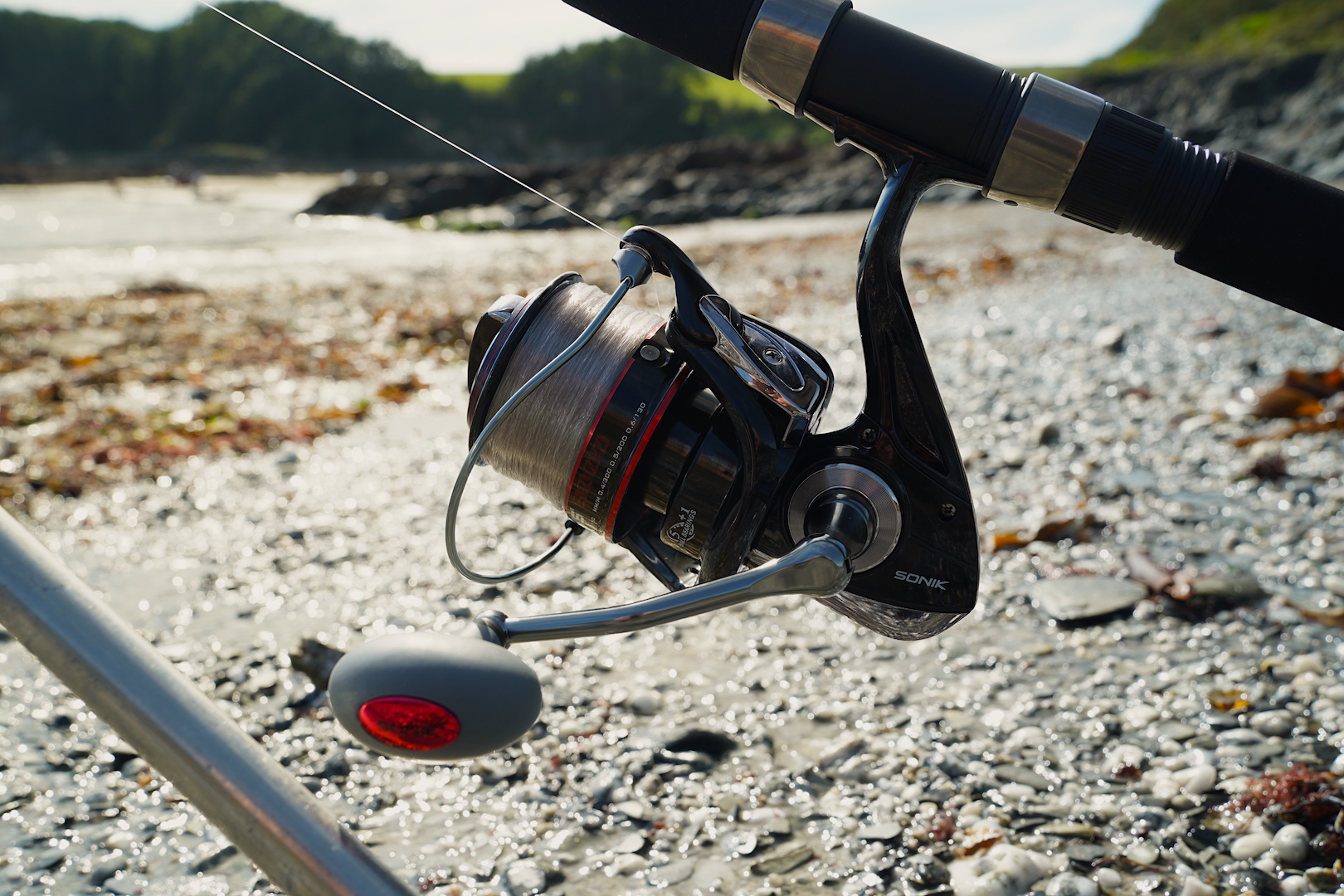 One of my first beach casting reels was from SONIK, I don't recall the exact size, but it worked for me getting started. This is a decent budget beach casting reel for anglers that are looking for something that can handle more than just light summer harbour wall fishing. The reel features a metal spool and large diameter bail wire. The large bail roller and powerful front drag system give you control and fighting power. It has 5+1 ball bearings but you can't really rely on that as an indicator of quality these days, as companies just increase the number without increasing the function of the reel sometimes. The reel delivers a smooth retrieve with a 4:6:1 gear ratio.
The oversized soft grip handle knob is comfortable to use. The Songs SKS holds 220 yards of 20lb monofilament line or 300m of 0.4mm according to Veals. A great budget beach casting reel that still delivers enough performance for beach casting with serious leads and rigs. If you're going to buy a fairly budget reel for beach casting, we recommend leaning towards larger sizes, as they will cope more easily with leads. You don't want to use a budget reel that's slightly too small as you're likely to strain it more than it can handle with heavier leads. I would not recommend spending less, as the Sonik SKS is probably the cheapest beach casting reel we'd actually recommend. Too far below this price reels can struggle to handle heavier leads and have poor line lay, leading to breakages and tangles.
Multipliers
Multipliers are used by experienced anglers that want to up their beach casting game. The main advantages of a multiplier are improved casting accuracy, the ability to use advanced casting techniques that can increase casting distance and higher gear ratios, so more line is retrieved with one crank of the handle. However, one of the main things to pay attention to is magnetic breaking. This is what prevents the birds nests and line tangles multipliers are notorious for causing.
What is magnetic breaking?
Magnetic breaking: when you cast with a multiplier, your thumb is on the spool and you apply pressure to set the speed you want the spool to spin at. When you apply more pressure, the spool turns more slowly and your rig won't fly as far. The moment your rig hits the water, it stops taking out line. However, your spool will still be spinning. This can result in birds nests (line tangles) because the line continues to come out of the spool and there's nowhere for it to go.
Magnetic breaking works by allowing you to manually adjust the speed the spool will spin. This means for instance you can set it to stop spinning so fast before the rig hits the water, thereby reducing the chance of a serious line tangle.
The 5 best multipliers
We've ordered the multipliers from price high to low.
Penn 525 Mag4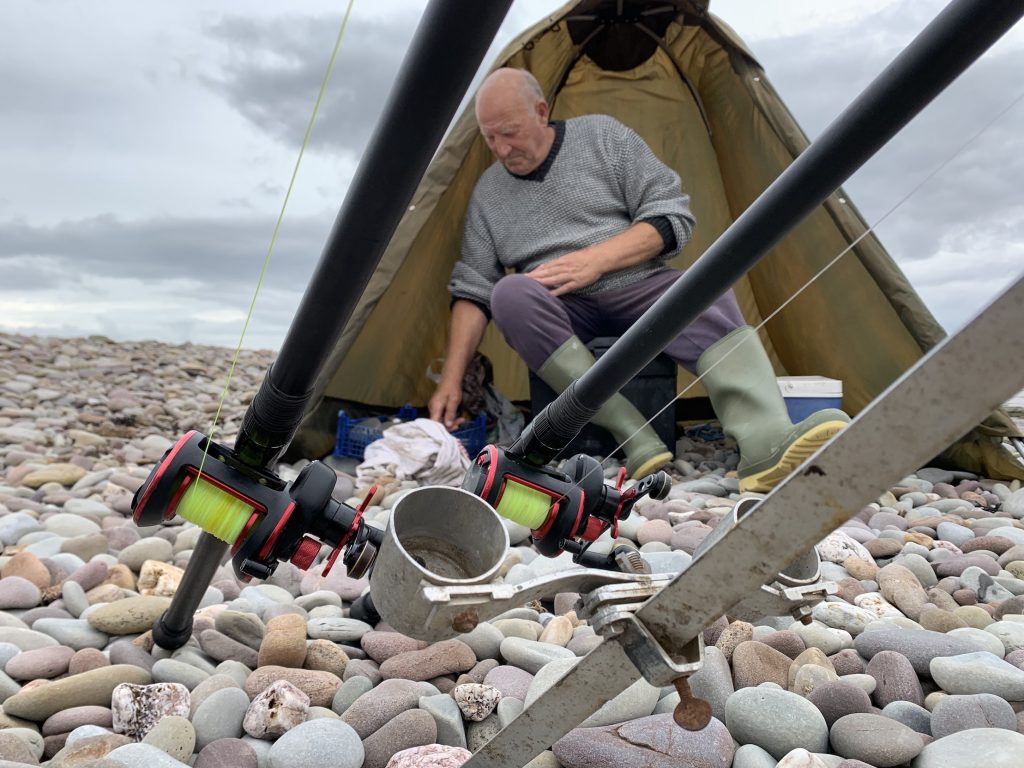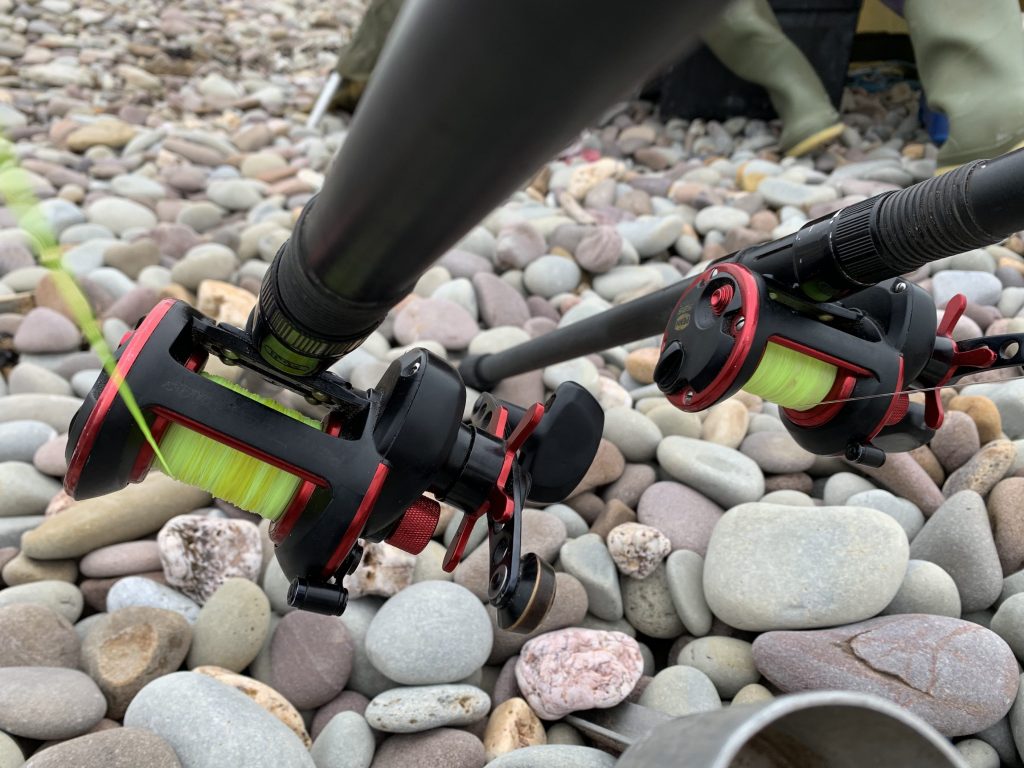 Penn's latest long beach casting classic is the Mag 525 4. The reel pictured about is the popular mag3. This is an excellent all-round multiplier for beach fishing. It allows experienced casters to reduce the braking mid cast to get a few extra meters in the cast, which is useful at certain marks, for instance, reaching channels in huge estuaries like the Bristol Channel. It has an adjustable magnetic brake system, a solid stainless steel main and pinion gears and an aluminium spool. The Versa drag system is smooth, and can handle a maximum drag of 9kg. The reel weighs in at 439 grams, which is pretty light for a beach casting reel. Despite this, the reel is strong enough that you can pull hard into snags and know that the reel will hold up to any pressure you put on it.
The retrieve is 6:1:1 and one turn of the handle brings in 29" of line… That's a lot. Not ideal for the whiting or dab that make up the bulk of British winter catches but very useful for bigger fish like huss that can crash dive into the kelp at rough ground marks.
The older version of this reel was my first multiplier and I used it from beaches and estuaries around Cornwall with no trouble. Recommended. It's got a good legacy for a lot of anglers.
Penn Fathom II 12 SD Mag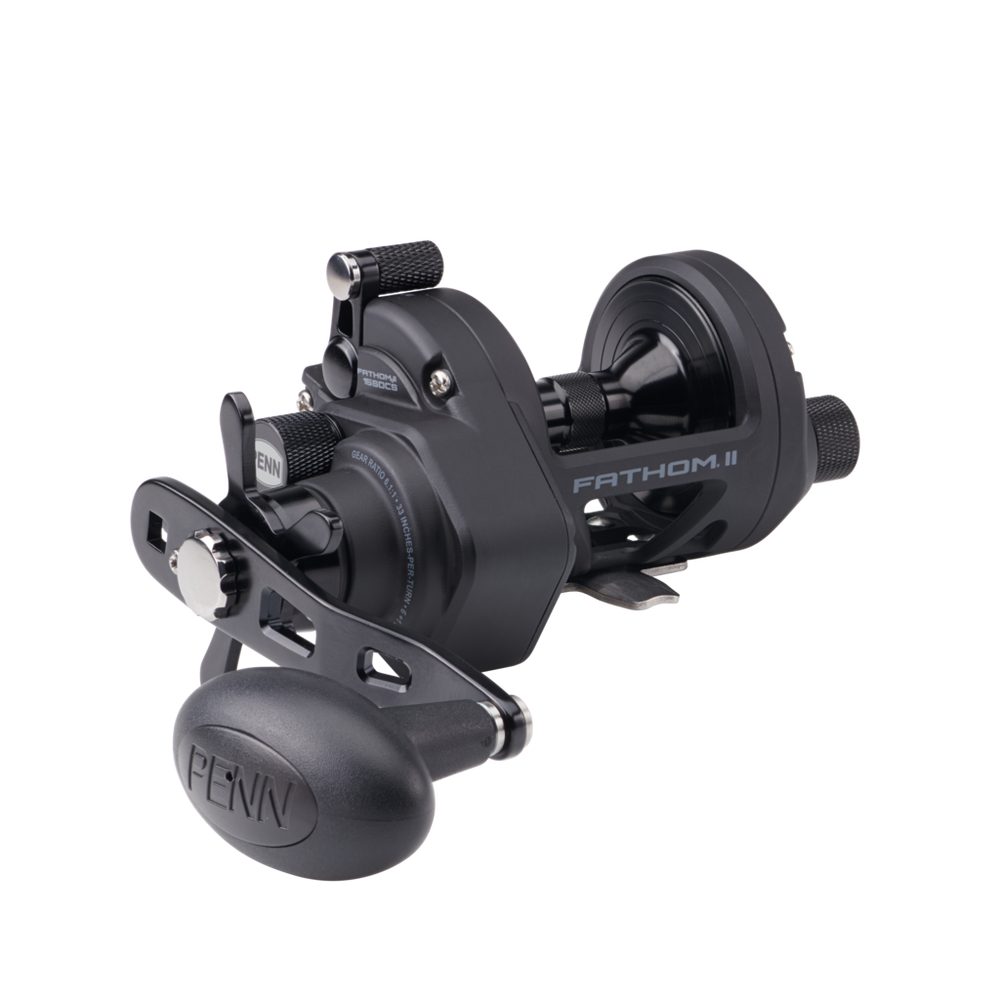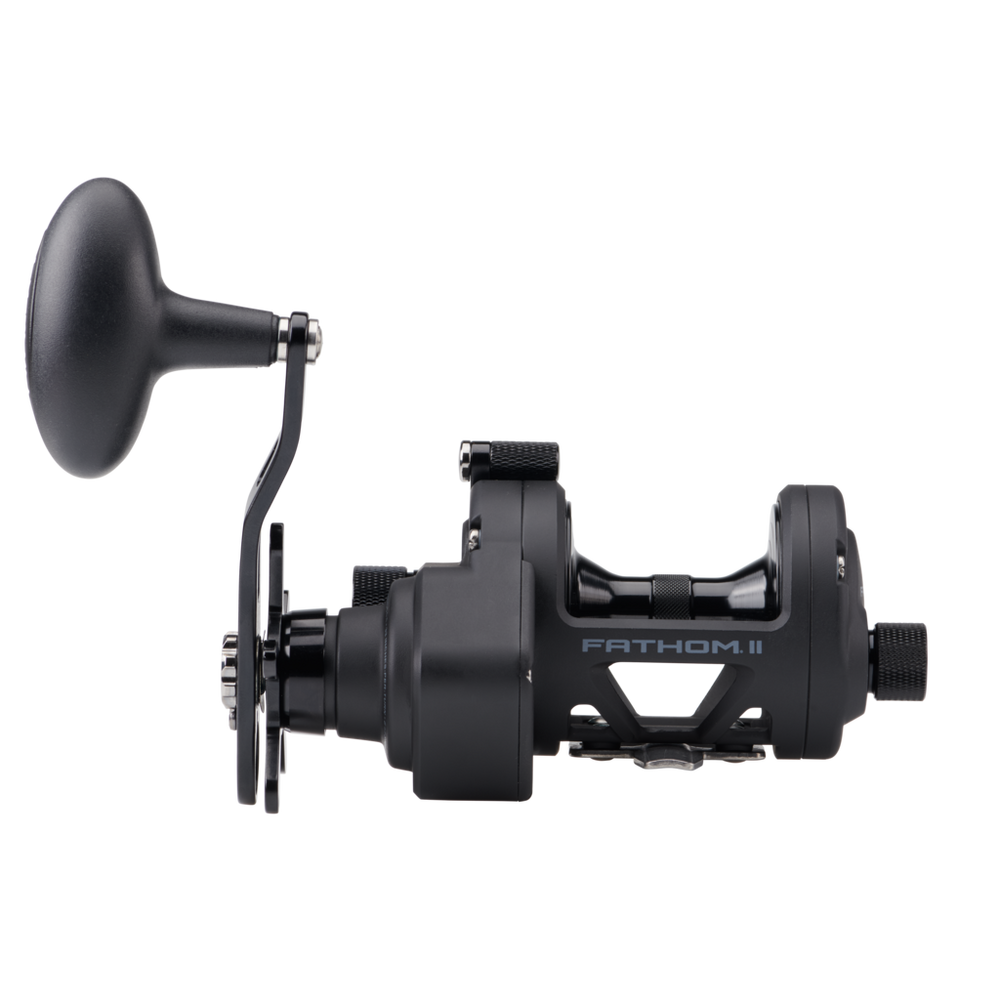 The second generation PENN Fathom II star drag reel is an ultra-tough and durable reel built with a rigid metal frame and sideplates. This reel features Penn's access sideplate, allowing anglers to service their gears and HT-100 drag system quickly and efficiently. This multiplier is casts effortlessly (if you're used to multipliers) and has a gear ratio that allows for easy winching of fish in deep water. Like other reels at this price point you can adjust the mag knob easily mid-cast. It's a high performance reel with a bronze main gear and a generally high build quality.
It has a gear ratio of 6:1:1 and holds 405 yards of 15lb monofilament. The max drag is 13.6kg, which is significantly higher than most other beach casting reels on the market. One crank of the handle retrieves 30" of line. This reel is ideal for anglers looking for an advanced reel for flinging heavy rigs with precision.
We only hope that the legacy of these latest versions of the reel will be as impressive as the early PENN reels. A Scottish guide we interviewed told us that he has multipliers on his boat that are several decades old and still working fine. It will be interesting to see if the latest reels from PENN will have that kind of lifespan.
Daiwa Millionaire 7HT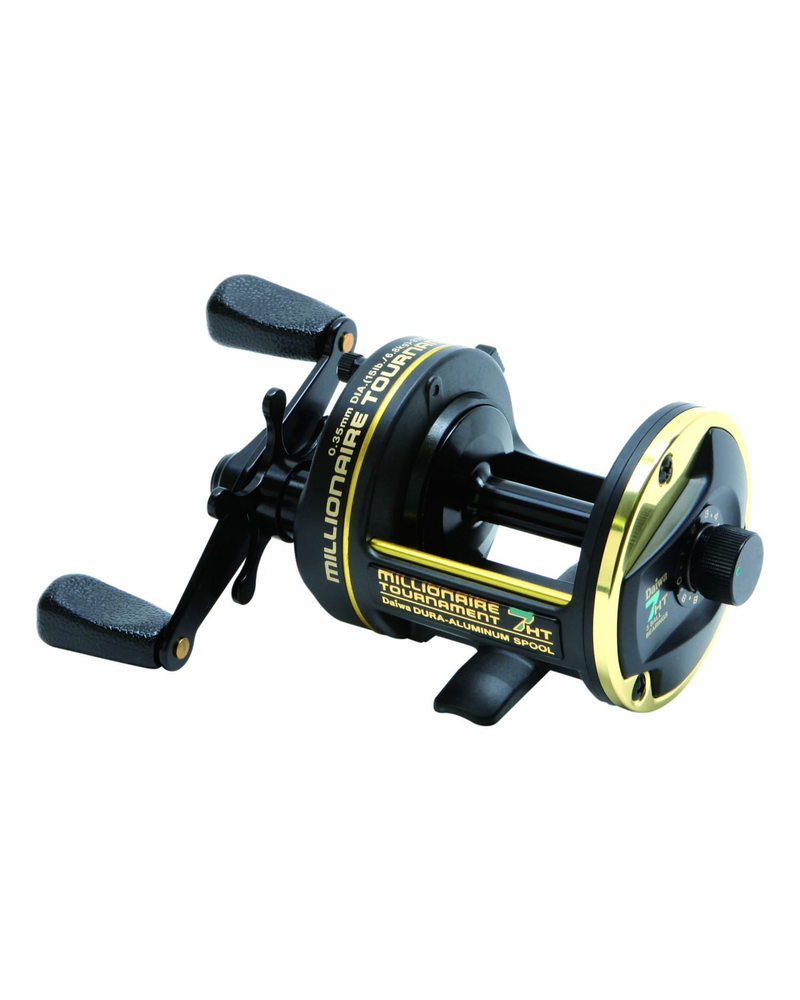 There are three different versions of the Daiwa Millionaire and they come at very different price points. Our understanding is that the cheapest version – the Millionaire 7HT – is just as capable as the more expensive models, but does not come with magnetic breaking. This means that unless you're an advanced angler, it's much more likely to get birds nests but otherwise will perform just as well.
7HT MAG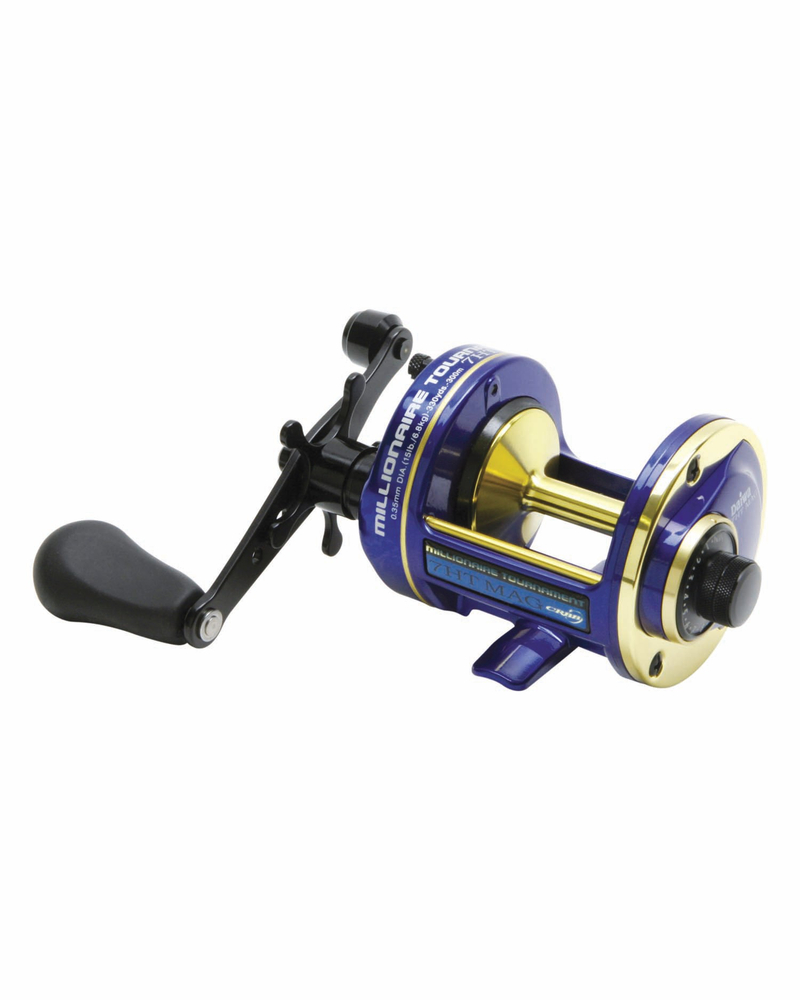 Then you have the second version, the Millionaire 7HT MAG. This version is a bit more powerful and has a higher gear ratio. The build quality is probably better, too. However the main difference is the magnetic breaking. This feature makes the reel much less prone to birds nests, so you get the benefits of a multiplier without some of the problems they're notorious for creating (tangles!). The slight downside of the magnetic breaking is it might not allow for such long casting, because the spool spins more slowly the more you apply it.
The Daiwa Millionaire 7HT Mag reel is a good buy if you want to use a multiplier but want more control over the speed of your spool on the cast so you get far fewer tangles. Boasting Daiwa's most advanced braking system the Millionaire 7HT Mag sets itself apart from other multiplier reels on the sea fishing market. Its sleek blue and gold cosmetics turn some people on but what matters more is how the thing actually works.
The Magnofuge braking system is an intelligent system that detects the centrifugal force of the spool, allowing it to achieve maximum speed early in the cast and preserve as much of that speed as possible. As the centrifugal force reduces, the Magnofuge makes minute and gradual adjustments to the magnetic resistance, perfectly synchronized with the speed of the spool, resulting in effortless distance casting.
The Millionaire 7HT Mag is also incredibly smooth, thanks to its six ball bearings, including one corrosion-resistant ball bearing. This feature is particularly important for sea fishing reels, as they are often exposed to the corrosive nature of saltwater. If properly maintained the reel should go the decades.
With a gear ratio of 5.8:1, this reel offers a swift retrieve, even in rough conditions with ten buckets of kelp on your line. It's got some pretty intense cranking power, as you'd expect.
The reel also has a weight of 12.2oz, a line capacity of 300m 15LB, and a gear ratio of 5.8:1. The Daiwa Millionaire 7HT Mag reel is a must-have for any serious angler.
7HT MAG ST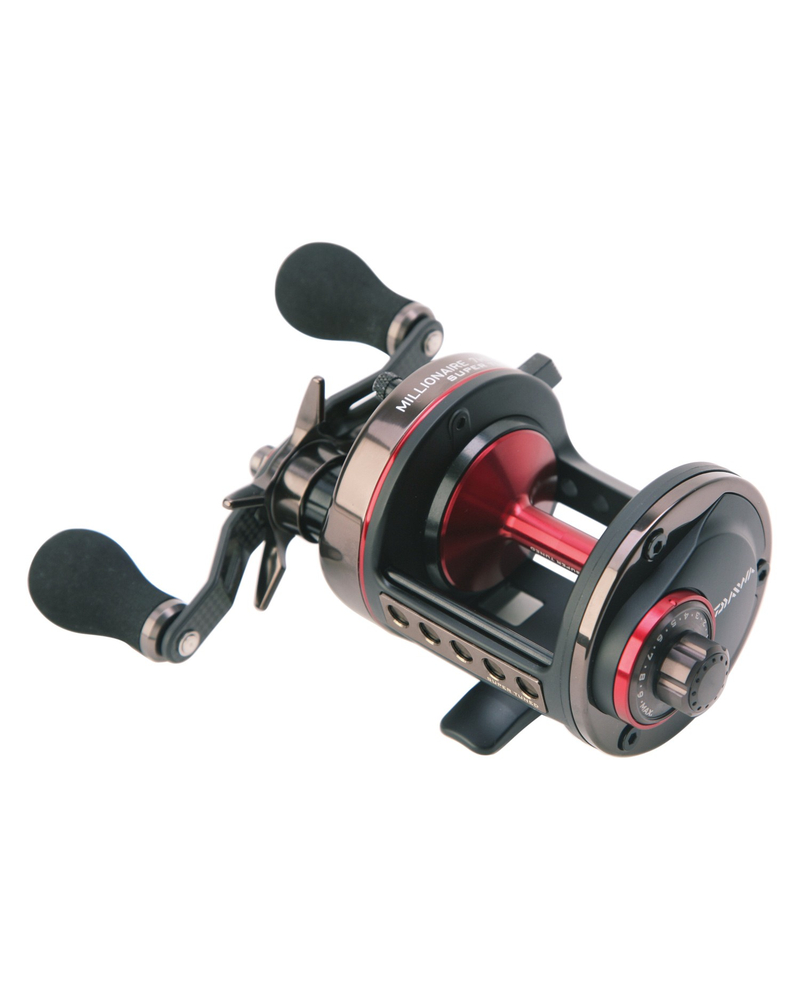 Which is why the third version, and most expensive option, is the Millionaire 7HT MAG ST. This reel has the magnetic breaking, but improvements have been made to it by the Daiwa engineers to allow for further casting while still getting the benefits of the magnetic breaking. We do not know how this new system works and have not yet tested each model to see for ourselves. This reel has the highest build quality of them all and is firmly in the 'supreme' end of multiplier reels for shore fishing.
The MAG ST provides the ultra high end of casting performance while managing the trade off between distance and control that cheaper models have to make. If you're looking to elevate your fishing and casting experience and don't want the faff of tangles then this might be the multiplier for you. Certainly a luxury option and most anglers will not find it necessary at all for their angling.
AKIOS NITRON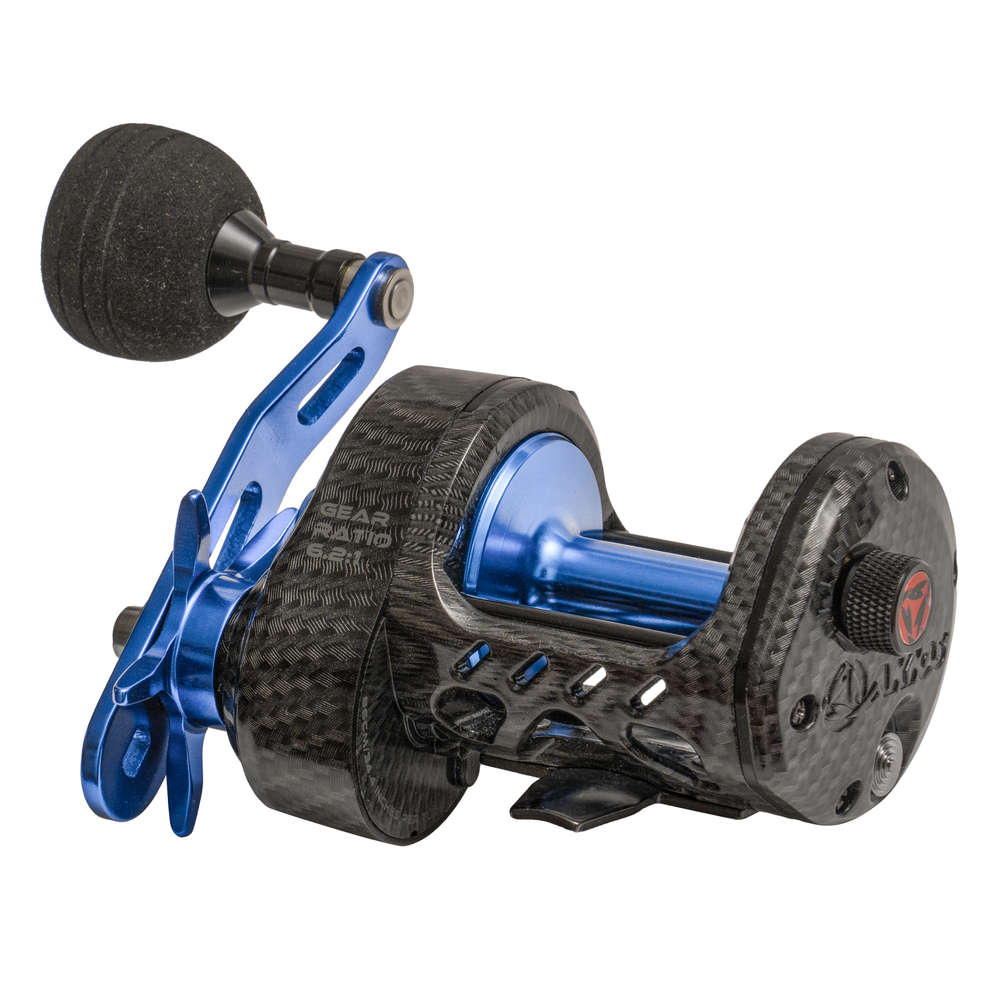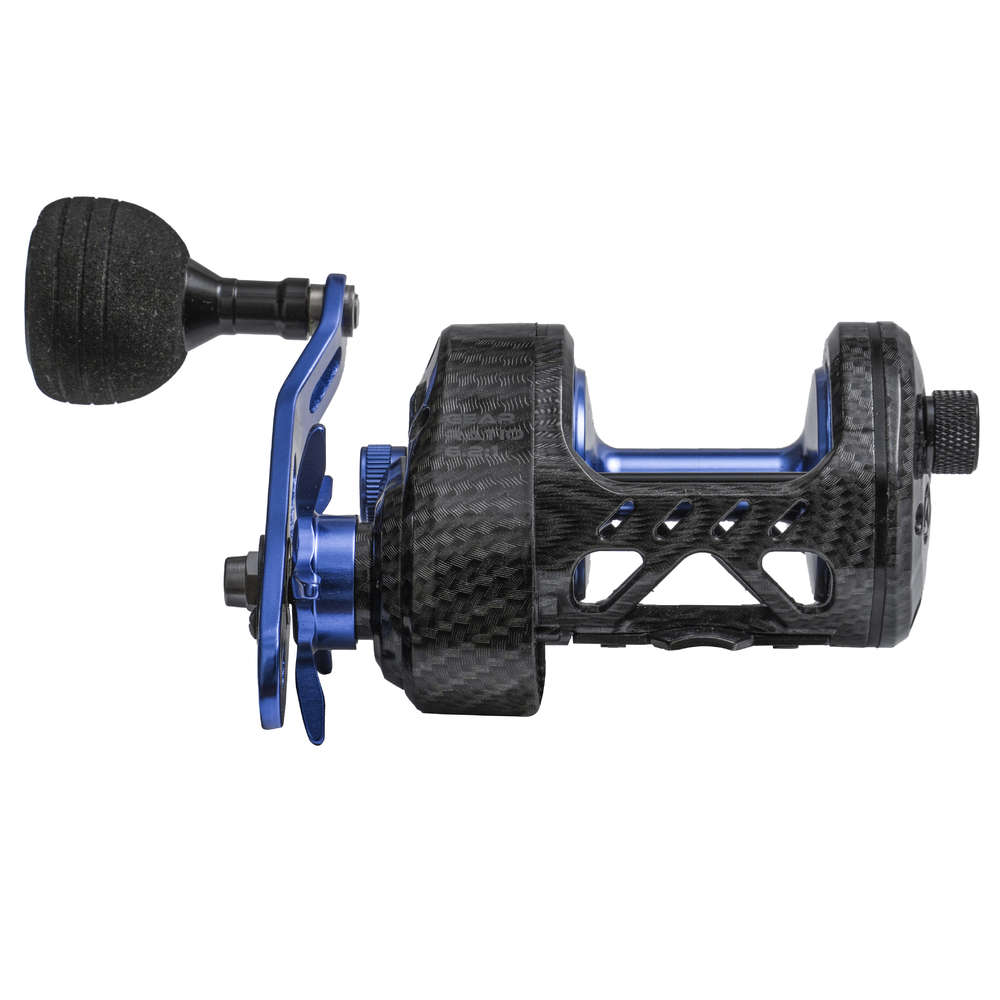 The Akios Nitron has two versions: the F-15 and the F-15 XP.
The XP is the newer version and has:
UPGRADED Akios QUADRO Magnetic Braking System for even greater casting control
UPGRADED Drag System
EVA Ball Power Handle
The Akios NITRON F-15XP is a long distance casting multiplier for anglers who want more power than you get with a fixed spool reel. It's got a 6.2:1 retrieve gear ratio, which is more than enough for any UK shore fishing, even for bigger cod or conger.
Like other reels at this price point the NITRON F-15XP features a good magnetic braking system. This reduces the chance of birds nests. It's got a serious drag, so bigger fish can tear out line without screwing your reel over. The upgraded braking system is controlled by way of an accessible knob. With the mags wound fully on, the reel ensures overrun-free casting of large baits, while wound fully off, the lightweight spool runs absolutely free, allowing for maximum casting distances.
The NITRON F-15XP features precision-machined brass gearing and a colossal 10x44mm main gear. It's got a lot of torque. The line capacity is 340m/0.35mm. With a gear ratio of 6.2:1 it has a line recovery of 34.4 inches and a maximum drag of 32lb. The reel weighs in at 440g, making it a powerhouse reel that is lightweight and easy to handle.
If you're looking for a reel that can handle big baits and big fish, and deliver superior casting distances, the Akios NITRON F-15XP is the reel for you.
Tronix Pro Guerilla – 6500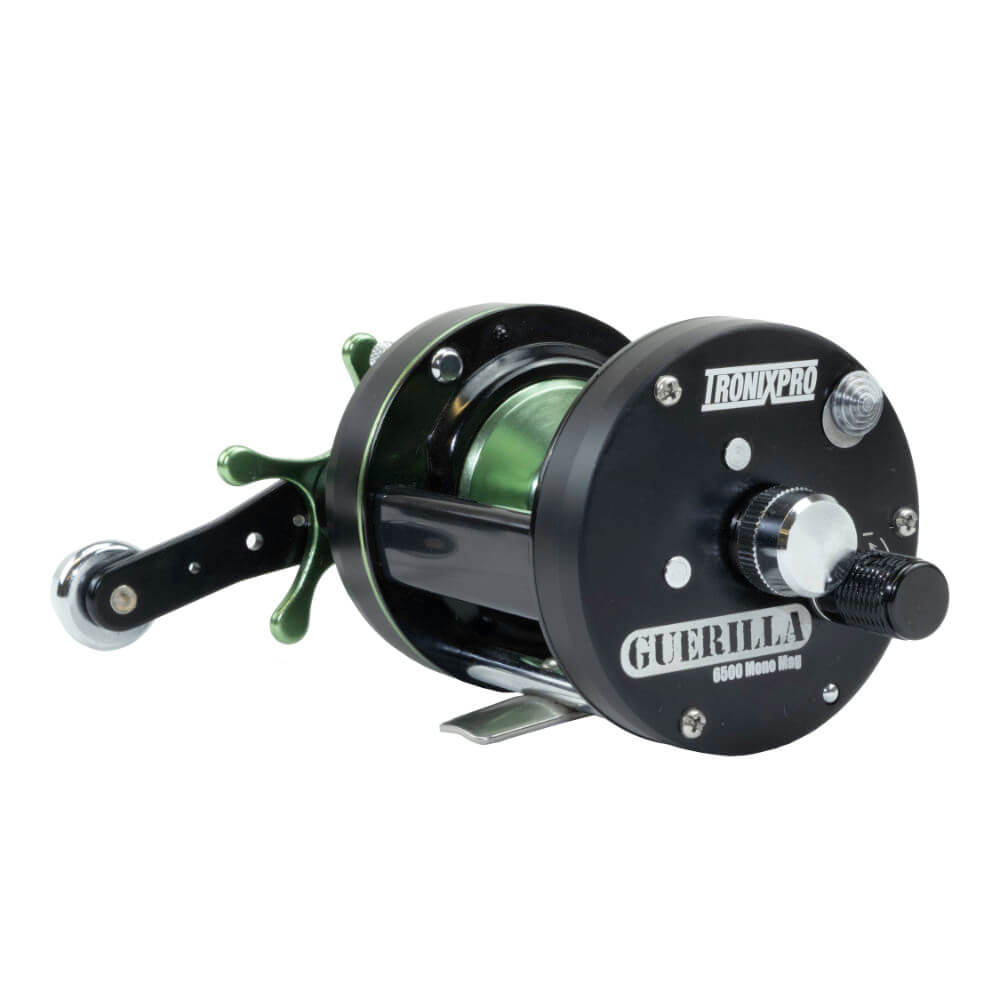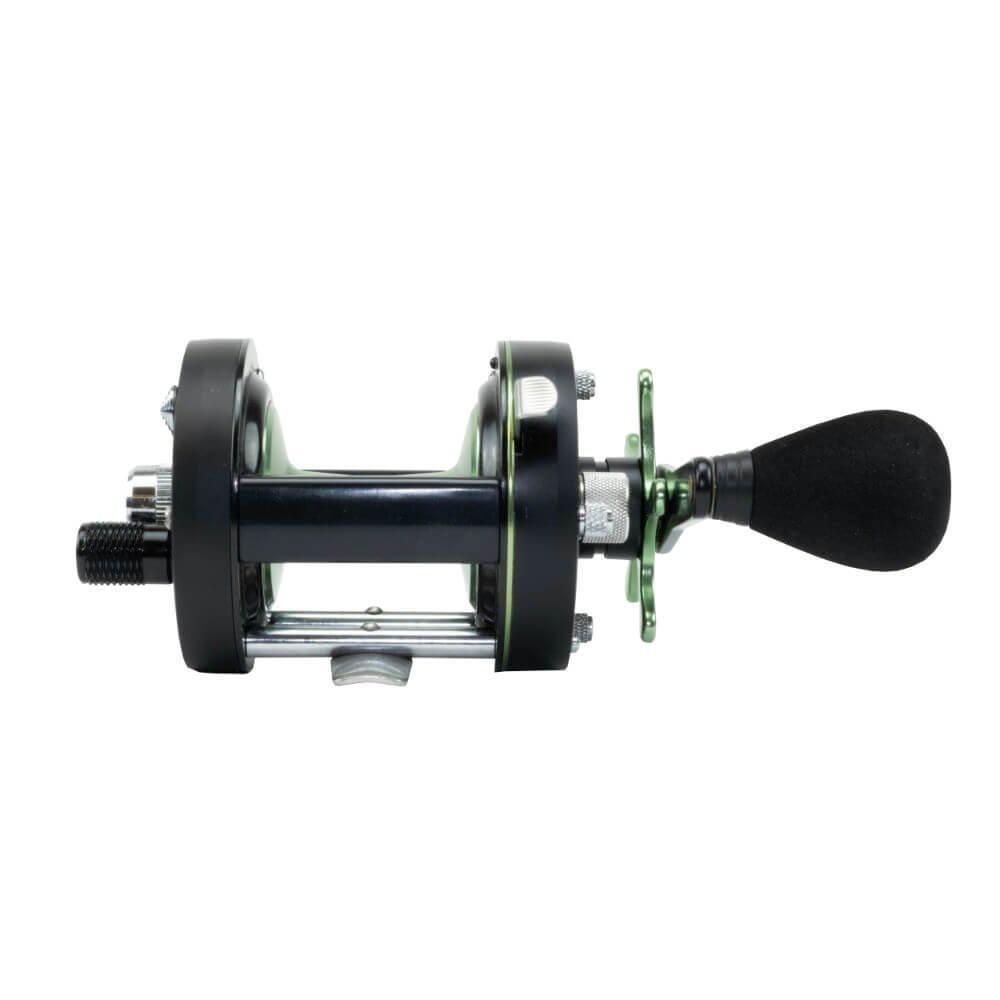 The Tronixpro Guerrilla Mono Mag reel has both right and left-handed options in a 6500 size. It's good for a variety of situations, as it has a lower retrieve ratio than some more expensive multipliers, meaning it's actually more sporting with smaller fish. Realistically, you don't actually need a very high gear ratio for the majority of British sea fishing.
It has an 8kg star drag and can hold 250m of 0.35mm line. Many multipliers come with deeper spools that hold much more line than that, but when has a fish ever taken out more than a quarter of a kilometre of line for you? You also won't need to use backing on this reel.
The single magnetic brake design is favoured by much of the tournament casting scene as helps avoid the very worst bird nests but still maximises casting distance. We suspect that the single magnet system might be more of a challenge for a beginner due to there being fewer magnets controlling spool speed. The single magnet system can allow you to cast further because you can fine-tune the speed of your spool without as much of a risk of tangles.
This is an excellent option for the sensible angler that wants to use a multiplier but doesn't want to sell a kidney. It's also a useful generalist beach casting reel.
Daiwa SL30SH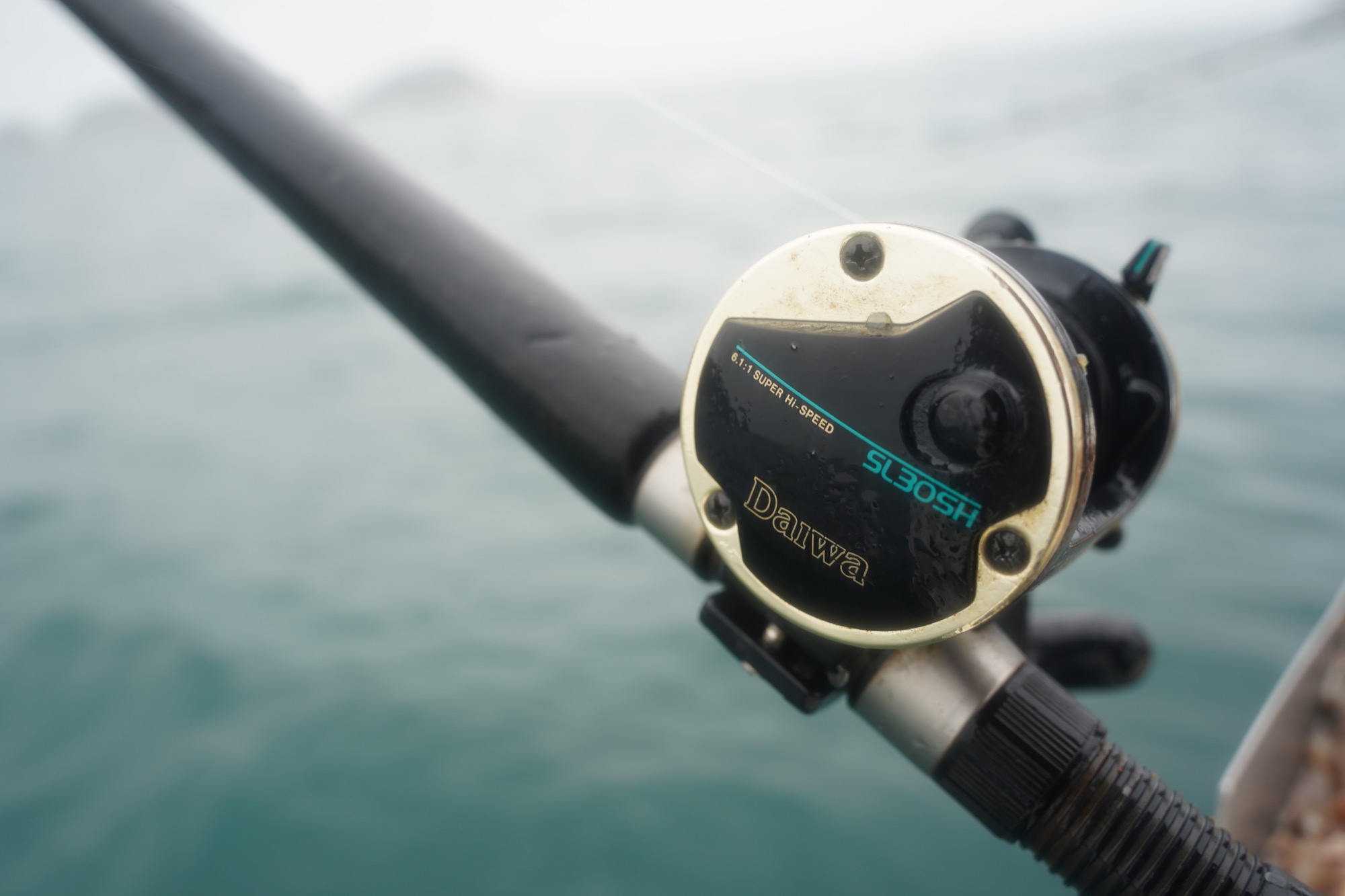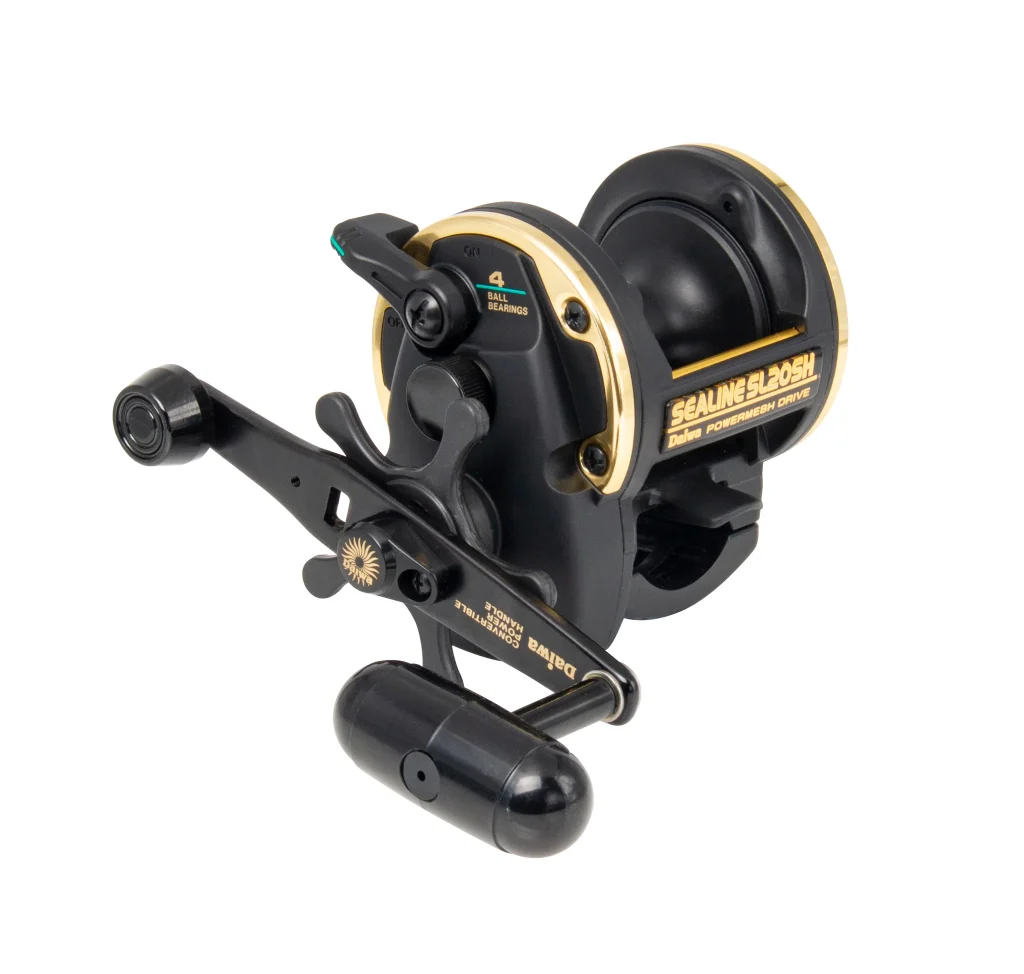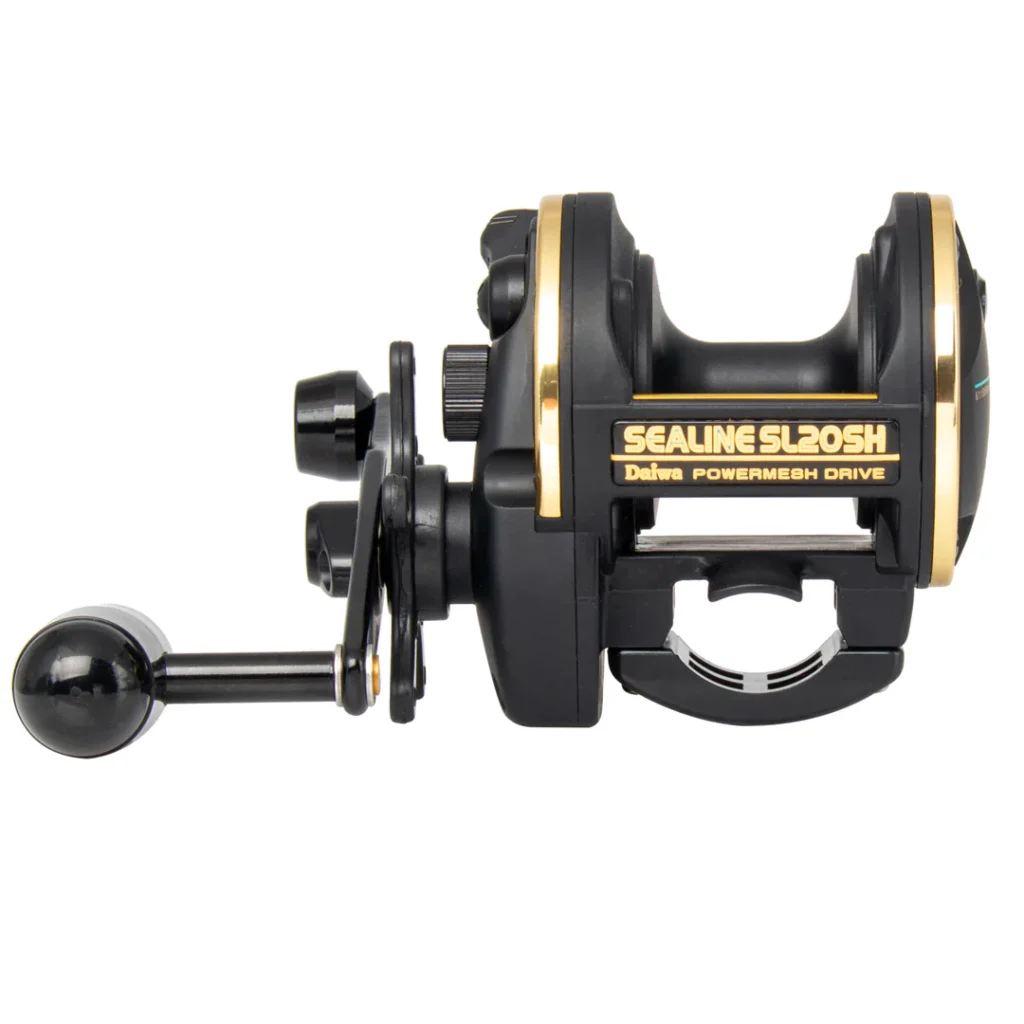 The Daiwa Sealine Slosh multiplier comes in a couple of sizes – the SL20SH and the SL30SH. The second of these is bigger and has a higher line capacity, so is better if you're going to be use heavier monofilament lines. Anglers fishing rough ground appreciate the tough build of the thing and the 6:1:1 retrieve for pulling conger out of snags.
You can also use the Daiwa Sealine for boat work, like up tiding for powerful rays or tope. The SL20SH has such a cult following amongst sea anglers that they have nicknamed it The SLOSH. With a capacity of 310 yards of 15lb mono, it is perfect for general beach work or for rocky marks with its fast retrieves and great casting.
Q&A
Please email me at mevagisseyinfo@gmail.com – I am happy to help you find the right beach casting reel if you let me know what you plan to do with it and what your price range is.