Sea fishing starter kit | beginners set up
First, I will explain the three main types of sea fishing set up. Then, we will look at four examples of complete starter kits. Each of the below set ups will get you out fishing, but they will each offer you something a bit different. Let's take a look at each of these simple approaches and what you need to get the heck out there and do it! If you email me via the chat icon on this screen, I will make suggestions to you based on your fishing history, where you fish etc.
FISHMAG is reader supported and earns commissions from sales via Amazon Affiliate.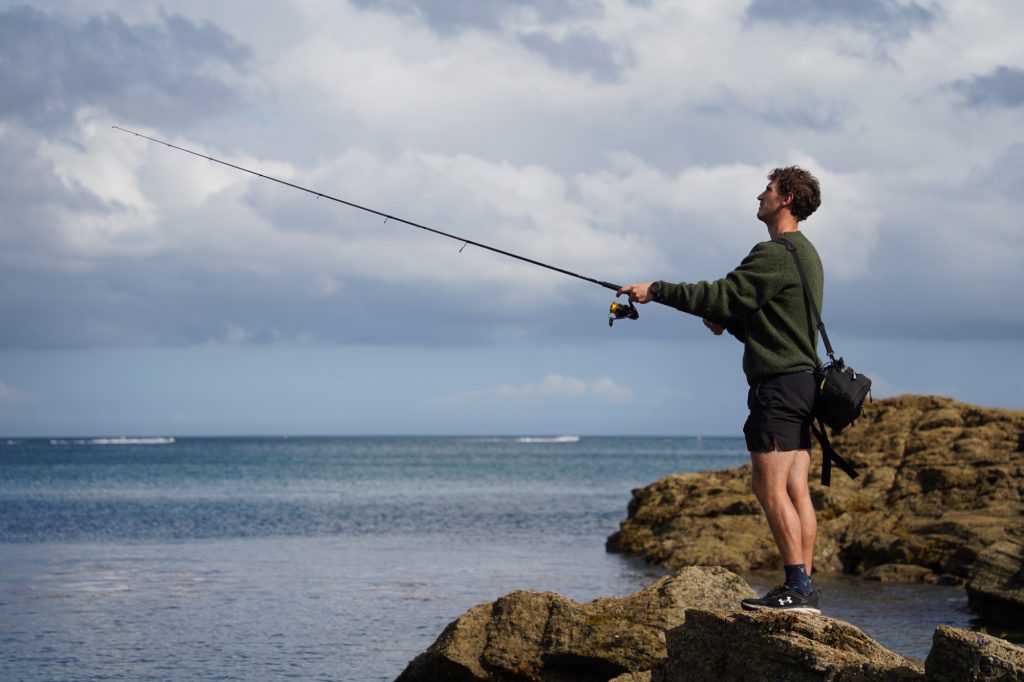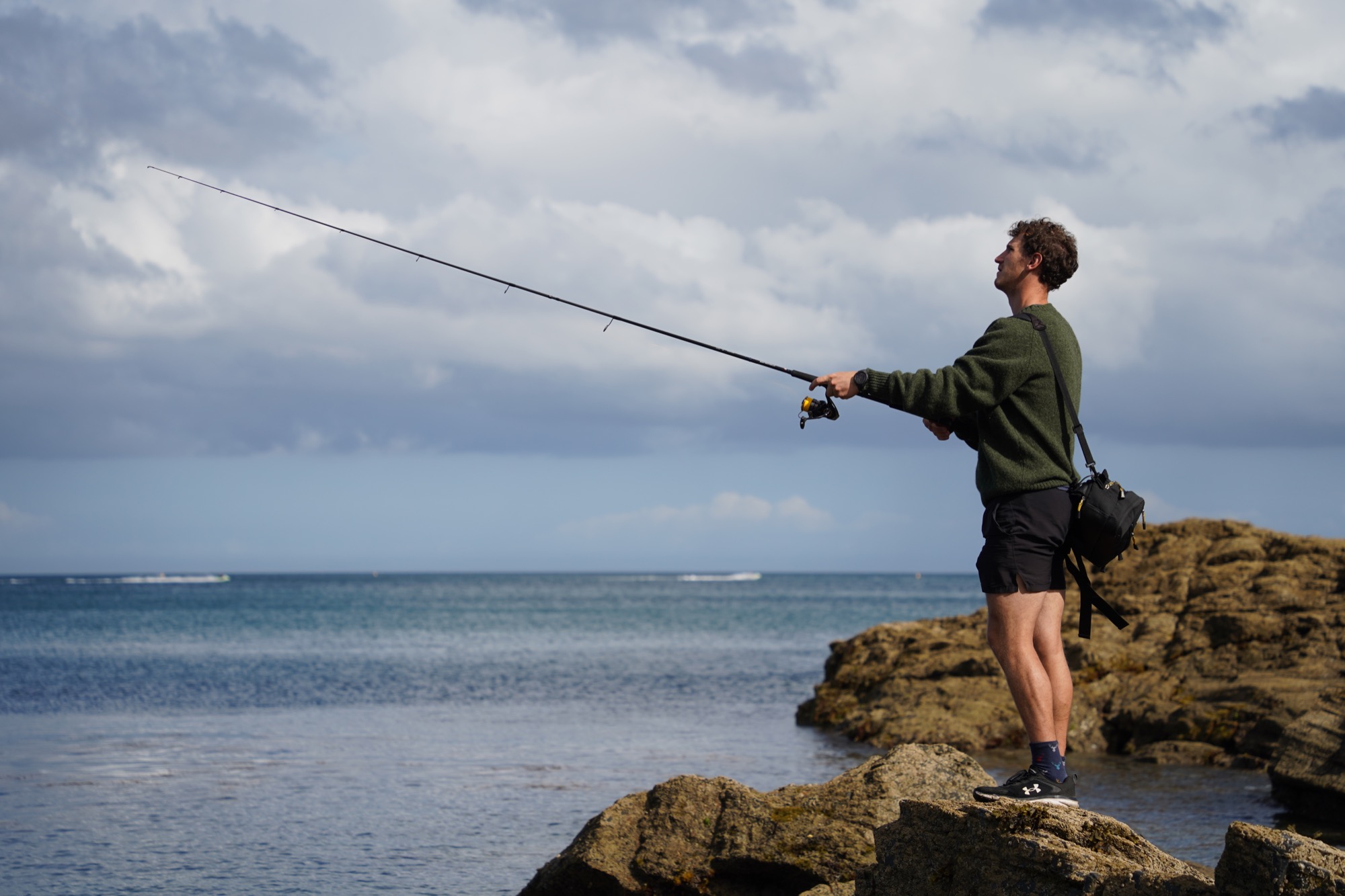 There are three simple types of sea fishing set up
1. A beach casting set up
Beach casters are 11ft+ and are designed for casting a long distance. They can be used to catch bigger fish like conger, but most often the power of the rod is needed for the size of weights you have to use in much of the UK. For instance, if you're fishing a shallow water beach mark, you may need to cast a long way, which requires heavy leads and a strong rod, even if the fish aren't massive. When you hook a ray or something bigger though, that power is needed.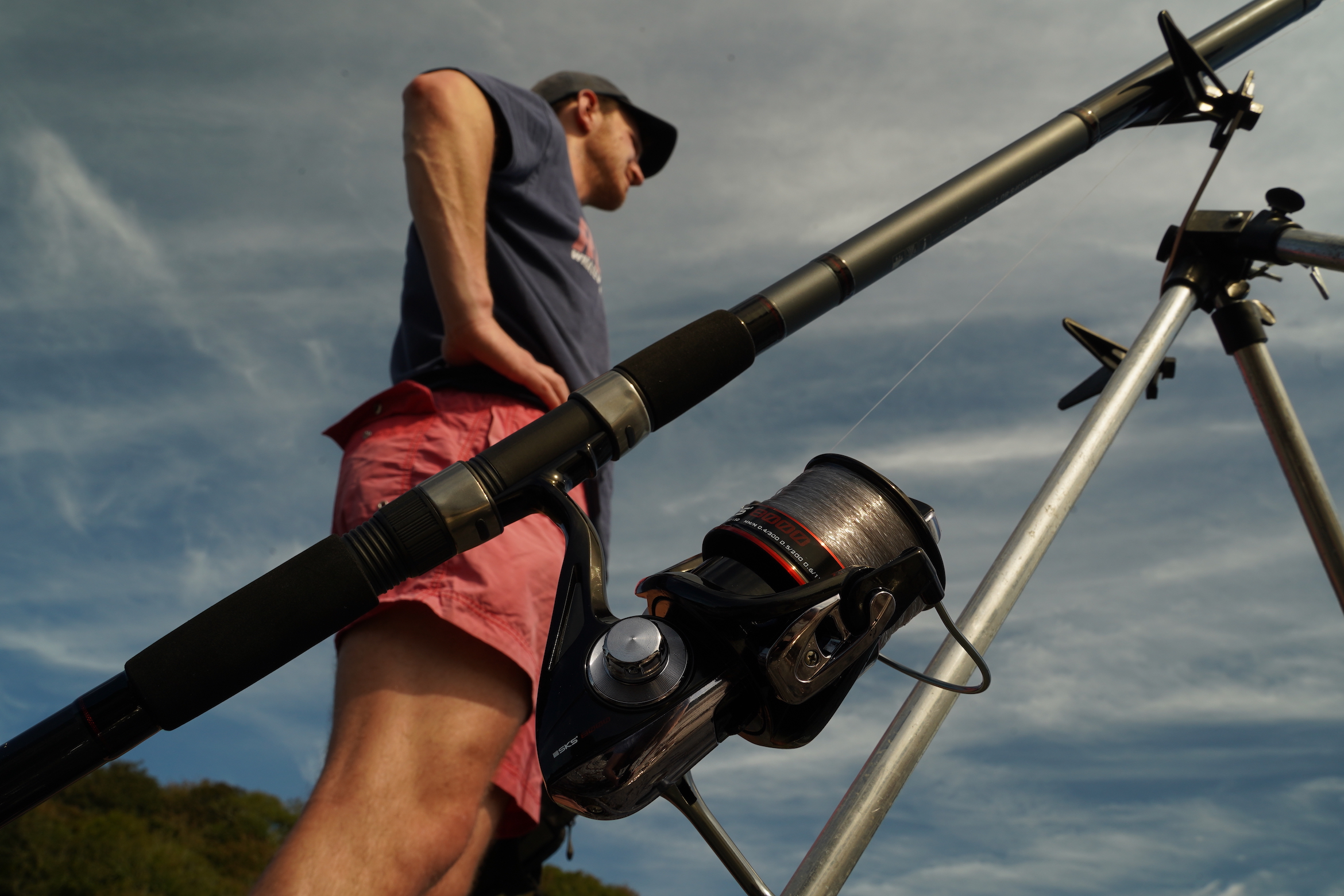 2. A spinning set up
Spinning rods are designed for casting and retrieving lures, which imitate injured fish. In the UK, spinning rods for shore fishing usually cast up to about 30-80g as a maximum. This means you can effectively cast single lures without using any extra weights, which helps you to trick a fish as lead weights can put them off.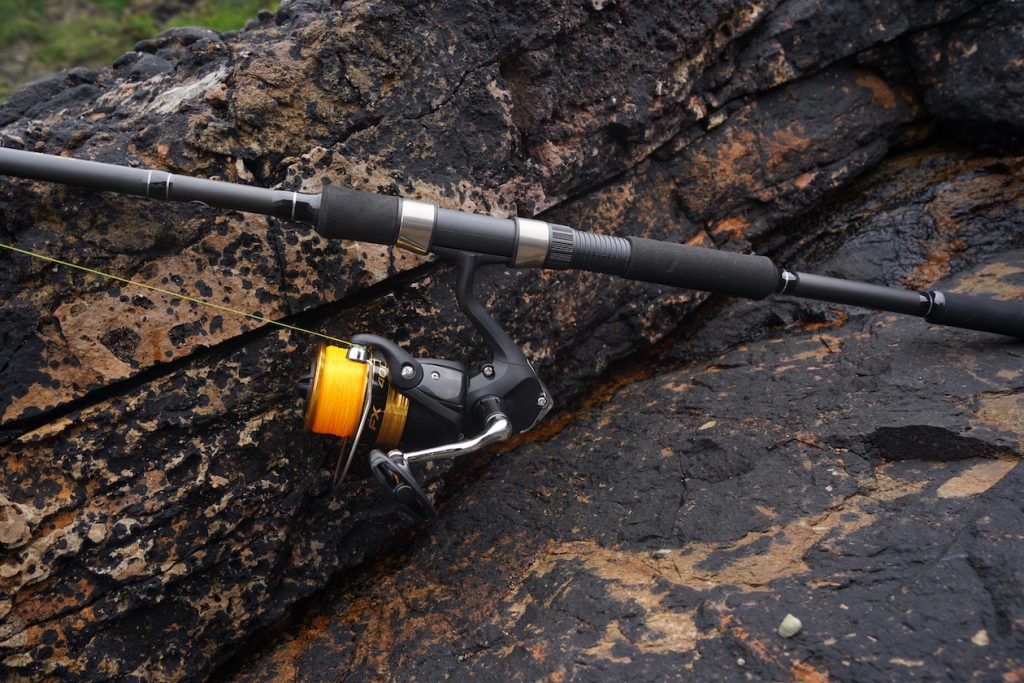 3. An all-round sea fishing kit
What most people starting out go for is something more generalist. If you want to use sea fishing floats, then you need something fairly long but not too heavy. The same is true for mackerel feathers. A spinning rod is too light for lifting 4-5 mackerel up a harbour wall. It's too short for effective float fishing. A generalist rod is about 10ft long, and casts about 3oz or 100g. Something like this can be used with light bottom fishing rigs, some heavier spinners and float fishing rigs.
It's fantastic starting point for somebody keen to try everything. It will have its limitations – there will be no light lures cast on this rod, and no heavier beach casting leads. If you use high end braid, you will be able to cast surprisingly light lures, but this requires the advanced skill of tying a leader knot (two pieces of line together).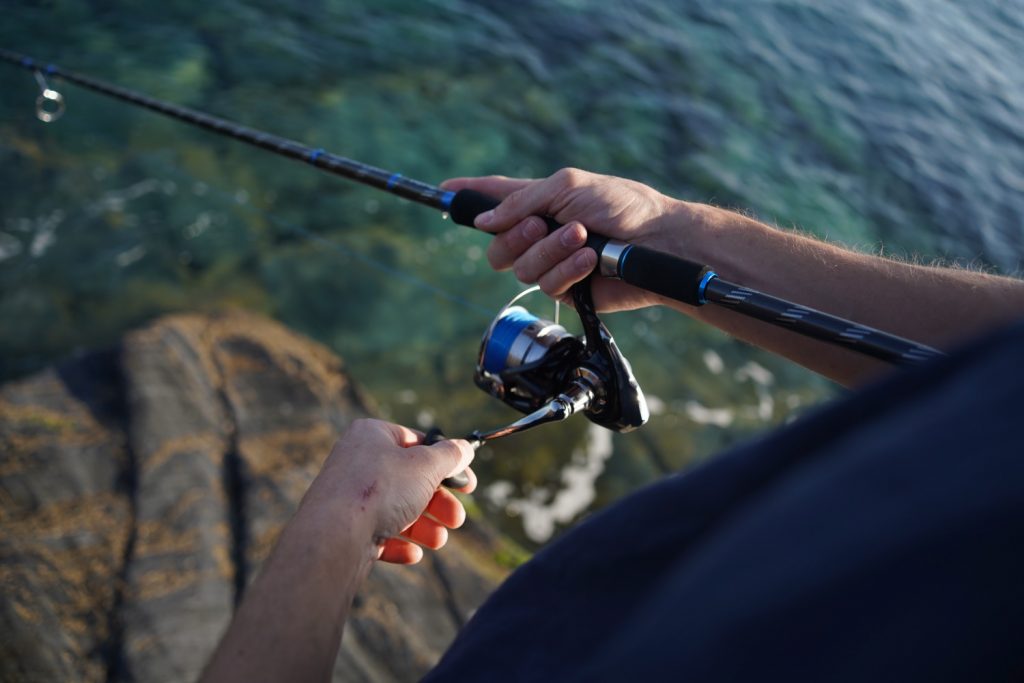 But what are the best starter sea fishing kits?
The best starter kit for fishing with kids…
You might just want a sea fishing kit for the summer holidays, and may not want to invest in anything too pricy. At this end of the market, you don't want to trust the casting weight ranges written on the rod. Use 3oz leads, nothing heavier. Don't use any single lures, just mackerel feathers, 3oz bottom fishing rigs and 1oz float rigs. Thankfully, that's all you need for an excellent days fishing in summer with the family. This rod is 10ft, which may sound long, but given this kit is low-end, that length is going to help you cast feathers a good distance which is all you need really. A child over eight should be able to use this, but I don't have kids so don't trust me on that.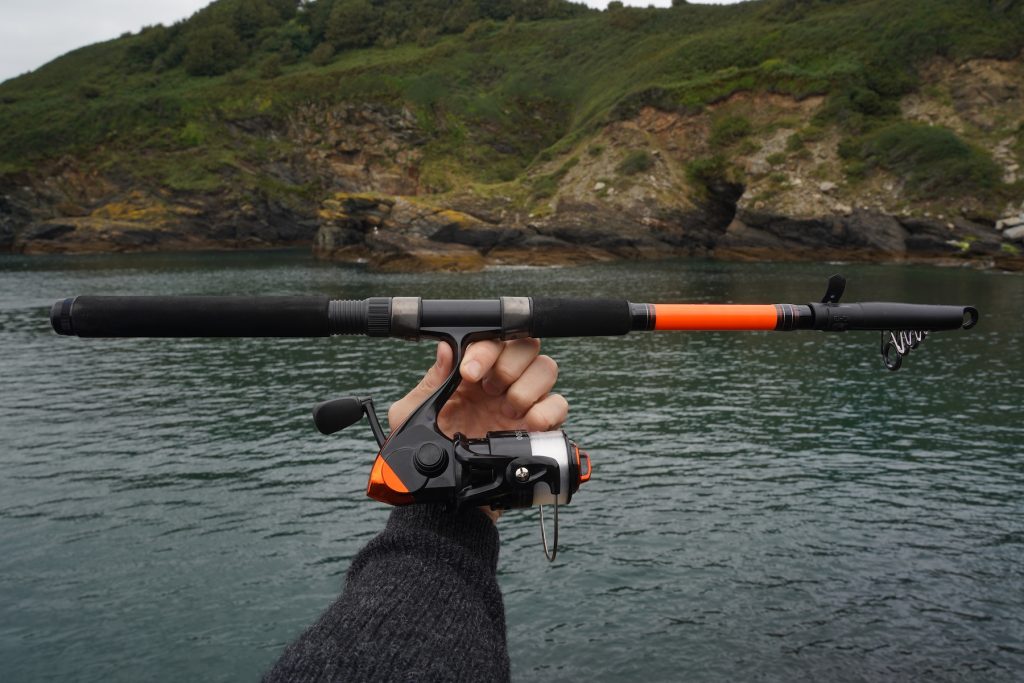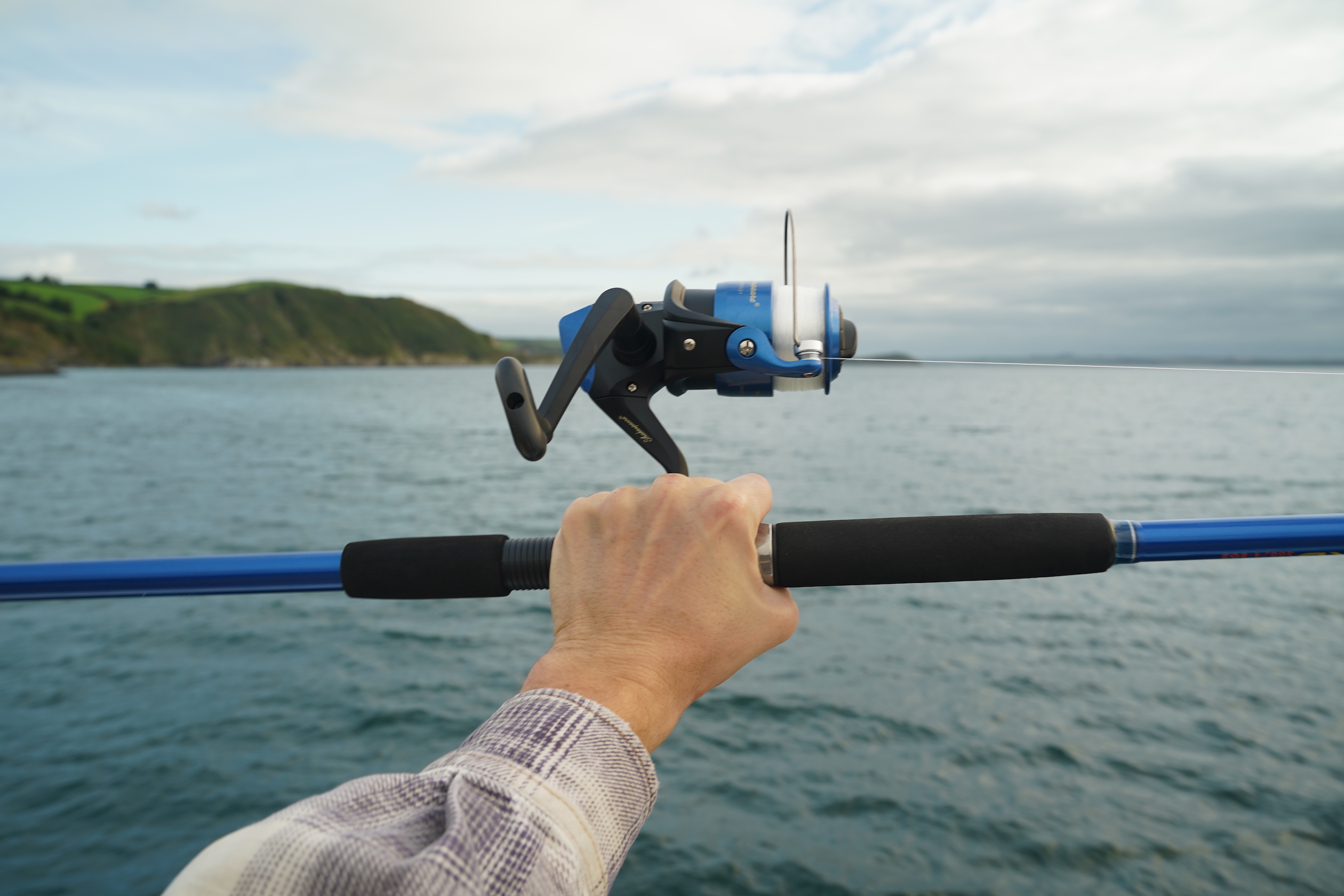 If you are looking to go mackerel feathering from a harbour and are doing it as a once or twice-a-year kind of thing, then the below kit will mean you have everything you need to get out there. I've used quite a few cheap kits and favour this one.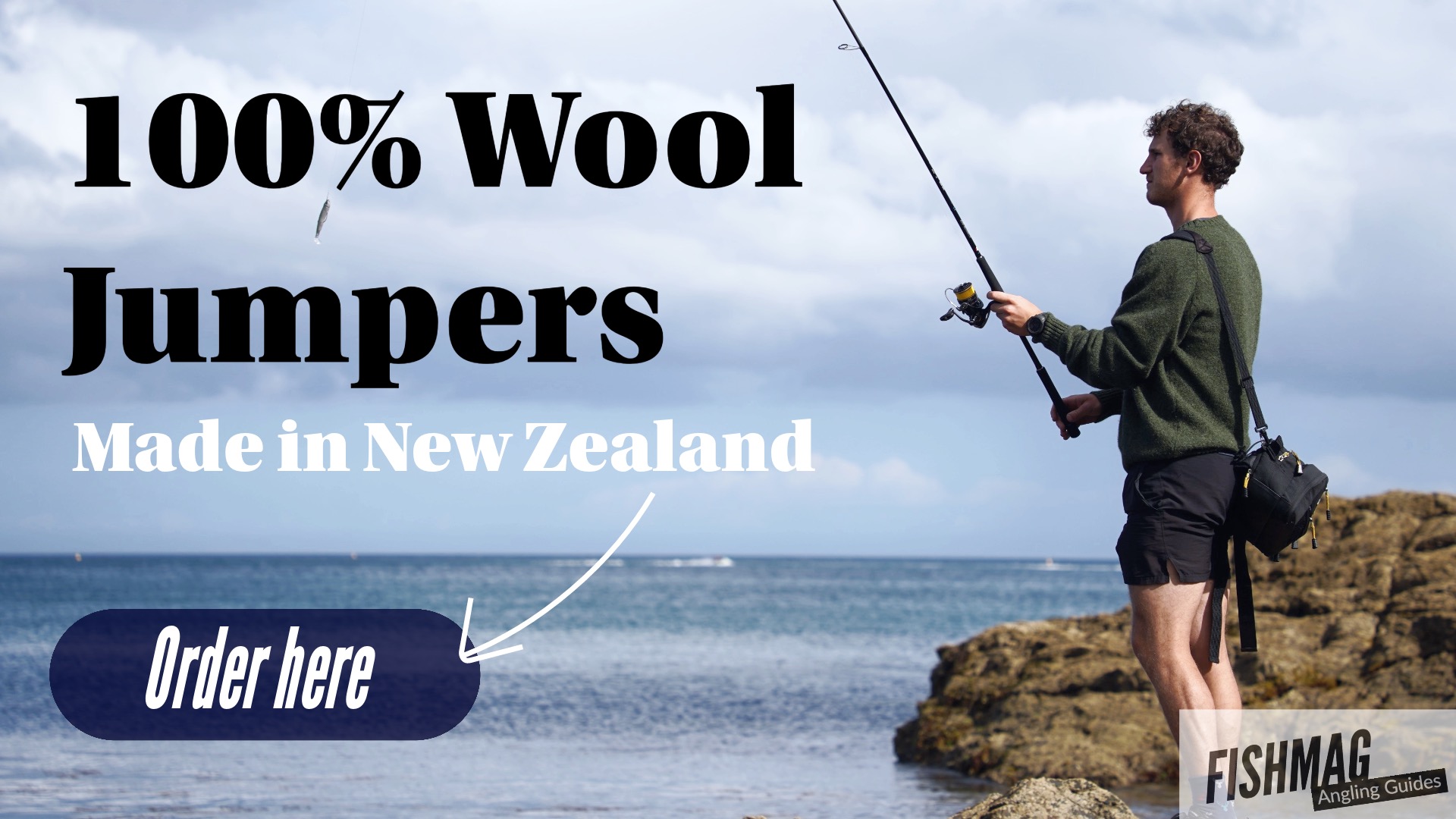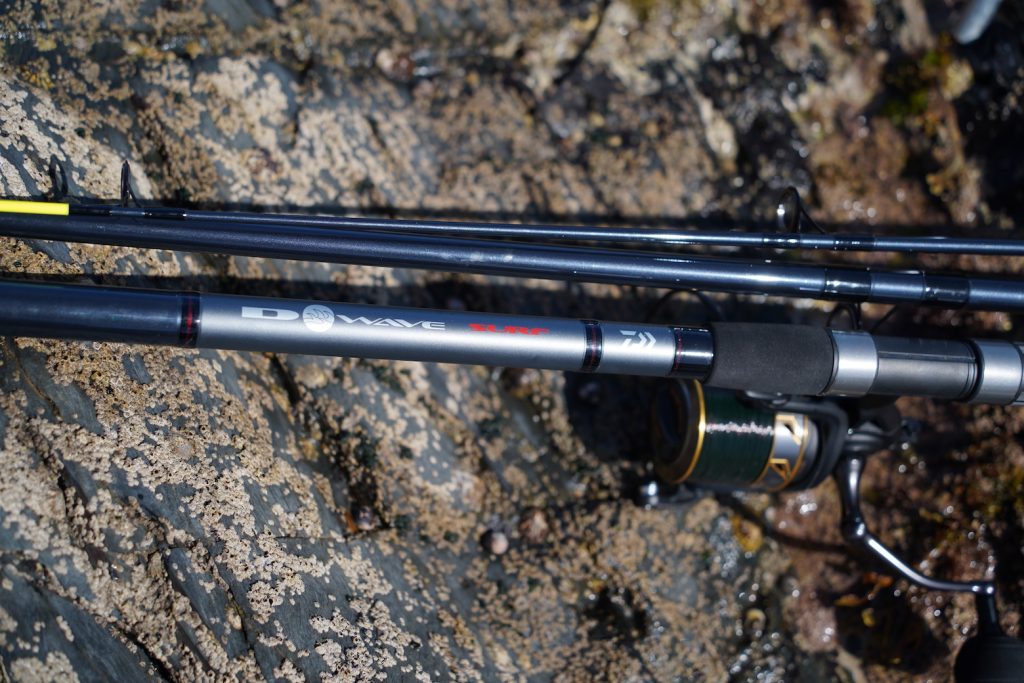 Best all rounder sea fishing set up
Here's what that set up looks like. It's a 10-11ft light beach caster that casts a maximum of 4oz, paired with a 5000 size reel and some 20lb line. These rods are sometimes called 'flatfish', 'bass' or 'estuary' rods – all because they are intended for lightweight bottom fishing with bait. This set up suits somebody that wants to do everything and prefers using bait to casting and retrieving lures.
All you need to do once you have this kit is buy a few different rigs, tie them on, and you're good to go. An example complete beginners tackle box would include.
What an 'all rounder' sea fishing set up can and can't do…
A generalist sea fishing rod is a great choice for a beginner, but it's important to know what it can do and what it can't. Here are the things you can do with a sea fishing starter kit like this.
With this set up, you can cast bottom fishing rigs with weights around 3oz. This will allow you to catch fish like plaice, flounder, rays, bass and so much more. This method is often best at night time.
You'll be casting sea fishing float rigs with weights of 1oz. This will allow you to suspend baits higher up in the water for garfish, mackerel and generally chill out in the sun until your float goes down.
This rod is a perfect length and weight class for mackerel feathering. You will be able to cast 3oz leads a long distance with feathers to catch 4 mackerel at a time. If your rod was any longer, it would be too long for a harbour wall. Many will use a shorter rod, but will have very limited casting distance.
What not to do with this generalist sea fishing set up:
Using single lures with the above set up would be a mistake. It's not designed for casting single lures because they are too light and the rod is too long and heavy. If any rig weighs under 2oz, it won't cast far with a rod that is weighted 2-4oz. 1oz float rigs are ok because you don't need a long cast.
Unless you are using a shockleader, you can't use leads over 3oz without risking dangerous snap offs and lost tackle. This means even though your rod can cast 4oz, your 18-20lb line can't be trusted with more than 3oz.
Because you are casting weights around 3oz, you can't grip the bottom if there is a strong estuary current or surf. This means you need to seek out relatively sheltered spots to fish with this set up. Often, even in areas with current, there are places with slower moving water you will be able to hold the bottom.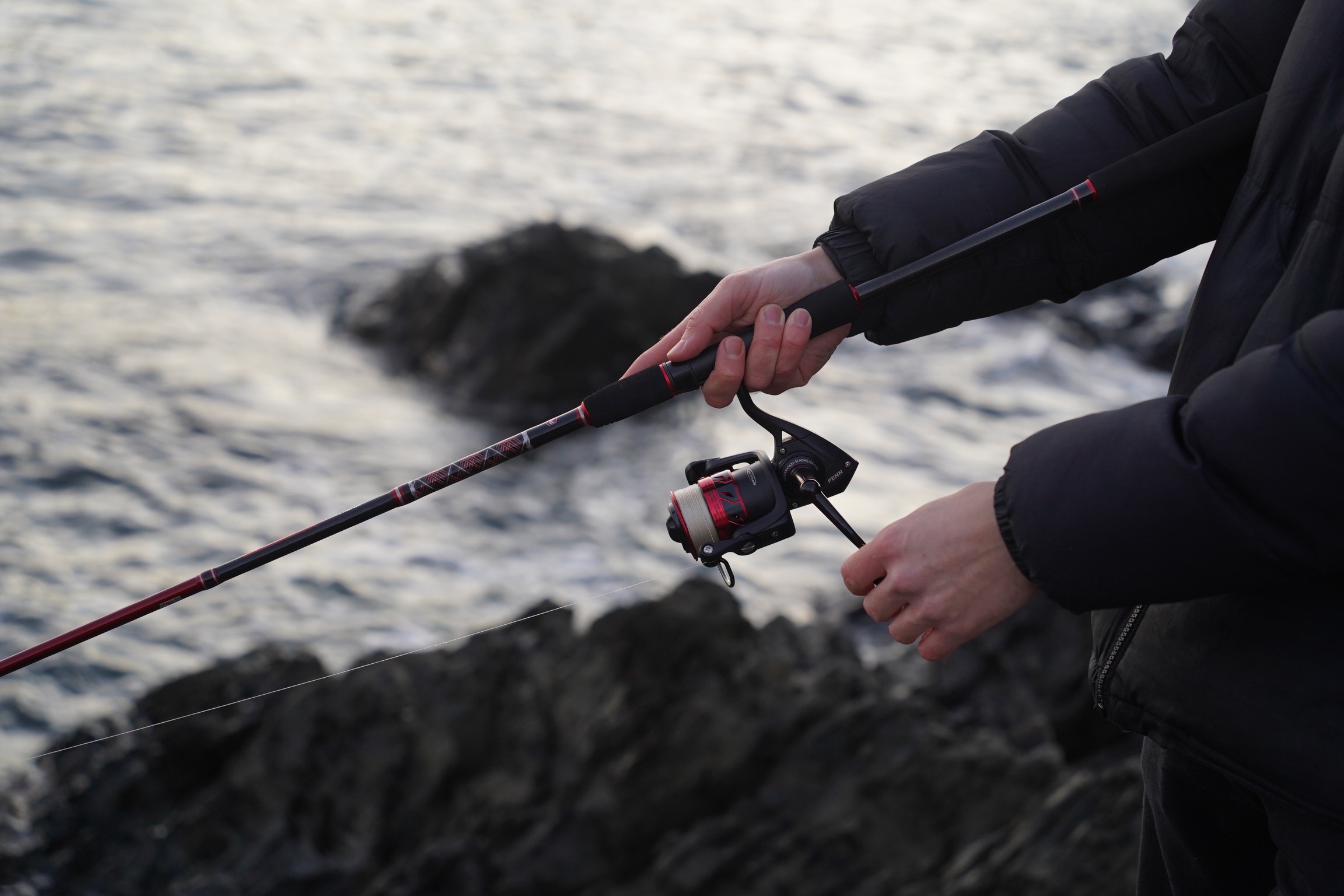 Beginners spinning set up
A heavy spinning rod that casts about 2oz (56g) is great for a beginner getting into sea fishing because it allows them to use some heavier single lures, while still having one foot in the bait fishing world. That is, the rod is heavy enough that you can cast conventional sea fishing float rigs and very light ledgering rigs for bottom fishing with bait. You won't be able to cast mackerel feathers (you would struggle to lift 4 fish up a harbour wall), and you won't be able to cast single lures that weigh less than 20g.
Recommended spinning rods for beginners
If you are looking for simplicity, you can pick up a lure fishing rod and reel combo:
Otherwise, if you're looking for a bit more choice, here are some good starter lure fishing rods:
All these rods pair well with one of the following 4000-sized spinning reels:
If your line is heavier than 12lb you will struggle with casting distance:
Good value mono mainline – Ultima Powersteel
If you know a leader knot, Berkley provides a good braid and fluorocarbon combo here
Finally, you want some lures that weigh between 25-60g. If you go lighter or heavier than this you may encounter problems.
A heavier spinning rod can cast conventional sea fishing floats. Since the rod is about 9ft, you also have a bit of length to lift the slack in your line which is useful when float fishing. The float fishing kits provide everything you need to get you going.
Since your spinning rod is heavier than a specialist bass rod, you want to avoid lures that weigh under 25g. The dexter wedge is a classic spinner that's been popular for decades for bass, mackerel and pollack. They cast very well. Reach for a 40-50g (1.5oz) wedge for this set up.
Soft plastic lures that come with weedless hooks will help you avoid getting snagged (hooking seaweed and rocks) which will mean you lose less tackle. They are also highly effective lures, especially over seaweedy rough ground.
Just be sure they weigh between 25-40g if you're using the set up we discussed here. A good example is the Black Minnow.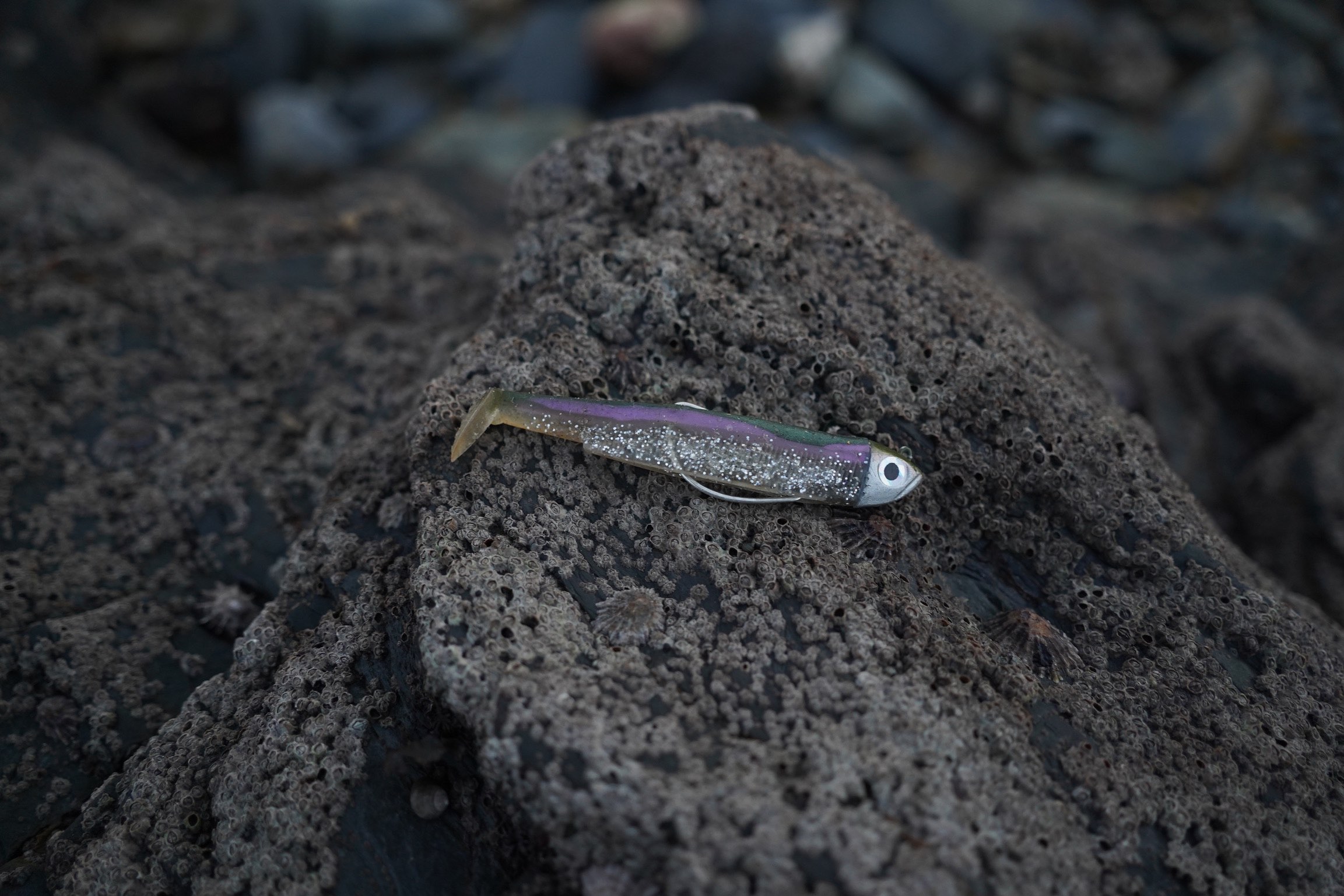 If you're more interested in lure fishing than using bait, you might be better off specialising rather than buying a generalist set up. These guides may help.
Beginners beach casting set up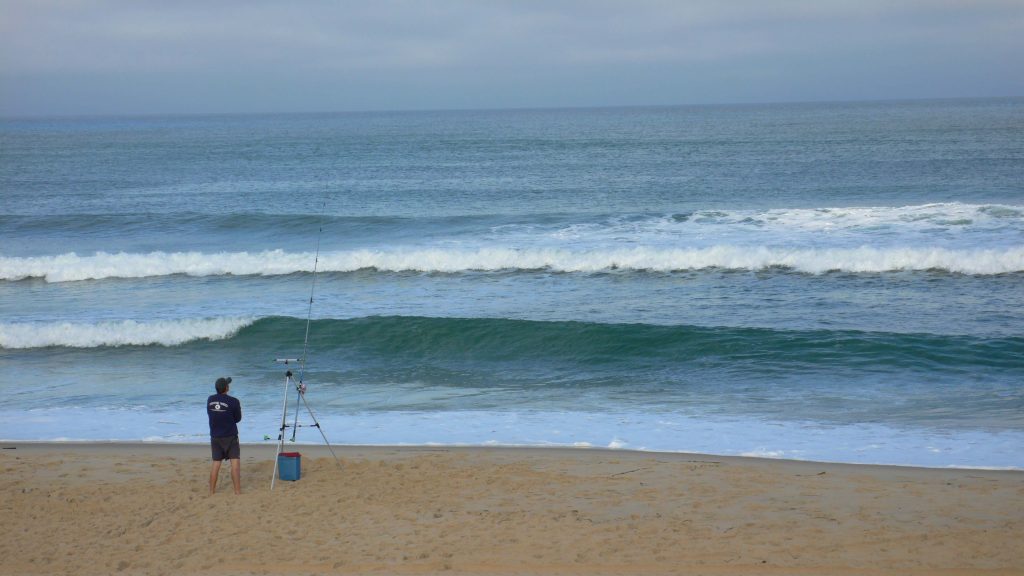 Beach casting set ups cast heavy leads long distances with bait and can land larger fish like conger eels, smooth hound (small sharks), and rays. They are useful if you're fishing from a surf beach, shallow beach mark or large estuary with murky water.
Beginners beach casting rod & reel combo
Why might you want to use a beach caster as your first sea fishing set up? In some conditions, a beach caster is required. If the water is very murky, it helps to be using bait so fish can find your hook by scent rather than sight. If you're stood on a rock mark with a large drop down to a frothing sea, it's safer to have a rod that is strong enough to lift larger fish out of the water to keep you safe. Or, if you're fishing with bait from a beach or a large estuary, a long cast may be required to reach fish holding areas. Finally, if you want to catch larger species like sharks, rays and conger, you need a heavy rod to pull those fish away from the bottom and from snags.
Recommended rod: Dennett Imperium Surf 13ft 100-200g (4-8oz)
Recommended reel: SONIK SKS 8000 Surf Reel
The following rod and reel are recommended in combination with each other. The rod is a good option in its price bracket and will allow for casting long distances, landing any size fish you might catch in the UK. The reel is a budget option but you will notice it's not the cheapest on the market. This is because you shouldn't ever spend under £40 on a reel when using heavy leads. If you buy this setup, you know the reel will be the right size for the rod – it can sometimes be tricky getting the right size. If you're looking for something a bit different, message us via the chat box on the bottom right of your screen.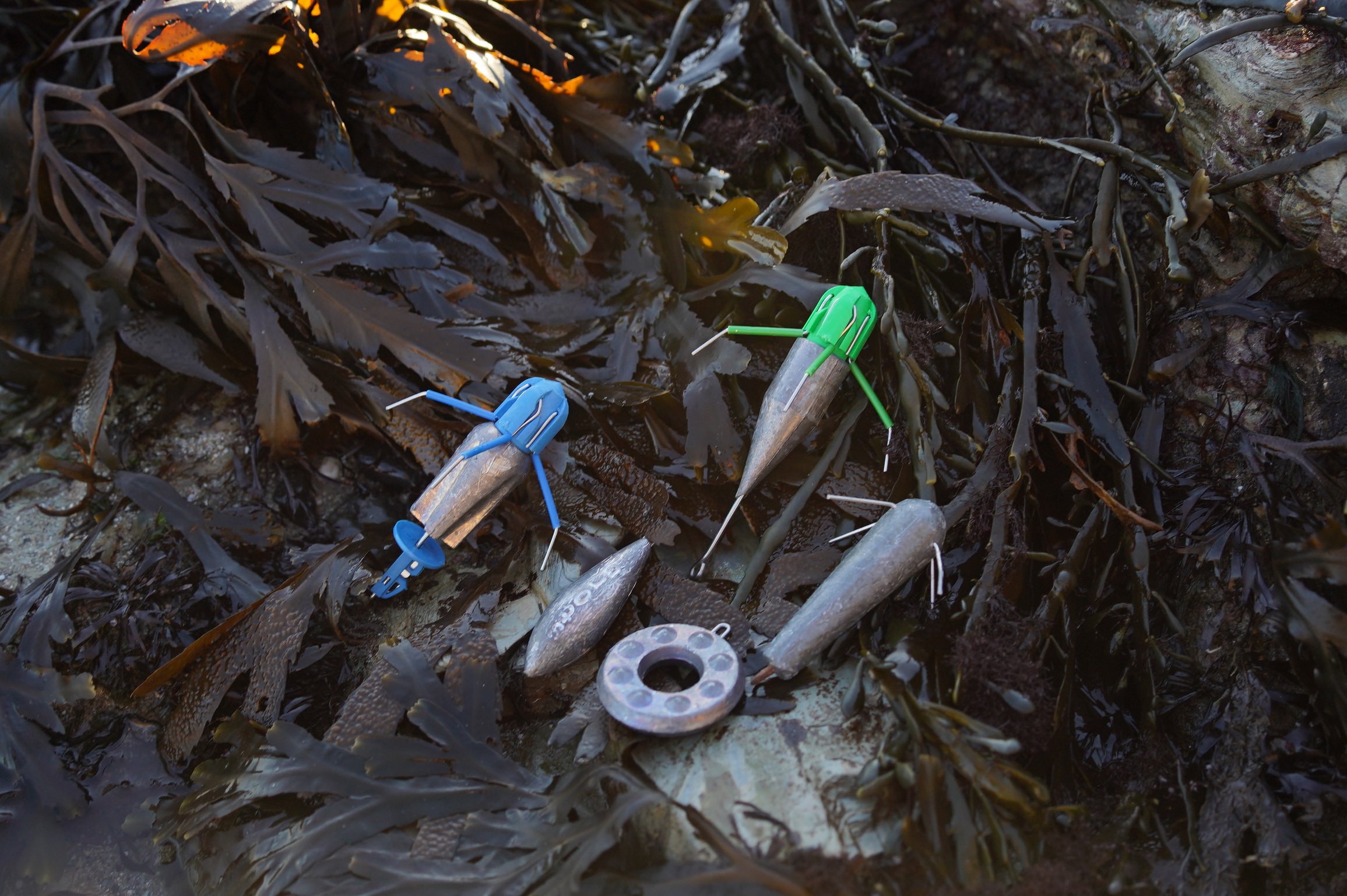 Beginners sea fishing rigs (what to tie to the end of your line)
If you are casting baits onto the seabed, generally it's preferred to keep the bait in the spot you put it, rather than have it roll along with the tide. This is because movement can cause your rigs to get tangled.
To hold the bottom and aid with casting distance, heavy lead weights are used when beach casting. These heavier weights also allow you to cast a long way on shallow beach marks. These weights are often 4-8oz.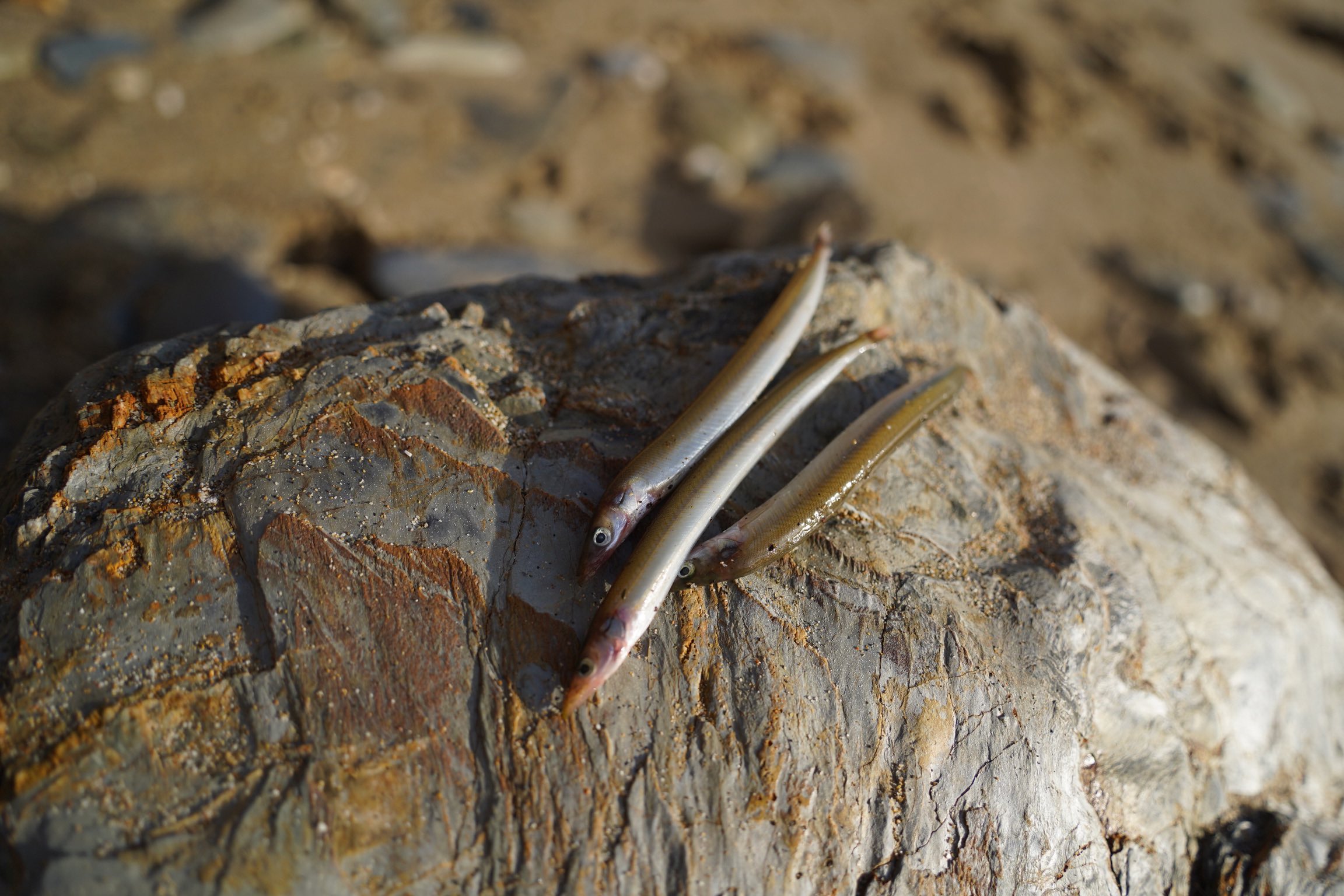 What strength line for beach casting?
Weights this heavy would snap a lot of fishing rods. They would also snap a lot of lines and damage many reels. This means you need to get the right line to suit the types of weights you're going to be using.
Given that you will be casting heavy leads over 4oz on this rod, you will need relatively strong line so that it doesn't snap when casting out. Snap offs are common and fairly dangerous and frustrating. For every 1oz of weight you're casting, you want about 10lb of breaking strain in your line.
Line is the only thing that is slightly complicated. You need to know how to tie two pieces of line together with a strong knot. This is because lines over 25lb start to really limit your casting distance, because they create more friction as they leave your spool. People attach a section of heavier line to their mainline so that when they cast, the line doesn't snap when using heavier weights. Once that section of heavy lie is out, the rest of your line will fly off the spool allowing for a longer cast.
There are two line options for beginners:
Learn to tie a shockleader knot, buy 20lb mono mainline and 60lb shockleader. This way you can use heavier leads.
Use 30lb line straight through to your rig, but use only 4oz leads and no heavier or lighter.
This is one of those things most of us learn the hard way! This is the issue with a lot of rod and reel combo deals out there. They often come with cheap 20lb line, and people don't use shockleader but still use heavy leads…
We'll move on to our next beginners sea fishing set up now. Alternatively, check out our beach fishing guide.
This is a simplification. The categories of sea fishing kit are less clear than this. Perhaps this is why the average angler spends £1000 on fishing each year! However for a much smaller sum you can get everything you need.
The first rod I bought cost ten euros, and I caught a fish first cast. My second rod as a beginner angler was 9ft long and cast 3oz, and was called the 'stiffi spin'. You could use that rod for many aspects of traditional sea fishing – float fishing, casting mackerel feathers and ledgering on the seabed with baits. However, a rod like that doesn't excel in any of those areas. You also can't fish with modern bass lures with a rod like that, because the rod doesn't bend enough to cast out lighter weights.
You're looking for a beginners sea fishing kit, and what's best for you will depend on where you're fishing and what you want to catch.
Lure fishing in the winter in the sea is extremely difficult in winter, except for wrasse. A lot of anglers target freshwater species like perch and pike in winter when bass are fewer in number inshore.
Is it mostly open beaches or rough murky seas where you live? If so, a beach caster might be useful so you can cast a long way, lift fish up over dangerous rocks, and rely on baits to attract fish with scent.
Do you prefer an active style of fishing, or relaxing and waiting for fish to take a bite? Lure fishing is much more active.
With these questions in mind, I'll run through four example set ups for a beginner.
In writing this article, it has become clear to me that the main difference between a beginner and an intermediate angler is the ability to tie together two pieces of fishing line. If you can do that with lure fishing, it allows you to fish with braid and modern rods and reels. When bait fishing, it allows you to cast heavier leads by using shockleader. If you just learn this one skill – tying a shock leader knot – you can pretty much skip the 'beginner' phase that most of us went through, using rods that are heavy.