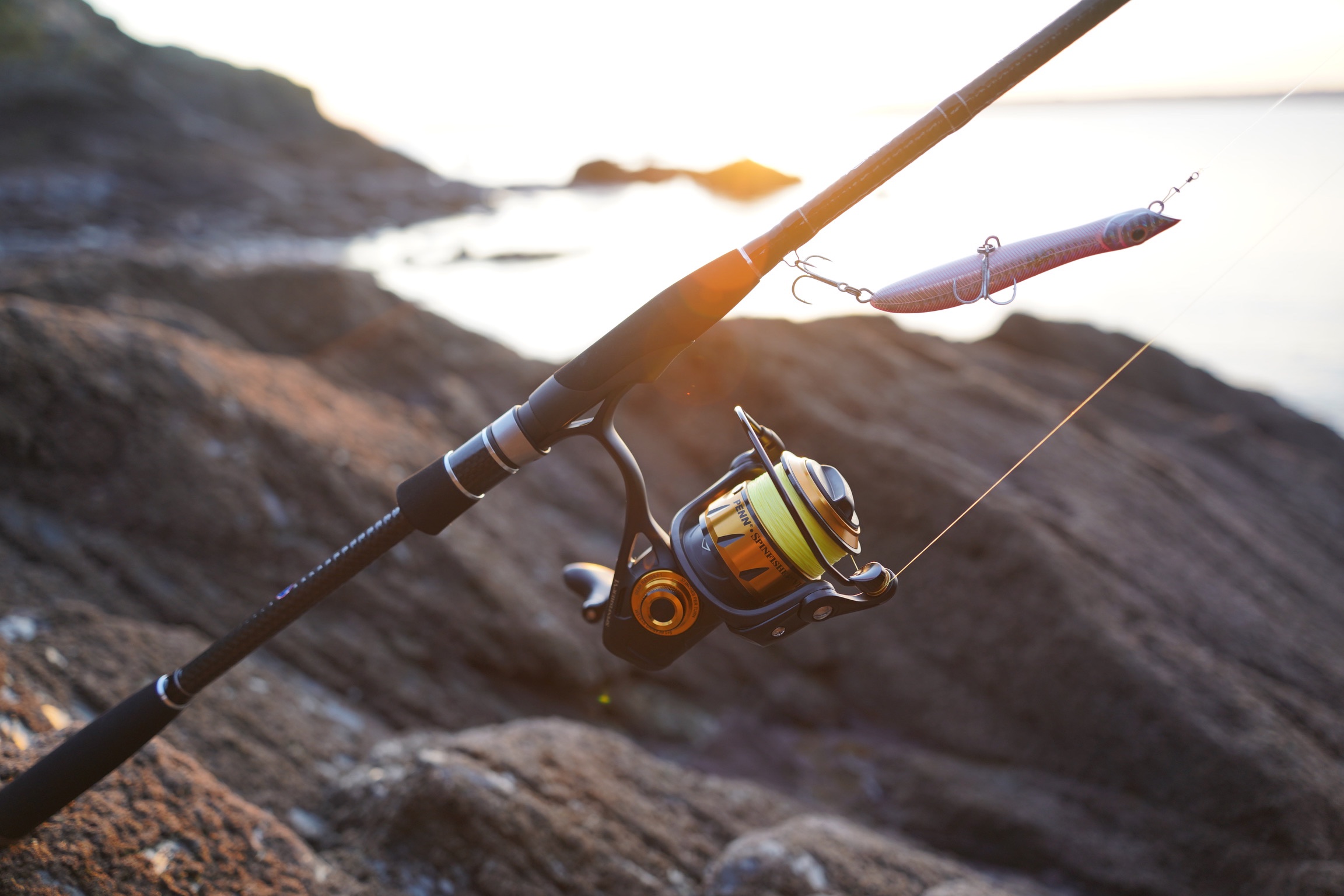 The best spinning reels in the UK in 2023
In spinning reels and in life, a flashy appearance is not an indicator of quality. Many reels have soft cogs that will grind to a halt in no time. Brands that used to be known for quality can't be relied on across the board, you have to look at every reel as a stand alone product now. Luckily there are extraordinary options online. We will start with the best budget spinning reels, and then proceed upwards. We have no brand sponsors.
FISHMAG is reader supported and earns commission from sales, such as on amazon.
Using a well-made reel means having a smooth fishing experience, with no line lay issues, tangles or frustrations. It allows you to fish with finer lines and braids and in your hand, will feel compact and solid. When a monster bass grabs your lure and runs with it, the drags on decent reels will release line at a consistent rate, preventing snap-offs in those crucial moments.
There are a few fully functional reels for under £30. We've listed those first. If you're going spinning/lure fishing with single lures that weigh under 30g or using leads over 3oz, we recommend spending at least £50. This will ensure your reel can handle lighter braided line or heavier leads. High end reels start at £100. At the bottom of the page we'll go into more detail about how reels work and what the differences are between them.
Shimano FX 4000
Best budget spinning reel from Shimano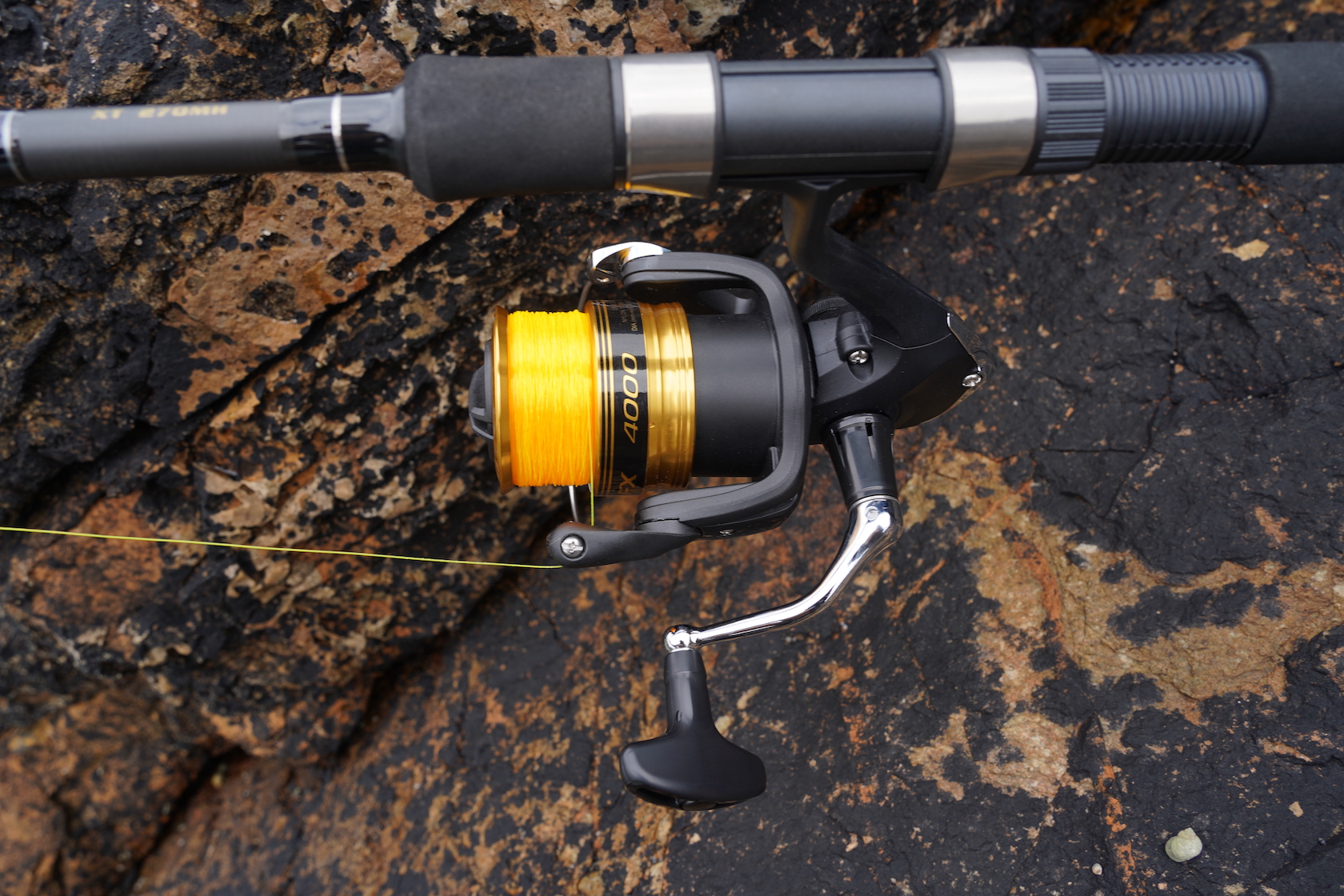 The Shimano FX is one of the best value spinning reels on the market. You get a reel from one of the top 3 best reel brands of all time at a price point that makes Chinese tat redundant. If you want to buy a basic but highly reliable and surprisingly nice reel for its price, this is a safe option. We used to recommend the Daiwa Crossfire but I think this one trumps it and is about the same price.
Incredible value. Everyone out there that wants to buy a spinning reel and doesn't want to spend much money should get one. They're also perfect for a reel on a second rod as backup or if you want to take a friend fishing and don't trust them with your slickest reel.
---
Shimano Catana
Good value reel for working with light braided lines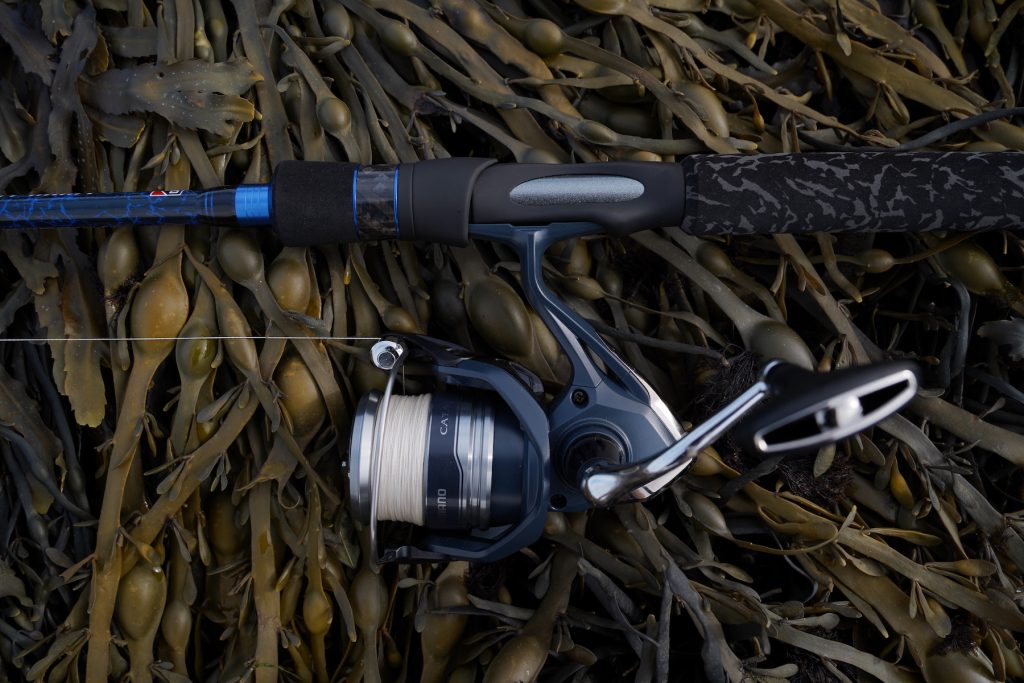 The Shimano Catana was the reel I first used when experimenting with LRF fishing. I was impressed with the line lay with such light lines, which is something a lot of reels out there struggle with (wind knots, birds nests etc).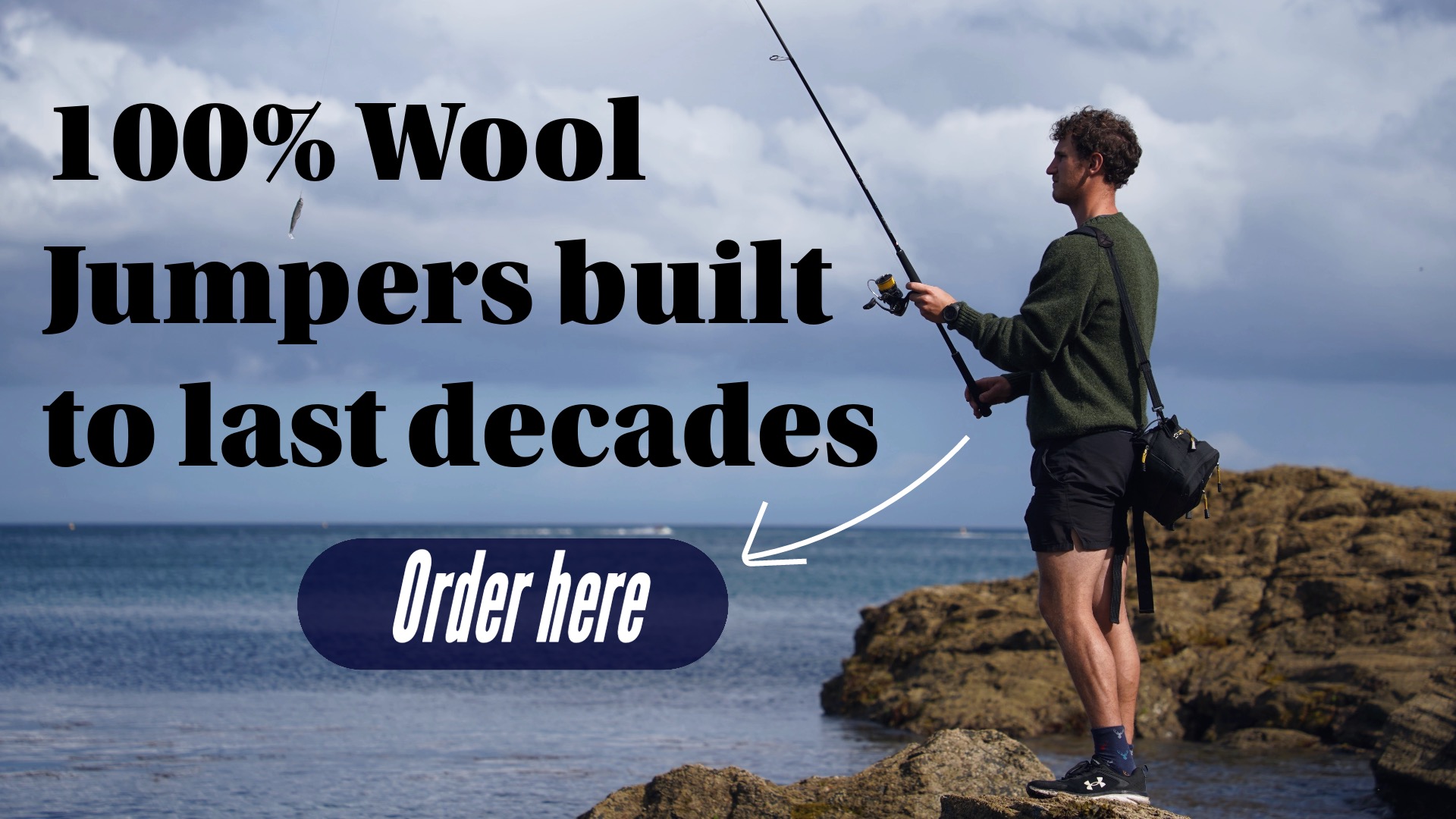 This reel is neat and compact and satisfying to fish with. I'd reach for this for a 'sensibly priced' LRF kit or light weight spinning kit if you plan on using the lightest lines. We playing about with the latest version of these at the moment. I know of one Catana reel that has had four owners, all of whom were keen anglers on a budget, and each used it for a while before moving on to fancier reels. It's amazing how well it lasted.
---
Daiwa Crossfire
Best budget spinning reel from Daiwa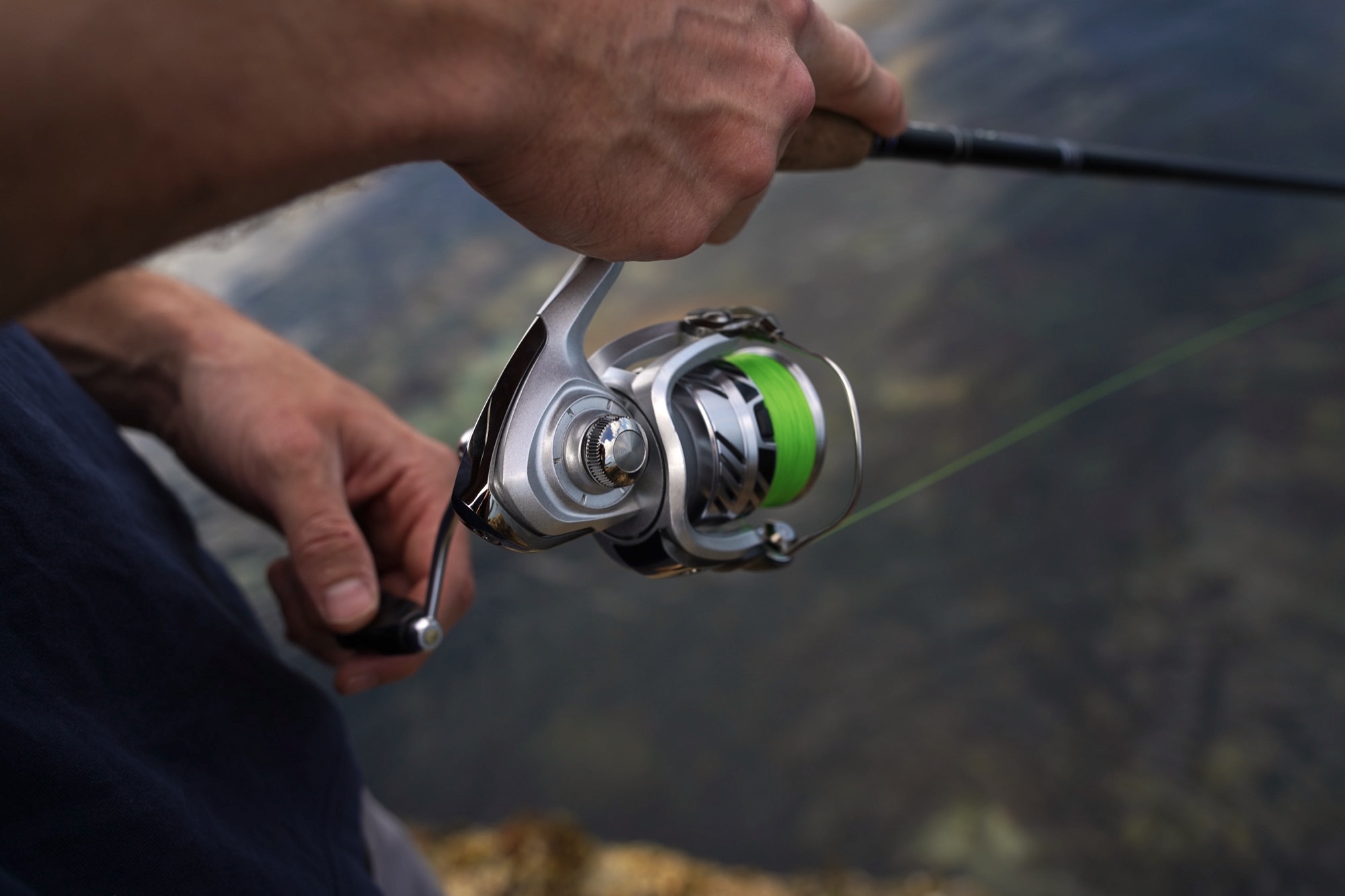 Daiwa's Crossfire is a solid option and feels like the entry-level to the world of high-end lure reels. Certainly a lot of bang for your buck. Compared to cheaper models, the Crossfire is able to handle advanced braided mainlines and lighter fluorocarbon lines when freshwater fishing for species like perch or trout.
One of the most attractive and high-functioning reels at its price point on the market.
Savage Gear SG2 3000
The smoothest low-cost reel we've used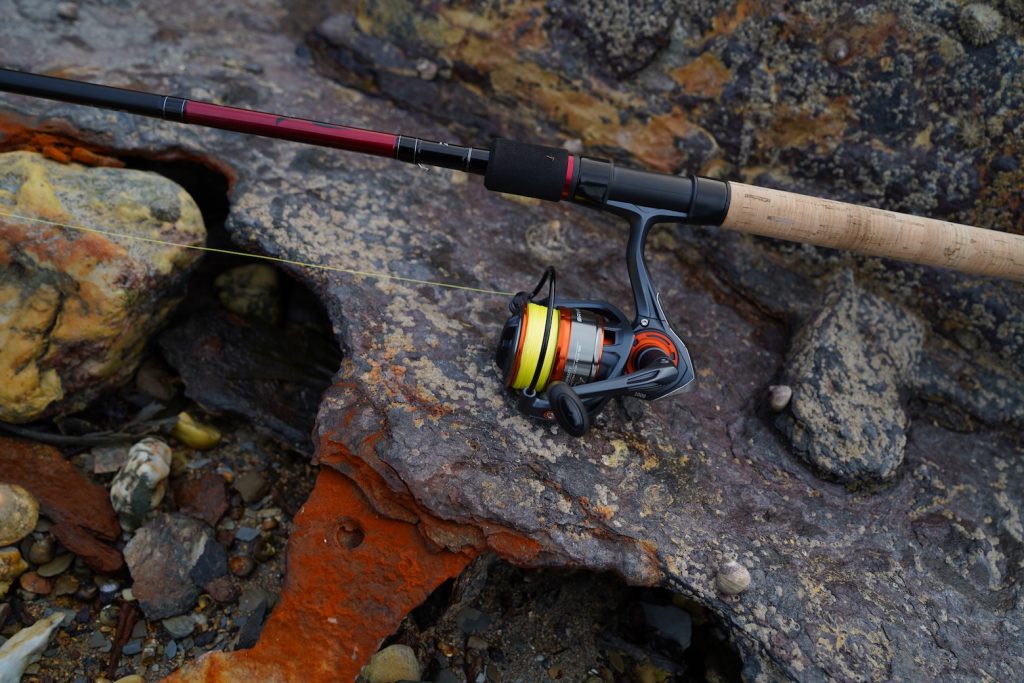 We were very curious to test the Savage Gear SG2 3000. Savage Gear are relatively new as a brand, but are owned by Pure Fishing, which also owns Penn. It appears to me that this reel is an attempt to create something smooth, light and sleek – attributes I normally associate with Daiwa and Shimano reels.
Indeed, the reel is very, very smooth for its price. Really extraordinary. The build quality is fine, but the handle feels less robust than others at this price point. We are not confident in the reels saltwater resistance, so this might suit somebody that lives inland and does a lot of perch fishing but wants something they can also take lure fishing on calm stretches of coast where the splash risk is low. Excellent for the price, anglers that are suckers for smoothness will love this.

---
PENN Pursuit IV Spinning Reel
Best mid-range work horse – full review here
PENN is a brand every sea angler has heard of, and they've become known as a producer of timeless classics in the world of high-end rods and reels. This reel is noticeably heavier and more robust than most other reels on the market at its price point. As you'll see if you watch the above video, we tested it pretty extensively in the UK, NZ and Mexico.
The graphite body is sturdy and durable and allows the reel to be sold at a bargain price point. It is not a 'sleek' reel, but it has a sturdy, reliable quality to it. Reels should not be submerged in salt water, but I have submerged mine and it functions to this day to my joy and surprise. Get the 3000 size for an 8ft rod. 4000 for a 9ft rod. The 5000 is more suitable for a heavier lure rod that casts up to 80g+ (not much use for most UK sea fishing). I used the 5000 on a 9ft rod that cast up to 80g and it balanced well, it could work on something 10ft also.
---
PENN Fierce
Best mid-range Penn modern spinning reel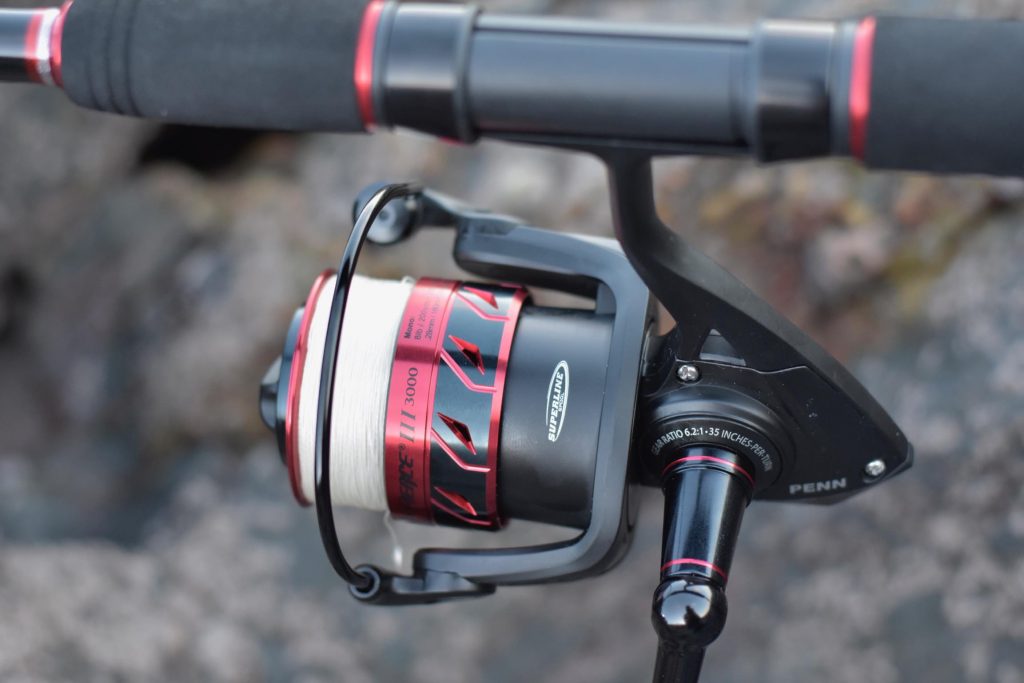 The Penn Fierce is a sensibly priced reel that just does its job extremely well and performs consistently. Penn design reels with fewer components than brands like Shimano, and many like this simple, sturdy design and aesthetic in hand.
In some countries, your chosen reel brand is chosen by your family. Whatever your father or grandfather used, you will carry on using, because there is that much brand identity with some of these manufacturers. PENN is the main reel brand with that kind of devoted following.
These reels are minimalist not just in their outward appearance but in their design too. The design philosophy of Penn is to make the reel out of the least number of moving parts possible and focus on strength. They market the reels as tough saltwater spinning reels. They are a little bulkier than Daiwa reels or Shimano reels of the same size. In the 3000 size, you have an excellent mid-range bass reel, that is going to be reliable and go the miles, provided it doesn't get dunked in the salt water, which can screw over any reel that isn't over £100 and mag sealed.
If you are considering the Penn Fierce vs a Savage Gear reel, bear in mind that the Penn Fierce has a deeper spool and larger line capacity, as well as a full metal body construction.
FISHMAG recommends Penn reels to everybody, except LRF anglers. We don't think Penn reels offer the same delicacy in their line lay as Daiwa or Shimano reels when fishing with the very smallest sizes – size 1000. Otherwise, a great spinning reel at a sensible price.
---
Shimano Sedona
Shimano's best mid-range spinning reel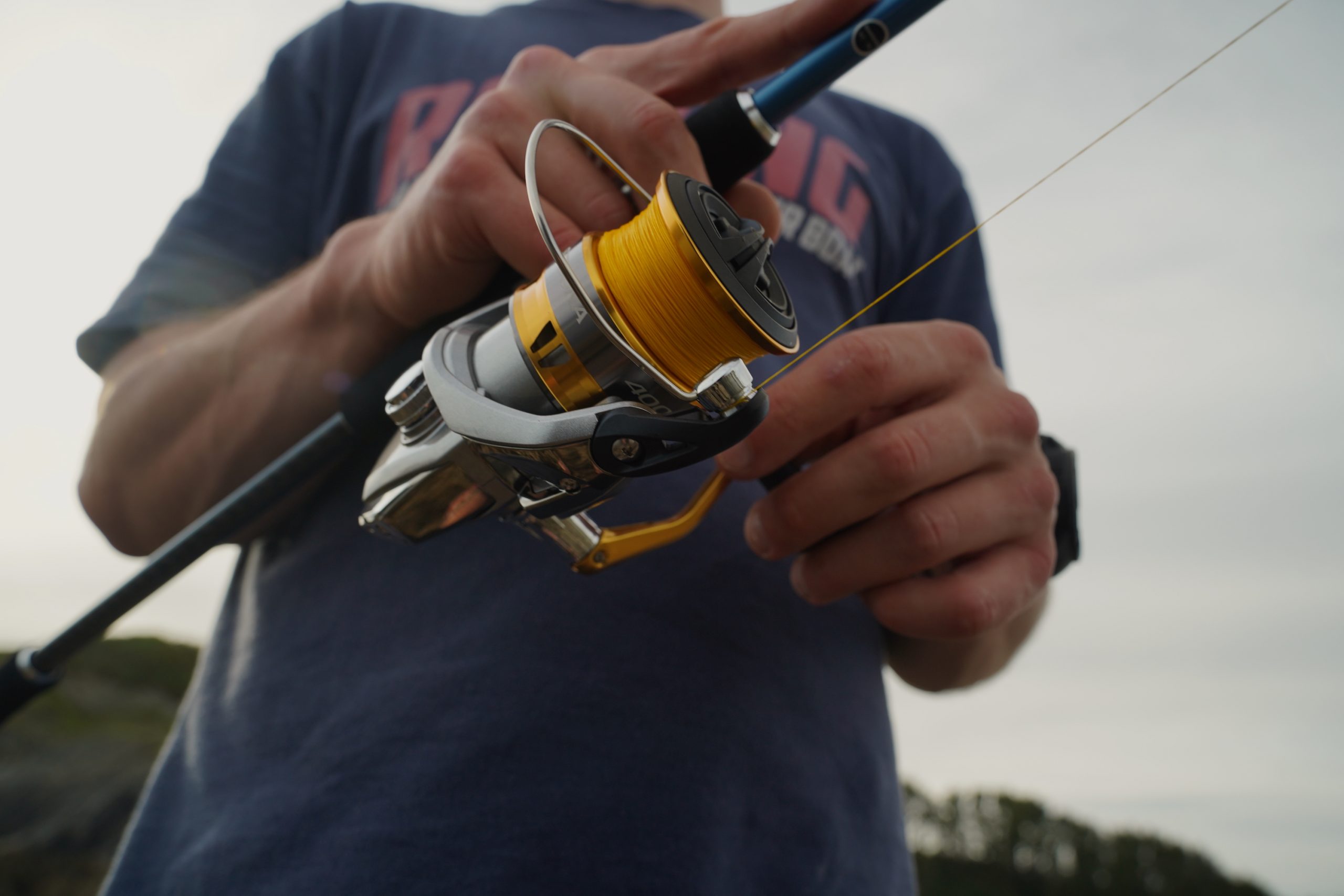 The Shimano Sedona is a reel that performs flawlessly. It's not necessary to buy a reel like this to catch fish and everybody knows that, but after they've used a reel that's a bit more premium, people don't seem to care.
We are in the process of testing this reel and landed bass to 5lb on it, which allowed us to enjoy the smooth drag. In terms of robustness it's got everything you need. Not as tough as a similarly priced Penn reel but much smoother and more refined in your hand. Perfect for those that enjoy the lighter side of lure fishing and enjoy playing fish with refined gear.
---
Daiwa Ninja
Best mid-range fishing reel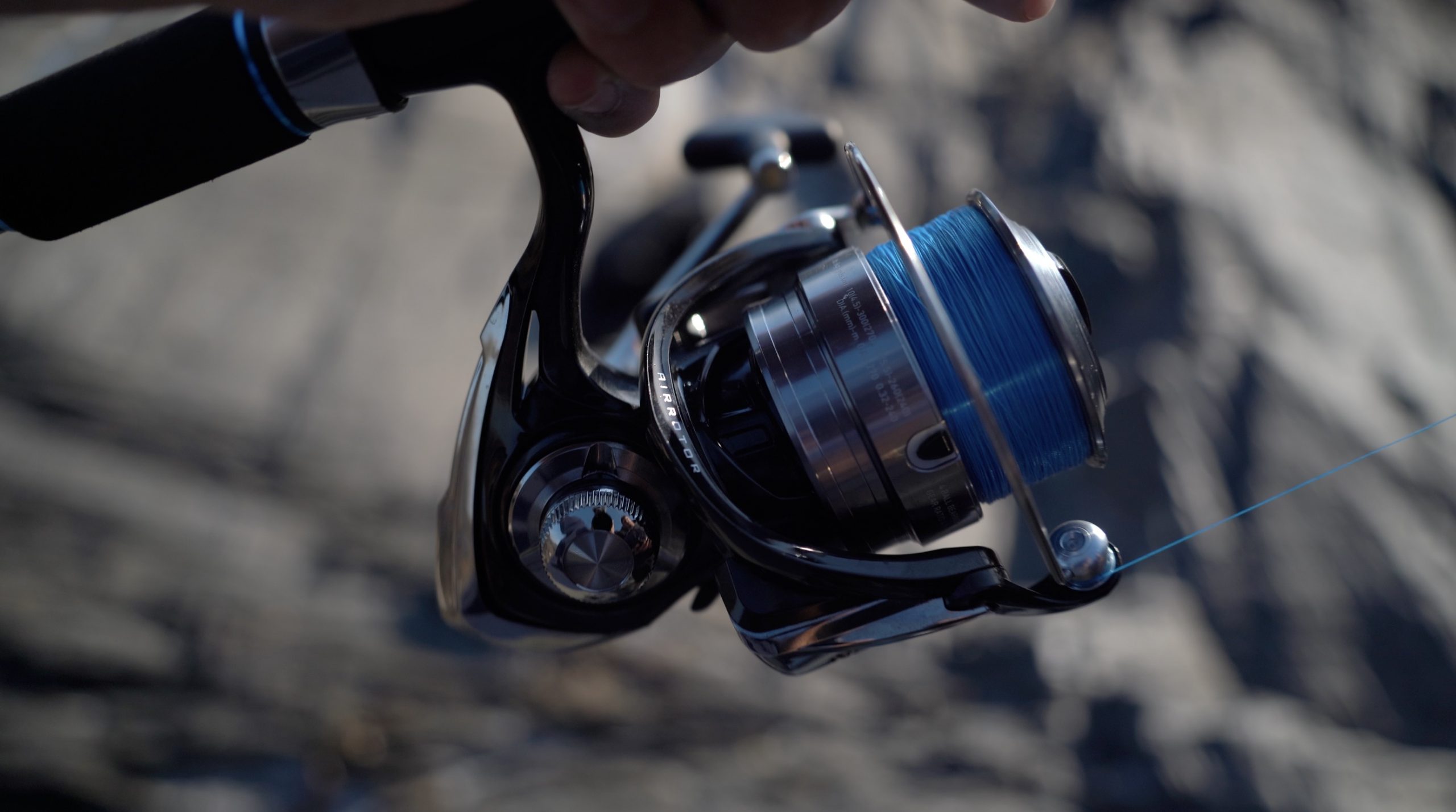 Daiwa is arguably the best reel manufacturer in the world, and this is their most accessible high-end reel. Some prefer Shimano, and some prefer Penn, but Diawa makes reels that are deadly for lightweight lure fishing and often have more compact designs than their Shimano counterparts. The quality of a reel like this puts it in a different category altogether from most reels you will see on the typical harbourside in summer.
The Daiwa Ninja Reel is a modern specialist spinning reel that pairs perfectly with a bass rod or light spinning set outfit. Paired with a rod from the same company, you are in for a high-end lure fishing experience at a mid-range specialist price point. An added perk of this reel is it comes with a spare spool, great if you want to changes lines quickly. This is the best reel we have tested at this price point.
---
PENN Spinfisher
Best bass reel by popularity in the UK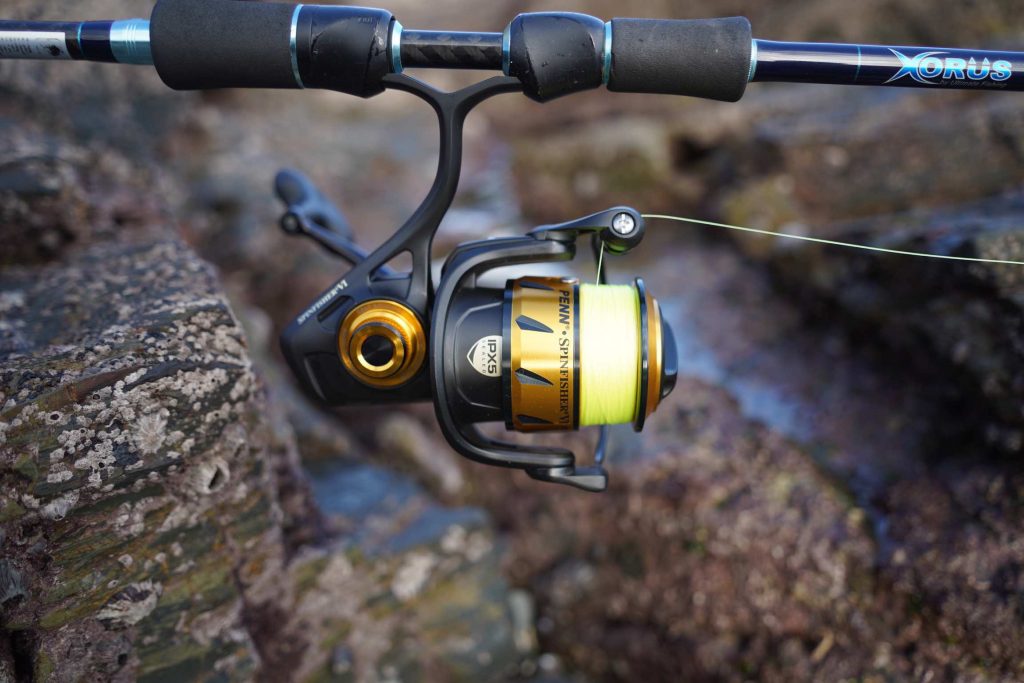 Penn's Spinfisher is one of the most popular fishing reels of all time and for good reason. All PENN reels have that characteristic powerful feeling that a lot of people like, and at this price point, you get a reel that still feels smooth and sleek despite being a complete workhorse. It is slightly heavier than some similarly priced reels from Shimano or Daiwa. If you're going to be cranking larger bass lures for instance or fighting fish over the roughest ground, then the extra power could prove useful. This reel does it all, so if you're serious about fishing for bass and other species with lures from the shore, this is a reel for you to own that is likely to provide a life service if cared for.
PENN Spinfisher – the most popular premium bass reel
The PENN Spinfisher is probably the most successful bass fishing reel in the UK and one of the best-selling reels of all time. It holds legendary status for its drag system that can handle very big fish and its ability to be dialled in with the utmost precision. As the line is released from the reel, it comes out much more consistently than with lower specs. This means you're less likely to experience snap-offs, hook pulls or rod breakages when a fish goes off on a mad run. This is essential when targeting big fish on light tackle. Admittedly, these features are rarely needed for UK shore fishing for bass, but it's good to know you're prepared for that fish of a lifetime!
The IPX5 sealed body on this machine gives you some level of saltwater protection compared to other reels. This is the big selling point, as for many anglers salt exposure in their bass or spinning reels is inevitable when fishing near white water. If you buy a £70 reel and kill it with salt and replace it, you've ended up spending more money than if you'd just bought a decent reel to start with, and this has happened to me personally several times in the past. It's more saltwater resistant than most, but dunking is not recommended!
Just make sure you don't over-spool this reel, as it does not handle being overfilled. It works best when you underfill your spool a tiny bit.
---
Shimano Vanford 3000
Shimano's most popular reel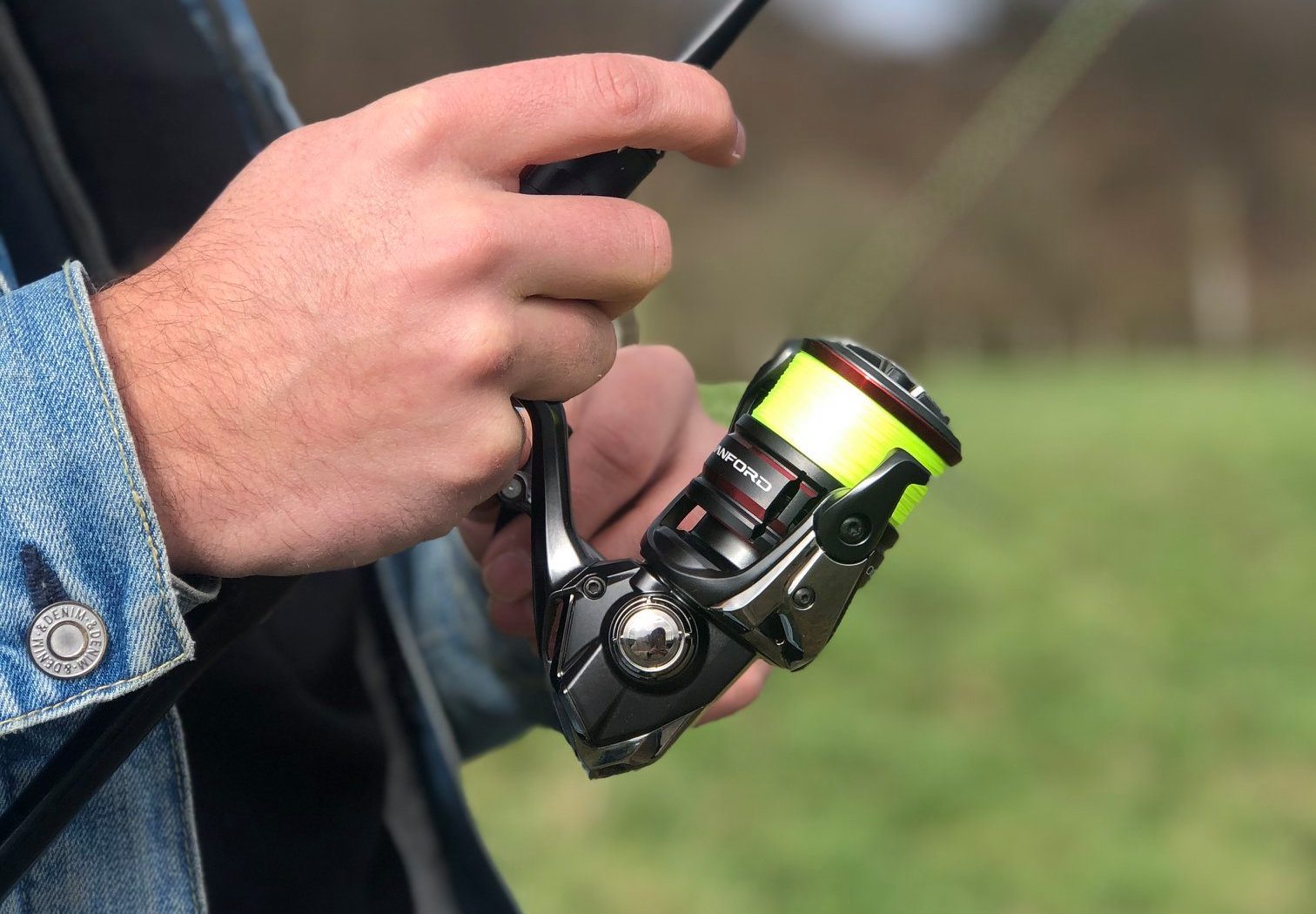 Incredibly light and smooth. with the 3000 size weighing in at just 180g! Crazy light. Beautifully smooth and quiet. Excellent line lay, like all the high-end Shimano reels, they are ready to go out of the box. This really is a lovely reel. The only weakness is it might not be as durable of dunkings as some of the more hardy reels in this price point.
This reel is ideal for someone who is looking for a really lightweight setup. Perfect for an estuary or rock fishing rod. This is a reel we haven't tested directly ourselves yet, but they have been recommended to us personally by some obsessive anglers.
---
Penn Slammer IV
Penn's high-quality workhouse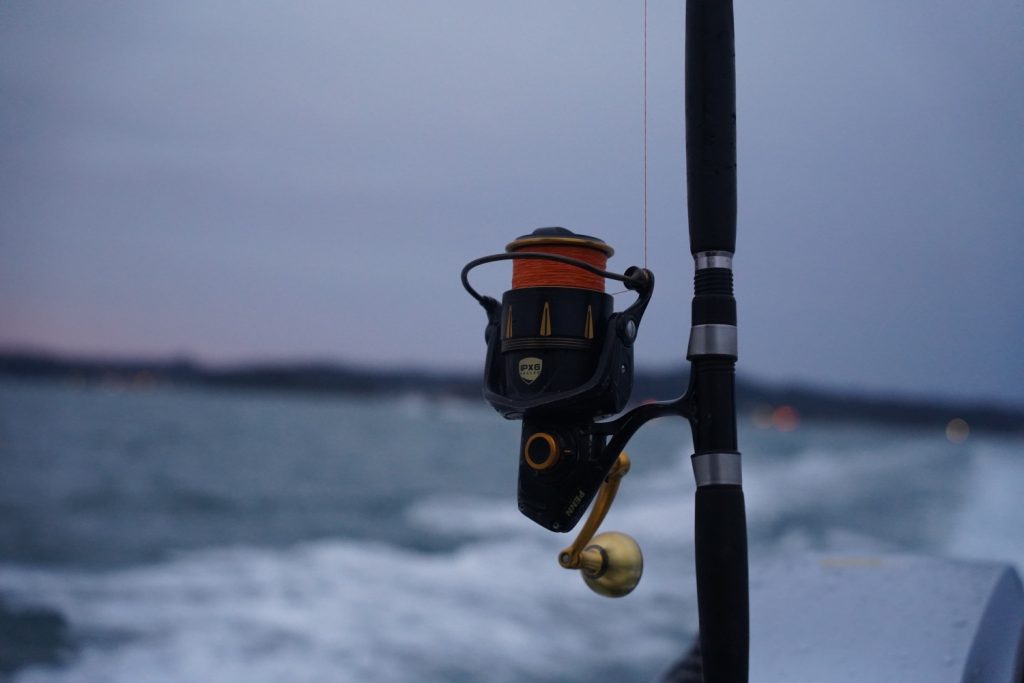 These reels are tough. They might not be as light as a Shimano or as smooth as a Daiwa, but they are tough. That isn't to say the reel isn't smooth, it is! This reel not a super lightweight reel, with the 2500 size weighing in at 310g, but a heavier reel can sometimes balance a rod better, oddly making it feel lighter. Perfect for rock or surf fishing for bass where the saltwater spray will inevitably make its way on and into your reel. In fact, Penn tests the reels water resistance by spraying it with a power hose and seeing how much water makes its way inside… The body and spool are rated to IPX6. This means the body is resistant even to high-powered jets of water. If you fish in spray (either from the wind or engine on a boat, from the surf on a kayak, or just from rock fishing near white water), this is worth looking at.
We've seen these reels catch 20lb tuna with ease. These reels are designed to handle big fish, with an upgraded drag compared to the Penn Spinfisher. We generally don't need that kind of drag in the UK, but it's pretty nice to have.
---
Daiwa BG 3000, 4000 & 5000 (Highest Spec)
The best fishing reel in our estimation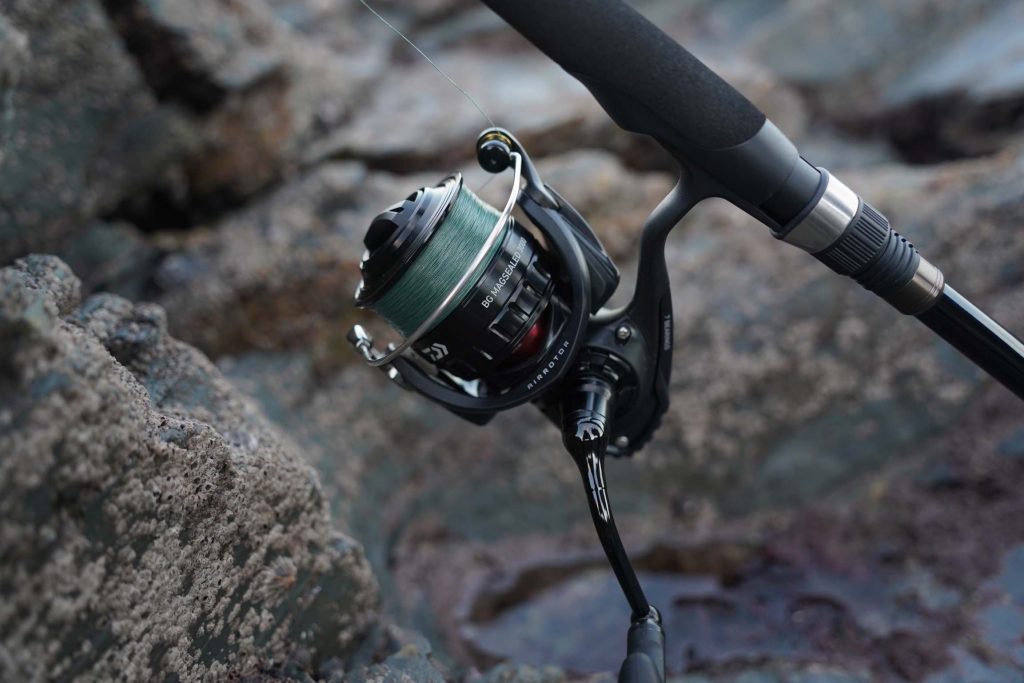 Do you need a new kidney? Because I will sell you mine if it means I can own one of these again. (I had to sell mine to fund buying a fly rod)
Daiwa has been making reels since the 50s and they haven't sold out like a lot of other brands. If you study the Japanese methods for process improvement in their factories you'll understand why many consider Daiwa reels to be in a league of their own. The higher-end models are a bit tarty for some!
Although to most this will be a luxury reel, if you fish rough seas and are getting sprayed with salt all the time, or surf fishing and occasionally dunking your reel, or targeting very big fish that would literally blow the drag on a regular reel, then reels like this are a requirement. For most UK anglers, this probably is not a requirement, but for some, it might be.
The Daiwa BG comes as a mag-sealed version (shown here) and a cheaper version which still has some mag-sealed tech but isn't as thoroughly protected.
The Diawa BG MQ is a next-level reel that is the stuff of anglers' dreams. Perfect for serious lure anglers that fish rough coasts, from a kayak or from boats that drive spray onto their gear. Also good for those that simply want the best kit so their lil' kid can inherit something from them other than their bad habits. I would still rinse with fresh water and aim to minimise salt exposure where possible.
---
Daiwa vs. Shimano vs. Penn
Daiwa Reels
Daiwa reels have the best line lay, particularly in their higher end models. These are the best reels in my opinion for modern lure fishing with bass rods or lighter gear. They are valued highly by anglers that use light braid and like the technical aspects of lure fishing.
PENN Reels
Penn reels are work horses and are sturdy and powerful. Typically, they are heavier and less complex internally than Shimano or Daiwa. The idea goes that this means there is less to go wrong. Traditional anglers or those that value robustness and simplicity tend to prefer Penn.
Shimano Reels
Shimano have exceptional reels at every price point. Their lower end reels are shockingly good for the price and the higher end reels are among the best in the world. Line lay is usually fantastic, and they are highly fine tuned. Similar to Daiwa, but noticeably different from Penn.
Other reels we recommend that aren't PENN, Daiwa or Shimano.
FISHMAG recommends sticking with Penn, Daiwa and Shimano when buying spinning reels, but this reel from Abu Garcia offers an alternative at a budget price point. Many reels that look high quality have poor-quality internal parts, whereas, with the aforementioned brands, you're safe.
When people spend £25 on a reel, they usually buy from a random Chinese brand on Amazon or from a classic brand that sold out ages ago and lost its way. People new to fishing will use reels like this without realising just how much the product sucks. Many will think the line tangles they're getting in are caused by their own inexperience, where in fact it's often caused by cheap kit.
If you're looking for a super cheap reel that is functional, will last and works – the Shimano FX and the Daiwa Sweepfire are functional cheap reels. Not amazing, but functional – and that means they're the best reels out there for £25.
If you buy the Abu Garcia Cardinal X Spin, don't try using a high-end braid with it, as the line lay on the reel might not be able to handle the fineness of the line. Instead, reach for some 10lb J-braid or Power Pro or else a fluorocarbon mainline. Given that you're using a slightly heavier line than would normally be recommended, you should then also increase your lure weight a bit to increase line tension and reduce the chance of line problems.
Basically, if you're using a budget fishing kit, you don't want to try to fish too light, as lighter kit brings out the limitations of cheaper tackle. Equally, casting lures that are too heavy will screw your reel.
If you're going to spend £25, do not buy one of the fancy-looking ones on Amazon from a random brand – they're all flashy junk. This reel offers a functional alternative at an entry-level price point. You don't need to use flash kit to catch fish.
Rod and reel combo's
Buying a rod and reel combo solves the big problem of ensuring that the reel you buy is perfectly balanced with your rod. Note that while telescopic rods and rods that break down into more than 2 pieces are easy to transport, they are much more prone to snapping so drags need to be set more conservatively when fishing with these rods. I would recommend avoiding those except for fishing on holiday, where their usefulness justifies their limitations.
What reel to go with X rod?
Once again, my advice, if you're buying a rod and reel combo, is to choose one made by PENN or DAIWA. This is fairly conservative advice because there will be other good options out there, it's just that if you stick with these brands you are going to get the best possible quality for your pounds.
If you are looking for a simple rod and reel combo for mackerel feathering, then you'll want something long and strong. Quality is less important, but if you go for a PENN rod and reel combo that casts a couple of ounce, you'll be fine with feathers and you'll get something high quality, too.
---
What are the actual performance differences between low end and high end spinning reels?
The biggest difference in performance comes from line lay and the drag. Reels with poor line lay result in tangled lines. On a spinning reel, poor line lay prevents you from fishing with lighter lines that may be required if you wish to cast further or fish with lighter lures and rigs. A cheap drag doesn't let out line at a consistent rate and may require a lot of initial tension before it releases any line at all. Reels like that will result in lost fish, but can be quite a laugh to fish with if you have the skill to work around their limitations and make them work!
Mid range reels that cost about £60-70, in my opinion, have no limitations or performance disadvantages in comparison with super high-end reels. You may get even better line lay with even fewer tangles by splashing more cash, but I've never had a tangle on my £70 reel with 8lb braid.
That doesn't mean there aren't any differences between the mid-range and the high-end. Reels genuinely do keep on getting better and better even up to £300. The difference is phenomenal. My advice which applies to most forms of consumption would be to buy what gives you the performance you actually need and avoid spending extra for thrills – BUT do not even touch the high-end kit because if you do it will make your perfectly functional mid-range reel feel like cheap crap. Quality is relative. I got used to borrowing a friend's reel that cost about £250 and was a Japanese import and then went back to my mid-range £70 Shimano and was quite shocked at how cheap it felt, despite being an excellent reel.
Here's an example.
Spinning Reel Sizes
1000 Size = LRF – super lightweight lure fishing with very light lines like expensive 8lb braid or 4lb fluorocarbon line. Balances on rods that cast under 15g (less than half an ounce).
2000/2500 Size = Still only appropriate for super lightweight rods that cast less than 21g and are under 8ft. This is a specialist size that will only match with LRF and HRF rods.
3000 size = the same reel body as a 2500 but with a larger spool with more line and more power. Perfect for rods that cast up to 28g and are about 7-8.5ft.
4000 size = perfect for bass fishing with rods of around 9ft casting about one ounce (30-60g max) or for use with an entry-level spinning rod between 7-9ft which is likely to be thicker. This size is for using lures that weigh over 20g, which most traditional lures are. I recommend this size reel as a great general-purpose size for people new to fishing. This size is going to balance well with rods that are 7-10ft like catching bass and other serious predators that require some bullying. A very versatile size, you won't be disappointed if you're looking for a simple spinning outfit.
5000 size = heavier lure fishing with 2oz / 50g weights and the largest bass and pike lures on rugged coasts with 10ft lure rods. This is great when you need power, long casting distances and something that can handle your big plugs and 20lb braid. Great for landing monster pike and monster bass or for match fishing when you want extra distance in your cast. Also as it happens, a good size for using mackerel feathers on a very heavy 10ft spinning rod.
Choosing a spinning reel
A quality reel is a pleasure to use and is very different from most reels you'll see in tackle shops around the country.
The key difference, asides from being smoother, nicer to use and more durable, is that they lay line in a way that prevents tangles and allows you to cast further. Cheaper reels cannot be used with higher-quality braids, because most reels are not designed with super-fine lines in mind. For this reason, if you want the best fishing experience you will need a reel that costs at least £50. Reels below this price point will limit the fishing styles you can use. You won't be able to fish effectively with lightweight lures (below 1oz) or heavier tackle (over 3oz).
If you just want to catch some mackerel with feathers, then there is no need to spend more than £30 on a reel. Higher quality reels are required for more advanced beach casting rigs and for spinning with single lures. Casting 3oz leads is something that any reel can do well enough. It's when you start putting on heavier rigs, lighter rigs, and nicer lines that you need something more specialist and advanced.
If you want something cheap and cheerful that just gets you out by the water and does its job, that's fine too. It can be good to have a reel that you aren't too fussed about taking on a kayak for instance. There are imitation reels out there that are decent quality for the price and are fine for most sea anglers. Do consider though that spending an extra £20 could get something that might last a lifetime if looked after and be much nicer for you to use. For occasional mackerel bashing, cheap is no problem. For using lighter weights such as when spinning or float fishing, you'll appreciate a superior product. For using very heavy leads and fishing at range over mud flats and beaches, you'll also want superior line lay to maximise your casting distance and power of retrieval.
The big leap forward is going from something you picked up for £30 from the tackle shop to getting a mid-range Shimano, Penn or Diawa and putting some decent line on it. When I started fishing and used a cheaper kit I thought I got in tangles and bird nests because I was new to fishing but in fact, my reel just had crap line lay and my line was too thick for the size of the spool, resulting in coiling. Sometimes when the 'poor workman blames his tools' he's damned right. Using a lighter line or braid and a half-decent reel makes a world of difference.
Reel Buying Guide: Understanding Fixed Spool Reels
Drag Systems
You want a reel with a smooth drag. You can generally get this when you spend more than £40 on a reel and more expensive models often have silky smooth drags. This prevents your line from breaking off when a fish makes a crash dive for the kelp. It could even prevent your rod from snapping.
There are front drags which sit on top of the spool and rear drags that poke out the back of the reel. The first of these are more common in sea fishing. Both are fine, but the front-drag models are much more compact.
Frame Materials
Frame materials vary from solid aluminium, magnesium and plastic. Plastic should be avoided as it will feel clunky and the different components won't feel as tightly integrated into one another. If you're kayak fishing or fishing from rock marks where you frequently get wet, you need a reel that is corrosion-proof. The main way reels die is by salt and corrosion making them juddering, and jolting things you don't want to use. Unfortunately, there's not a lot you can do once you've dunked a reel in salt water – leaving it to sit in warm freshwater will help keep it going but it's on its way out unless you're using a specialist kayak fishing reel that's designed for it. Magnesium corrodes. Titanium is superior. Graphite is not as durable as carbon fibre or metals like aluminium.
For sea fishing, you should also avoid reels targeted at freshwater anglers. Some reels designed for freshwater can also handle salt, but it's safer to buy reels designed for sea fishing primarily.
Reel Bearings
Bearings make the reel turn smoothly. It's quite striking the difference in smoothness as you up the quality of your reel. It's a luxury that's hard to go back from once you've fished with a solid and smooth reel – it makes most other reels feel clunky, like the handle could fall off any minute – even though it's fine. However, more bearings don't always mean a superior product and there are rapidly diminishing returns.
Spools
Spool size and line capacity are worth paying some attention to. Some spools are very shallow and others are deep with room for a lot more line. On a beach caster, you need a reel that can store 300m of 15lb line. Line of about 12-15lb is best for getting a long casting distance, but if you're new to fishing you may prefer to use 20lb and slightly lighter weights so that you don't need to use a shock leader.
Line Basics
Most people use 'backing' line which is where you use a stronger and thicker line to fill out the bottom of the spool before then tying on your casting line which is what you'll actually be using. Often braid is sold in 150m spools and this might not optimally fill your spool, meaning that you get friction against the lip of the spool as you cast limiting casting distance. The backing line also allows you to save line, because if you just tied your mainline directly to the spool, when you eventually lose half your line, the line you have left is too deep in the spool to cast effectively, as the line casts with greater resistance the deeper into the spool you cast. A reel with too much line on the other hand will be prone to tangles, as the line will come loose too free
The backing line is also useful for providing extra strength should you hook into a very large fish that strips you of all your mainline, and the thicker line ties a stronger knot to the reel than thinner lines can, however good your knot.
Anti-Reverse
Anti-reverse is a lever on the back of the reel that allows you to reel backwards, letting the line out rather than letting it in. Given that you have a bail arm for letting out line and you can use your fingers to control the amount of line you release or the drag when fighting a fish, this feature is essentially useless. A useful indicator however of the quality of a reel is to reel forwards and then suddenly change direction to reel backwards, with anti-reverse switched on so that the reel locks up and doesn't reel backwards. On a cheaper reel, there will be a bit of 'loose movement' in the reel handle where the handle isn't quite sitting tight in the body of the reel. On higher-end models, when you do this the handle stops turning instantly, with no movement at all. This makes the reel feel like a tight, cohesive unit.
Gear ratio
Gear ratio tells you how many times the spool will rotate with each turn of the handle. A ratio of 5.4:1 means the spool turns 5.1 times for each full turn of the handle. It's not important most of the time, but you should know that the faster the retrieve the less power you have, so it's a trade-off. Reel size matters so much more than the gear ratio for 99% of angling.
Weight
Reel weight can determine if a reel balances nicely with your rod or not. It's disputed whether this actually matters, but a rod that can be balanced perfectly on one finger on the rod handle just before it meets the reel is considered balanced. It's definitely not fun when the reel is too heavy for the rod, as the tip of your rod will tend to lift upwards unless you direct it to do otherwise and it feels clumsy. Reels that are too large or small for the rod also increase the chance of line tangles. Other than this, reel weight is not an important factor unless you are lure fishing for long time periods. Reel weight is only an issue when you fish for mackerel with a beach caster and beach caster reel, which is not advised.
Further Research