Finding the best mackerel rods
In this guide I will show you a few different mackerel rods that might work for you. The needs of a holidaymaker looking to catch a few mackerel for dinner are different from those looking to invest in kit that maximises casting distance or the sporting value of fish. As an angling guide based in Cornwall, I have helped many people find the right rod.  If you let me know via the chat icon where you are going fishing and what you plan to do, I can offer personalised advice.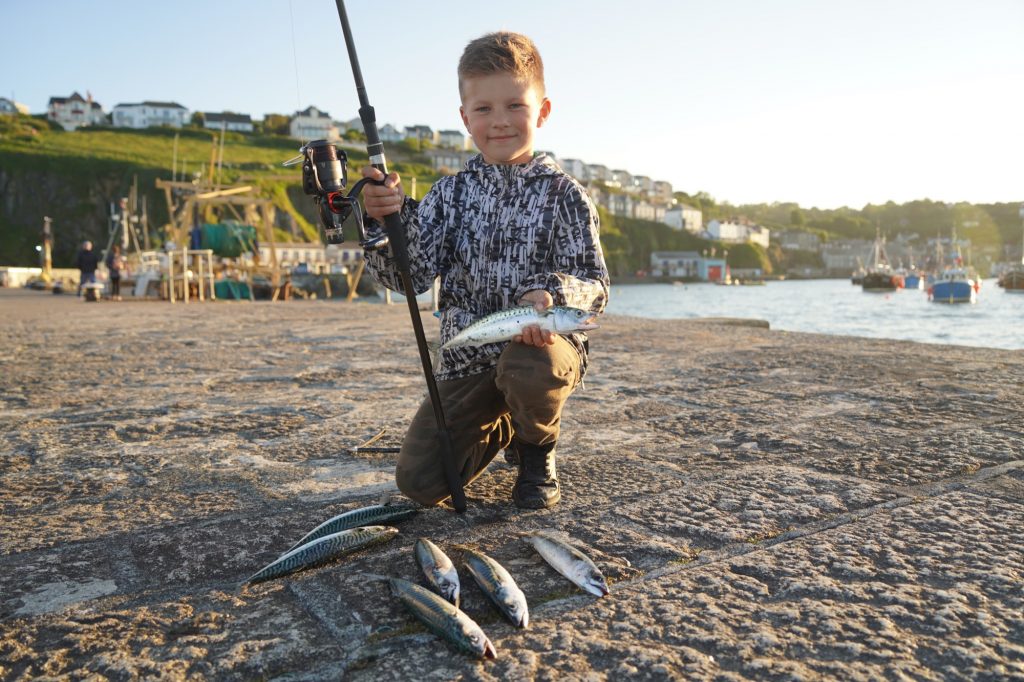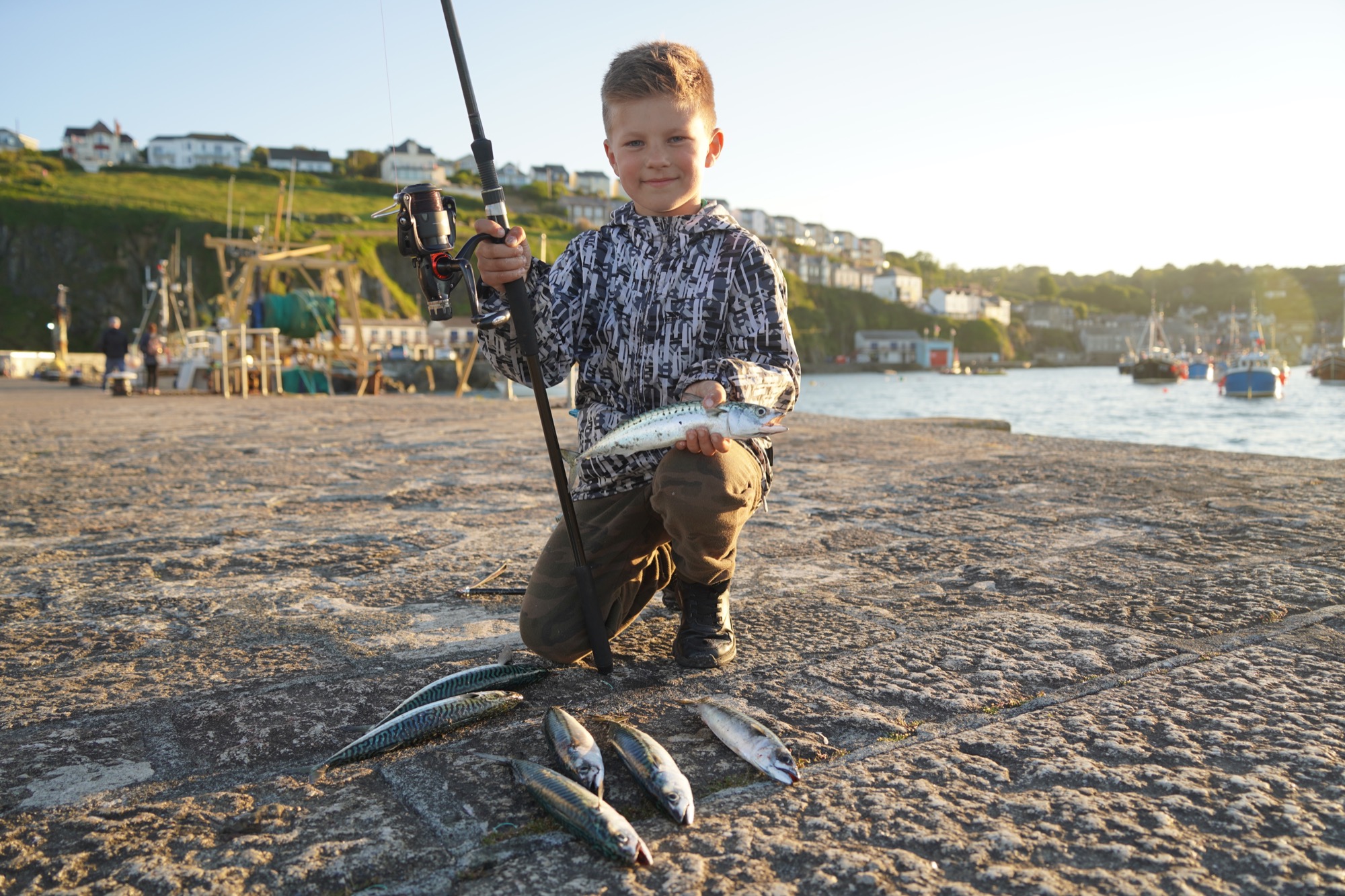 Budget mackerel rod and reel combos
You don't need high-end rods and reels to catch mackerel with feathers. That's convenient, because rod and reel combos costing around £50 are not going to be anything special. In fact, a lot of the mackerel rod and reel combos you'll find out there are truly awful bits of kit. They are sold in large numbers to holidaymakers that don't usually fish. The reels aren't strong enough to retrieve the weights the rods are designed to cast. This just won't do, I'm afraid!
The rod reel combo below from Shakespeare is the best combo on the market this year at its price point and is something you'll be able to use for years to come. Unlike alternatives at its price point it is functional, which means it just about does the job and won't disappoint. It's the perfect length and can cast feathers a good distance. Just be sure to use 3oz weights and avoid anything heavier. Ignore the rating on the side of the rod. Pick up these 3oz torpedo leads and a few packs of these mackerel feathers, tie them to the end with a blood knot (or other strong knot) and you're fishing. If you go to a rock mark with rough ground, this float rig will help you avoid snagging on the bottom. The Daiwa Sensor Combo and Shimano FX set up is for use with single spinners only (no added weights, no feathers).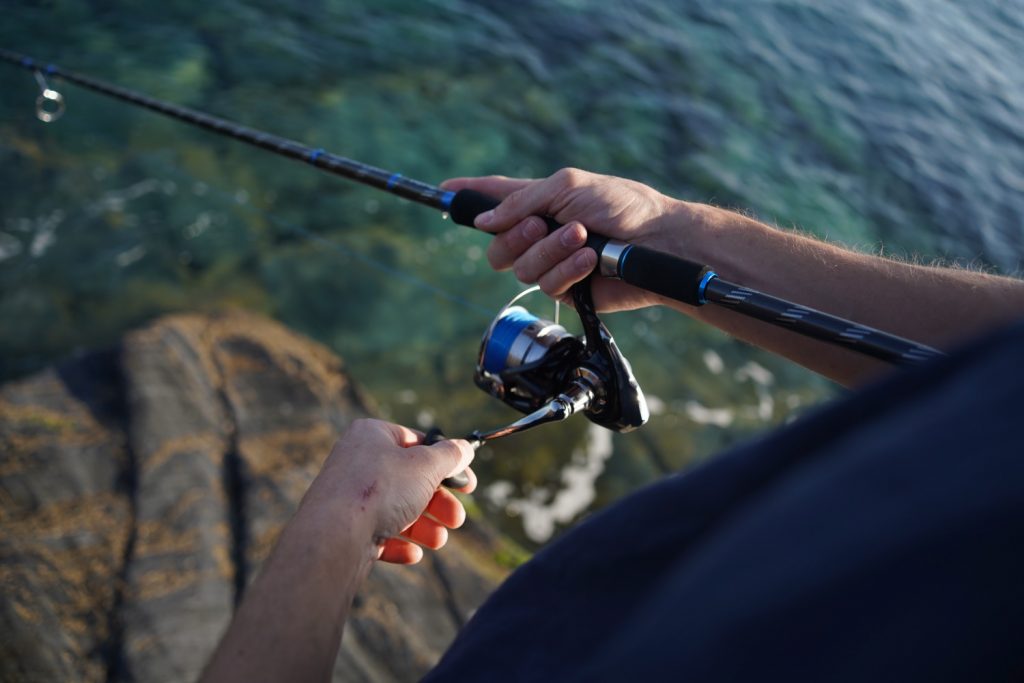 Best mackerel feathering rod
More eager anglers will want to be able to cast further to reach mackerel when they are not yet close inshore. To do this, it's often necessary to use a rod designed for beach casting, but that is only around 10-11ft in length rather than 12ft+. Paired with a robust reel that can handle the leads you're using, this is by far the best mackerel rod for feathering. A mackerel fishing set up rated to about 3-4oz will cast leads and feathers to the horizon. No other type of mackerel kit compares to this in terms of efficacy.
The reason I like these rods for feathering is because a rod that casts this kind of weight can load properly during the cast with mackerel feathers. A heavier beach casting rod would not load properly and would limit your casting distance. A lighter rod could not lift 4-5 mackerel up a wall. A 10ft beach caster rated to a max of 4oz is also a great general purpose sea fishing rod. It allows you to fish with bait with light bottom fishing rigs, use sea fishing float rigs and of course mackerel feathers. This set up is quite similar to what is used for bass fishing with bait. It's essentially a ledgering rod for bass, flatties or estuary fishing. An excellent choice for the more serious angler that hates not catching fish! The Daiwa rod below is a no-brainer – this is the very niche is was designed to fill in sea fishing.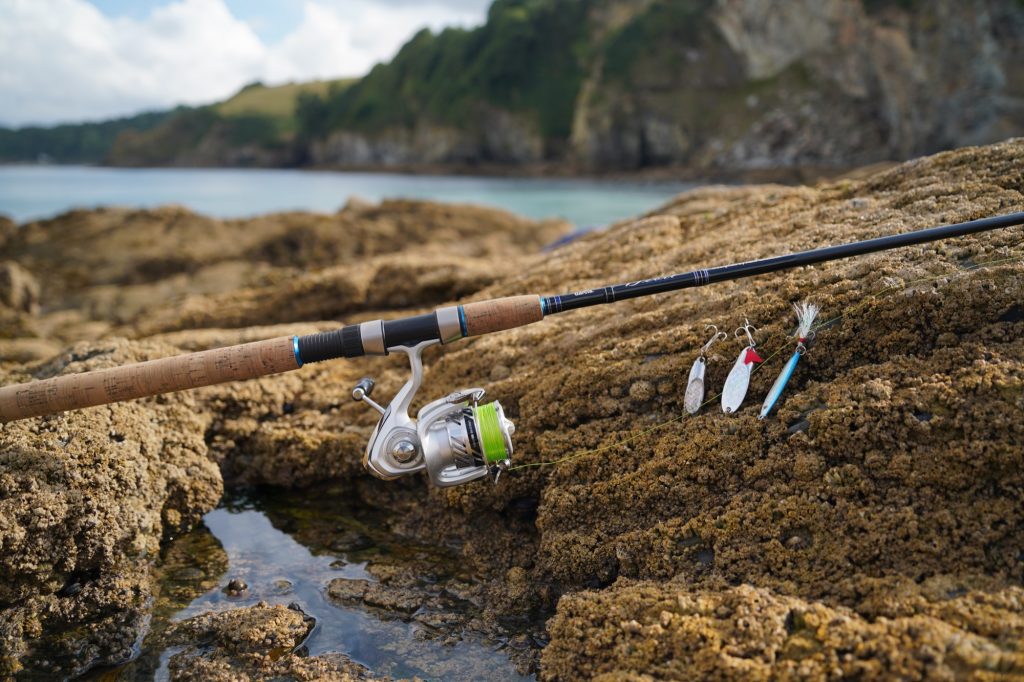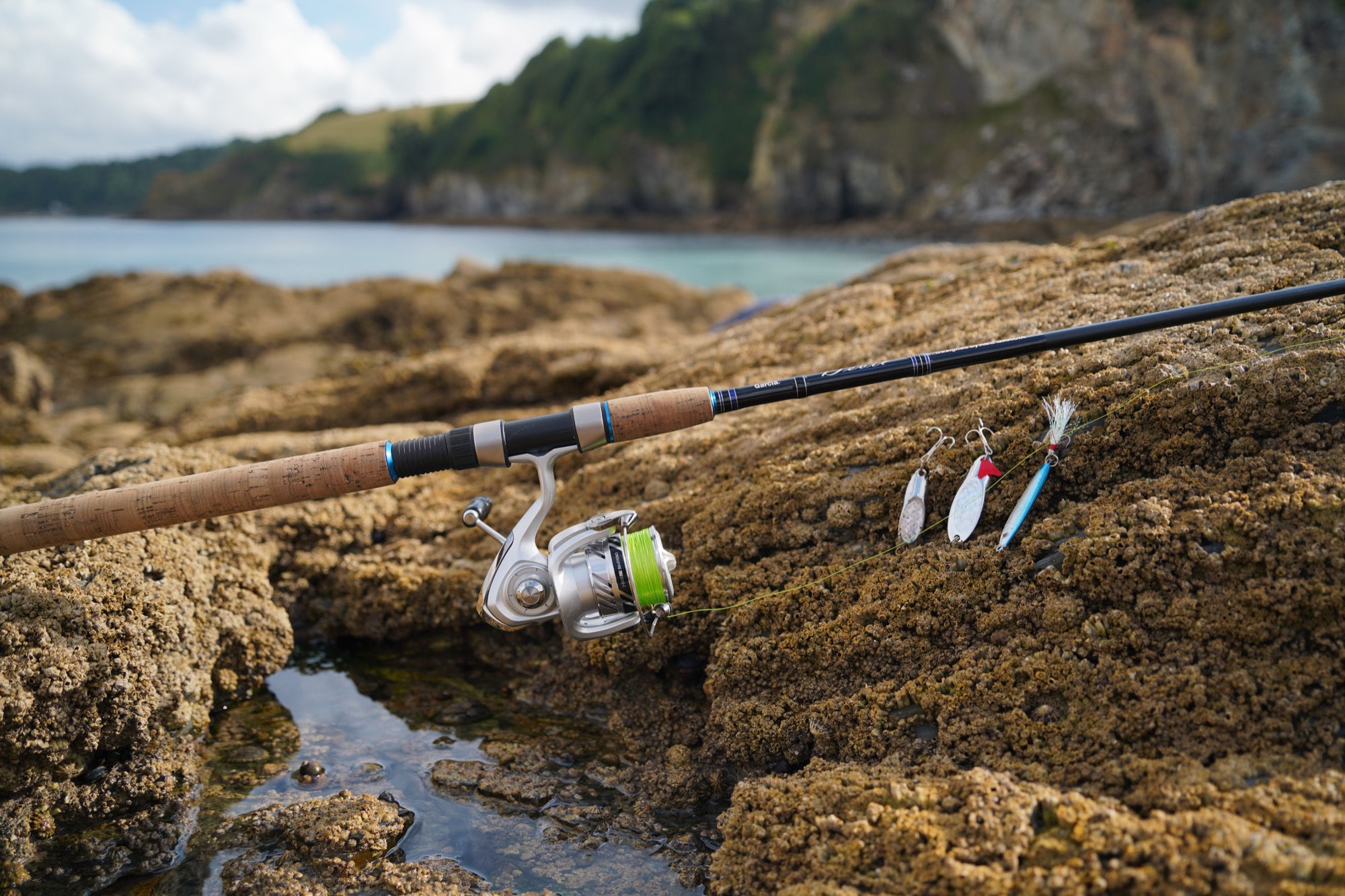 Spinning rod for mackerel
A spinning rod is designed to cast lighter weights. This is so it can load properly when casting single lures with no added weight, such as a dexter wedge, toby spoon, or a modern bass lure like the Fiiish Minnow. Mackerel are not particularly fussy fish, so this kind of finesse is not a requirement for them. However, a lighter rod will bend much more, so many prefer targeting them this way for the fun of catching these muscular fish on light tackle.
Any spinning rod between 7-10ft that casts no more than 40g will work for mackerel fishing. The real secret is actually to use good line and choose spinners that are close to the maximum casting weight of your rod (but not over it) so you can cast further. There is such a range in quality of rods on the market even at the same price point. I have selected some excellent choices below. These spinning rods are great choices for anglers that also enjoy float fishing with bait, because it's much more fun to catch mackerel on the float with a lighter rod than a traditional sea fishing rod that casts over 3oz!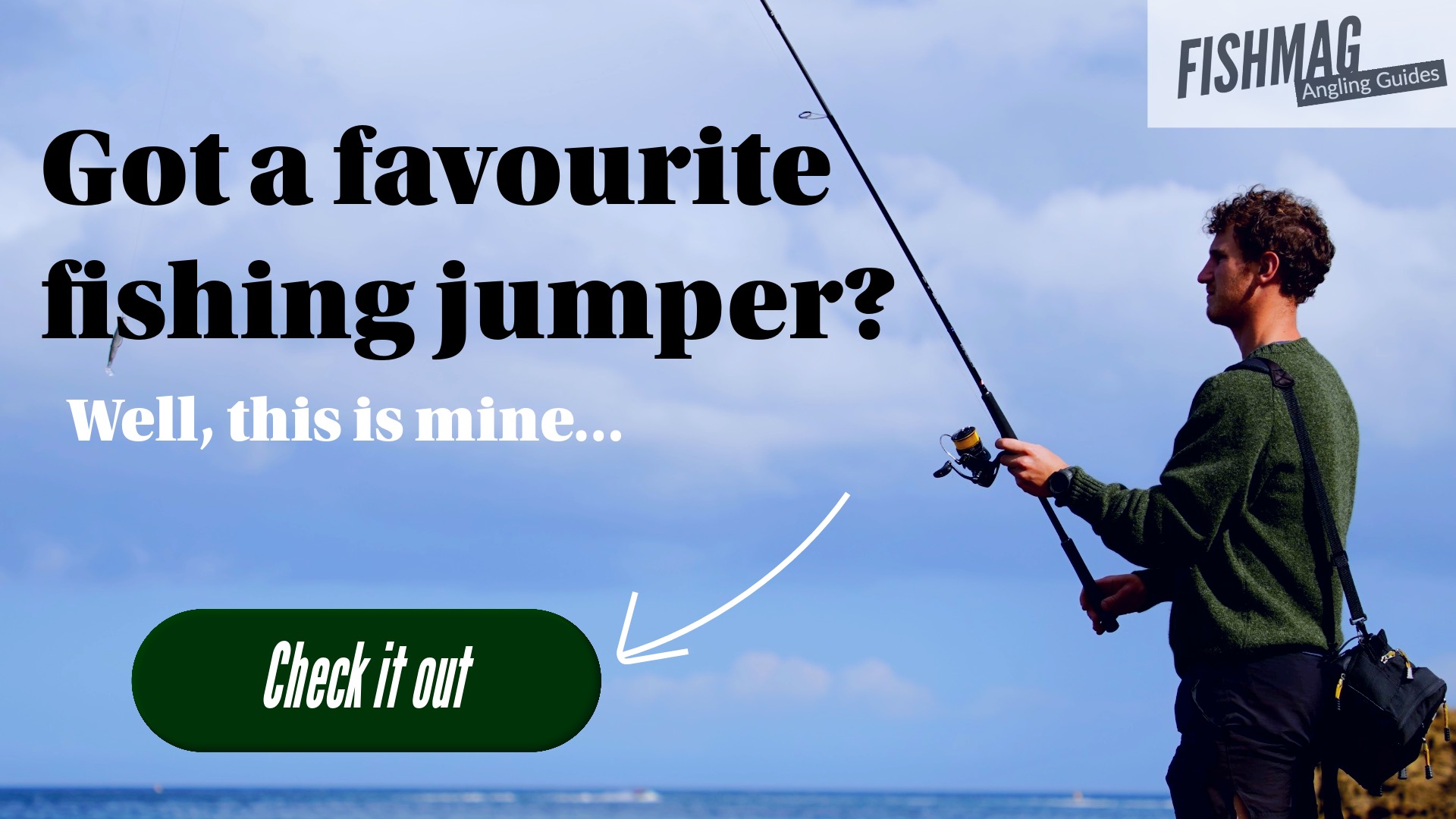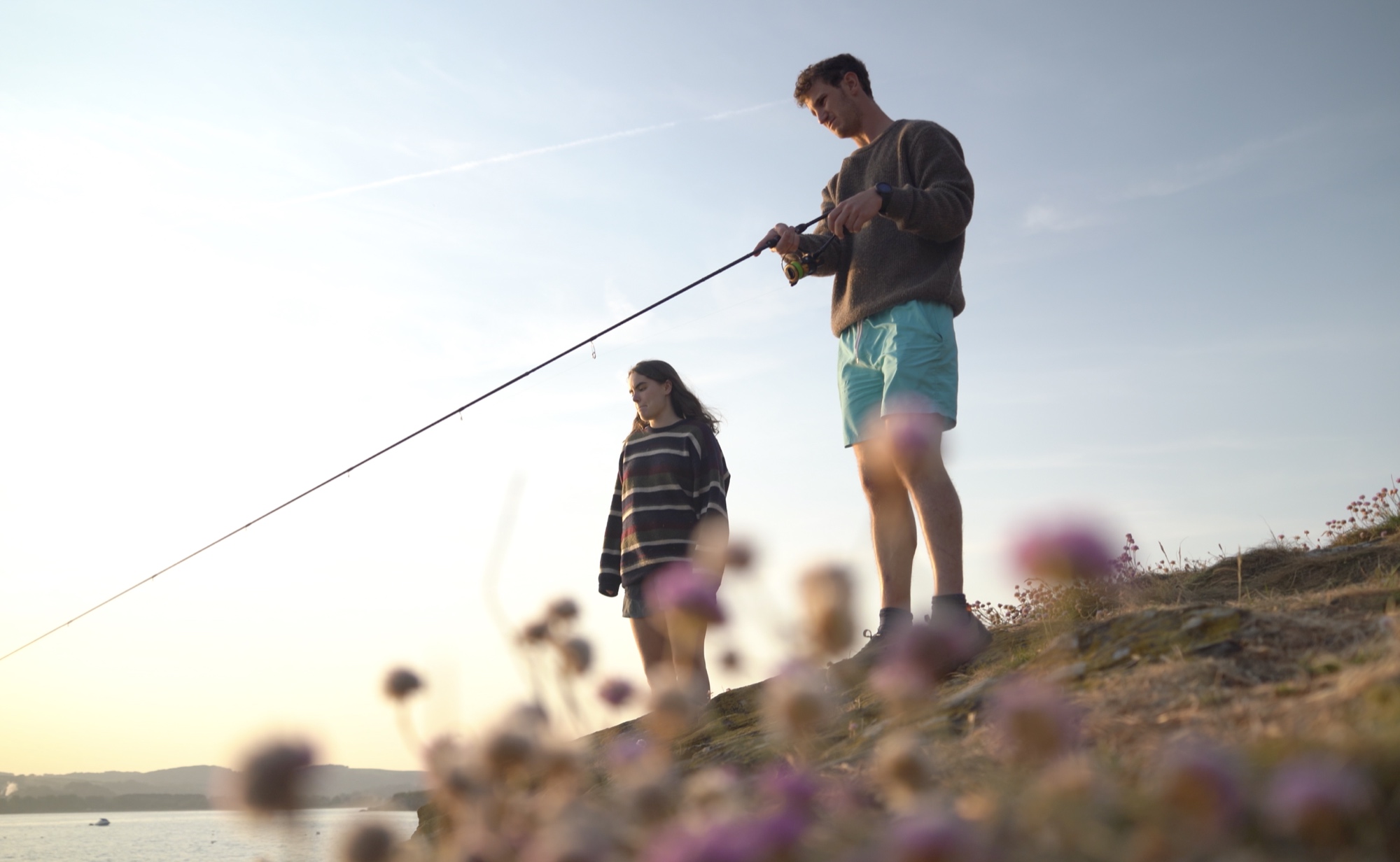 Best light spinning rod and reel combos for mackerel
If you are interested in catching a broader range of species than just mackerel and you like fishing with spinners, then you may want to look at something lighter still. A traditional spinning rod can cast up to about 2oz or 60g. This is useful for anglers with a more generalist approach. If you want to use modern bass lures or fish with lighter lines, then you will need something that casts more like 30g. This is essentially a bass rod, and at this point you are getting into the territory of more specialist lure fishing equipment. It's a hell of a lot of fun to use, because these rods really bend, and you can target a huge range of species with a lot more control over how you present lures.
If you buy a rod like this, it's important to use monofilament (regular) fishing lines of around 10-12lb. Otherwise, it can be tricky to cast lighter lures a good distance. The better alternative would be to use braid, if you are happy tying leader knots. Rods like this are just perfect for casting 30g dexter wedges, toby spoons, casting jigs, paddle tails etc. They allow you to explore a lot of methods and the lure fishing options are limitless. I like to use these when mackerel fishing because if there are no mackerel around, I can just target wrasse with soft plastics instead.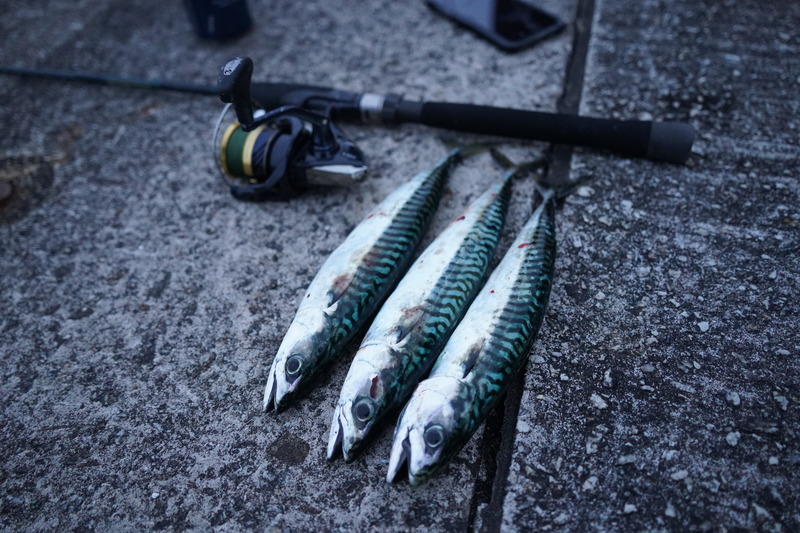 Read our full guide to mackerel fishing or else our guide on the best mackerel lures
Other mackerel rods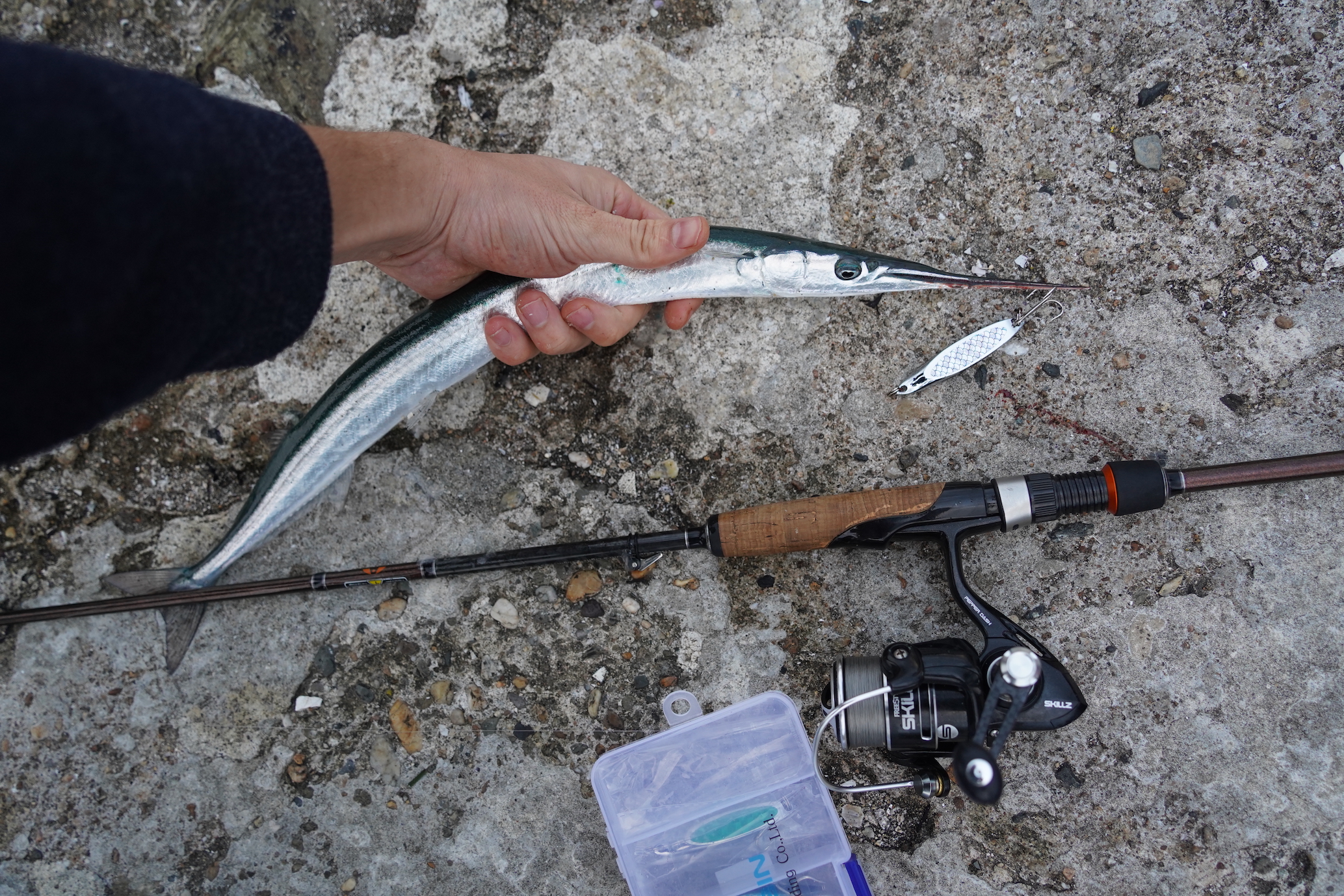 Best LRF rods for mackerel fishing
This is undoubtedly the most sporty method for catching mackerel. If you're willing to use very light fishing gear that allows a single mackerel to easily pull out the fishing line, you'll be reminded that our modest mackerel are actually closely related to tuna. They share a similar pelagic lifestyle and fighting prowess. During summer, if you visit any harbor wall in the UK, you'll notice a growing number of individuals opting for ultra-lightweight lure rods.
LRF rods have casting weights not exceeding 10g. They were originally designed for catching Pacific scad mackerel in Japan (which look the same as our horse mackerel) with casting jigs. The Japanese know how to deriving more sporting value from these smaller fish. This way of fishing is can get very technical, because at these casting weights small changes to your lure, line, or reel choice change the balance of the set up completely. There's so much fun to be had with one of these rods. I used to work with a Japanese LRF brand in 2016 and loved every bit of it.
Nobody ever regrets buying a lighter rod for mackerel fishing. If you're going to do it I suggest going all the way and seeing what happens…
Advanced ultra-light spinning rod, spinning reel, value braid and value fluorocarbon leader
Float fishing rods for mackerel
Float fishing for mackerel is a very different approach from both feathering and spinning. Instead of fishing actively, you have the satisfaction of watching your float bob on the surface, until TAP TAP TAP and suddenly it disappears beneath the surface. Incredibly satisfying. The best float rods are actually freshwater rods. These are useful because their longer length means you can make contact with the bait quickly after a bite. You don't need to strike because sea floats create a lot of resistance on their own. You don't see many people using this method in the UK – it's more common to see people using a beach caster for float fishing, even though the rod is completely overpowered. The only advantage of the beach caster is you can easily switch to a heavy ledgering rig if you want to. Instead, I'd recommend using a lightweight rod that casts a couple of ounce – the set-up linked below is ideal.
Advantages of float fishing for mackerel
Float fishing also allows you to catch a wider variety of species than you are likely to catch on feathers or hard metal lures. One of the most important things is to experiment with fishing at different depths, because if the fish are all feeding lower in the water and you're only fishing 4m under, you might not catch a thing. Nearer the surface, you will catch garfish and mackerel. Towards the bottom, you'll catch more wrasse and pollack, too.
Any rod will work if you use weights and lines that are appropriate for the rod you're using and any rod will suck if it's paired with the wrong reel, line or weight. For instance, if you use a light spinning rod, you must use much lighter lines for the set-up to work nicely. 10lb mono is ideal, and braid is even better if you can. If you don't do this, you will be left like most anglers on harbours all across the country that have line that's so thick it coils around their spools and stops them from being able to fish with light spinners, meaning they have to use clunky weights and poorly presented rigs.
So, whatever rod you choose to buy, make sure the line and lures all fit together. If you want to avoid working this out, you could buy a rod and reel set up and just buy some feathers and 2-3oz leads.
I would recommend to anyone that wants to have a lot of fun mackerel fishing to buy a very light spinning rod and reel, fish with braid, a fluorocarbon leader and casting jigs. A lot of people find this to be a fun way to catch mackerel.
Read our full guide to mackerel fishing or else our guide on the best mackerel lures.