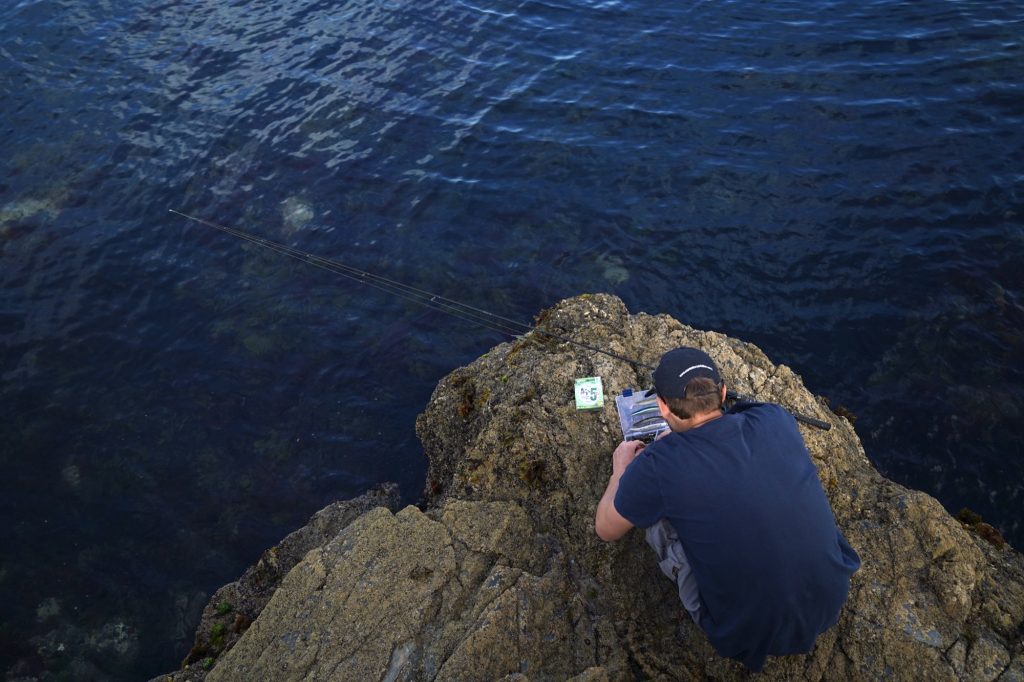 The best bass rods | Finding your next stick
The most common bass fishing setup among dedicated bass anglers in the UK consists of an 8ft rod capable of casting up to 35g. This is typically paired with a reel in the 3000 size range. Such a setup is light enough to effectively cast modern bass lures.
However, it's important to consider where you'll be fishing and the type of lures you'll be using, as this will affect the ideal rod length, casting weight, and action. Investing more in your equipment will provide increased bite sensitivity, lighter weight, and a rod that loads properly, allowing for longer casts. It's worth noting that many rods marketed as 'spinning rods' or 'lure rods' are unsuitable for bass fishing, making it a bit of a minefield for beginners.
Now let's look at a few of our favourite bass rods in no particular order, along with what types of lures and ground they are most suited for. Feel free to email me via the chat icon. If you let me know what your goals are and where you fish I can offer advice.
FishMag is reader-supported, earning commissions via the Amazon Affiliate program at no additional cost to you.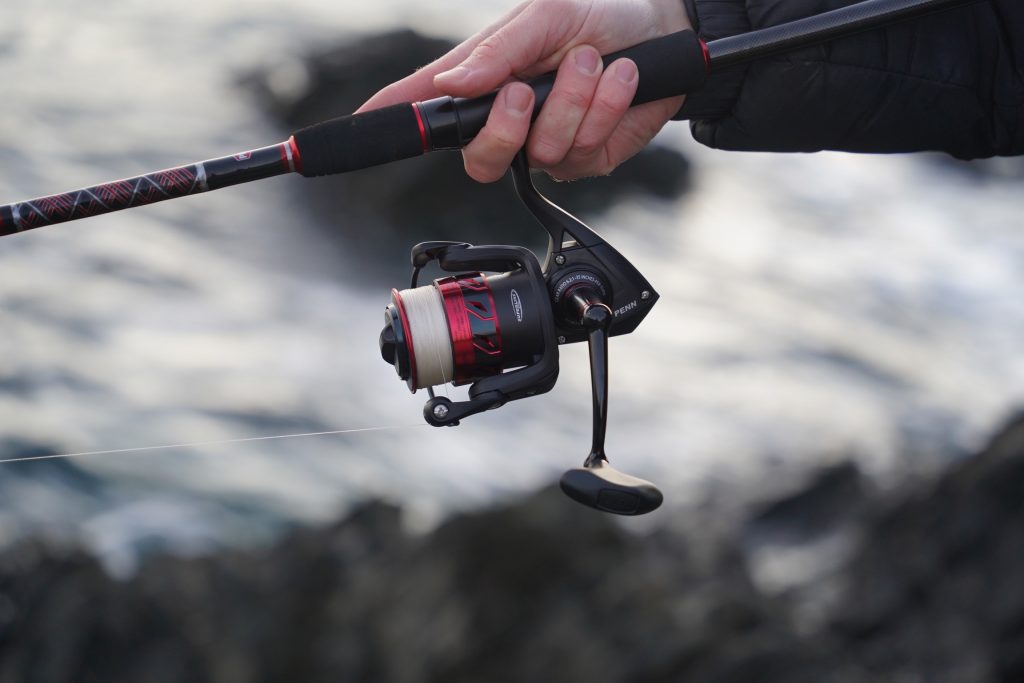 6. Penn Squadron II Labrax
A bass rod that does everything for around £60
Most UK sea anglers are looking for rods that are strong and super cheap. They want it to do everything from flinging feathers to bottom fishing. Some of the mackerel rods we recommend can do those things. These bass rods cannot.
When you are looking at spending under £100 there is a much higher chance the rod may be rated incorrectly. This means when you go to use modern bass lures weighing 20g they will cast poorly. The Penn Squadron is a rod at a reasonable price point that is genuinely suitable for lightweight modern lure fishing. If you are looking for an entry point to bass fishing with single lures, this is an excellent option that will do everything you need it to do.
View Penn Squadron on amazon or veals.
View cheaper Penn combo on amazon and veals.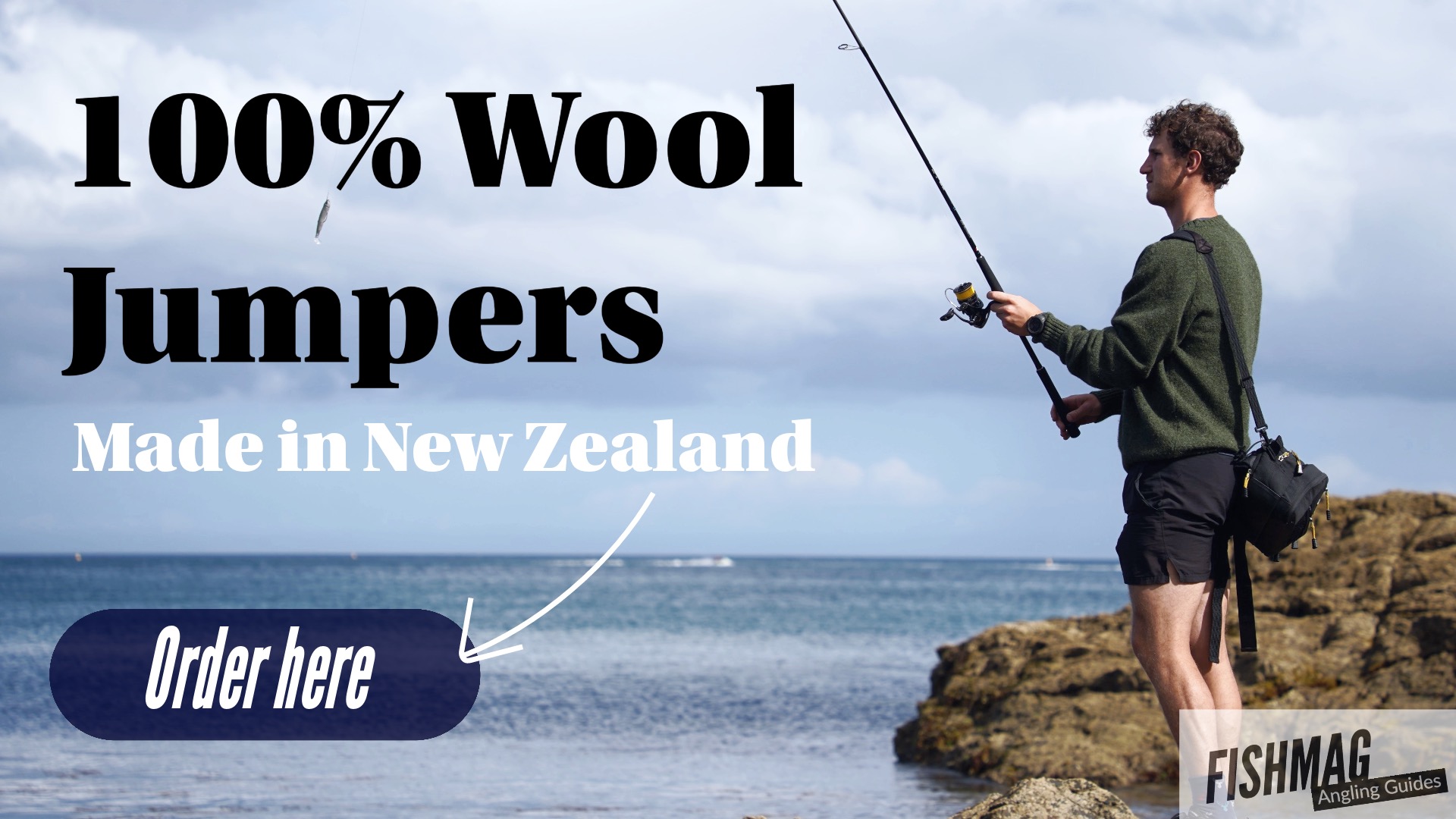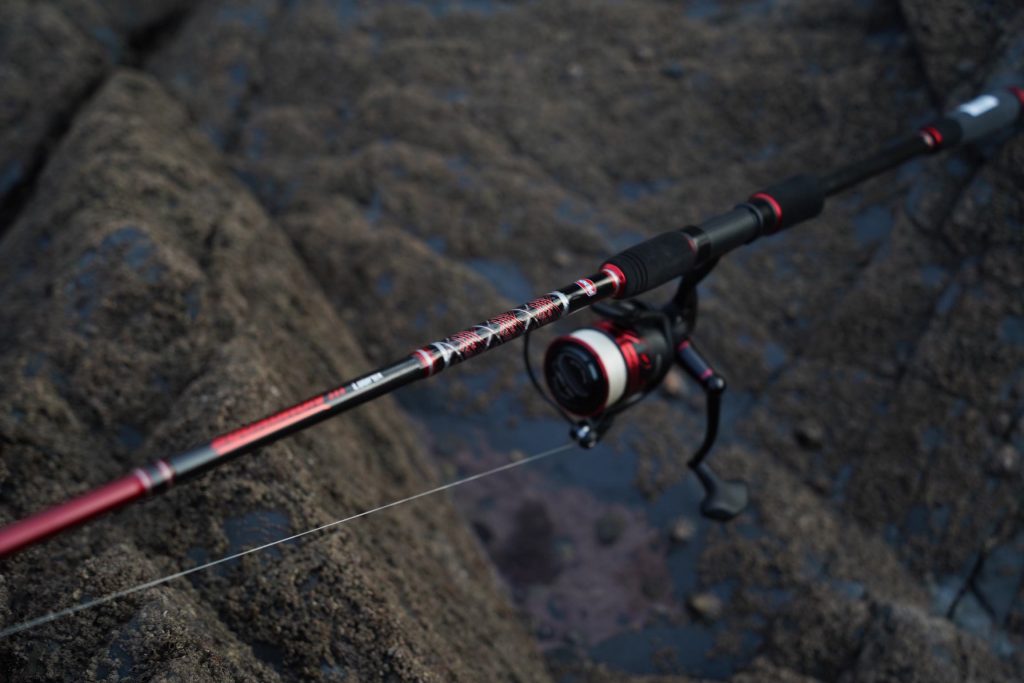 We have tested the Penn Squadron II and think they're great for the price.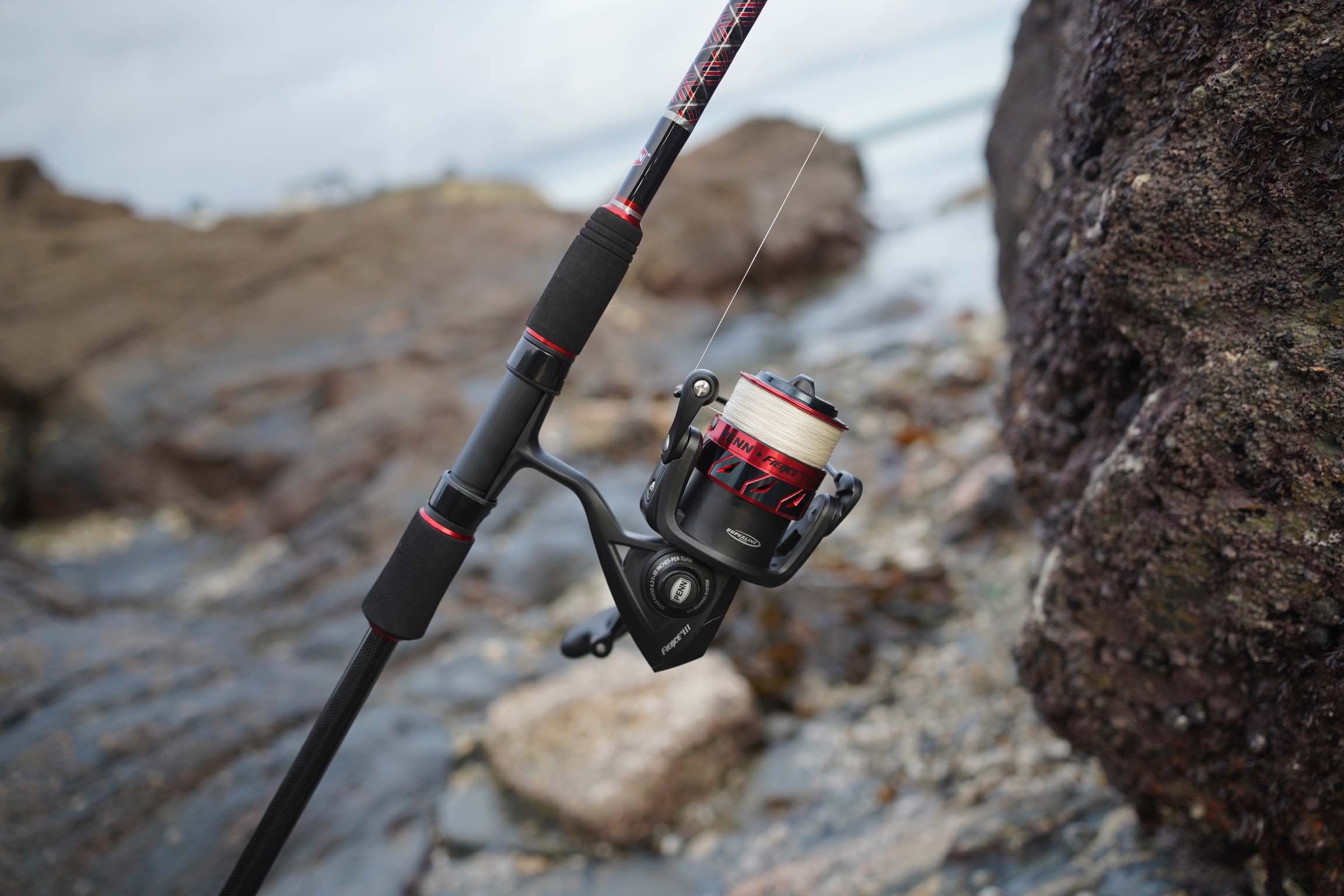 Another perk of this rod is that it's more sturdy and slightly thicker blank than most bass rods makes it harder for beginners to snap, which is why we like using this one when fishing with complete beginners as clients when guiding. This would be a fantastic rod for a traditional angler that likes bait fishing and using dexter wedges, but wants to try out the lighter side of fishing. It's not crazy light, but it's light enough…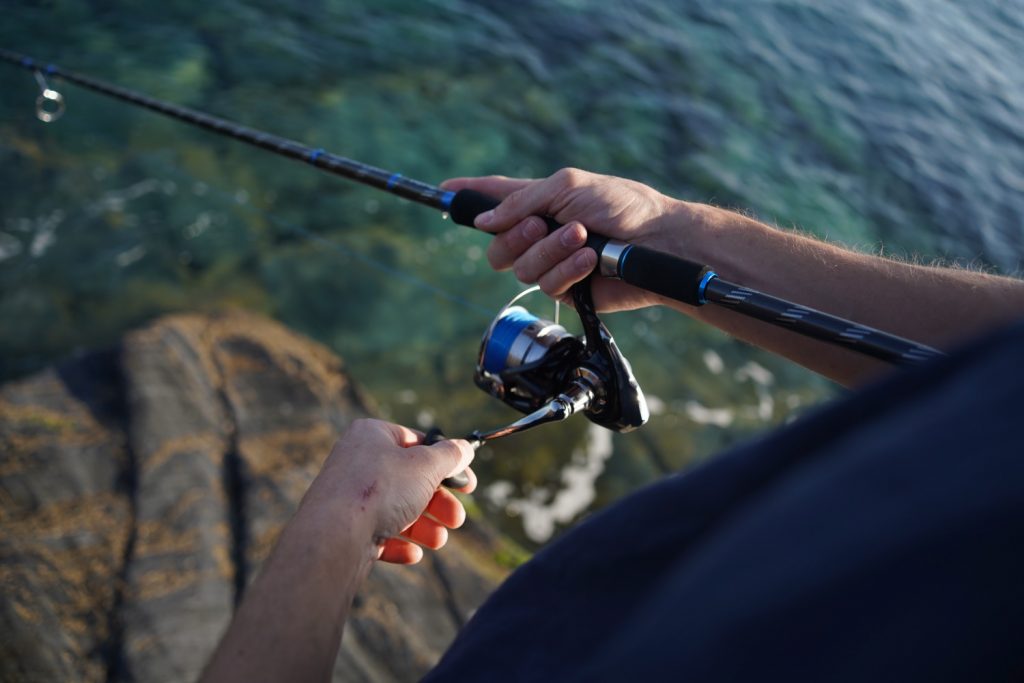 5. Blackrock 10ft Sea Bass
Best for very exposed coastlines & generalists
Bass rods can be between 7-10ft and cast between 21-50g, or just under one to two ounce. In calm conditions where you can get close to the water, shorter and lighter rods are ideal. This is because you don't need any extra length to help you steer fish away from rocks poking above the water. An 8′ rod that casts one ounce or about 25g is perfect for those British summertime conditions. However, on more rugged coasts or in rougher seas, a 9ft rod that casts 35g-40g (still under 2 ounces) is superior for most people.
View on veals.
Something not many realise is that so much of a set ups ability to cast light bass lures is down to line rather than the rod. You can cast 10g lures a fair distance on any rod if you use really good braid. If you are fishing very rugged ground, or if you are a generalist sea angler that also likes to use ledgering rigs, float rigs or even mackerel feathers, there is the unusual option of using a rod rated to 80g for bass fishing.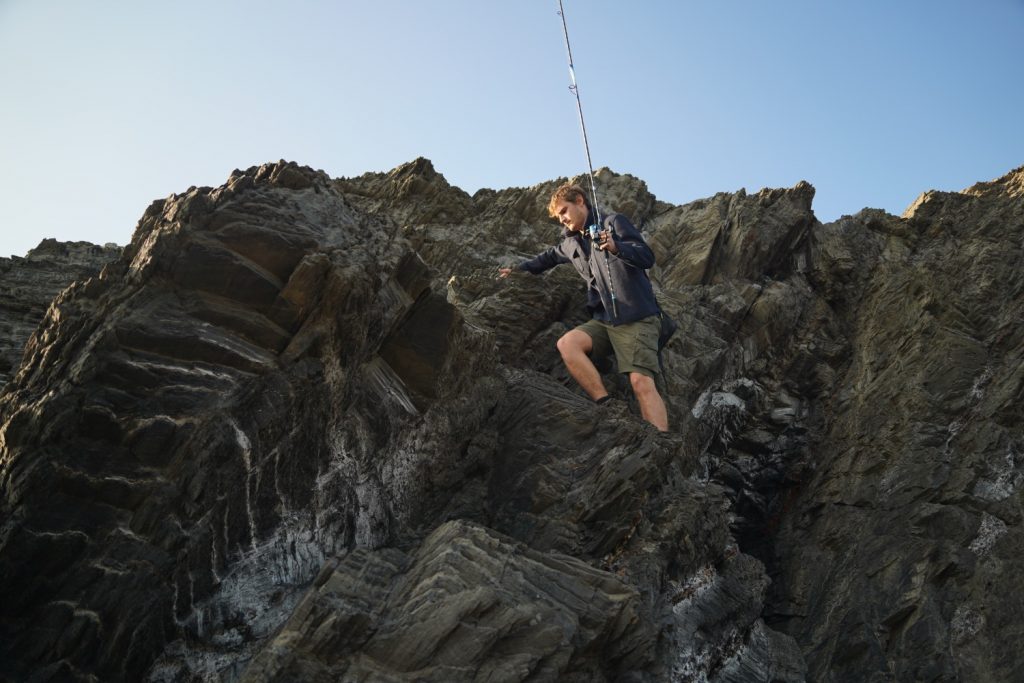 A rod rated to 80g of 10ft in length is only useful for bass fishing with lures when paired with very good braid – the £30-40 stuff. It's going to be heavy in your hand – it'll be like bass fishing in the 90's and early 2000's. BUT – this set up allows you to fish in wind, cast miles over white water, and tackle big fish around heavy structure.
Great rod for the generalist that lives somewhere with open or exposed coast, and pairs beautifully with the Daiwa Ninja reel as seen above.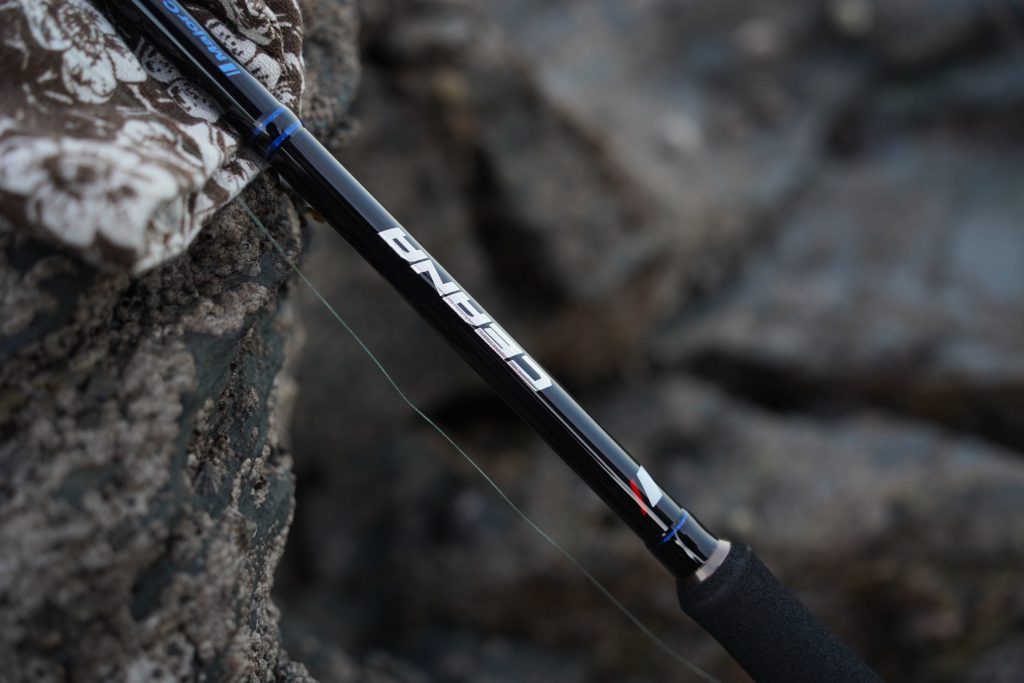 4. Major Craft's EU Range
A reasonably priced Japanese-inspired bass rod
In Japan, Major Craft are considered something of an upstart brand that came in and started making cheaper rods at the same quality as competitors. This is a little strange because, from a British perspective, a £100 rod is generally considered high-end. In Japan, the attention to detail and pursuit of excellence is really quite extreme.
Major Craft knows that the UK fishing market is wildly different from theirs, so they have released a rod that people in the UK are willing to pay for. It still resembles many aspects of the quality of their range of rods designed for Japan, but cuts back on all the frills. The reel seat for instance is no nonsense, nothing fancy. It paired beautifully with the Daiwa Legalis 3000 below and loads very nicely, flinging light lures miles when paired with decent braid.
When the crumbs fall from the Japanese fishing tackle table, we should eat them. These rods are in a different realm of quality to most lure rods you can buy in the UK. Major Craft rods famously make some of the best rod blanks in the world, and sell them with Fuji guides. This provides an insane fishing experience. While the Ceana we used doesn't offer the same sensitivity as £150+ rods, it is much better than most other rods at its price point. We haven't tested the Solpara due to the sheer number of rods out there but look forward to testing that rod also.
3. HTO Nebula Travel
Best luxury bass travel rod
HTO is a UK-based brand and my understanding is that their aim is to create affordable fishing tackle inspired by high-end Japanese designs. Each nebula blank is from Japanese carbon. The rods have been hugely successful and we specifically recommend the travel version of the rod if you can get hold of one.
The Nebula's are light, thin and still powerful, with a fast action. When you shake the rod it feels relatively stiff, until it loads with energy when you cast or hook a fish.
Fuji guides. Fuji Reel Seat support. This is certainly in the high end rod category and competes with rods worth several hundred pounds.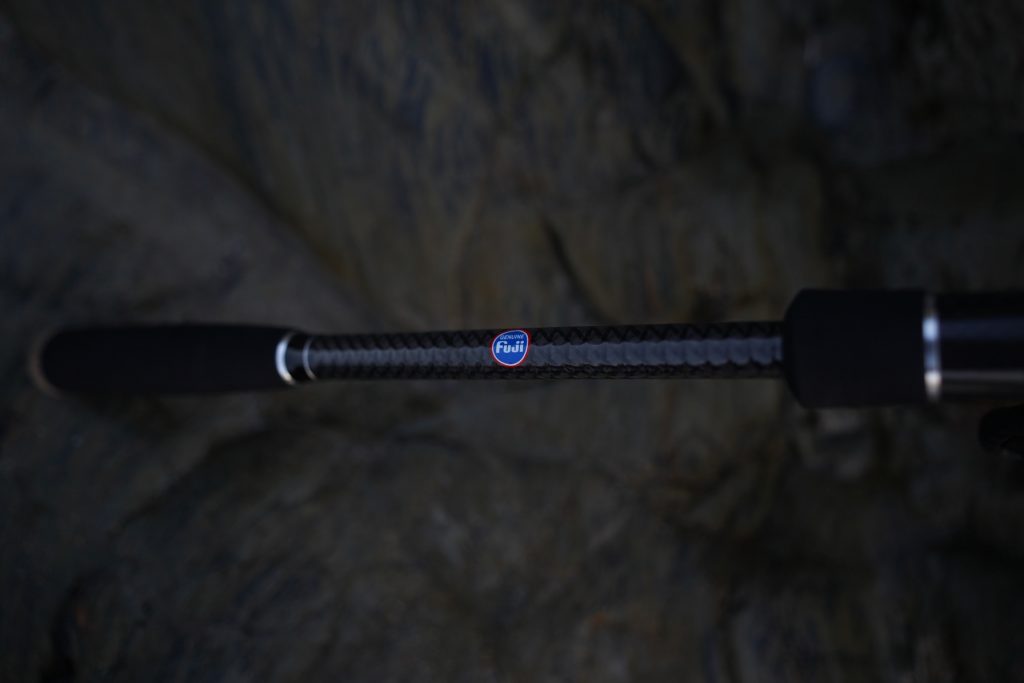 Which Nebula should I buy?
The Nebula comes in several sizes, starting at 6ft 11" casting 5-22g – great for kayak fishing, boat fishing, or perch fishing on treelined banks. At the other end, you have a 9ft 10" model casting up to 56g. FISHMAG generally recommends the 8'0" to the 9'6" models, casting a maximum of either 30g or 42g for anglers fishing very rough coastlines with bigger bass lures that need to be cast in wind. About 9ft is widely considered the best distance to casting accuracy and manoeuvrability trade-off by UK bass anglers.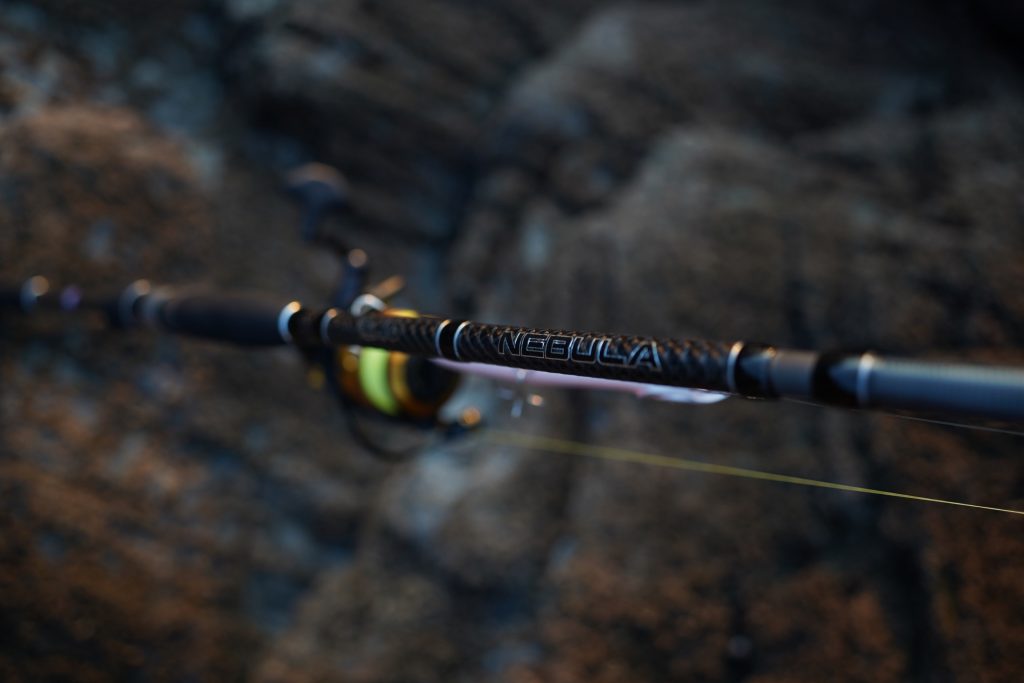 Note that the travel rod behaves like a lighter rod than the two-piece Nebula at the same casting weight (up to 35g). For many, this will prove advantageous.
The Nebula sells out pretty fast so is sometimes hard to get hold of. If you're looking for the best travel bass rod, this is the best option we're aware of in the UK right now.
2. Tailwalk Hi-Tide SSD 90MH
Best bass rods for sheltered rock marks and soft plastic work
I use the lighter Tailwalk for much of my lure fishing and find it particularly handy for whacking small jigs to the horizon. I use a lighter version of the rod rated to 20g, because I'm fishing in sheltered coves a lot of the time rather than exposed open coast where you need to be able to whack a 35g lure in the wind. However, for most anglers the 35g version will be much better as it's more versatile and useful in rougher conditions. Seriously premium bass fishing rods. I recommend pairing with a Daiwa or Shimano reel (I find the Penn Spinfisher a bit heavy on this rod, but still fine).
View on veals.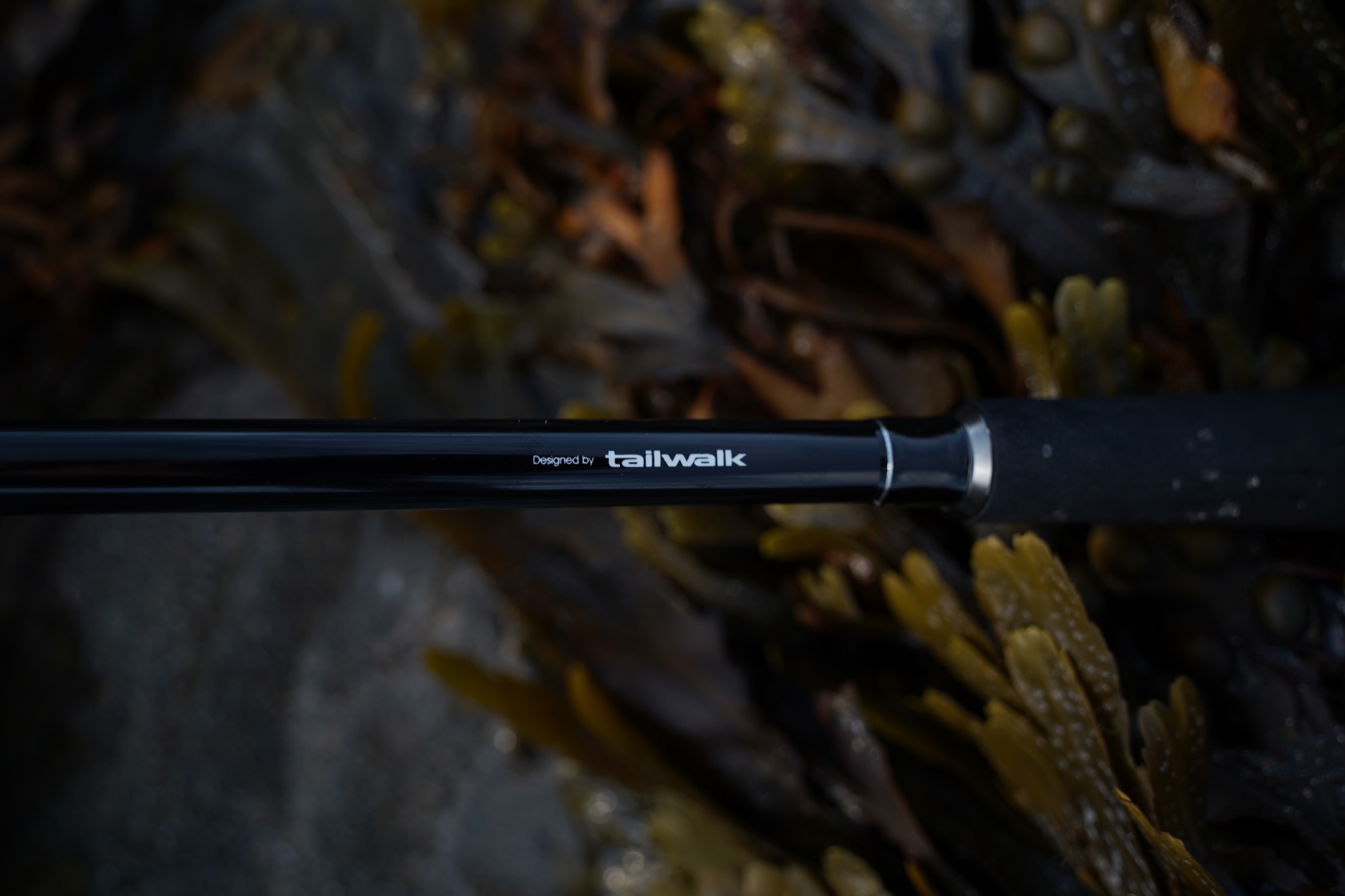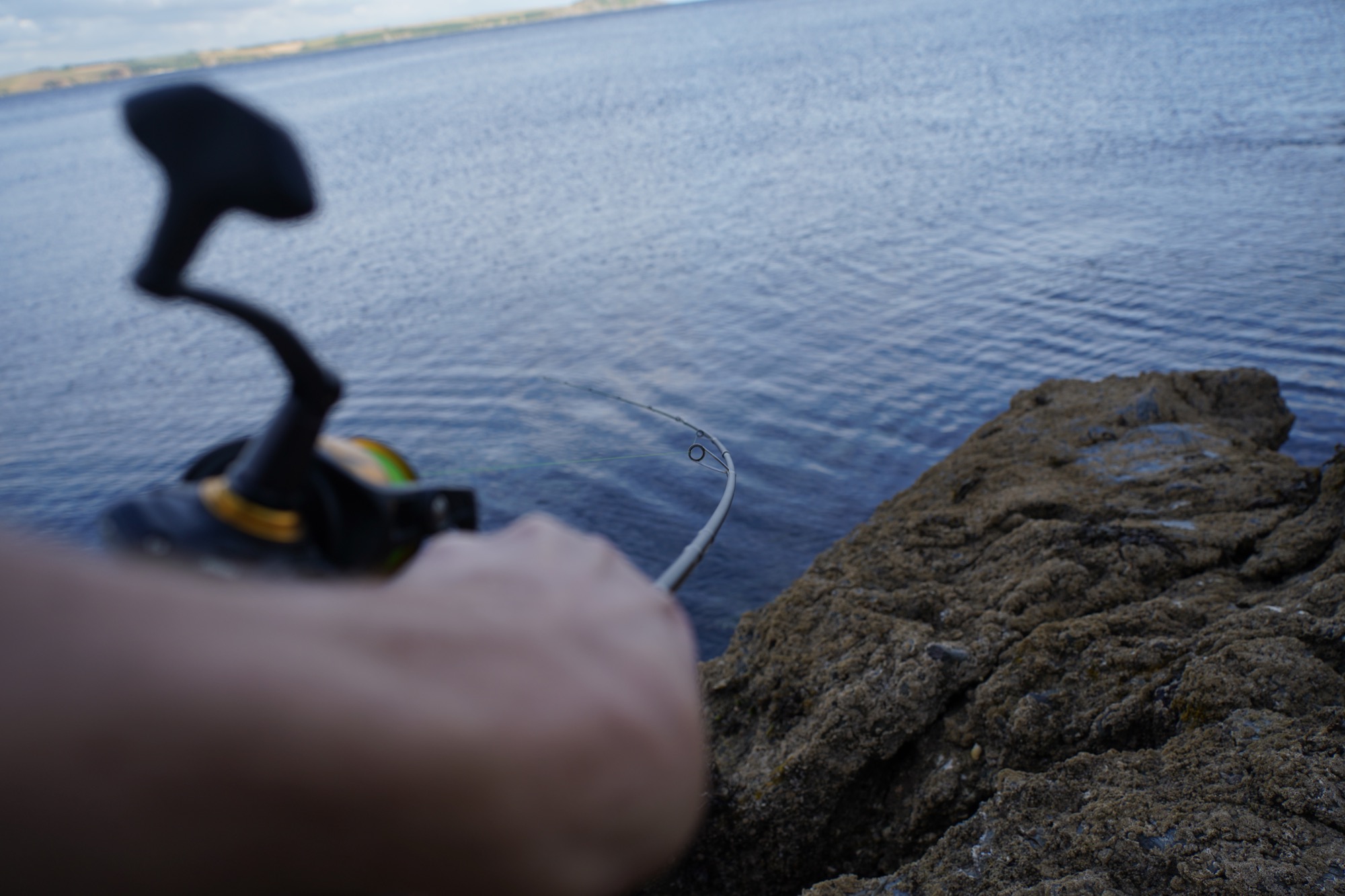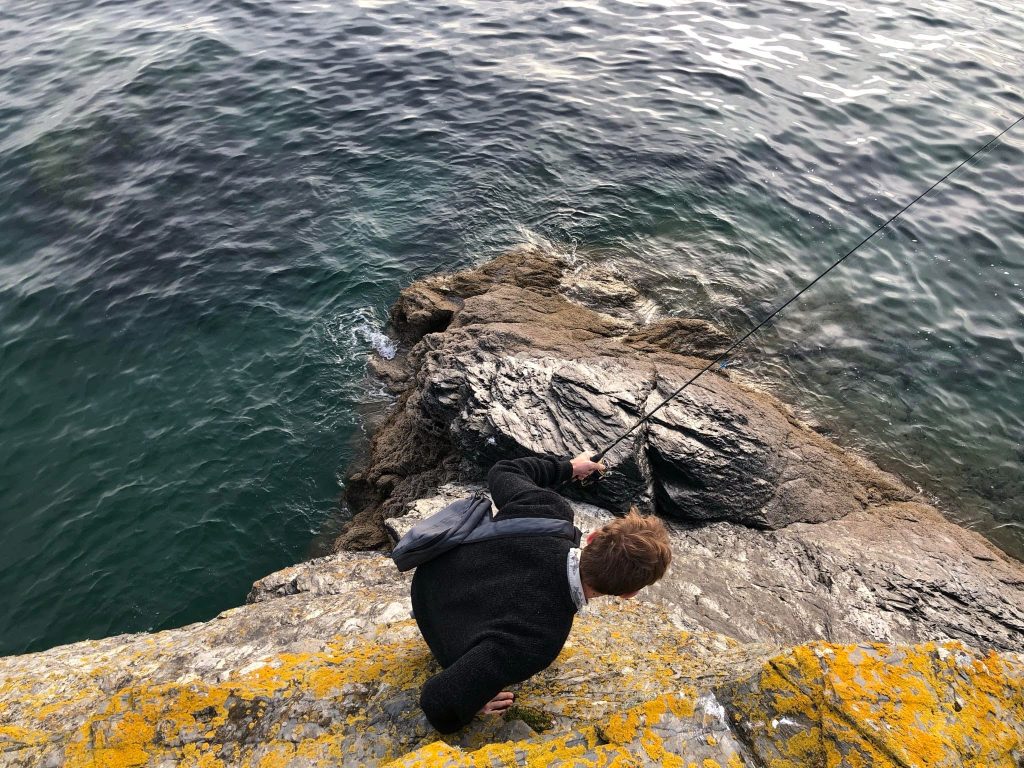 1. Tenryu Injection SP82MH 2ES
Super high end bass rods
Tenryu make premium bass rods. Is the quality of one of these twice as good as a £225 rod from Tailwalk? No. It's not going to be that different. The guides are still Fuji. The blank will be excellent on both. The value of the Tenryu is in part that it has a rugged feel and thickness that is reassuring to anglers. It's always a fear you will snap your fancy new stick in half. It's painful breaking something high end and it feels more comfortable getting something that has a sturdy 'hand it down to your kids' kind of quality to it, which the Tenryu offers.
We have not had the pleasure of using these rods yet, so can't offer an in depth review. They need to mentioned to show what kind of rods are out there if you're after the best in the market.
Longer vs shorter lure rods
6ft lure rods are useful for bass fishing from very small boats
7ft lure rods give you a lot of control over your lures and are good for fishing close to the water
8ft lure rods are often considered the best bass rod for calmer waters
9ft lure rods are seen as the best all-round bass rod by many anglers
10ft lure rods are superior in rough seas because you can fish further from the water
Longer rods have less manoeuvrability in short range fish-fighting. But, they cast much further than shorter rods. Shorter rods give you much more control over your lures movement, too. Most bass anglers settle on a rod between 8-9ft, but it's down to your personal preference.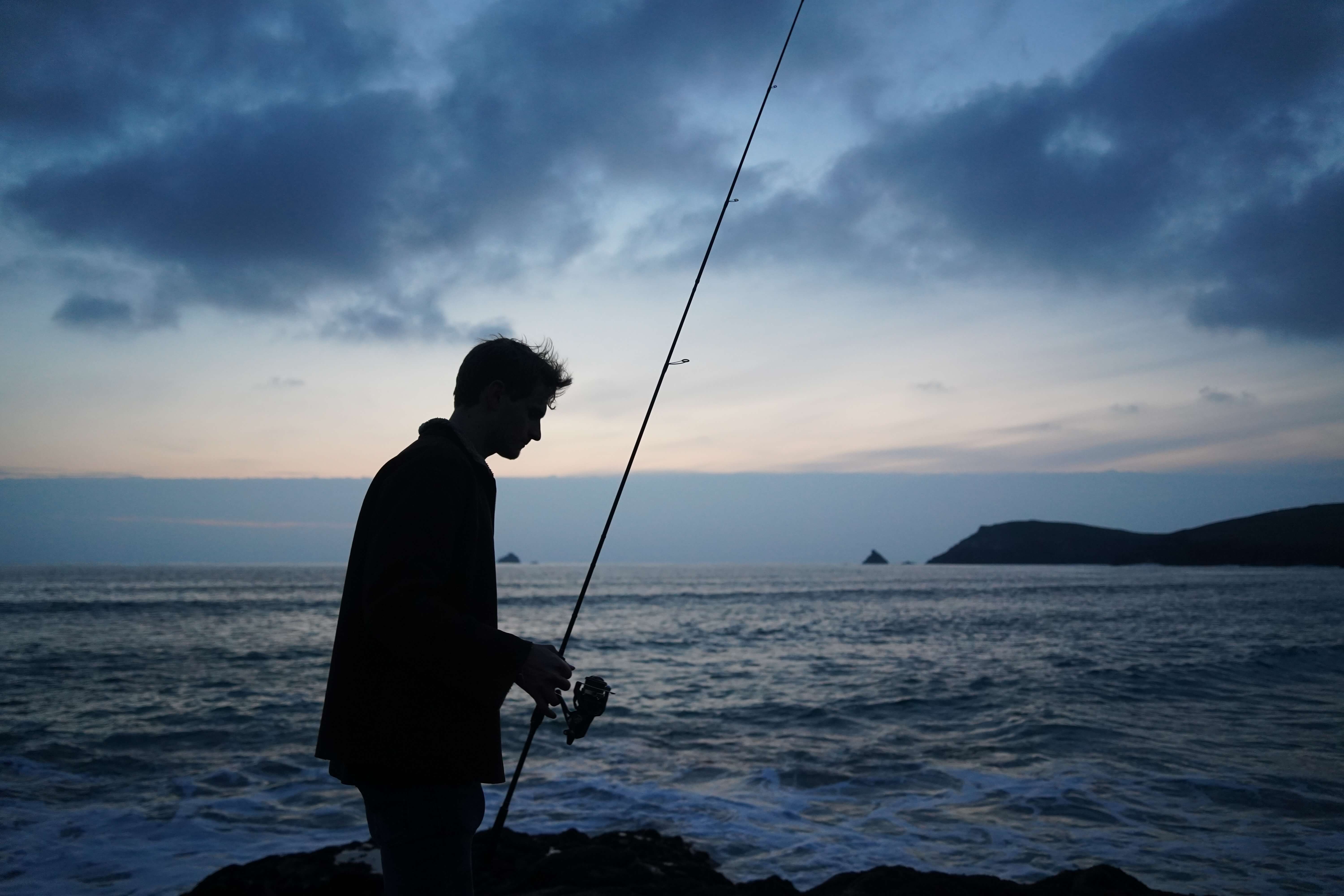 What casting weight should my lure rod be rated to?
The most crucial information of all is to not try casting weights beyond the upper limit of the rod unless you think the rod is mislabelled. The most common amateur mistake would be to buy a rod that's way too heavy – say a spinning rod that casts 3oz – and then try to fish with modern bass lures that weigh <28g. It's possible to fish like this but you will have limited casting range.
When fishing with plugs that have fairly aggressive actions, you will feel the vibration and movement running up the rod. You don't want your rod to be bending into the lure too much, or else you will get reduced bite sensitivity. It is beneficial to fish with plugs that your rod can cast comfortably. E.g. 21g may be better for a rod rated to 28g.
It's quite easy to confuse power with action. Power is measured from light to heavy. It correlates with how much weight the rod can cast. Action on the other hand is measured from slow to fast. When you hold and shake a rod, a fast action rod returns to being straight more quickly. A fast action also means the rod bends more towards the tip. A slow action rod bends further down in the rod.
What's the best rod action for bass?
Faster actions bend more towards the tip, which gives superior sensitivity. Slower actions bend more towards the centre and butt of the rod, which is better for not pulling hooks, such as from the mouths of mullet. If you are fishing with unweighted soft plastics, a slower action rod will cast the lure further, but bites won't be detected as much in the tip of the rod – the fishing will be a tad less visual. It's all pretty minor stuff for most.
FAST ACTION
Rod holds form fishing with lures that create more drag – like plugs. More sensitive. Can feel stiff and more prone to snap offs and hook pulls.
MEDIUM ACTION
A happy medium for those that like to fish with one rod, which is most people! This is what I would recommend for anglers that use a mixture of hard and soft lures, although I don't think this should be a major factor in which rod you choose.
SLOW ACTION
Great for soft / lighter lures as it helps them cast further even at lower weights by loading the rod better. Less sensitivity in terms of tip movement, but vibrations will be the same.
Some rods are labelled L, ML, M, MH – this tends to refer to the power of the rod rather than the action. Action and power aren't very important to the majority of anglers and many won't even notice the difference.
PE Ratio (also not important if you're using 12-20lb braid)
Some rods come labelled with a PE Rating or Line Rating. Line rating refers to the strength of monofilament or fluorocarbon line the manufacturers recommend you use with the rod. PE rating refers to the recommended PE rating of braided lines.
The vast majority of bass anglers fish with 20lb braid, and this is fine for pretty much any bass rod, so in my opinion, this can be ignored. Higher quality braids from better brands will be better to fish with on any modern lure rod.
Spinning rods vs Beachcasters
There are two broad types of fishing rods that are commonly used for shore fishing: spinning rods and beach casters. Spinning rods are designed for using lures and spinners, and are flexible, sensitive and whippy. Beach casters are designed for using bottom fishing rigs, baits and heavy weights. They are good for casting very long distances when the fish are further out and allow you to hold baits on the bottom without the weight being pushed around by the current.
There are rods that position themselves in-between categories. Spinning rods typically cast 3oz at the most and beach casters often cast up to 8oz. Spinning rods are also generally shorter and are easier for beginners to use. If you're looking for an all-round sea fishing rod, you have to sacrifice sensitivity, the sporting value of what you catch, casting distance and the ability to fish with static rigs in moving water. However, for people starting out and using a variety of methods with one rod, this can be a good place to start before specialising more, as it means you can fish with a variety of rigs for every species with one rod.
Bait fishing vs Lure Fishing Rods
---
Beachcasters give you lots of leverage so are useful for pulling the largest species away from structure – such as getting a conger away from its hole. Beach casters are perfect for anglers that are actively targeting large fish species that are over 10lb or that simply enjoy bottom fishing with traditional baits. It's relaxing fishing an estuary or beach mark at night, perhaps more so than spinning.
If you are mostly after predators like bass, mackerel and pollack and you enjoy a more active, light weight and fast paced fishing style, then you will be looking at spinning rods.
Your rod needs to be the right size for your reel. A 7ft rod balances with a size 3000 reel and a 9ft rod is best off with a 4000 size reel.
If your kit is balanced, you'll feel in control of the kit – your line won't snap off, your reel won't get tangled line, you'll cast a lot further and when you play fish, the rod and drag will work together to absorb the power of the fish, putting less strain on your line and knots and preventing snap offs. If you're an occasional angler, a pre-made kit like this one makes fishing simple and you can get it and get out on the water immediately. If you want a very high-end spinning rod, look at rods targeted at bass anglers.
It can be surprising when somebody with a 7ft rod and a 12g lure can cast further than you can with a 12ft beach caster and a 6oz weight, and catches more mackerel even though you have on four hooks and they have one. Yet this happens all the time.
In a feeding frenzy, a heavy spinning rod with mackerel feathers is of course going to be a more productive rod, but when finesse is required, you'll have the edge with lighter gear.
The beauty of spinning with light rods is the ability to fine-tune your approach and present lures in a way that makes them realistic to fish. It's also just incredibly fun using lighter gear!
Light spinning rods give you more control over the depth you fish since you have a greater awareness of where your lure is in the water with the sensitivity that comes with lighter gear. With a heavy spinning rod or a beach caster, you know when you've hit the bottom because your line goes slack. With a super light spinning rod, you get to know which type of weed your lure is bouncing over based on the resistance it creates. Devil's hair is a jolty resistance that comes through fairly easily, kelp is a fixed snag that sways with the current and light green weed in the water is a constant weight and resistance. You can tell what fish you've hooked within seconds by the vibrations they create in the butt of your rod. Lightweight lure fishing is an entirely different experience.
Fishing lures over time have been getting smaller and smaller to cater for spinning rods that get lighter and lighter. It's partly that technology has got a lot better, so rods with fast actions and low casting weights have a lot of strength, and the drags on reels can be fine-tuned so that the rod takes just the right amount of energy from the fish. If you fish with a really old-fashioned set up, you'll notice that the rod feels clunky, and the drags on the reels aren't smooth, which puts more pressure on your line, so you have to fish with heavier lines and ultimately, heavier lures. The same is true of the very low end of the market today. Lighter rods allow you to fish with smaller lures, which are what most UK fish species go nuts for.
Q&A
Should I buy a spinning rod or a beach caster?
I would suggest that there are two different mindsets among anglers. Some prefer to catch the biggest fish they can and prioritise rod strength, while others focus on the fun of playing fish and prioritise sensitivity and flex. The first group are willing to sit and wait in anticipation for those fish. They go into tackle shops and buy a rod that could handle the biggest fish they might catch – the kind of fish you get once a year. The second group optimise for the battle and are buying tackle for the *average fish* they will catch, and if they hook into that once-a-year fish, they are happy to give the fish the upper hand!
Can you buy an all-round fishing rod for bottom fishing and spinning?
Many anglers that enjoy spinning for mackerel with feathers and fishing on the bottom will buy a lightweight beach caster and use it for both purposes. The logic is that you can use it for spinning and catch four mackerel at a time, then switch over to fishing on the bottom into the evening, all with one rod. The downside of this approach is that you have a rod that doesn't allow for much of a fight while spinning and is clumsy to use. However, for some people the utility of such a rod makes it worthwhile.
How strong does my beach caster need to be to land huge fish?
Beach casters are utilitarian and have more than enough power to land anything you hook in British waters bar tuna and some exceptionally large shark species. These rods are so strong not because they need to be to land big fish, but because they need to be able to cast heavy leads long distances. You can land Blue Shark on a heavy fly fishing rod if you have balanced gear, but then a lightweight rod isn't going to hold a gripper lead in a current…
Can I use a bass rod for other species?
Bass rods are the most versatile spinning rods you could own because the casting weight is also perfect for sport fishing for perch, pike, wrasse, bigger trout in rivers and even squid.
Further Research