Fishing in Scotland is the last frontier for angling in the UK. There are still remote marks that are relatively unfished by foot and the beauty of the place is unfathomable as the depths of some of the lochs. The demands of fishing in Scotland are also no doubt greater than anywhere else in the UK, but the rewards of fishing here are also unmatched. Catching a fish from the wild is a different beast from fishing for artificially stocked fish or fishing from a sheltered harbour in a densely populated coast in the south of the UK.
This page contains affiliate links to amazon from which FishMag earns commissions.
Contents
Loch fishing
Sea trout fishing
Bass fishing
Mackerel fishing
Fishing spots on the West Coast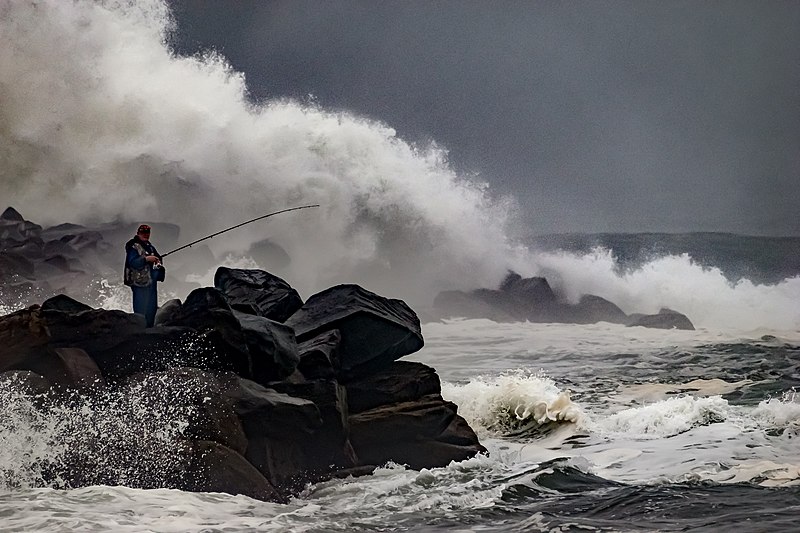 Scotland has some huge advantages for sea fishing. It has exposure to both the gulf stream and access to the rich north sea. This is a remarkable combination, that leads to a diverse mixture of fish species appearing on the shores, from blue fin tuna to cod and other cold water species.
The West coast holds some gems that are unique in world fishing – places where icy fords meet the sea, and fresh water and sea fishing mingle in the same zone. The salt water lochs allow you to fish in deeper water from than shore than anywhere else I have ever heard of in the UK or elsewhere.
The fishing here is mainly centered around cod in winter and typical summertime fishing for mackerel. The coalfish and pollack that can be caught from the shore are far larger than is commonly found in the UK, and access to deeper water marks with larger fish is unique to Scotland.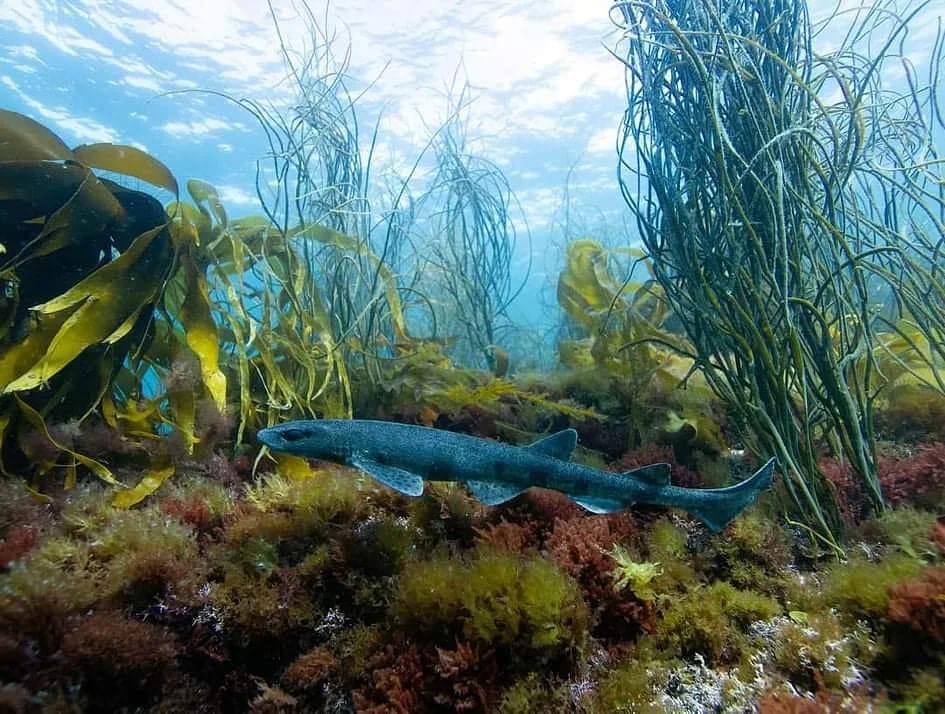 ---
Best Rigs for Sea Fishing in Scotland
---
Fishing Season: Summer vs Winter
The summertime fishing in Scotland sees a rich variety of fish species, with inshore bass numbers being significantly higher than in winter. It's much easier to catch fish in summer, but species like the Spurdog in the sea lochs keep anglers occupied in the winter months when the going gets tougher. There are many marks along Scotlands west coast where the angler can be casting immediately into very deep water. For this reason, shore fishing in Scotland results in catches that you'd need a boat for elsewhere in the UK. In Scotland, a 6lb pollack caught from the rocks is very realistic – elsewhere this is unheard of.
---
Loch Fishing
Scotlands sea lochs are remarkable environments. Glacial movements in the last ice age lead to the formation of deep basins. The sea lochs are extremely sheltered from waves and very deep, often dropping immediately down to 30m. The seabed is therefore much like that found in very deep seas, in that it has a fine silt bottom, often very dark and extremely still. The less dense fresh water floats above the salt water, so you can sometimes catch fresh water species and salt water species from the same place just at different depths. There is a strange zone where the salt water meets the fresh that is a very inhospitable environment few species can tolerate.
---
Sea Trout Fishing: The Bombarda Rig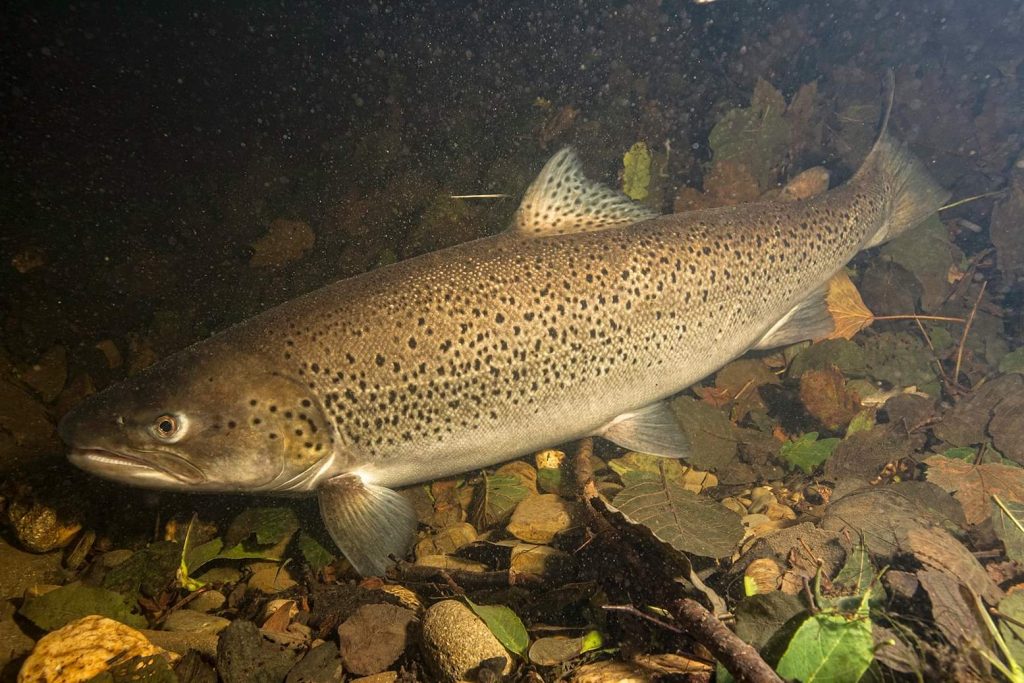 Bombarda rig allows you to cast very light, small lures long distances and plumb the depths easily. Red and white, green and white and blue and white flies come recommended. The method involves the use of a bombarda – a clear, transparent weight that is areodynamic and moves through the water with minimal resistence and disturbance to fish. This acts as an invisible weight. The lure, which will be a small lighted weighted fly – perhaps 2-5g – then goes at the end of a long leader. Longer is better for lure presentation. Some use as long as 9ft, but this isn't necessary if you aren't able to fish with that much leader as casting does become trickier.
The key advantage of fishing for sea trout with a bombarda rig is that it allows you to present lures very naturally. The fly moves seperately from your weight and will take much longer to reach the seabed, meaning that it has a more floaty, natural way of moving in the water. It's very difficult to achieve this with weighted lures while still having a decent casting distance. Having this extra weight also allows you to fish a very small, subtle lure at higher speeds. If you were fishing with an ultra light jig head, not only would you be unable to cast as far as you can with a bombarda rig, you'd also be unable to fish low in the water column at high speed, your lure would be near the surface.
---
Mackerel Fishing Scotland
Thanks to the Gulf Stream, the warmer water that makes its way up the west coast of Scotland brings the mackerel with it. Oily and delicious hard fishing fish that come in great numbers, even as most other species have been annihilated by over fishing. The mackerel can be caught throughout Scotland on spinners or baits while float fishing. The species is palaegic which means they occupy the full water column above the sea bed, rather than lurking around the bottom like many other species. The mot popular way to catch mackerel is with mackerel feathers, which were once made from chicken feathers but are now more commonly made from tinsel!
You can read FishMag's full guide to mackerel fishing here.
---
Bass Fishing Scotland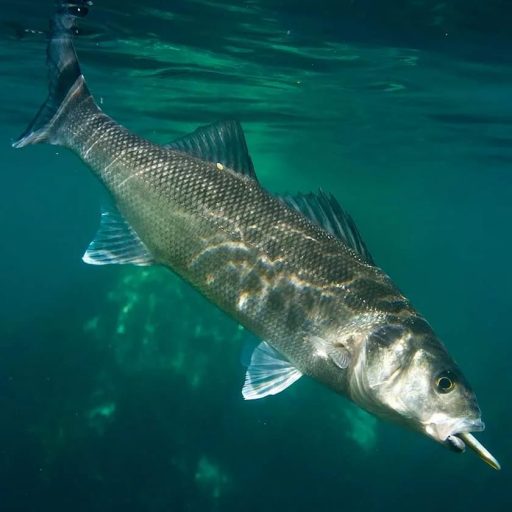 The West coast of Scotland is far superior to the east cost because bass prefer the warmer water which makes its way up the west coast of Scotland from the gulf stream. The Irish Sea is perhaps the best bass fishing area in the world, and Scotland borders it and may get some of the action at the right time of year. For the very same reason, cod fishing is better from the east coast. The Ayrshire coast and Solway Firth are two examples of coastlines where bass are caught in reasonable numbers.
It's also being reported that bass are congregating in greater numbers around the power station outlets where the water is said to be warmer. I can't verify this myself, but I hear the bass caught from such locations tend to be smaller. Bass fishing in Scotland is not as good as it is in the south of the UK, but bass are still present around the entirety of Scotlands coast, so are a fun bicatch while targeting more plentiful species like pollack that will hit the same lures. The reports on bass catches are highly varied – with some anglers regularly catching decent bass on the fly on the west coast, and others rarely seeing a single bass of a decent size.
The specific targeting of bass in Scotland is usually done with larger lures like the Fiish Minnow or savage gear sandeel, or else with peeler crab fished on the bottom. The bass fishing season in Scotland typically runs from May through to late Autumn, but reports of bass caught in December are not uncommon.
You can read FishMag's full bass fishing guide here.
Scotland West Coast Fishing Marks
---
Fishing Loch Fyne
Inveraray has a pier that's popular for fishing at Loch Fyne, but you could also try the jetty at St Catherines. You'll find all the usual Scotish fish at this mark, include mackerel in summer and cod in winter. There are also turbot and other flat fish species. The deep water at Scottish fishing marks is truly exceptional in the UK and in the world – there aren't many places you can fish deep water so close in. The water is so deep in some lochs (Fyne reaches 200m) that the seabed is considered most similar to a deep sea environment, with minimal water movement and a particular formation of silt that is common (and unihabitable to most life) at the bottom.
Fishing Loch Long
The secret to fishing at Loch Long is thought by many to be simple: fish by your feet. Many of the fish – including the bigger fish – are to be found within 15m of you. Conger and cod rule in this loch. A long cast is not required, even when bait fishing with huge great hooks on the bottom at night. Species include Ballan Wrasse, codling, coalie, mackerel, dog fish, flat fish and a huge range of mini species available with LRF tactics, as is the case throughout Scotland with LRF gear.
Fishing Balcary Flat Rock at Auchencairn
Balcary flat rock is a famous angling mark, situated near Auchencairn on Scotlands west coast. The flat rock is large enough to fit a fair few anglers, and immediately goes to deep water. The nearby fishing village is a popular tourist location. The soloway coast has good exposure to the gulf stream and gives Scots access to fish the Irish sea, which was historically very abundant. There is a single track road that leads to Balcary Point, and the mark is a 15 minute walk from here. The pathway down to the rocks is relatively ok for many anglers. The water clarity is often very good, and the water has plenty of current, which makes it trickier for baits to hold the bottom. Fishing around slack water or on neap tides helps to reduce this effect. The mark is popular for cod in winter, but the scottish sea is of course a formidable thing and this mark is remote and therefore even more dangerous. The mark is beautiful and great for summer fishing even for fair-weather anglers.
Thornback ray numbers from the mark are sometimes exceptionally good, especially in Spring time. Flatties, huss and doggies are other common catches. Lobworm is a popular bait for the cod in this area. It's a fun mark to fish with beach casters on the bottom as well as a spinning rod. The thornback rays favour oily fish baits like bluey or mackerel. There are other rocks in the area which may be worth exploring.
---
Fishing in Oban
Oban isn't just the place where you will find the best fishing in Argyllshire, it's one of the top spots in Scotland and has fishing as unique as anywhere in the world. The sea loch and boat fishing is what puts fishing on Oban on the map, along with its deep water and numerous nearby islands. If you cast a hundred metres you may find you need three times as much line to be able to reach the bottom in places, and there aren't many places in the UK you can say that. The area is famous for Skate fishing, but the skate should not be targeted by anglers, since they are at risk of extinction and are critically endangered. If you did land a skate, it should be unhooked in the water and returned immeditely.
Fishing in the Sound of Mull and Black islands is also popular. Dunollie Point is a popular local mark in summertime very near Oban, with typically summertime fish species around – mackerel are the most popular target. You can also expect spurdog, wrasse, pollack and more.
---
Fishing Spots Near Fort William
The seabed right next to the car park by the water at Fort William is clear snag-free ground. The area around Fort William is worth exploring and enjoying – with mackerel fishing at Fort WIlliam being a popular option. Bottom fishing with baits returns thornback ray, dogfish, flat fish and codling, although Scotlands East coast is superior for cod. The slightly warmer water at Fort William compared to elsewhere in Scotland provides a superior environment for popular summer time species like bass and mackerel.
Loch Lhinne and Loch Eil also offer exciting fishing options – the area is more famous on a world stage for its game fishing, with the sea fishing being somewhat more ordinary in comparison to the sport provided by species like salmon, trout and pike in the fresh stuff.
Fishing Lock Etive
Loch Etive is fresh water in parts and salt water in others – sometimes it's both in the same place, with trout in the fresh water that floats on the surfance and spurdog, conger and ray lingering on the seabed below. It's also one of those rare places you can catch haddock from the shore! Lures and baits work well, but if you're bait fishing you'll be wanting heavier leads and a sizeable reel to be able to hold enough line to fish such a deep water mark. As you can imagine, the spurdog is one of the most common catches here. Catch and release fishing is strongly recommended to protect the fish population in the area.
---
Fishing Gairloch
Gairloch is a sheltered place to fish with the usual Scottish sea fishing suspects – cod, pollack, ray and a few haddock.
FIshing Lochinver
Lochinver is a village known for its fishing, and offers the angler a generally sheltered fishing experience not far from Inverness, with a tree-lined coast and remoteness that only Scotland can offer in the UK. The fish market here puts it on the map and the area is surrounded with beautufil scottish highland scenery.
Fishing Solway Firth: Gretna and Annan
The Solway Firth is an area with lots of shallow water marks, with gently sloping sandy beaches, marshes and areas of fantastic rough ground for bass fishing. This sharp, broken rough ground is often best fished on the push as the tide first submerges the rocks. The intertidal zone is brimming with small fish and crabs, which the bass quickly cruise in on to get there first.
The Solway Firth can be fished effectively with both spinners and baits, with the bass and sea trout being ready to smash into well presented lures. By adding a small ragworm to the end of your spinner, you can continue to lure fish into the winter months by targeting the Flounder population. The conditions are perfect for Flounder, with the huge sandy flats and channels from the river. It's possible to fish from the Annan harbour, and in summer you'll see a decent mullet poulation for those that have the patience.
Fishing Balcary Bay
Balcary Bay produces a decent variety of fish species and is well known for it's angling, with the usual winter species like cod being targeted in winter and potential for ray and conger too. The rocks which can be reached along the coastal paths are popular.
Fishing Kirkcudbright
Kirkcudbright churns up numerous members of the cod family, including the coal fish that populate Scottish waters in greater numbers than elsewhere in the UK. You can expect the trusty (or pesty) dogfish to hit your baits on the botton and there's a chance at flatties too. Oily fish-baits like mackerel and garfish are popluar baits.
Fishing Wigtown
Wigtown has exposure to shallow sandy ground and water with good levels of current and movement. These waters are known to produce smooth hound along with flatties and the occassional chunky bass.
Fishing Burrow Head
Burrow head is a remote spot with areas of rough ground that demand the use of heavier lines for bottom fishing. In summer you might try your hand at wrasse, mackerel, pollack and other species that will hit lures. St Ninian's Cave is not far, which is a beach with large stoney ground – just the kind that bass, dogfish and flatfish love. You can also explore the cave while you're there to see the engravings.
Fishing Rhins of Galloway
Rhins of Galloway is the south-western tip of Scotland, which forms a large bay, sheltered from the North Channel. The water in this area is the where the Irish sea meets the North channel, and the area has good fishing marks all along the coast. Bass, flatfish, ray, wrasse and tope are around, as well as the standard coalies and mackerel. If you fish from the beach at Sandhead, you'll be needing a very long cast indeed, so a continental style beach caster is a must.
Fishing Stranraer
Stranraer is on the westernmost edge of Scotland, only a short trip by boat to Northern Ireland. Loch Ryan is important for shipping to Ireland, in large part because of the calmness of it. The fishing revolves around ray fishing on the bottom and for larger bottom dwelling fish species more generally. You can also expect the usual fish species.
The Statistical Account of Scotland from 1791–99 records some details about the fish which are found at Stanraer from when back then…
"This bank abounds with oysters of a most excellent flavour. They are found indeed all around the shores and might be got in great quantities would people drag for them ……. A variety of fish, as skate, flounders, small cod, haddocks, whiting, lobsters, crabs and sometimes turbot are caught within the loch"
Stranraer pier with the train station is closed off but there are reports of people fishing the area for herring, conger and more.
Fishing Clyde
The Firth of Clyde has the deepest coastal waters in the UK, and used to be incredibly rich in a variety of fish species. Due to overfishing and a lack of political interest, the ecoystem has been annililated. There are various no-catch zones like the one on the Isle of Arran which help, but expections for shore angling need to be realistic – much of the fishing is for mackerel in summer and whiting in winter.
Fishing Ayrshire Coast & Troon
Ayr and Troon appear to provide everything an angler could want from a stretch of coast. Indeed, in summer time you can expect mackerel and the various members of the cod family (coalies etc) to show up. There are also mullet, flatties, doggies, wrasse and more. You have the choice of rock marks, beach marks or potentially harbour fishing – with continental style surf rods useful from the beach to get your bait out the distance, and lure rods perfect for fishing in areas where you can cast into somewhat deeper water. The area is certainly worth exploring with a fishing rod, with decent odds of success!
Fishing Saltcoats & Adrossan
Saltcoats and Ardrossan both provide the angler access to rough ground and deeper water than it's possible to reach from the many open beaches along this excellent stretch of coastline. Largs and millport are in goof proximity to a range of shore fishing grounds. The harbour at Saltcoats can be fished for coalfish, pollack, cod, wrasse, dogfish and numerous other species that feed over rougher ground. Weedless lures are useful for areas of rough ground to fish without snagging, or else the use of lighter spinners that take longer to reach the seabed and so can be kept more easily above snags. From the beaches you can expect standard Scottish beach fishing – the kind where a longer rod is useful to get more distance into your cast to reach deeper water. It's not essential to fish further out at these marks though, bass in particular will come in shallow at beach marks at night time.
Fishing in Millport at the Isle of Cumbrae
If you're fishing from Millport at the Isle of Cumbrae you're a lucky angler – the area screams sea fishing and has a population so low that it's hard to imagine the local fish see any other lures or baits in their lives! The waters here are sheltered by Isle of Arran (and the aptly named 'Whiting Bay') and the fishing ground is relatively near to Glasgow. The harbour and rocky areas of coastline produce some decent pollack, good fishing in summertime for the usual suspects as the option to target wrasse on lures in the kelp with weedless rigs or float fishing. There are two beaches on the island where beach casters or continental style rods would be useful for the various members of the cod family and a chance at more… Fishing here is beautiful and still worth it despite it being a mere shadow of former days of marine health. Water clarity is often superb.
Fishing Kintyre Peninsula
Fishing from the Kintyre peninsula offers excellent rock fishing in an extremely rugged and often exposed environment. This is sea fishing at some of its finest – try rock fishing with lures or else targeting big bass and turbot with larger baits on the bottom from the beaches.
---
Fishing Isle of Skye
Fishing from the Isle of Skye is an experience sure to etch itself into your memory, withing every member of the cod family eagerly waiting for your well presented bait or a falling soft plastic lure. You'll be needing heavier weights than you may be used to in many places to cope with the currents and deep water. Huge coalfish and pollack are waiting below the sheer cliff edges, in the kelp and boulder fields. It's a rugged environent to fish, but one of the most beautiful in Scotland arguably. Bass, flatfish and mackerel come in larger numbers in the summer, and spurdog are a frequent catch from the sea lochs as you'd expect. Large weedless soft plastics and a light spinning rod capable of steering a 7lb pollack out of the kelp would be in order, but be sure to use weights heavy enough to get into the kelp. Weedless lures are a must in some places. With a beach caster, try the beaches for bass and again be prepared to use heavier kit than usual.
---
Fishing the Outer Hebredies
Fishing Isle of Lewis is two different worlds – there's the sea to the West – the vast Atlantic, and then to the east, the relatively less exposed waters that are protected from the Atlantic by the isle itself. Both provide opportunities for the angler, including the usual pollack and mackerel fishing, with potential for turbot and other flatties on the bottom. Lures fished on the drop work well over rough ground. Fishing from the Uist islands is a similar story, with the pier at Griminish offering excellent summer fishing.
Fishing Ullapool
Fishing at Ullapool offers harbour fishing and the huge range of species that go with it. The coastline is remote and worth exploring if you know what you're doing. Every popular sea fishing method has a chance of working well here, with the usual suspects falling to squid, worm and crab baits. Wrasse and monstrous pollack can be targeted on light lure gear. Watch out for those conger at night…
Fishing Durness
Durness offers excellent fishing for flat fish and bass, which feed on the morsels that get thrown up by the white water. Squid and crab baits are popular, as well as lure fishing in the summer months with soft plastics off the rocks.