Scotland's East Coast gives you access to the North Sea; a jagged coastline carved crudely by glaciers in an ice age that feels not too long ago, when you're freezing your tits off waiting for a cod to bite. And yet, this coast of Scotland is a privilege to fish. The sea plunges into rich icy depths, where the cod grow fat. But it's not just the cod fishing that can be excellent. Coalies, flatfish, mackerel and wrasse make up the bulk of catches.
There are strikingly less summer species than you'll find on the west coast – fewer ray and no garfish or bream really. But the summer mackerel run still leaves many with buckets of fish for the BBQ.
Page contents
Fishing Spots Near Edinburgh
Fishing Spots Near Aberdeen
Fishing Oban & Fort William
East Coast Fishing Tips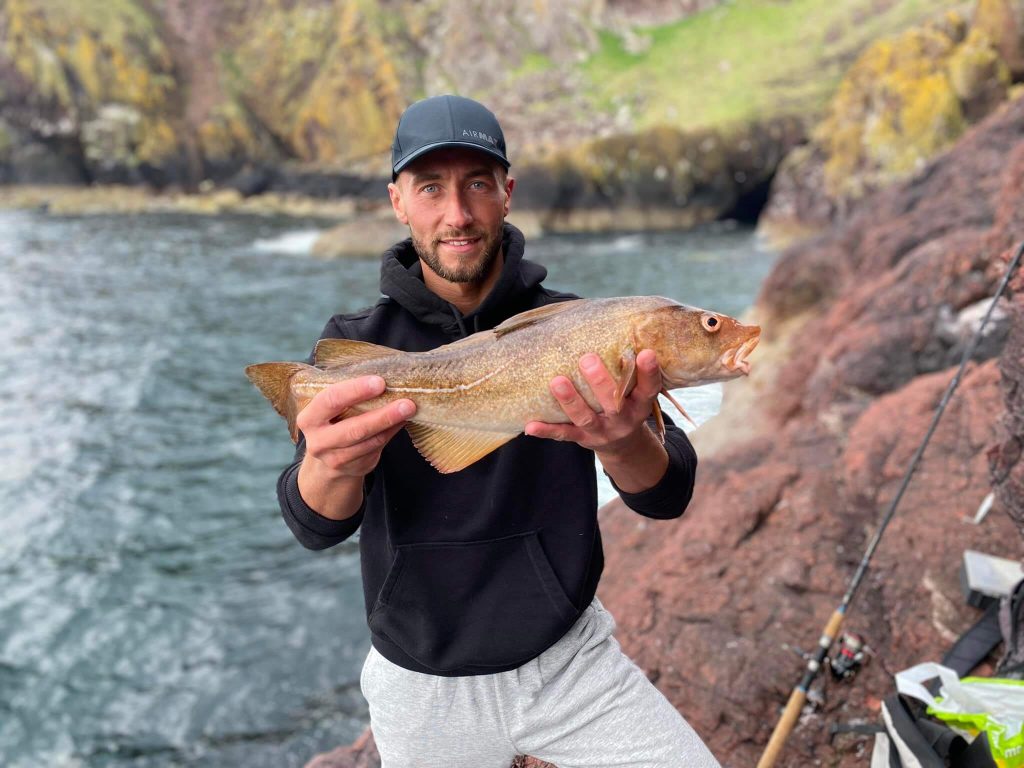 The fishing here today is of course unrecognisable from days past, as a result of chronic overfishing, but there are still opportunities for anglers if they know where to look and can approach the coastline with local insight.
Edinburgh Angling & Sea Fishing Spots
Fishing in Eyemouth
Eyemouth has rough ground, winter cod fishing, rock marks which some anglers access via a footpath next to the golf course. There are plenty of areas from which you can reach the rocks, which are rarely fished by other anglers. The issue of course is the commercial fishing, which is an issue not isolated to Eyemouth but with Scotland, the UK and the world – however, there are still some decent cod to be had. The further south towards Burnmouth you fish the better your prospects are of fish. Gunsgreen point, the outcrop that juts into the sea, is known to produce mackerel. Pollack, wrasse and coalfish as the staple species. Mackerel and launce push through from late spring to the end of summer. One local recommended using crab baits over the rough ground for the resident Ballan Wrasse popul
Fishing St Abbs Head
St Abbs Head is an absolute stunner of a rock mark. Some parts of it are sketch (read: deadly), with anglers falling into the sea here being an issue. There's a big hill climb to get to the mark and the lighthouse, but it's worth it for the views. The water is deep, and includes very rough ground as you'd expect. This means longer snoods on your rigs where possible to keep them just up out of the thickest kelp. Peeler crab, mussel and squid baits are popular bait choices.
A local tells us you can park in a car park next to the lighthouse, which at the time was free parking. Some of the paths down the cliff cease to be 'paths' at all past a certain point, but not all are overly difficult for the average angler. There are deep gullies you can fish which produce coalies, codling and wrasse. The area is much more productive when the sea is calm – which is handy given how exposed the mark is – imagine if it fished best in storms…
The codling in particular seem to feed best in calmer waters here. Pollack have been landed over 10lb.
Fishing Torness Power station & the Thorntonloch area
If you've ever watched The Simpsons, you might half expect to catch a three eyed fish in this area, where in parts the water is artificially warm from the nuclear power plant. This is a good thing indeed for anglers, because species like mullet and bass are rather fond of warm water, and there are no third-eyes in sight, I'm pleased to report.
The Thorntonlock side is where the hot water outlets are, you drive down to the beach and can wade out from there to reach it. Lures are effective for the bass and the usual light weight float rig for mullet is your best bet if you have the patience. I would be curious to know if the bass feed more aggressively here than in other parts, given that warmer water increases the metabolisms of fish and how much energy they are willing to expend pursuing prey.
A local tells us you can fish effectively for flatties here too, and can catch summer mackerel and wrasse from the helipad area. A mixture of bait and lures are deployed with success in the area, but baits will rule the day in winter.
Fishing Dunbar
Most shore fisherman would agree that a major attraction for the cod coming very close to the shore is that peeler crabs are available. Certainly crab is sometimes the only bait they will look at when fishing the shallower marks.'
Dunbar tends to fish best for cod from May onwards, depending on water temperature and factors beyond our understanding. When the cod move in, the fish are actively feeding on peeler crab, which is largely what you'll find in the contents of their stomachs. However, one local says that he tends to catch them a fair way off the bottom, so it may be worth experimenting with this. The larger fish, he says, are fresh arrivals from offshore where they've usually been feeding on brittlestars.
Dunbar harbour appears ripe for fishing – note that seeking out the calmest water and roughest ground may increase chances of success.
By boat, you can catch codling, long and pollack in decent numbers, as well as the usually summer mackerel fishing. There have been reports of usual species turning up too, including catfish and Norway haddock. There can be decent flounder fishing, too.
Fishing the forth
The forth is one of the rare marine environments where a rod licence is sometimes required. If you wish to target salmon or sea trout, which can be caught on the coast around the forth and on the forth itself, then you should check out the required liscence here. Apparently the money generated is reinvested into the river, which sounds good as wild salmon need all the help they can get.
Fishing North Berwick & North Berwick Harbour
North Berwick is a mark that, before the cod population was decimated by overfishing, people remember it producing double figure fish as the norm. By boat, cod so large and fat you couldn't lift them were the norm. Today, large scale overfishing has left the mark unrecognisable, but there are still codling to be had, particularly in winter, particularly at night and especially in calm seas. A range of baits are effective fishing north berwick and from the harbour, including black lug, bluey and squid. Fish often fall to the peeler crab.
In summer, the usual pelagic visitors are about – mackerel fishing from Berwick harbour can be lively when they are in with mackerel feathers and float fishing over rough ground for the pollack, coal fish and wrasse can be excellent. One local reports there was a resurgence in the cod population in the 90's, which was then reversed as the damage continued.
Access to marks is very good.
Fishing Granton Harbour
Granton harbour is a great spot for beginners, with a range of species around, particularly at the edges of the breakwater, which is quite easily within casting distance at about 18m. Flat fish, wrasse, mackerel and members fo the cod family – the usual suspects – can be caught. It's a great spot for avoiding snags since you can simply cast over the rough ground and fish just on the edge of it in the clean ground, while still keeping your bait within reach of the rough stuff to attract the species that prefer it.
Fishing the water of leith
'Fish inside leith docks next to Asda car park plenty wee cod some bigger one also they are trapped inside dock when they open the gates to let the ships in be surprised what you catch'
The docks by Asda car park at Leith are one of those funny marks where you are fishing in a big fish tank. When the dock gates close, fish become trapped. The only way for fish to get in or out, as far as I'm aware, is when a boat comes in or out. This means during periods when more boat movement occurs, the fishing is likely better. Regardless, you can reasonably expect the eel fishing to be good, because that's pretty much the perfect environment for them. They get new morsels coming through in a flood with the gates, and are in a perfectly sheltered environment, free from seals, dolphins and other predators.
Some anglers prefer to fish at night in the Water of Leith, which is often more productive, especially during winter. Inside the dock, the main target species is the eels – but some cod do get trapped too.
In the area beyond the dock, there are reports of coal fish, pouting, flounder, turbot and (more) eels making appearances – even the odd lobster.
Seafield can produce sea trout and bass so is a better choice for lure anglers.
Fishing Kirkcaldy beach & Weymss Pier
Fishing Kirkcaldy beach is best for the rockier parts, with cod, pollack and coalies frequenting those areas. There are flatties on the cleaner ground. Fishing is much better 2 hours either side of high tide in darkness. Dysart and West Weymss have piers which are great for mackerel fishing in summertime and can get busy.
Fishing Kirkcaldy beach is best for the rockier parts (towards Weymss), with cod, pollack and coalies frequenting those areas. There are flatties on the cleaner ground. Fishing is much better 2 hours either side of high tide in darkness.
Dysart and West Weymss have piers which are great for mackerel fishing in summertime and can get busy. You should hope to catch saith, too, in winter from the pier there. The muddy ground around the harbour at West Weymss is likely to produce flatties in good numbers. If a harbour like this wasn't in Scotland, it would be rammed with anglers year round.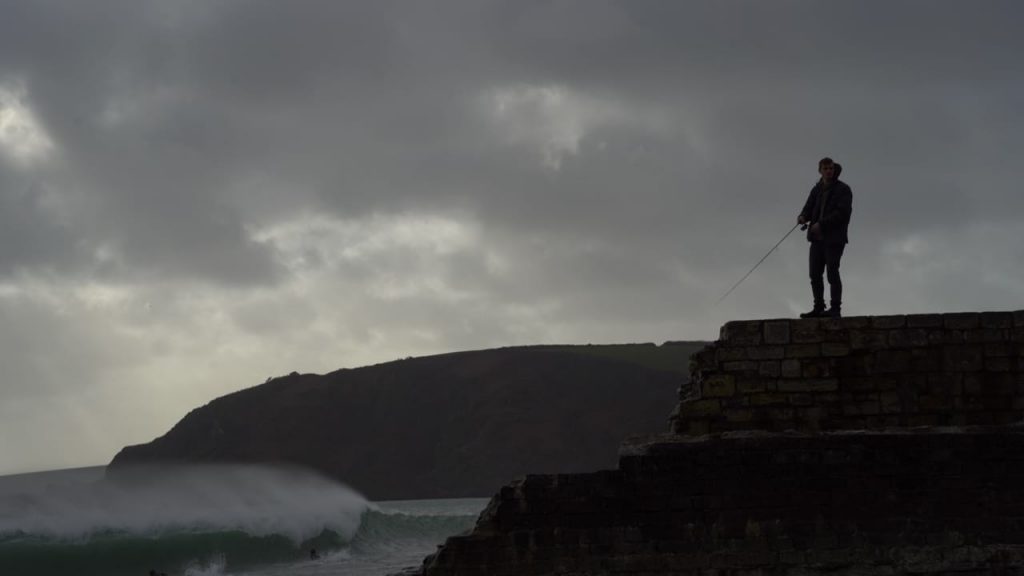 Dysart is also a great spot to try out summer fishing, but is low on structured ground, which means it may be more frequented by pelagic species like mackerel as opposed to having large resident populations of wrasse, pollack etc.
Sea fishing Anstruther Fife
Anstruther is an excellent angling mark that can produce big fish.
Anstruther has two piers, the red pier and the white pier. What's special about Anstruther is that a) the pier juts out a fair way into the sea, which is generally a good thing for fishing as it gives you access to deeper water than most piers and b) the wall facing east borders rough ground, including stoney ridges that run for quite a way out into the fife. This kind of structure and depth is excellent for sea fishing.
Perhaps it's this depth that leads to reports of plenty of Ling being landed on the pier, a species more commonly caught by boat than from shore. It's also for this reason that the pier can fish well at any state of tide.
Pollack are a reliable year round catch at Anstruther. Codling, wrasse and coalies are also common catches. The codling can be targeted effectively with spinners – like jigs. Do note though that whether you are bait fishing or lure fishing, the ground around Anstruther pier claims a lot of tackle, so you'll be wanting to stock up before your next trip! It might be a good idea to use weedless soft plastics if you are a lure angler, or a float fishing rig if you prefer bait, to avoid the snags. This would be a good spot to practice LRF in Scotland if that style suits you best.
---
Sea Fishing St Andrews
The rocks that run along the length of the town produce cod (mostly Codling) in Winter and bass, flounder and plaice in summer. Since the water temperature is so low compared to other marks in Scotland, bait fishing tends to be more effective. When water is colder, the metabolisms of fish are lower, and feeding becomes less aggressive and proactive and more passive.
The mackerel and bass arrive later in the season than they do in warmer parts of the UK that have exposure to the gulf stream. For the same reason, the cod season is longer than elsewhere in the UK, which is why St Andrew's sea fishing mainly centres around targeting Cod from the rocks with baits. Fishing at night and in calm seas is generally prefer by most cod anglers.
Dundee and River Tay Estuary
Fishing in Dundee can be done from beach marks, rock marks or from piers, for species including cod, mackerel, lythe and numerous others. If you're looking to fish in Dundee without travelling far, Riverside drive is an option for you, but most locals claim the bigger cod require a little bit more searching out.
---
Sea fishing Arbroath & Eliot Beach
Arbroath is a sea fishing spot that gets quite a bit of attention for angling, especially for fishing arbroath cliffs and Eliot beach. The beach is fished by match anglers, and there's a lot of interest in the trout fishing around here.
The most popular sea fishing spot near Dundee is Eliot beach, and it's very easy to access.
From Eliot beach you can expect good numbers of flounder as well as turbot. White rag is considered a top bait for the area. Your best bet is to identify gullies and any features at low water, then fish them on the push. Some say they prefer to fish the mark when the water has some colour to it but others prefer clear water. Everyone agrees darkness is better. Big (double figure) cod are landed here in the colder months, and people travel here just for them. Note that much of the ground fished is rough.
The best cod mark is Ballis or the slip nearby. If Ballis is busy – since it's such a popular spot – then the slip is a better bet.
From the cliffs there are rumours of decent pollack (sythe) and flatties from the beach when there's a bit of swell. The cod are best targeted in the black of night when the water is dead calm.
---
Fishing Montrose
The main beach at Montrose is popular for flatties, with cocktail worm baits performing well for many. This is a spot that is often fished during the second half of the ebb, with the best fishing zone considered to be around the sand dunes by the gold course, with flounder, bass, plaice and cod being churned up. If you wish to target the trout seriously you can pick up a pass form the local gun shop. Montrose basin is considered a less productive mark by some, but may be worth a shot.
Even if you don't catch, Montrose is one of the rare places you might have a chance to see Osprey hunting.
Fishing Inverbervie
One local says that this is a mark he reckons fishes best during or after an onshore blow, but warns that the weed build up in the area can be frustrating, especially if you're using shock leader as it can cause a build up of weed in your line. Dirty, rough seas are his favourite, as is the right and left hand side of the beach rather than the middle.
We also know of a gully about 40m out which is your best bet for the cod. You shouldn't need to cast further than that.
The shingle ground is exactly the kind that makes up some of the best cod marks in Scotland, and while Inverbervie may not be known as an insane cod mark, reports of double-figure cod are fairly common.
Fishing Stonehaven Harbour
Fishing at Stonehaven harbour is popular in summer for targeting mackerel with feathers and for float fishing. Access is easy so it's great for beginners and summer time fishing on holiday. There are also numbers of siathe, for which your best bet would be float fishing or spinning rather than using mackerel feathers in my opinion. If you fish the rocks to the south of the harbour you will have a better chance at cod and flatties, all along that coast in fact. However do note that the tide will kick you off the mark promptly as it pushes up from low water.
For local details on mooring fees etc their website is here.
---
Sea Fishing Aberdeen
The sea fishing in Aberdeen centres around cod fishing and mackerel fishing in summer. There are good numbers of flat fish and coal fish, too. You won't catch as many ray, dogfish or pollack on the East coast of Scotland though as you will on the West Coast.
Muchall's in Aberdeenshire is a stunning rough ground mark that's popular for cod fishing. Historically, folk would take the train right to the coast, hop off, cod gear in hand, and head down to the rocks to fill their bags with white fish.
St Cyrus is a good spot as the water warms up, with mackerel and large pollack being caught from the rocks. Red Cod are caught from Garron point, too. The codling tend to push through Aberdeen area from late May onwards, but the bigger cod are caught in the coldest winter months when they come inshore to grow fat on crustaceans.
You'll see Square Stone and the Red Rock mentioned below on the Aberdeen Thistle maps, between Nigg Bay and Cove.
If you are fishing in winter, it's worth giving the ground in front of Red Rock a go around low tide. You have a chance here at all the main flatfish species as well as a high chance of coalfish and pollack. There's no need to fish far out here. This mark is dangerous and should not be fished in rough seas (not that anything on this website is specific advice anyway, since all shore fishing is inherently risky).
---
Inverness fishing
The sea fishing around Inverness in the Moray Firth centres largely around catches of cod, mackerel and sea trout. You can fish with bait or lure around Niel and Jane, Burghead bay, Culloden rock, Nigg bay, Fortrose bay and Inver bay.
The beach at Embo to the mouth of Loch Fleet produces sea trout, mostly relatively smaller one's I hear but they do reach a good few pound. Tarbat ness is a rugged area of coast that gives access to very rough (and dangerous) ground that offers wrasse and pollack in good numbers to worm baits offered via a float.
Dornoch
Dornoch is a stunning place to fish, that produces mackerel, sea trout and bass on lures and baits. The still calm waters here need to be fished with finesse to avoid spooking fish if you're wading for the trout or bass. Mackerel can be caught on the usual methods, but since water clarity is likely very good, you want to avoid feathers if possible in favour of better presented single spinners.
Fishing in Wick
From Longberry rock you'll be able to get into the resident coal fish population, as well as the saithe. The flat rock marks here are good for access but there are a mixture of options with variable levels of safety! Castle town beach is even more accessible and fishes well with worm baits while ledgering.
---
Thurso
If you're fishing in Thurso, you need to get onto the sea trout and salmon man. Forget everything else I reckon and just focus on catching them. There are plenty of coal fish too, and more unusual catches like Short Spined Sea Scorpions, but there aren't many places in the world you can target salmon like you can in Thurso so I'd recommend getting onto that. The pier at Scrabster is worth checking out, but I don't know about the rules on fishing there.
Fishing in Orkney
There's a harbour called Kirkwall harbour in Orkney, and the whole bay is a productive spot for flounder, which can be caught all year on both lures and bait. To catch them on lures you'll want to bounce/drag a spinner along the bottom, taking time to pause to let the lure just sit there a while, as that's when the flounder will take. Adding a ragworm to the spinner or lure is going to help a lot. You can also fish from Tingwall pier which can be excellent in summer when the mackerel are in. Standard feathers and leads for whacking them out to the horizon are your best bet there. At night, the serious fishing beginners, with beach marks around Newark bay offering the chance of North Sea cod, which can grow fat indeed.
Scotland Winter Fishing Basics
Ledgering with baits is effective in winter for scratching around. A 2 hook flapper rig with hooks between 6 and a 1/0. Rotten bottoms are useful over rough ground. When targeting big cod, 3/0-5/0 hook sizes become the norm. All along the east coast a range of baits are effective, but working out what the fish are feeding on is a good idea (check the contents of the stomach of catches).
Jigging works well for codling with spinning gear, and flatfish can be targeted very effectively with modern lure gear, too.
Scotland Summer Fishing Basics
Float rigs and mackerel feathers rule the day on piers and rock marks across the east coast in summer, when everyone is keen to get into the mackerel action for the BBQ (or for a great fight on lighter gear!).
Lure fishing with small-medium sized soft plastics over rough ground across the whole coast will lead to coalfish catches, and some much bigger fish than are common elsewhere in the UK. Weedless hooks are recommended.