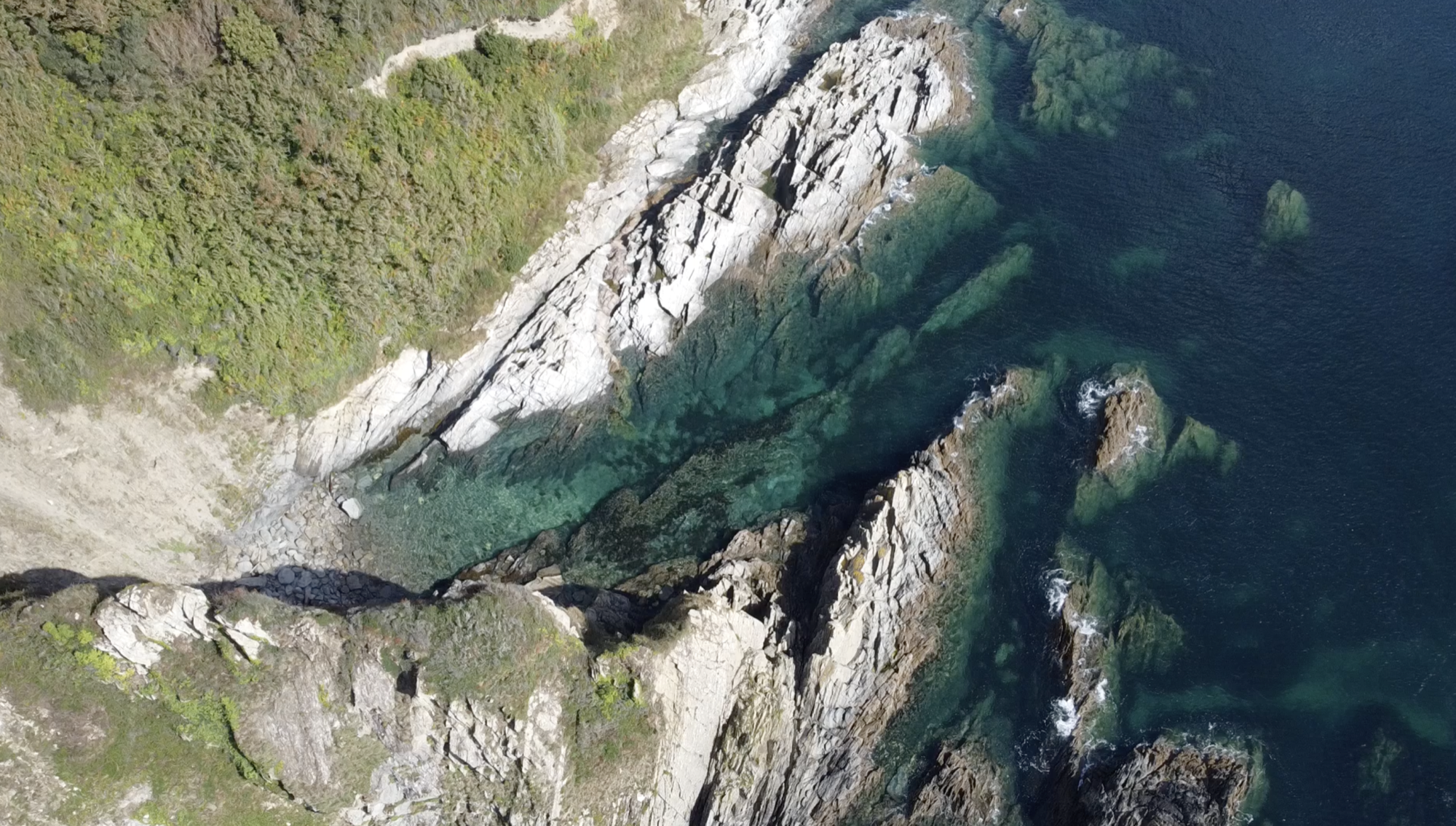 Fishing in Devon: A Sea Anglers Guide
Devon has 125 miles of rugged coastline, with the famous Jurassic Coast in the South and a North coast ripe for exploration too. Due to exposure from the gulf stream, Devon has warmer waters than most of the country. Whether you're targeting bass or mackerel with lures, or chasing rays with beach casting gear, the fish are here.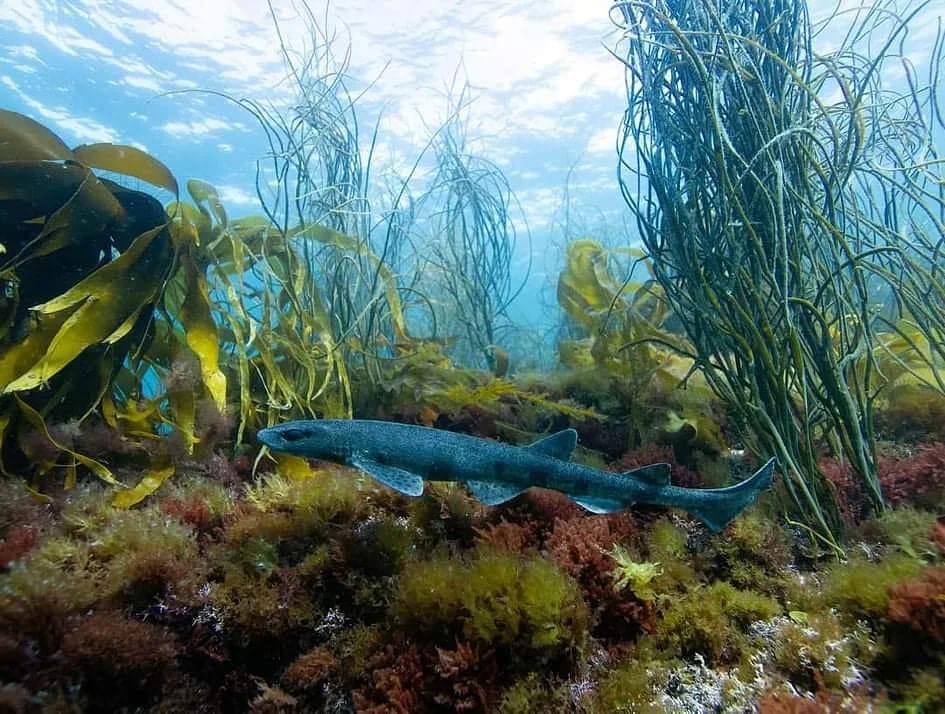 Fishmag is a member of the amazon associates program and earns commissions on product sales.
Bass Fishing Devon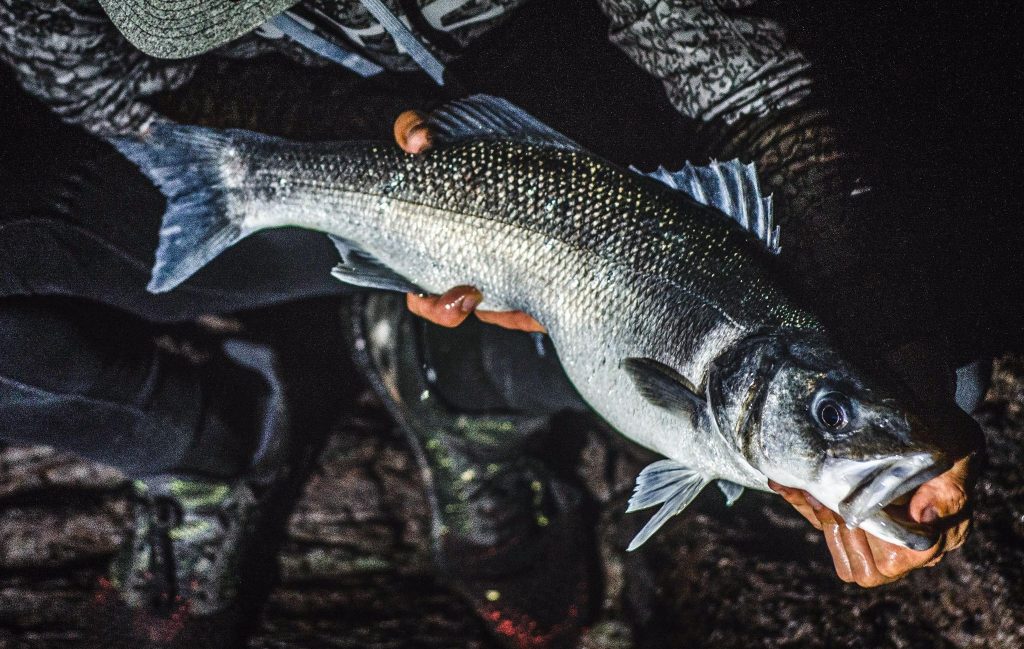 Bass fishing is usually done from the rocks or in estuaries in areas where there are deeper pockets of water or lots of water movement. When beach fishing for bass, it's best to fish at night time as bass don't come in as close over clean ground when birds can see them. Bass are brutal bullies in shining camouflage, hidden against the glimmer of the water's surface. Fish just behind the waves, on the mouths of estuaries from shore or boat. Fish at dusk and dawn especially.
Full guide to bass fishing

Mackerel Fishing Devon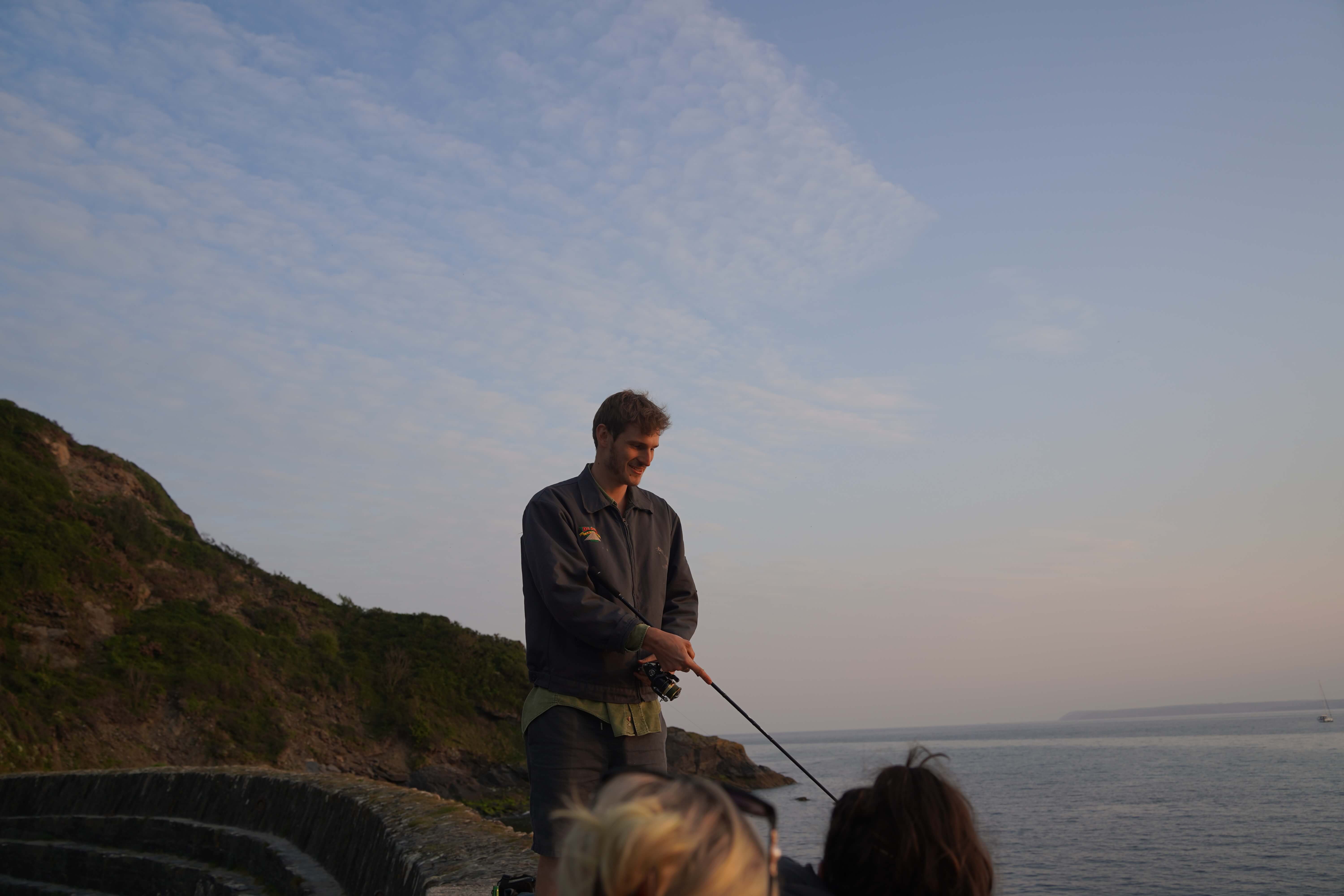 Mackerel are pelagic species, which means they spend their lives swimming widely in the open seas. For this reason, they tend to be around in large numbers or are completely absent. When this delicious and hard-fighting oily fish is in, there is often a party of fish activity. Expect hands covered in scales, and strings of mackerel being pulled out on feathers four at a time.
Amazing deal on mackerel fishing kit, gets you fishing here
Essential mackerel feathers, for harbour fishing here
3oz torpedo weights, for long casting here
Replace the line on the above reel to avoid snap offs, here
View full mackerel fishing guide here
Rock fishing in Devon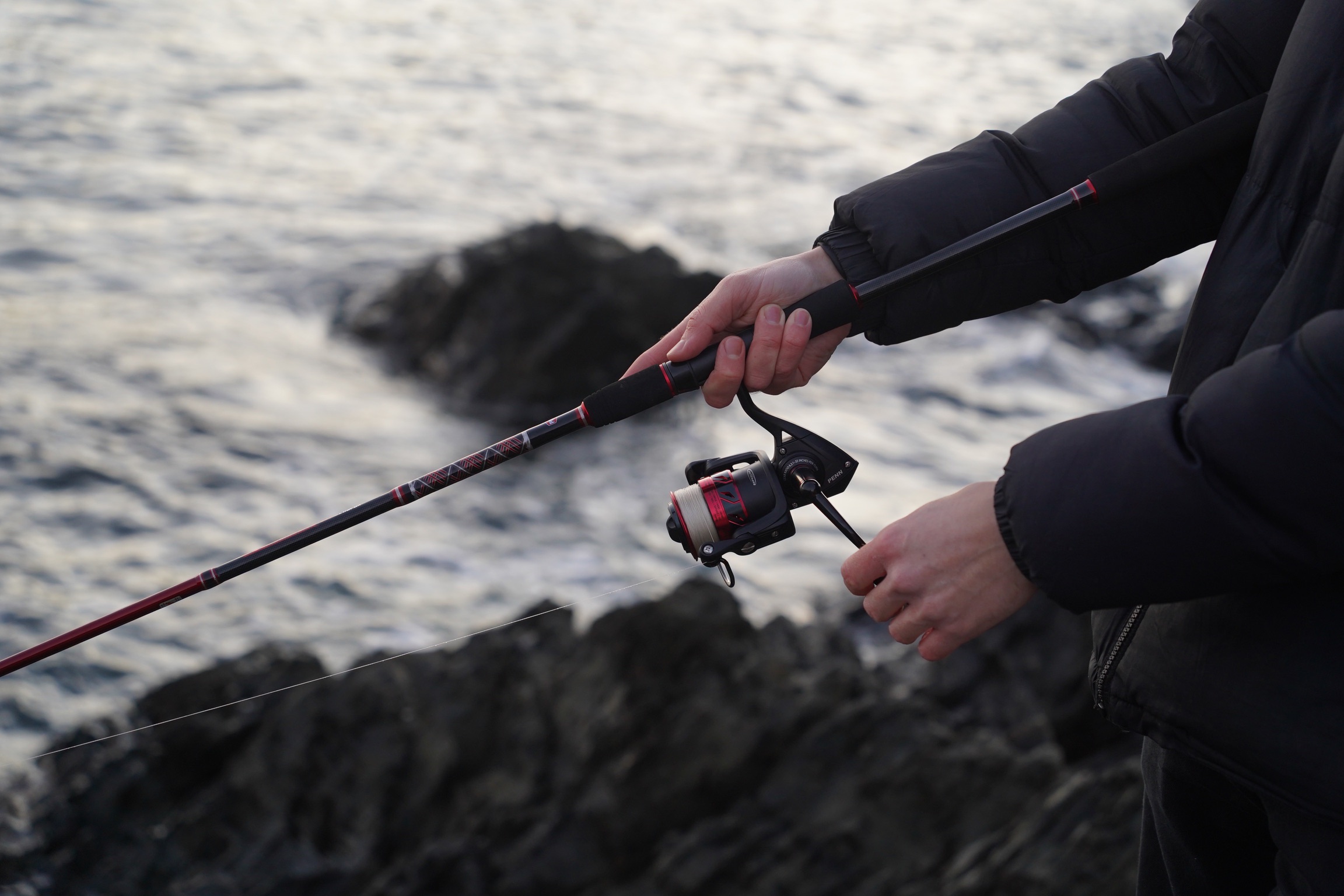 The best shore fishing in Devon is from the rocks. The choices for where to fish in Devon are endless. Rock fishing means rough ground on the seabed – lots of kelp and rocks. It helps to get your lure or bait as close to the rocks and kelp as possible without snagging the bottom. Modern weedless soft lures achieve this and are essential for rock fishing without frustration for beginners.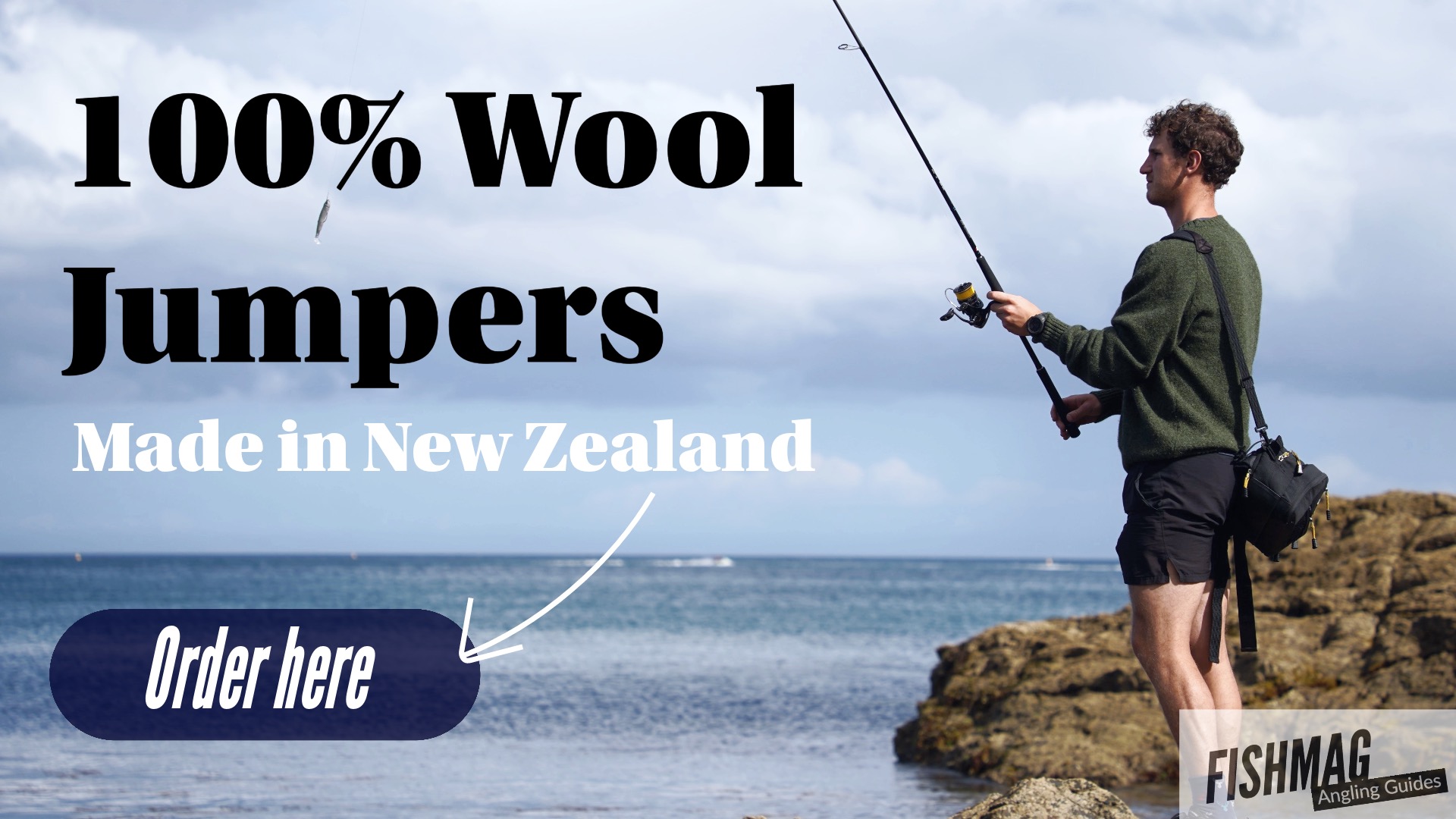 On a clear day if you're wearing polaroid sunglasses you'll see the fish lurking around the kelp. On this page, you will find plenty of rock marks. Please do not use this article to decide if somewhere is safe to fish and contact me if info is no longer accurate. The best rock fishing is often at deeper water marks in more remote locations. Thankfully, Devon also has numerous harbours and sheltered coves which are much more accessible, even if they are busy in summertime…
Full guide to Rock Fishing with Lures
North Devon Fishing Spots
North Devon's rugged coastline is a rock fishing paradise. Fishing can be good for species from dogfish to the more elusive triggerfish. Exploration and experimentation with locations and timings reap rewards for the locals. Morte Point, Capstone Point at Ilfracombe and Baggy Point are worth exploring for rock fishing. Appledore is a good option for more predictable fishing from the Quay.
Fishing Ilfracombe Pier
Ilfracombe pier has excellent and highly accessible angling, making it a great family-friendly fishing location in Devon. The fishing suits LRF tactics especially, with myriad mini species caught around the bottom of the harbour on small baits and lures. You can also catch Conger down there though, so watch out.
It's possible to fish from the rocks too, with Capstone Point and Watermouth Cove being good for your rough-ground species. pollack, coalies, wrasse as well as occasional runs of squid are caught in the area around Ilfracombe. Try fishing with oily baits like mackerel, herring or garfish. It's certainly worth trying for mackerel with a simple feather rig in summer.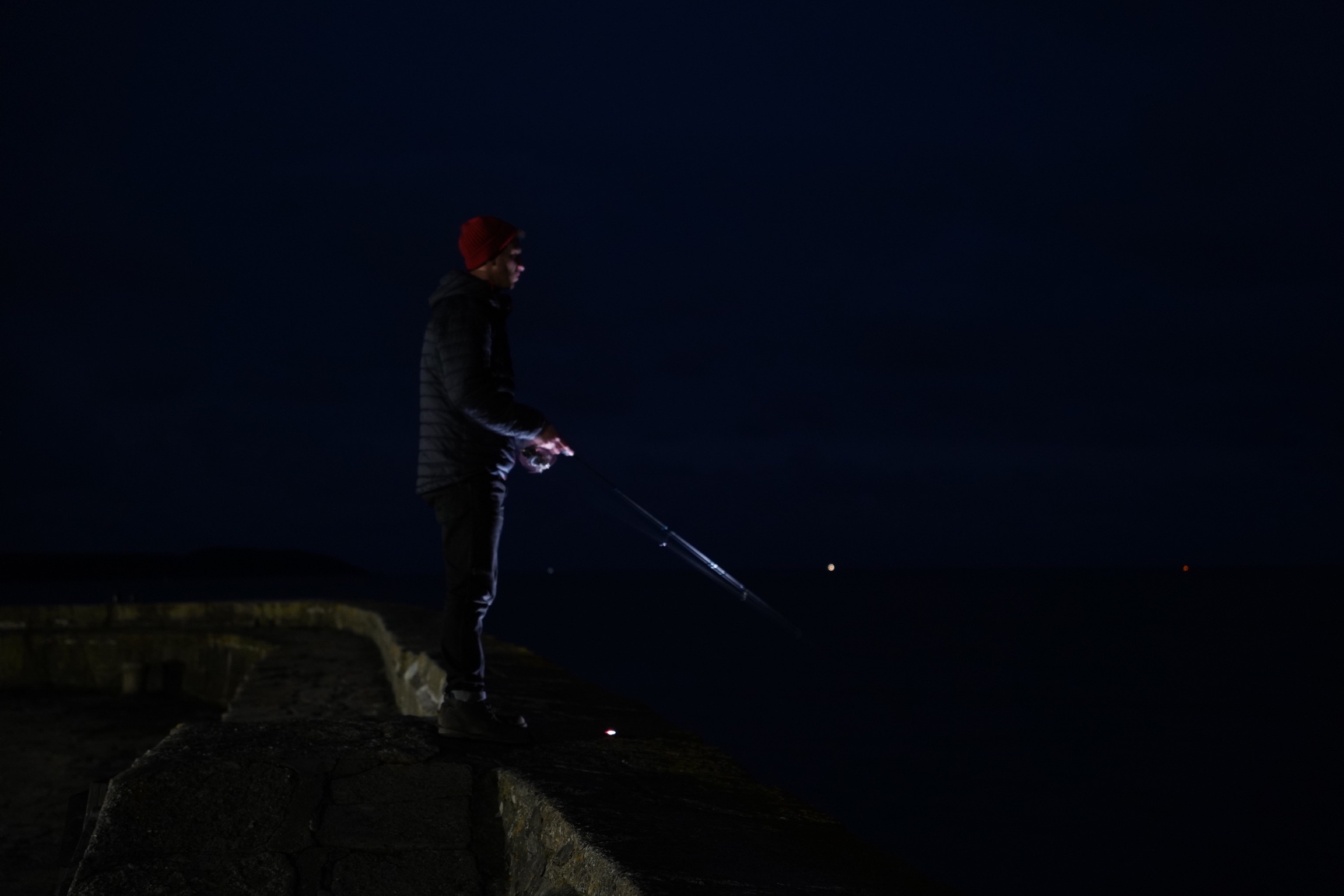 Fishing Lundy Island
Lundy Island might just be one of the most promising and inviting-looking fishing locations in the UK. I've been told there are plentiful wrasse, conger and pollack inshore as well as ray, flatties and bass. You'll need a boat to reach it, of course. Good luck out there!
Fishing Clovelly
Considering this area has made the news for using mules for transport and charging visitors for entry, as you might expect angling can be a little tricky in Clovelly. Fishing from the breakwater is banned entirely in the summertime. That said, it's possible to catch several members of the cod family, catsharks and flatfish year-round on the bottom, as well as the usual mackerel and bass in the summertime.
Fishing Hartland
Hartland has been known to churn up some enormous bass in its time, with fish over 10lb being caught. Prawns, limpets or mackerel baits are popular for bottom fishing in the area, where you can also expect a good chance at whiting, pouting and conger. Mullet cruise onto your line from time to time, when they feel like it…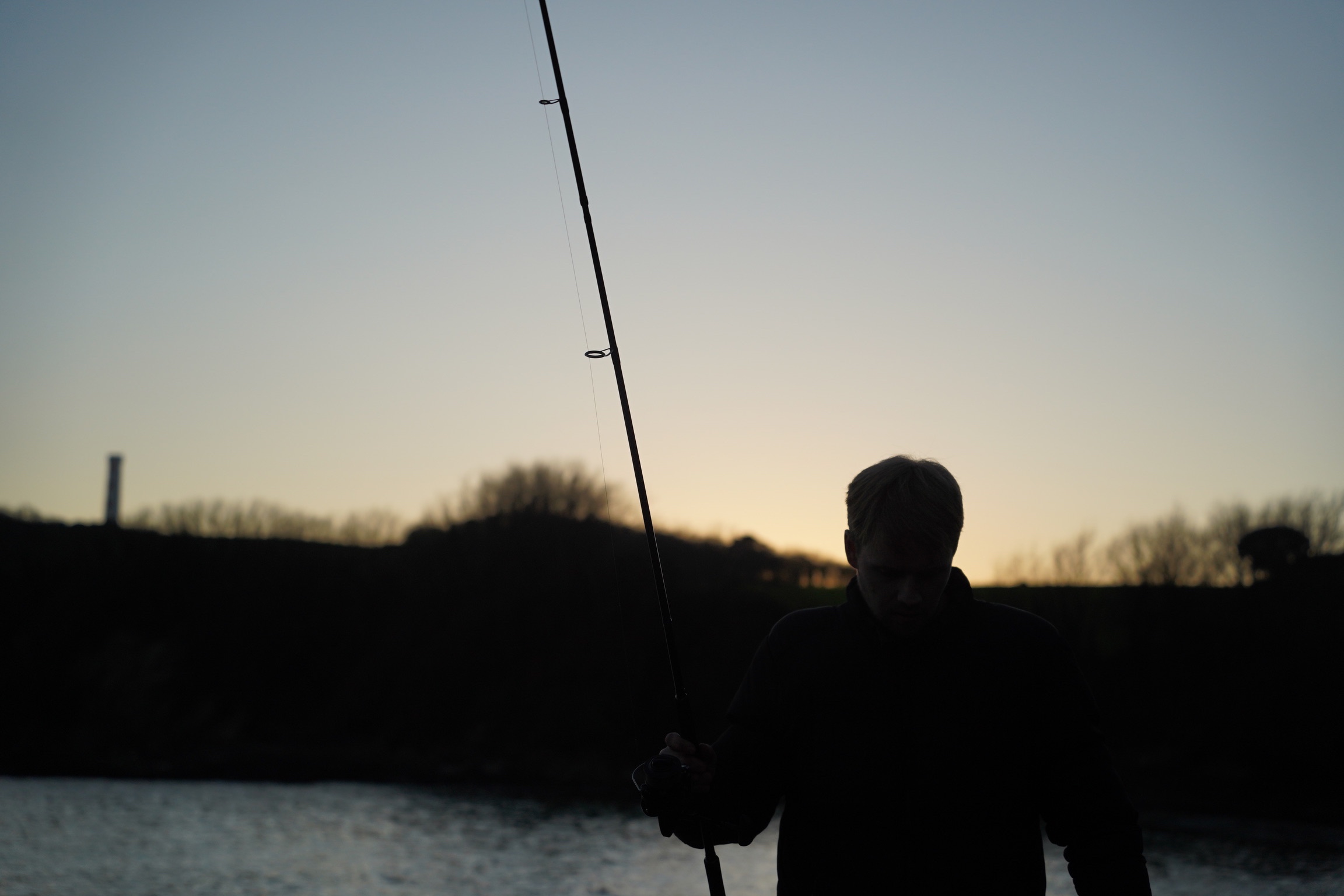 Fishing in Bideford
Try fishing for bass or flounder with a flatty rod while ledgering, or else torture yourself with the mullet further up. Some people like to fish from the bridge, but you'd need a long and strong rod for this to haul larger fish up, as its a considerable distance above the water. The ground is muddy, so it's a flatfish and mullets world under there…
Fishing Westward Ho!
Westward Ho! is one of the UK's great bass beach marks, and demands the use of a beach caster or better yet a modern continental-style rod of about 15ft for winter cod fishing. In summer the bass can be seen riding the waves and feeding in the whitewater. The tides are large and you shouldn't cross the South Gut as you are likely to get cut off on Zulu bank and find yourself in trouble, fast. You can fish from the old pier stumps which is a rock mark at the far end of the beach as well as a Greysands point which is the inside of the estuary and good for mullet.
You can fish the lifeboat slip at Appledore at all states of tide with lures, but watch out for the kids as it's crab line chaos! It can be a productive bass mark and cod and whiting are caught on lugworm there in the winter.
Fishing in Lynmouth
On a spring high tide, the harbour at Lynmouth is a good summertime mackerel spot. On a low tide, there's no water at all. In late summer you can sometimes effectively target salmon at Lynmouth, including with flies, though a licence and pass are required for this. The coastline around Lynmouth looks to be a rock fishermen's paradise, with a magnificent coastline worth exploring if you've got the proper boots and know what you're doing.
The harbour at Lynmouth can be good for bass and mullet, and the bay is popular with boat anglers for larger species like Tope and conger. The bay also often has a decent mackerel population pulsing through it in the summer months.
South Devon Fishing Spots
Fishing in Paignton
Try fishing from the beaches around Broad sands towards Preston, or else from the harbour there. Mullet fishing can be fantastic, but mackerel and garfish are staples, with bass also being a prime among anglers fishing in Paignton.
Fishing in Seaton
Seaton is another South Devon fishing beach with stoney ground that a huge number of species favour, and is one factor that makes locations like Chesil beach so legendary. Locals say you can catch bass here all year, but most of us don't have the patience except in the summer months when the fish are hunting more actively. You can also target beam, dab, plaice, mackerel, doggies and fish for mullet in the Axe estuary, where there are expansive muddy planes and the warm shallow waters that mullet favour. Bring your freshwater gear, a bucket of bread crumbs and another bucket of patience!
Fishing in Exmouth
Exmouth is a place where worm and crab baits rule the day. You can fish from the car park near Beach Hotel from the estuary beaches and from the docks for more relaxed fishing. Expect flounder, especially in Autumn.
Fishing in Dawlish
Dawlish produces small flatties and whiting in abundance at times, with the area of Parson and Clerk Rock being fished by anglers in for a chance at something better. The breakwater at Dawlish looks to me incredibly promising, and I'm aware it makes for great fun with LRF gear for wrasse fishing and mini species. Anglers have been known to target Smooth Hound from Dawlish, and if interested you could enquire with a local tackle shop about your chances with those.
Fishing Plymouth, Rame Head, Penlee & Stoke Point
Plymouth is one of the best fishing locations in the UK and has uncommonly varied angling on offer. Plymouth is really put on the map for its boat fishing, with huge conger, shark species and ling getting a lot of attention. It's some of the best fishing in the South.
As for shore fishing, the outermost harbour gives access to much deeper water than you can usually reach from shore, meaning that the average size of fish caught in Plymouth is far larger than most other locations. There's a huge variety of places you can fish, you only need to rock up and have a wander to discover most of the obvious marks. You can fish from Stoke Point, Penlee, Rame Head, The Ledges and the Mewstone among other places, but with lightweight lure fishing gear you needn't look further than the numerous jetties and seawalls within Plymouth itself.
Bait anglers will appreciate the ray and conger than can be caught in Plymouth, with these species favouring the deeper water that Plymouth provides. LRF (ultra light lure fishing method) really took hold in Plymouth and so the area has been a bit of a hub for pioneering approaches to sea angling. Further up the Avon, you'll find bass and flounder aplenty.
Fishing Newton Ferrers
Newton Ferrers is an estuary full of promise for the angler ready to ledger on the bottom with crab and worm baits for species like bass, flatfish and members of the cod and catshark families. I often find it's worth fishing on the move in estuaries and trying out lots of different locations if you're lure fishing. Watch out for boats, which can be expensive snags!
Fishing in Torquay
Torquay is another angling hub. Fishing from Princess Pier, Hopes Nose, Meadfoot, Oddicombe beach and Babbacombe pier can be excellent with both bait and light lure fishing methods. Expect an incredible variety of species, as well as every obliging mackerel or pollack.
Fishing Hopes Nose has become increasingly popular with anglers over the last few years (as of 2021), despite the challenges of accessing it and the lack of lighting. It's known for churning out some very big fish, making it a spot well worth a visit if you're good on your feet and if you have a powerful head torch for night fishing. Caution is advised as it's not as accessible as some other marks in the area.
Babbacombe Pier is a more accessible mark which churns up the usual summertime species, but again can be rammed in summer.
Oddicombe beach is a great spot if you have a long beach caster or continental-style rod that can help you get some distance in your cast. Doggies, flatties and big bass occasionally show up. This is a good spot for more experienced anglers, but if you're after some fun summertime fishing you're better off heading to Babbacombe pier where you won't need such a long cast to be in for a good chance at fish.
Fishing in Teignmouth
Not far from Newton Abbot you reach the River Teign, which runs into the sea at Teignmouth. There's a quay you can fish from, the estuary and two huge beach marks on mouth sides of the mouth. The usual estuary cruisers – mullet, bass and flounder – are here in abundance. You can target traditional summer species like mackerel too, though. A couple of local fishing spots are Red Rock and Shaldon Beach.
Fishing Brixham Breakwater
Of course fishing is decent from Bixham, it's a place with a name closely associated with fish and fishing. It's a tourist friendly fishing spot, with a huge breakwater which can be fished on the inside and the outside (with careful attention given to passing boats). The outside is by far the most popular.
Taking the long walk to the end of the breakwater to fish off the point is likely to be worth it. Fishing at around high tide with float gear or a spinning set up with churn up all the usual summer species like mackerel, garfish, pollack, wrasse and bass. Try fishing with sandeel or mackerel. Brixham breakwater is best fished in the hours before and after high tide. The ground is rough and weedy in many places, so beginners are advised to use a float fishing rig for an easy days fishing away from snags.
Fishing in Dartmouth
The river dart and the estuary it runs through is spectacular and full of promise for those keen on mullet, bass and ray. It's also a productive Plaice spot and holds large conger and all the usual members of the cod family slurping on the bottom. Fishing is best in late summer and into early October, which seems to be the case for several estuaries in the South West.
You can fish at Warfleet Creek, the rocks around the castle, and Leonards Cove for wrasse and bass. Western Black Stone works well at night time when ledgering for bass. Explore the estuary and get worm baits out on the bottom, perhaps tipped with squid if the water's murky. Dartmouth can be effective for eels, too. It's worth exploring the rock marks around the mouth of the estuary, as these locations are often excellent for bass. I'd bet you'd have fun fishing from the pontoons with light gear and spinners, but I'm not sure the sailors would be happy about it!
Fishing in Salcombe
This is a glorious estuary with beach and rock marks such as those accessible from East Portlemouth beach. You can fish from Bolt Head and Snapes Point productively and will find yourself meeting the usual silver bars that cruise around these estuaries in summer. In terms of bottom fishing, sandeel, rag or lugworm rule the day. Mullet are around in decent numbers and reach considerable sizes, growing fat on the bits and bobs that fall from visitors' mouths while eating pastries and the gunk that floats down from upstream they delight in scoffing on.
The estuary is somewhat rare in that it's an effective turbot spot over the sandier ground. There are also areas of very rough ground which make for good Wrasse fishing.
There are a million places to fish in Salcombe, it's just a case of avoiding tourist hotspots given that the place is so damn pretty.
Fishing in Sidmouth
Sidmouth is a location that I wouldn't like to fish without a beach caster or continental-style fishing rod to get some distance into my cast. The ground is a mixture of stoney and sandy, which often makes for excellent fishing with species like cod, bass and dogfish. Fishing in Sidmouth Bay is good for mackerel throughout summer and for pollack. It's beach fishing or boat fishing on the cards from Sidmouth. There are some rocks from the beach which you could try lure fishing from, perhaps bouncing a worm imitation or bass lure along the bottom to try your luck.
Further research
Other 'how to catch' guides: smoothhound, whiting, black bream, garfish, mullet, squid, and ray.