East coast beaches tend to be shallow with coloured water, making lure fishing less viable and bait fishing with beach casters the prefered option for most. The East coast produces a lot of whiting and dab catches in winter but with a chance at cod. In summer it's all about smoothhound, bass, dogfish, rays and flatties. By boat, it's possibly to target skate and tope.
Skip to…
Or read on for east coast fishing spots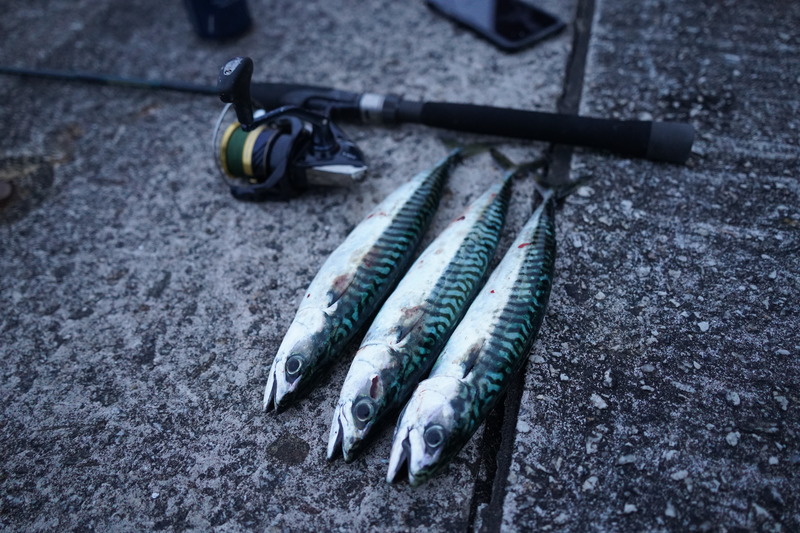 Fishing in Mablethorpe
The huge exposed beaches in this area are begging for you to get out your beach caster. It's one of the sea fishing marks you can reach reasonably easily from Hull. These beaches are often fished at low water with the usual baits of rag or lug being effective. The ground is clear without snags. You can also fish from Chapel St Leonards, Nearby Creek, Mogs Eye, Huttoft and Six Marshes. Some of these places get crowded in summertime which can make angling challenging so it's worth finding less popular stretches of sand for your summertime bassing!
I've heard reports of turbot and very good flounder landed at Mablethorpe as well as whiting from Autumn onwards. Cod move through in the winter and there are rumours of sea trout being caught in September.
Fishing in Skegness
It's possible to fish all along the expansive sands at Skegness for a variety of species including bass, catsharks and the usual members of the Cod family that cruise into our shores in the winter months. While tempting, it isn't always advisable to cast as far as you can, as fish, especially at night, often move into shallower water. Try worm and crab baits – and avoid snagging any tourists! Fishing from Butlins holiday camp and Ingoldmells are both effective spots to whack out your old beach caster. If possible, try fishing at night time – especially in the winter months.
Stinky baits are best for the coloured water. Most catches will be dab and whiting, but there's more out there…
Fishing The Wash and the Ouse Estuary
The Ouse Estuary is fed by a complex network of rivers, which to a fish means food trickling down stream from a hundred different places. Unsurprisingly, the location has earned a bit of a name for itself for its angling in the past, with the Tope fishing being said to be exceptional. Numbers have declined though so the fishing is not what it once was. Should you explore this network of brackish waters, you can expect to come across the usual species which are resilient to fresh water mixed in with their usual salty stuff – bass, mullet, flatties & eels. Many of these spots don't require long casting, it's more like river fishing, so leave your beach caster at home if you intend on exploring any of the waterways leading into the The Wash.
Fishing Cley to Cromer
The stoney beach next to Cley next the Sea is a productive fishing pot for those using modern continental fishing rods or beach casters. Expect bass, flatties and the usual suspect Catsharks in the summer months, as well as cod in Winter. Stoney or pebbly beaches such as this make up some of the most popular fishing marks in the UK, as quite a few key species such as cod and bass seem to go nuts for stoney sea beds! You can also fish around Weybourne cliffs. You can fish from the pier at Cromer for a fee, and enjoy the usual mackerel bashing or else go for something more ambitious like a tope or skate if you're feeling lucky!
Fishing Overstrand, Trimingham and Mundesley
Fishing from the promenade at Overstrand can be effective, especially with beach casting gear to help you get extra distance in your cast. You can fish from Mundesley over the sand banks and in the gulleys between them. Expect cod, flatties and sole if you're able to reach them. The ground in the area is mixed. Worm and squid cocktails are popular, but it depends on what fish have been feeding on. Some find that if the fish are mainly feeding on fish baits at the time, that's all they want to eat. I haven't experienced this myself, but it sounds plausible.
Fishing Bacton, Happisburgh, Sea Palling and Winterton-on-sea
Bass bass bass – grab a spinning rod and explore the area, looking for structure. You could do worse than to try fishing over the artificial reef that was created to protect the coast from erosion. Bass, like many species, are all about structure. They like down time in a quiet spot as much as the rest of us, and kelp provides just that. Reefs are playgrounds for these fish and Sea Palling and Waxham have some pretty decent sized ones for you to explore…
Fishing Great Yarmouth
Great Yarmouth is a popular area for angling. There are two piers, ridiculously long beaches and a river. It's the same old story. Cod in winter, bass in summer. Whack those big smelly baits off the beach and see what it churns up. If you prefer being teased by mullet you can try fishing in the harbour at Gorleston on Sea.
Fishing Lowestoft
It's all about cod and flatties in this place. Get those worm baits – perhaps tipped with squid in winter or murky conditions – out on the bottom. Lowestoft harbour offers excellent fishing for flounder, but you can try your luck at other species too, with a huge variety of species being available. Think of this harbour as a beach mark where you get to cast straight into the deeper water far off the beach, because that's essentially what this place is.
Fishing Southwold
Whether you're fishing from the harbour or off the WWII wrecks offshore, there are fish to be had at Southwold. Mullet, eels, flat fish. Fishing from Dunwich is a highly effective flounder spot. I can't claim to have fished here myself, but I do know that the charter boats from the area are highly productive, with fat cod being caught, and people that claim the harbour is a decent spot for angling.
Fishing Aldeburgh & The River Ore & River Deben
There are numerous rivers in this areas which lead to areas teaming with mullet. The River Ore and River Deben offer excellent mullet fishing with light gear. You'll be needing feeder rods and bread baits, or else some other very soft-tipped rod for this species. Chumming the water by feeding the mullet bread is a popular method for getting the fish in the feed. Do remember that the mullet you can see are not the only mullet that are there. Often, mullet will actually go below the surface to feed, so it could be that the one's you have the best chance at catching are the one's you can't see.
Fishing Harwich Harbour
Fishing from Harwich harbour is a known productive bass mark, despite harbours often not being the best of places to target these fish, which prefer rougher ground. Fiiish Minnows or baits like squid and worm are a good shout.
Fishing at Felixstowe
Felixstowe is excellent under cover of darkness for species like sole, and in day time it's good for garfish and a number of other species. Felixstowe is a highly popular area with anglers, and you might just lucky and hook one of the double figure bass that lurk in the area. The best baits for fishing in this area are the two worms – rag and lug – and squid. You'll catch whiting from the end of summer onwards. For the gar fish don't forget your smaller hooks and to fish high in the water column where these fish hunt.
Fishing Clacton-on-sea
There's a pier at Clacton-on-sea and another at Walton-on-the-Naze – both are productive fishing marks for a wide range of species. At the first of these locations, you can also fish effectively from the beach.
You can catch tope, rays and other larger fish species here, as well as the usual summer fun species like mackerel from the harbour. This is one of the most popular fishing marks on the East Coast of Britain and the rays, bass and tope that are landed are sometimes of an impressive size. It helps that the beach is one of the most attractive along the coast.
Spinning from Clacton harbour is possible, and some also fish with lures from the beaches.
South End on Sea
South End on Sea offers fun summer-time fishing for a variety of species including bass, mackerel, mullet, garfish and numerous others. It does cost money to fish from the pier, and to save money you could try fishing around the River Crouch instead. Sea marks close to estuaries are often highly productive because estuaries carry morsels of good down from the rivers in land. In this case, with the river running through London, who knows what these fish have been eating. Bits of thrown away pies, drinking the dregs of beer left in the bottom of discarded beer cans – goodness knows.
Fishing the River Crouch
The River Crouch is a beautiful river where you'll find bass, mullet, flatties and eels – all the species that are tolerant of the brackish water. You can fish from the shore on the beach or from the sea wall which is about 500m from the Essex Marina. Try fishing at night with peeler crab.